Part 1
P8 prismatic optic P8-Part 1
Part 2
P8 prismatic optic P8-Part 2
Part 3
This report covers:
Sight-in
JSB Exact Jumbo Heavy
JTS Dead Center
H&N Baracuda 18
H&N 0.218-inch 23-grain slug
JSB Exact Jumbo Monster
Discussion
Summary
Today I do an accuracy test of the RAW MicroHunter at 25 yards. This will be the first 25-yard test because there are many things to be tested. Not all of them will be done today.
This will also be the first real accuracy test of the MicroHunter, because the test at 10 meters was too close to tell much of anything.
You will remember that at 10 meters the MicroHunter was surprisingly accurate — way better than I expected since I was shooting the Lucid P8 reflex sight. It's more of a dot sight than a riflescope and the 2-mil dot makes it less precise than a crosshair — at least when I'm the shooter.
The JTS pellet gave us a 0.079-inch group of five. That was better than I expected. So today's 25-yard test will determine whether the P8 will remain on the rifle for future testing.
Sight-in
I fired 20 shots sighting the P8 in. The first 10 pellets grouped just above and left of the bull. The group was pretty large with 4 stragglers. I noticed that the P8 was sitting too far forward for me. So, after the first group of ten pellets I slid it back about an inch and tried again. Because the scope wasn't positioned correctly is why I'm not showing that group.
After the scope was repositioned the first six pellets didn't show on the target. I didn't have a spotting scope because I expected the shots to be close to where they had been before the scope was moved. When I didn't see any holes in the paper I assumed they were going into the bullseye. After six shots, though, I realized that I was being unsafe, so I stopped shooting and went downrange to examine the target. The pellets had all hit the top of the rubber mulch box the target was taped to. I used the remaining four shots to adjust the P8 scope down and into the bull I was aiming at.
JSB Exact Jumbo Heavy
I sighted in with JSB Exact Jumbo Heavy pellet, so I shot the first group with them as well. Ten pellets made a 0.741-inch group at 25 yards. I think this pellet should be more accurate in the MicroHunter at this distance, but it will take a scope that parallax-adjusts down to 25 yards to do it. Not being able to focus on the target and using a dot that covers more than a third of the bullseye (it's a 2 MOA dot that covers one-half-inch at 25 yards) makes it difficult to sight with precision. No doubt a deer would be in trouble at 100 yards with the P8, but perhaps not the 0.5mm ten ring on a 10-meter airgun target.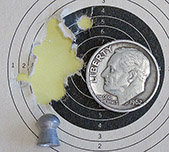 The MicroHunter put 10 JSB Exact Jumbo Heavy pellets into a 0.741-inch group at 25 yards.
JTS Dead Center
Next I tried the 18.1-grain JTS Dead Center pellet. This is the one that was the most accurate at 10 meters. At 25 yards the MicroHunter put 10 into 0.554-inches between centers. I didn't adjust the sight before shooting this group because a different pellet might go to a vastly different place than the one shot before.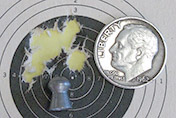 Ten JTS Dead Center pellets made a 0.552-inch group at 25 yards.
H&N Baracuda 18
The next pellet I tested was the H&N Baracuda 18. The MicroHunter put 10 in 0.445-inches at 25 yards. It's the smallest group of the test.


Ten H&N Baracuda 18s made a 0.445-inch group at 25 yards.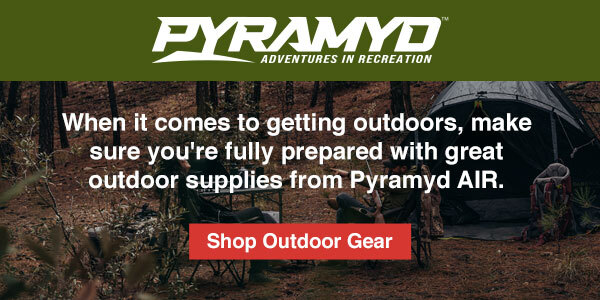 H&N 0.218-inch 23-grain slug
Next up was the H&N 0.218-inch 23-grain slug. I was surprised that these held up well at 25 yards. Ten went into a 0.556-inch group. Given how the other premium diabolo pellets have done with this rifle and sight combination, that's respectable.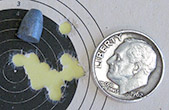 The MicroHunter put 10 H&N 0.218-inch 23-grain slugs into 0.556-inches at 25 yards.
JSB Exact Jumbo Monster
The last pellet I tested was the 25.39-grain JSB Exact Jumbo Monster. This is not the Redesigned version of this pellet. Ten of them went into 0.765-inches at 25 yards.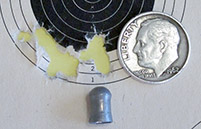 Ten JSB Jumbo Monsters made this 0.765-inch group at 25 yards.
Discussion
This was an interesting test. I discovered why the Lucid P8 is not the right sight for shooting groups at airgun distances. The 100-yard parallax adjustment just makes shooting closer with precision too difficult to do. On the other hand, I think the P8 will make a wonderful hunting sight.
My plan is to run this same test again with the UTG Bug Buster Accushot Pro scope mounted. That's the one with the Integrix DNA. I owe it to the MicroHunter to use a scope that's capable of airgun precision at airgun distances.
I will consider mounting the P8 on a big bore airgun for hunting. That's the sort of thing it is made for and as sharp as the image is, I'm sure it will do well.
Summary
I have great hopes for the MicroHunter, once a precision scope is mounted. I will get to that soon.