by Tom Gaylord
Writing as B.B. Pelletier


Benjamin's new Bulldog bullpup big bore air rifle is a .357-caliber 5-shot repeater.
This report covers:
Pellets
H&N Grizzly pellets
JSB Exact King 35 pellets
Velocity for the King
Air Venturi round nose bullets
Velocity for the round nose
One more trip to the range?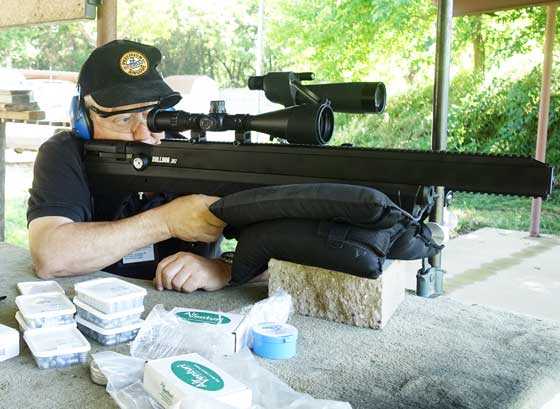 This was a good day to test the new Benjamin Bulldog.
I spent another day at the range with the Benjamin Bulldog .357 air rifle. The day was calm, but that doesn't matter as much when you're shooting a big bore.
I think I've decided what the Bulldog is best suited to do. Besides being a very handy rifle for medium-sized critters like coyotes and javelinas, the Bulldog is a wonderful big bore for general plinking. I know that a lot of airgunners buy big bores without thinking of the use they'll put them to, and plinking seems to be the top choice; but most guns are not suited to a lot of shooting. They use too much air and constantly have to be topped off. The Bulldog will give you 10 good shots on a filll and with the right ammo, it seems like the ideal big bore to plink with. read more