by Tom Gaylord
Writing as B.B. Pelletier


Benjamin's new Bulldog bullpup big bore air rifle is a .357-caliber 5-shot repeater.
This report covers:
Pellets
H&N Grizzly pellets
JSB Exact King 35 pellets
Velocity for the King
Air Venturi round nose bullets
Velocity for the round nose
One more trip to the range?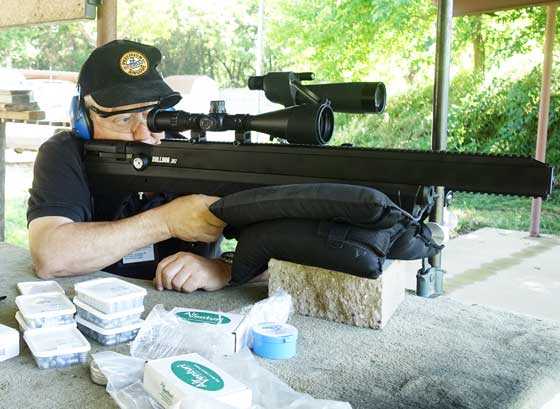 This was a good day to test the new Benjamin Bulldog.
I spent another day at the range with the Benjamin Bulldog .357 air rifle. The day was calm, but that doesn't matter as much when you're shooting a big bore.
I think I've decided what the Bulldog is best suited to do. Besides being a very handy rifle for medium-sized critters like coyotes and javelinas, the Bulldog is a wonderful big bore for general plinking. I know that a lot of airgunners buy big bores without thinking of the use they'll put them to, and plinking seems to be the top choice; but most guns are not suited to a lot of shooting. They use too much air and constantly have to be topped off. The Bulldog will give you 10 good shots on a filll and with the right ammo, it seems like the ideal big bore to plink with.
Pellets
I already know the rifle was good with Tin Starr semi-wadcutters, so on this day I tried to find other ammo that also worked well. Among the bullets I took were 2 pellets — one a diabolo and the other a cylindrical. Let's look at the cylindrical first.
H&N Grizzly pellets
The H&N Grizzly is a hollowpoint bullet with a hollow base. I've listed it with the pellets because it has no grease grooves, so it's not useful as a bullet in a firearm. They are listed as 0.356-inch caliber, and I measured several at a very uniform 0.3565 inches. That makes them 9mm and not .357 caliber, so they're really not right for the Bulldog. They weigh 82 grains.
I ordered Grizzlys to test the Air Ordnance Modoc, which is a 9mm big bore, but production problems have delayed the shipping of that rifle. So, they were on hand, and I gave them a try.
As expected, these pellets did not do well in the Bulldog. Five went into 8-1/4 inches at 50 yards. That's not the fault of the rifle nor of the pellet. It was just an experiment I decided to try.
JSB Exact King 35 pellets
The other pellet I tried this day was the 81-grain JSB Exact King 35. This is a diabolo pellet that I'd seen perform on the set of American Airgunner last month. It surprised me then, and it surprised me on this day, as well. The King is a diabolo pellet whose skirt is larger than the Bulldog's bore. The nose measures 0.3565, which means it probably rides on top of the lands.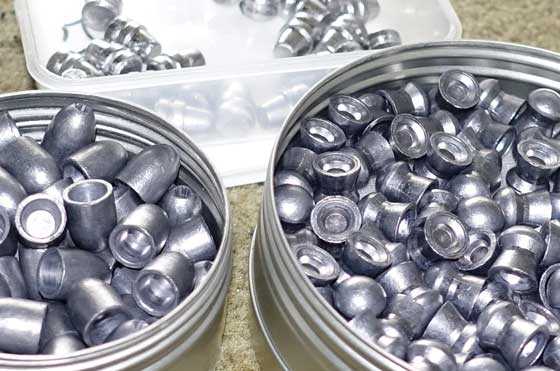 Grizzlys on the left and JSB Exact Kings on the right. The Kings are a great pellet for the Bulldog.
Out of the first five Kings I shot, 4 went into 0.679 inches, with the fifth shot opening the group to 1.554 inches at 50 yards. That was stunning and a real eye-opener. So, I shot several more groups at 50 yards. They were larger, but nothing more than 2 inches for 5 shots. So, I put up a target at 100 yards and shot 5 pellets into 4.238 inches.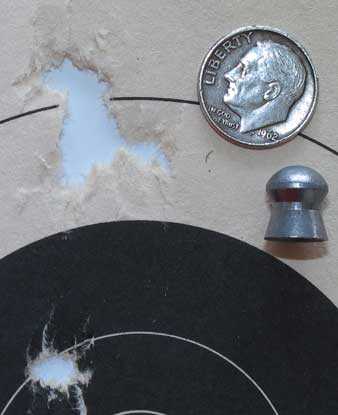 Four JSB Exact Kings are in 0.679 inches at 50 yards. Five are in 1.554 inches
The interesting thing about this pellet, aside from its accuracy, was the uncanny tendency to go very straight. All my groups were well-centered — even at 100 yards. If I overlaid all the 50-yard groups, they'd be 20 shots in about 4 inches. This is the pellet for this rifle!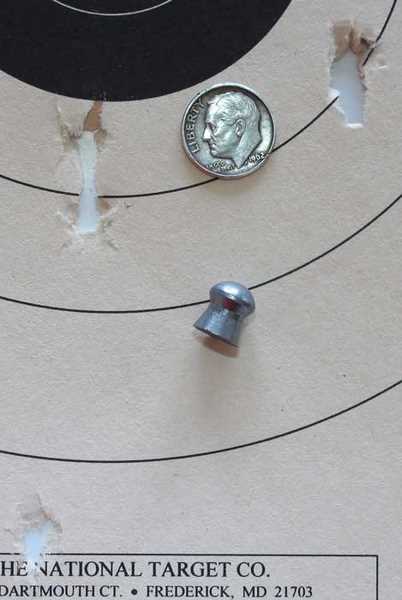 At 100 yards the JSB Kings dropped by 12 inches and grouped 5 in 4.238 inches.
Velocity for the King
I quickly chronographed the King pellet, because I knew it was a winner. Here's what 10 shots looked like.
Shot……Velocity
1…………890
2…………897
3…………904
4…………904
5…………891
6…………891
7…………891
8……did not register
9……did not register
10……….835
At the highest velocity the King pellet produced 147.02 foot-pounds of energy at the muzzle. At the lowest recorded velocity, it still produced 125.43 foot-pounds. Not only is the King an accurate pellet that the Bulldog loves, it also has respectable power.
Air Venturi round nose bullet
Another stunning bullet in the Bulldog was a 70-grain round nose from Air Venturi. Pyramyd Air doesn't list this bullet anymore, but the Bulldog loves it. Best 50-yard group was 1.25 inches between centers. And, 15 bullets overlaid went into about 3 inches at 50 yards. These bullets also went very straight.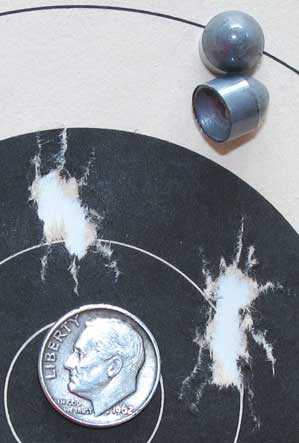 The Air Venturi 70-grain round nosed pellet put 5 into 1.25 inches at 50 yards. I see they're no longer available, and I've been told they're not coming back in stock.
Velocity for the Air Venturi round nose bullet
I ran 10 of these bullets through the chronograph and got this:
Shot…………Velocity
1………………889
2………………903
3………………900
4………………900
5………………880
6………………908
7………………915
8………………870
9………………857
10…………….829
At the top velocity, this bullet produces 130.17 foot-pounds of energy; and at the lowest velocity, it makes 106.85 foot-pounds. So, it's another small- and medium-sized game round that's also a good plinker. This one didn't group well at 100 yards — although I fully expected it to. But it opened to more than 12 inches at 100 yards, so it obviously isn't stable past about 50 yards. That's okay because 98 percent of my shots are at 50 yards or less.
One more trip to the range?
I'm hoping to get one more trip to the range, where I'll test the 145-grain Benjamin Nosler Ballistic Tip bullets, the Tin Starr 101-grain semi-wadcutters, the 70-grain Air Venturi hollowpoints and the JSB King pellets one last time.