by Tom Gaylord
Writing as B.B. Pelletier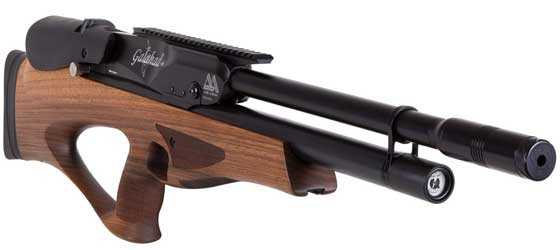 Air Arms Galahad PCP in walnut is a striking looking air rifle!
UTG 8-32 SWAT Mil Dot
Part 2
Part 3
Part 4
This report covers:
Scoped
Swapped rings
JSB Exact Jumbo Heavy
That scope level
Crosman Premiers
H&N Baracuda Match 5.53mm heads
Problem solved!
More on the scope
Evaluation
Today I started accuracy testing the Galahad-rifle from Air Arms. There were some surprises, so you're in for an interesting read!
Scoped
I mounted a UTG 8-32 SWAT Mil Dot scope, using the high mounts that came with it. When I started sighting in the pellet was low and way left. I adjusted it up but it would not come anu further to the right. At 12 feet the pellet was hitting two inches to the left.
Swapped rings
So I swapped the rings, thinking that if they were drilled off-center this would correct the problem. I also shimmed under the rear of the scope, to give me a little more vertical adjustment. Alas, the pellet did strike the target higher, but as for the left-right, nothing changed. That means the issue is with the Picatinny rail on the rifle. I needed to finish the test, so I calculated where I could aim at 25 yards and still have the pellet strike the pellet trap.