by B.B. Pelletier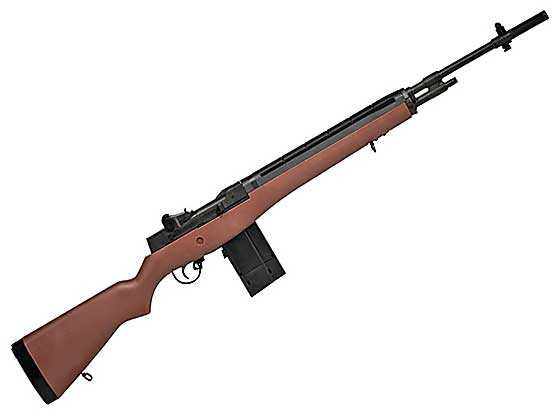 Winchester's new M14 dual-ammo rifle looks very much like the military rifle it copies.
Redemption is a powerful experience, because it comes only after suffering and anguish. Redemption is what I longed for with the Nelson Lewis combination gun and with my Ballard rifle. Today, however, I'm going to talk about another redemption — that of the Winchester M14 dual-ammo rifle.
In Part 1, we learned that this rifle is nearly all plastic — which for many, including me, is a put-off. We also learned that it uses two 12-gram CO2 cartridges instead of one, and that assaulted the the miser in all of us. Accuracy is the only thing that would make it worth the extra cost.
When we looked at the velocity in Part 2, we discovered that the rifle does not begin to achieve the advertised velocity of 700 f.p.s. That's not a bad thing, except it leaves us disappointed from unrealized expectations. The velocity should prove high enough, though, as long as the rifle is accurate — which brings us to today's test. Part 3 — accuracy day.
The Winchester M14 is both a BB gun and a pellet rifle, so I had to test the accuracy of both types of projectiles. BBs get tested at the standard 5 meters (just over 16 feet) distance, while pellets were shot at 10 meters. And each target got 8 shots instead of 10 because of the capacity of the circular clip at either end of the stick magazine. Trying to load just two more of anything in one of these clips is annoying and troublesome at the least.
So, it was BBs first, as they're shot at the closer distance. I shot the rifle using Daisy zinc-plated BBs offhand at 16.5 feet.
I left the sights as they came out of the box. With a 6 o'clock hold, the first BB struck the target at the exact aim point, so I stopped checking and fired 7 more shots. This rifle is super-easy to shoot, as there's nothing to do but pull the trigger. The cocking and advancement of the cylinder are all taken care of by the gun. And as light as the rifle is, it's easy to hold it on target for all 8 shots.
After the clip was empty, I walked up to the target to see the results, which is when the word "redemption" came into my thoughts. The group is very round and measures 0.532 inches between centers! This is a group I might shoot with a Daisy 499 Champion — the world's most accurate BB gun. I've never shot a group this small with any other long BB gun, that I can remember.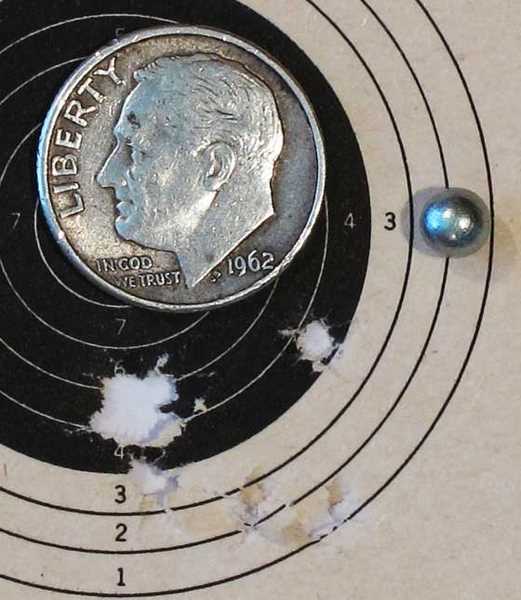 The first group of Daisy BBs made this dime-sized group at 5 meters. It measures 0.532 inches. Pretty encouraging!
What if it was just a fluke? What if the next 8 BBs went into a group twice the size? Only one way to find out. I shot a second group. This time, it was positively fun — as the confidence of an accurate gun poured over me! I adjusted the rear peep up three clicks and shot again.
The second group was easier to shoot because I now knew the gun was accurate. I only hoped I could repeat what had been done before. Alas, that didn't happen, as the second group was smaller than the first. Eight shots went into a group measuring 0.472 inches!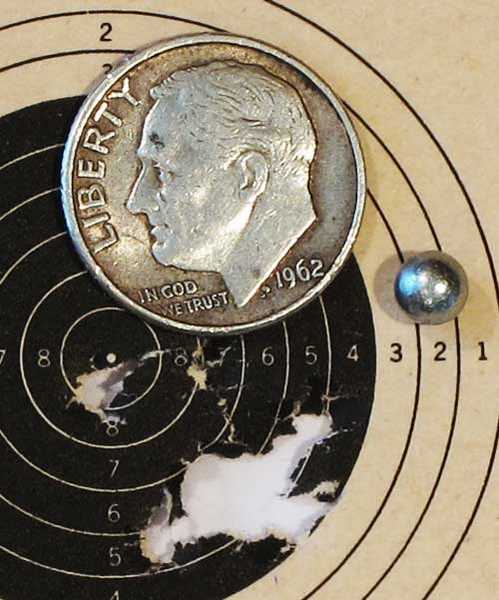 This second group of BBs is even better! It measures 0.472 inches.
What now?
Here's a BB gun that rivals the most accurate BB gun ever made! And this one has M14 sights that encourage target shooting. Look at the center of the second group. It's just a little higher than group one, which is exactly how the sights were adjusted.
Now I moved back to 10 meters where I could shoot pellets from a rest. Again all the groups will have 8 pellets because of the mag capacity. The rifle was rested on a sandbag positioned under the forearm just in front of the magazine that hangs down. Although this rifle is very light, I found it to be very steady in the rested position, and the trigger-pull did not disturb the aim point.
The first pellet I tried was that champion of lower-powered spring guns — the JSB Exact RS that Kevin turned me on to. It struck the target higher than the BBs, but did not group very well. Eight pellets made a group measuring 1.384 inches between centers. That's not good for 10 meters.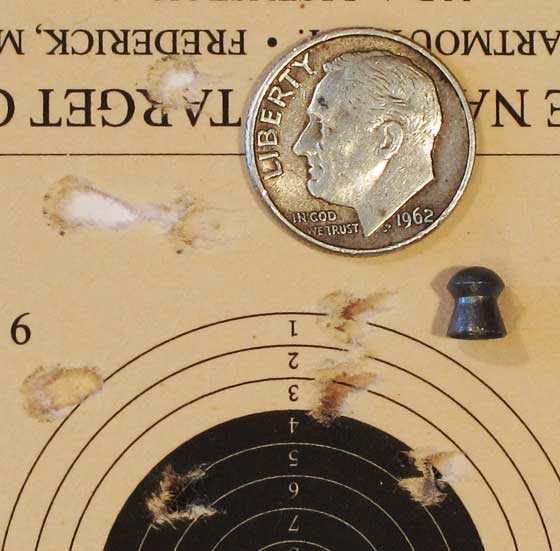 JSB Exact RS pellets blew up at 10 meters! Group measures 1.384 inches between centers.
I followed the JSB pellet with our new friend — the H&N Baracuda Green that we're learning to love. As light as it is, I wondered if it might be suited to the lower power this rifle generates. Apparently it is, because 8 of them went into a tight group that measured 0.739 inches. This is only 10 meters; but if you look at this group, I'm sure you'll see the potential the rifle promises.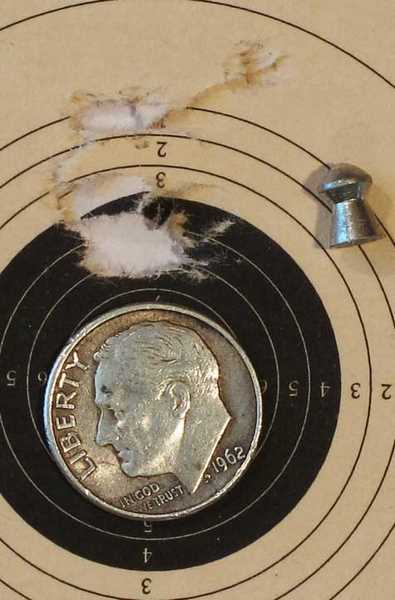 H&N Baracuda Green pellets made this tight 0.739-inch group at 10 meters. You can see how tight it is. This shows real potential.
Next up were some H&N Match Pistol pellets. I chose them for no special reason, other than I am trying to mix up the pellets I usually test with. They printed a group that measures 0.694 inches between centers — so just a little smaller than the Baracuda Greens. The rifle just keeps on doing better!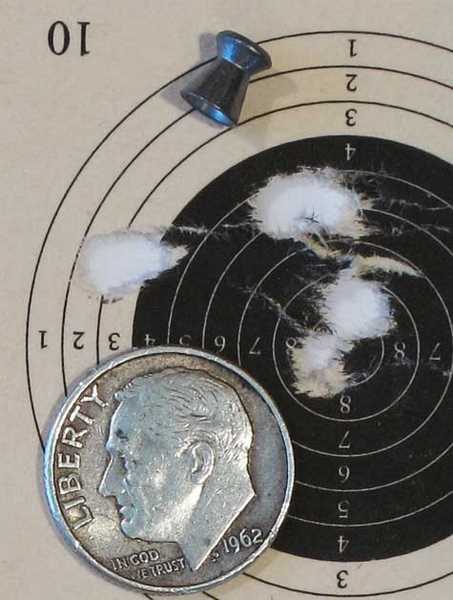 H&N Match Target pellets made the best group of pellets, measuring just 0.684 inches at 10 meters.
The final pellet I tried was an RWS R10 Match Pistol pellet. This pellet is among the best target pellets I have available, and I wanted to see what it could do in this rifle. The 8-shot group measures 0.722 inches across, so it's between the Baracuda Greens and the H&N Match Pistol pellets.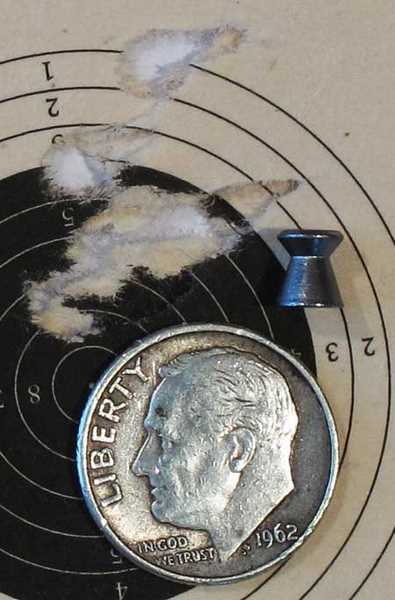 This group of RWS R10 Match Pistol pellets is also very tight — at 0.722-inches.
Evaluation
Do you notice we have three groups that are very similar in size? I think the rifle is capable of this level of accuracy all day long, and perhaps there's another pellet I haven't tried that's even better. The gun shoots easily and very much resembles a fine target rifle when I shoot it. The sights are easy to see, and very crisp, plus they seem to adjust with precision.
As I shot this rifle I thought of blog reader Matt61 and his new Garand. Here's an apartment-sized airgun that he could use to keep his skills sharpened for those days when he can't get out to the range with the large firearm.
I was also reminded of when I was a youngster, shooting the NRA's beginner training course. There's virtually no resemblance between this rifle and the Winchester 52, but the shooting experience seems so similar that it's scary. I understand why all those customer reviews have praised the accuracy so highly, and also why they've forgiven the plastic and light weight for the most part. The Winchester M14 has redeemed itself in my eyes!
The last word
I used the Winchester Airgun Target Cube to stop the BBs and pellets fired in this test. Because this rifle shoots faster than 350 f.p.s., the cube was turned to the side for higher-velocity rounds. As before, the cube caught all BBs and pellets with no mess and nothing got through. I will continue to report on the performance of this cube backstop as I use it in future tests, with an eye to discovering just what it will take.
by B.B. Pelletier

Winchester's new M14 dual-ammo rifle looks very much like the military rifle it copies.
Let's test the velocity of the Winchester M14 dual-ammo rifle. Of course, I'll test it with both BBs and lead pellets. This rifle is a semiautomatic 8-shot repeater powered by 2 CO2 cartridges. Someone made a comment that referred to the rifle having blowback action, but I want to clear that up — it doesn't. Yes, the action operates by CO2 power and really is semiautomatic; but no — there's no sensation of blowback, and nothing moves when the rifle fires.
You do have to pull the "bolt" back to cock the rifle before the first shot. It's not really a bolt — just a plastic cover to hide the metal internal parts of the firing mechanism. But the act of pulling it back is realistic.
The stick mag has an 8-shot rotary clip on each end. After firing 8 shots, you pop it out and reverse it for another 8. Then, you must reload the magazine. I see no reason why you can't carry additional loaded magazines, as long as you take some care to keep them clean. They do have moving parts that affect their function, so these parts have to be able to move or the gun will jam.
BBs first
I tested the rifle with Daisy zinc-plated BBs first, and discovered that the rotary clips have a magnet inside to hold the BBs in place. Because the chambers in the clips are for .177 pellets, they're too large for BBs — which are .173-caliber. But the magnets securely hold the BBs in place.
BBs averaged 560 f.p.s. and ranged from a low of 546 to a high of 580 f.p.s. That's a pretty broad spread for a CO2 gun. It's also 140 f.p.s. slower than the advertised top velocity of 700 f.p.s., which surprised me, because the BBs are very light and are possibly the fastest projectiles this gun can shoot. This BB weighs 5.1 grains and generates 3.55 foot-pounds of muzzle energy, on average.
The stick mag dropped out of position two times during the test, which entailed just over 40 shots. I'll chalk that up to my not seating it correctly for now, but it's something I plan to watch as the test progresses. I note that there's a click deep inside the gun that must be heard to know the magazine is seated correctly.
Now pellets
The first pellet I tried was the JSB Exact RS. As light as this domed pellet is, I felt it would compliment the power of this airgun well.
This 7.33-grain lead pellet averaged 519 f.p.s. and ranged from a low of 507 to a high of 542 f.p.s. At the average velocity, it generated 4.39 foot-pounds of muzzle energy.
Next, I loaded RWS Hobby pellets. At just seven grains, I expected them to be the velocity champs among the pellets, but they turned in a disappointing average of 491 f.p.s. The spread, however, ranged from a low of 443 f.p.s. to a high of 532 f.p.s., indicating the gun was running out of gas. This was after fewer than 30 shots had been fired! Well, it's possible that I shot it more times while writing Part 1 and just didn't remember it.
I installed two new CO2 cartridges; and as the old ones were expelled, they both lost a lot of gas. The rifle was not firing at this point, so a lot of gas was being wasted. I kept track of each shot these new cartridges gave, so I could report the total shot count.
With the new cartridges in place Hobbys gave an average 549 f.p.s. The spread, though, was still very large, extending from a low of 507 to a high of 592. Since the first four shots also expelled a cloud of CO2 vapor, I know they were artificially higher than the average, which was more in the 520 f.p.s. region.
I don't know what to make of these velocity numbers. Clearly, Hobbys were all over the place, depending on how new the CO2 cartridge was. I would guess their average is really closer to 520 f.p.s., which would give them an average muzzle energy of 4.2 foot-pounds.
I must also note that Hobbys were too large to seat in the chambers of the circular clip easily. I had to use the Air Venturi PellSet to get them into each chamber far enough for the clip to rotate freely. Perhaps, that might explain their erratic behavior.
The next pellet I tested was the Crosman Premier 7.9-grain dome. These averaged 472 f.p.s. in the M14, and the velocity spread went from 457 to 482 f.p.s. At the average velocity, this pellet averaged 3.91 foot-pounds of energy at the muzzle.
Trigger pull
I mentioned in Part 1 that I felt the trigger was close to a military pull. Well, it breaks at an average 6 lbs., 5 oz., so it's just a little heavier than the standard 5-lb. military pull. The pull is a little creepy, but it's not bad. I will probably have more to say about it after the accuracy test.
Shots per fill
We're using two CO2 cartridges in this rifle. So how many shots does that give? I disregarded the early cartridge swap and started counting after the new cartridges were installed.
I got a total of 112 shots before feeling it was necessary to change the cartridge. That's a good number for everything else this gun does. Let me tell you how it went.
I used mostly JSB Exact RS pellets for this test, so I could see where the power was at any given time. After the first 40 shots, the gun no longer shot above 500 f.p.s. It stayed around 470 until shot 88; but if several shots were fired quickly in a row without giving the gun time to warm up again, the velocity dipped down to almost 400 f.p.s. Stop shooting a minute, though, and it's back to 470 with the RS pellet.
After shot 88, the rifle dropped below 400 f.p.s. for the first time and started slowing down. If 5 shots were fired rapidly the velocity at the end was only 312 f.p.s. After shot 104, the gun was always in the 300s. I stopped at shot 112 because I felt the gun could jam if I went too much farther. Shot 112 was fired after a minute's pause and went 335 f.p.s.
Impressions so far
This rifle is turning out to be somewhat different than I thought at the beginning. It isn't as consistent as I'd hoped. It suffers too much velocity loss from the cooling effect as the gun shoots. That will be expressed as vertical stringing on any targets. The best accuracy will come by pausing a minute between shots.
Accuracy is next. I am very curious as to what we will see.
by B.B. Pelletier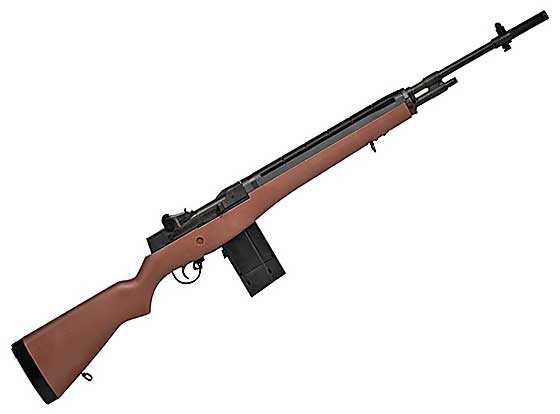 Winchester's new M14 dual-ammo rifle looks very much like the military rifle it copies.
I told you I would review the Winchester M14 dual-ammo rifle as soon as it came in. Well, the package arrived last week and today I'll begin my report.
This M14 is able to fire both BBs and pellets from its 16-shot magazine. The mag is a long stick with an 8-shot rotating clip on either end. After 8 shots have been fired, the magazine has to be removed and inverted to position the next 8 shots.
The rifle is powered by two 12-gram CO2 cartridges that fit in an assembly that also holds the stick magazine. This entire assembly fits into a fixed box "magazine" that extends down from the bottom of the action and cannot be removed. The bottom of the gas assembly matches the fixed box and lengthens the overall magazine look. A hole in the bottom of the assembly allows the stick mag to be removed when it need to be inverted, and a small button in the fixed box releases just the stick mag.

This photo shows the stick mag protruding from the bottom of the gas assembly and the gas assembly coming out of the bottom of the fixed box that's attached to the rifle. To remove the charged gas assembly, both a lever and a second button (located below the primary lever) must be pushed. The gas assembly comes out of the gun under pressure, so don't do this unless it's necessary!
The fact that the rifle uses two CO2 cartridges concerns me because they're costly — more so than the pellets. Given the muzzle velocity of an advertised 700 f.p.s., I would expect to get 45-50 shots from a single cartridge, so I'm hoping to see at least 90 shots from this rifle before it's time to replace the cartridges.
It's a rifle!
I will cover loading the mag and charging the gun in Part 2. Right now, I want to continue to describe the rifle. First of all — it is, indeed, a rifle. It has a rifled steel barrel that can also tolerate steel BBs, so either ammunition can be safely used. When I do accuracy testing, I'll test one type of ammo at a time. I don't want to rush this test because so many readers have indicated an interest.
Lots of plastic
When I first took the rifle from its box, the term "plastic-y" immediately came to mind. Without the gas/magazine assembly installed, the rifle is very lightweight due to a hollow plastic stock and external parts made of mostly plastic. The pull length seems about right, at 13-1/8 inches. And the shape and size of the stock seem the same as the M14 I remember — though I'm remembering something from 43 years ago.
In my opinion, the shape and realism of the airgun trumps the light weight and overly plastic nature. I learned to love the Crosman 1077, once it showed me accuracy that topped many premium European spring rifles. That's what this Winchester has to do, too.
For those readers who are only familiar with the AR-style of rifle, this M14 has a far more conventional feel when you shoulder it. The AR pistol grip that's too close to the trigger for almost every shooter is replaced with a more conventional pistol grip and reach to the trigger blade. And your cheek will find a nice resting spot on the broad buttstock instead of on some spindly tube. This is a feel I personally prefer.
The action and trigger
The box says this is a "semiautomatic." And this time they're right — it really is! Instead of a double-action revolver mechanism in disguise, this M14 really does operate semi-automatically. I don't know how they managed it, but they put a pretty nice military trigger-pull into this rifle, too. Those two things plus the sights will put it over the top if it's accurate.
The safety is exactly like the one on an M14, only almost everyone will be able to work this one with their trigger finger! It's smooth and positive, yet requires very little pressure to move in either direction.
Sights
The sights are very correct, and if you've never experienced a Garand or M14/M1A, this air rifle provides a cheap way of seeing the same thing. And the rear peep sight is adjustable in both directions, exactly the same as military sights, with one exception. The windage knob on my test rifle is very stiff, and sometimes I have to help it by pushing the sight carrier to the right to free it for an adjustment. I think this will wear in. My fear is that it may also wear out, because all I can see and touch is plastic. I sure hope the detents inside the sight are steel.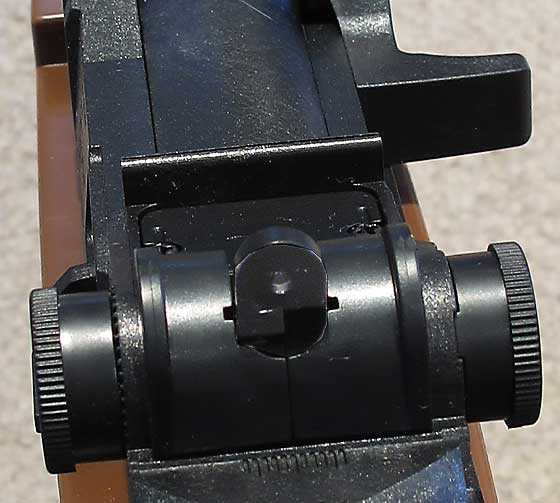 The rear peep sight is close to an M14 rear sight. Garand owners will recognize it, as well. If this air rifle is accurate, this sight will make the package very desirable!
Anyone who has ever owned a Garand will love the ease with which the elevation on this Winchester adjusts. Once the sight is where you want it, though, it stays put.
There's currently no possibility of mounting a scope on this rifle. And don't try to equate it to a genuine M14 or Garand that can be scoped, because those guns have steel receivers to accept scope base screws. This rifle's receiver is plastic, so there's nothing to drill into to mount the base.
Don't let that bother you, however, because this type of sight was one of the reasons the Garand was celebrated as the finest battle rifle of World War II. It's easy to use and very precise. If this rifle is accurate, the sights will do nothing but compliment it.
Sling
The rifle comes with sling swivels, and I am glad that no sling was provided. I say that because the type of sling that would have been selected is a cheap black nylon strap with toy-like thinness. If you want a sling, get a real one! The sling swivels appear to be well-anchored and look like they will even tolerate a hasty sling hold. Former military will know what that means. The rest of you should look it up on the internet.
The bottom line
Many of you reacted to the realistic look of this gun and asked me to review it. I now have one in my hands and I've told you how it feels and looks in person. In spite of the toy-like feel of the gun, the M14 genes carry through strongly, and I can't wait to shoot it. If it proves as accurate as it looks and feels, this will be a rifle that doesn't go back to Pyramyd Air!
by B.B. Pelletier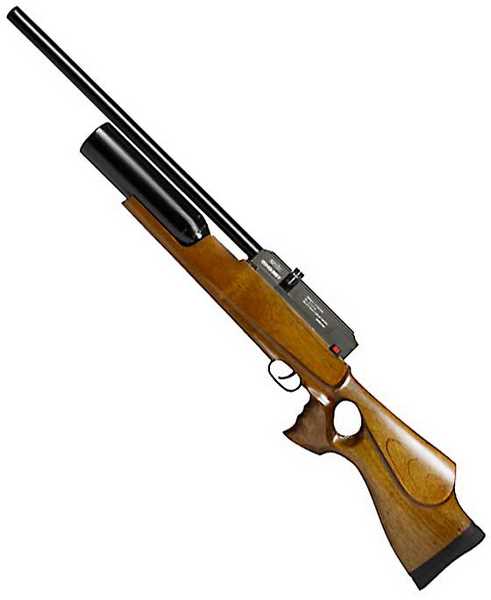 The Evanix Conquest has features that set the bar very high for air rifles.
Today is velocity/power day for the Evanix Conquest PCP air rifle. In a reversal of the norm, I tested the rifle for accuracy first, and this is a follow-on to that. Of course, now we do know which pellet works the best in the test rifle, but I will also test it with a couple others to get the true power potential.
First test: JSB Exact 15.9-grain domes
The rifle was filled to 200 bar before the test began. The first pellet I tested was the one we know to be the most accurate — the JSB Exact 15.9-grain dome. Since this is the pellet I would chose for this rifle every time, the results of this test will give me realistic performance parameters of the rifle as I would use it. I'll be testing velocity, which translates to power, and also the useful shot count. Velocity comes first.
The first string of 10 shots gave an average 955 f.p.s. The high was 960 and the low was 948, for a total spread of 12 f.p.s. At the average velocity, the rifle produces 32.21 foot-pounds of energy at the muzzle.
Please notice that we already know the rifle is most accurate at this speed. This relates directly back to what we learned in the Pellet velocity versus accuracy test. Now we know that harmonics and not velocity are the most influential forces when it comes to airgun accuracy.
The average velocity of the second string of 10 shots was 948 f.p.s., with a spread from 943 to 954 f.p.s. That's a spread of 11 f.p.s., which is one foot per second less than the first string. It's still a good, tight velocity range; and we know from the accuracy test that the rifle is just as accurate on the second string as on the first. The full-auto group that amazed us all was fired on the second string of 10 shots. At this velocity, the rifle generated an average of 31.74 foot-pounds of energy, so not much difference between this and the first string.
The third string of 10 shots averaged 944 f.p.s., which is a small drop from the first 10. The low was 927 f.p.s., and the high was 949 f.p.s. The total spread opened up to 22 f.p.s. That's still reasonable; but if you lump this string in with the first two, the total spread is now 33 f.p.s. That's still a good spread for accuracy at 50 yards, yet the third string was where the groups opened up a little and also dropped on the paper a little. On this string, the average muzzle energy was 31.47 foot-pounds, which is still very respectable.
The fourth string of 10 shots averaged 924 f.p.s. and ranged from 915 f.p.s. to 932 f.p.s. This spread spans a total of 17 f.p.s. The average muzzle energy was 30.15 foot-pounds. Again, it's a fairly tight string; however, if you throw it in with the first three strings, you get a total velocity spread of 45 f.p.s. That's too much of a spread for a smallbore pellet rifle to be accurate across 40 shots at 50 yards. And it was seeing the results of the fourth string during the accuracy test that made me stop after 3 strings of 10. The point of impact dropped over an inch and the groups all opened up to twice what they were in the first 2 strings.
If you're shooting the Conquest at 50 yards and going for the ultimate in precision, refill the rifle after 20 shots. But if you're just shooting casually at 35 yards, you should be good all the way to 40 shots. After that, however, the velocity starts to drop rapidly.
After 43 shots, the onboard pressure gauge reads about 130 bar remaining in the gun. The gauge is too small to be more exact than that. When I refill the gun, the reservoir inlet valve opens at around 2,150 psi on the large gauge on my carbon fiber tank.
Okay, this first pellet has taught us a lot about the Conquest. We now know the power, the velocity and the shot count. But we're not finished testing the rifle.
Noise
The Conquest has a shrouded barrel, and on the rifle range it is quieter than a .22 rimfire. But it's not a quiet airgun. I rate the discharge noise at a solid 5 according the scale Pyramyd Air uses on their site. Nothing short of a big bore or an AirForce Condor is as loud — despite the shroud. So, this isn't an air rifle for the suburban backyard or shooting in the house.
Second test: Eun Jin 28.4-grain domes
The second test was with the 28.4-grain Eun Jin dome. Because the Conquest is a pneumatic rifle it should give the highest power of which it is capable with the heaviest pellet. Being a magazine-fed repeater, also, we have to be careful to choose pellets that actually fit and work in the magazine, but that was already done at the range.
With a drum magazine, the fit we're concerned with is the length of the pellet. Will it fit the chambers and not protrude on either end, which would tie up the action when the rifle tries to advance the magazine to the next pellet? The 28.4-grain Eun Jin both fits the magazine of the Conquest and works well. The accuracy was only acceptable — in the 1.25-1.5 inch range for 10 shots at 50 yards, so I wouldn't use it in this rifle unless there was nothing better.
The rifle was again filled to 200 bar for this string. The average muzzle velocity was 697 f.p.s. for 10 shots. The low was 691, and the high was 707 f.p.s. At the average velocity, the rifle generated 30.64 foot-pounds of energy at the muzzle. That is lower than I expected, as PCPs generally become more powerful with heavier pellets — but that's what it did.
Third test: Beeman Kodiaks
Next, Beeman Kodiak pellets were tested. In .22 caliber, these weigh 21.1 grains and would be ideal for a rifle of this power. But they don't group as well as the 15.9-grain JSBs, and that has to be the most important criteria. Out to 50 yards, they're okay. Beyond that, they can't keep up.
Kodiaks averaged 819 f.p.s. for 10 on a fresh fill. The low was 813, and the high was 825 f.p.s. At the average velocity, they produced 31.43 foot-pounds of muzzle energy. Again, the heavier pellet wasn't as powerful as the lighter one.
Fourth test: JSB Exact Jumbo 18.1 grains
The last pellet I tested was the 18.1-grain JSB Exact Jumbo heavy pellet. They averaged 895 f.p.s. on a fresh fill, with a low of 891 and a high of 901 f.p.s. At the average velocity the rifle, produced 32.2 foot-pounds of muzzle energy with this pellet. So, it equals the 15.9-grain pellet for power, but not for accuracy, as we have seen.
Trigger-pull
The trigger of the test rifle releases at a very consistent 1 lb., 10 ozs., but the release is different than any other trigger I've ever felt. If you squeeze slowly, you'll feel the solenoid fire an instant before the gun fires. It's a small click before the boom. The actually firing is felt as a prolonged forward cycling of the bolt to push the pellet into the breech and back again to clear the magazine. The feel through the trigger while the gun fires is long and sloppy, but as you saw in the accuracy test, it works well and doesn't affect the hold at all.
Bottom line thus far
The Conquest is stacking up to be a fine hunting air rifle. It's powerful and amazingly accurate in the .22-caliber version I'm testing. And I'd like to mention that all the pellets tested fed through the magazine with no problem. Sometimes a rotary magazine like the one on the Conquest has problems accepting longer pellets, but even the big Eun Jins fit this one.
Without question, the one best pellet for our test rifle is the 15.9-grain JSB Exact dome. It's not only more accurate than the others, it's also more efficient, which was a surprise result. Test other pellets just the same, but make this one your primary choice until you find something better.
This was the fourth part of what would normally be a three-part test. I feel compelled to return to the range with a more powerful scope mounted on the gun and have another go at it. Maybe — just maybe, mind you — I'll also take this rifle out to 100 yards. It will take a perfect day, but as I am planning to test other airguns at that range, I thought this one might be included.
by B.B. Pelletier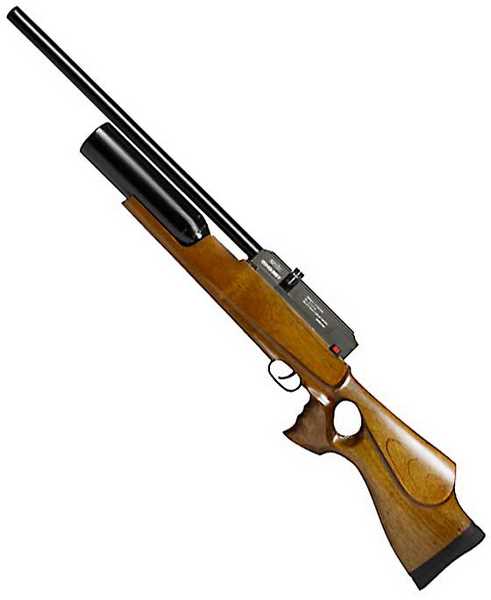 The Evanix Conquest has features that set the bar very high for air rifles.

The cat's out of the bag, so to speak, because today's title tells you what my big news is about. And I tied reader Kevin to this report because he owns an Evanix Conquest PCP air rifle that hasn't given him much joy. Today, I'll show you the most astounding shooting I've ever done, but I'll also address a mechanical concern and how it was corrected! This will be a report to remember, and here we go.
The Conquest is a very different air rifle. It took me two separate reports just to get through the general description because there are so many differences and unusual aspects of this airgun. The action is operated by a battery in the same way that an AEG airsoft gun operates, so I had to show you all of that. And, as I predicted, the forums are full of discussions about upgrading the battery pack — discussions among shooters who haven't even seen the gun, yet. My advice it to see it and shoot it, first. It might just be good enough as is.
The rifle shoots both semiauto, which very few pellet rifles do, and full-auto, which only one other CO2 gun (the Auto Ordnance SMG-22 belt-feed carbine) currently does. Until this test, I had a lot to say about the wisdom of providing a full-auto mode — likening it to a shopping cart with wheels rated to 200 mph. That's my way of saying, "Who needs it?" Today, I'll eat those words. Stick around.
Posting backwards?
Also, I am reviewing accuracy out of the usual order. Normally, I look at velocity first and accuracy afterwards. Several readers have commented that they do it the other way, because who cares how fast certain pellets will go if they aren't accurate?
Believe it or not, I put a lot of thought into doing a review in the order I usually do it. When I review velocity it's not to correlate it with accuracy, but rather to show the power potential of the powerplant. I do understand the readers' viewpoint that only accurate pellets are interesting; and like everyone, else I do tend to shoot only the most accurate pellets. But when I do the velocity test, I'm separating the power question from accuracy. I want to know what the gun is capable of doing as far as power is concerned, then in a separate test I want to discover what its accuracy can be.
Yes, I'll recommend shooting the most accurate pellet, but if it only produces 20 foot-pounds while the most powerful pellet produces 25 foot-pounds, I want to show that the gun is fully capable of producing 25 foot pounds. Who knows if there will be a new pellet in the future that will be able to use all the power the rifle has and be accurate at the same time? So, my test will have demonstrated the peak power potential. If you look back at my discussions of accuracy and power in many past tests, I think you'll see this has always been my thrust.
Today, we're looking at accuracy first, because I had the opportunity to get to the rifle range on a dead-calm day. I could not let such an opportunity pass. So, today is accuracy day, and velocity day is still to come for the Conquest.
A couple corrections
During the time I was examining the rifle for this report, Edith wrote the most comprehensive airgun manual I've ever seen. She wrote it for both the Conquest rifle and the Speed, and we had to operate the gun extensively to check facts for her manual. Several things I initially told you have been changed as a result of this more detailed look.
1. The batteries need at least an 8-hour initial charge before the first use.
2. The magazines hold only 10 rounds instead of the 12 rounds I told you (with all double-mags holding 20). That holds true in all three calibers (.177, .22 and .25) but not for the 9mm, which is yet to come.
3. There was a problem with the magazine sticking in the action that was corrected by lubrication. Let's look at that right now.
Magazine sticking problem
When I first examined the gun, I noticed that sometimes the magazine would not come out of the action when it was supposed to. When this rifle fires, the bolt passes through the magazine and pushes the pellet into the breech just before an air blast propels it out the barrel. If the bolt doesn't retract all the way after the shot, you can't remove the magazine because the bolt will still be inside.
Now I know what the plastic window on the right side of the receiver is for! Use it to access the bolt, so you can lubricate it properly. Then, it'll retract and the gun will run perfectly — or at least mine did.
The bolt has two diameters — a large rear section and a narrow front section. Both diameters must be lubricated, because they pass through different passages in the receiver.

Use an oiling needle to get oil onto both diameters of the bolt. The larger black steel portion on the left looks oily in this picture, while the smaller silver portion on the right, to the right of the hook-like part in the middle of the window, looks dry. That's because the surface is too smooth to see the oil. It's there. I used bike chain oil, but Pyramyd Air used FP-10, and both products did the trick.
Once I lubricated the bolt with the oiling needle, it worked fine and there were no more sticking magazines. But if you do encounter a sticking mag, the recommended solution is to pull the trigger and hold it back for a few seconds after the rifle fires.
A great day at the range
Well, it was a great day for shooting the Conquest. The morning was foggy, where not a breath of air could be felt. I shot the entire test in the most perfect conditions imaginable. And all shooting you are about to see was done at 50 yards.
Accuracy
The rifle comes without sights, so I mounted a Bushnell Trophy XLT 4-12x40AO scope on low two-piece rings. I then sighted-in the rifle with Beeman Kodiak pellets.
The first four rounds got me on target, and then six more went into a group that measured 0.811 inches between the two widest centers. If I accepted 5-shot groups as standard, my job would already have been done, and the Conquest would be a very accurate air rifle. But that's not how I roll, as you know, so I reloaded the magazine and shot a full 10-shot group.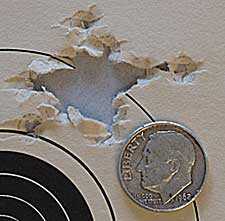 Ten Beeman Kodiaks went into 1.241 inches at 50 yards. That's okay, but not great. Time to try the next pellet.
Ten shots into 1.241 inches isn't the level of accuracy I'd hoped for, even at 50 yards, so I decided to move on. However I note that the 21.1-grain Kodiaks do feed smoothly through the magazine. Length is not a problem.
The trigger and what it feels like to shoot
Shooting these two groups (6 shots, followed by 10 shots) afforded me the opportunity to get used to the Conquest's trigger. I remember saying that a rifle at this price has to have a perfect trigger. Well, the Conquest trigger is far from perfect. But then I thought of another semiautomatic air rifle — the FX Revolution, which I'd tested a couple years back. It also has a less-than-desirable trigger that slaps you back through the trigger blade every time the rifle fires. In comparison, the Conquest trigger is less annoying. Instead of breaking like glass, this trigger has a rocket-push feel to the release. It's difficult to describe, but you feel the movement of the bolt through the trigger blade.
But the magic of shooting a semiauto with almost zero recoil allows every shot to go where you want, and soon you forget the trigger. Knowing the rifle will stay exactly on target — and all you have to do is pull the trigger for another shot — builds your confidence like you wouldn't believe!
JSB Exact Jumbo Heavy
Next, I tried the 18.1-grain JSB Exact Jumbo Heavy pellets. In many rifles of this power, the 18.1-grain Jumbo Heavy JSB is the most accurate pellet, but not this time. In the Conquest, 10 JSB Jumbo Heavys made a group measuring 0.958 inches between centers. That's not bad, but it's still not the best the rifle can do.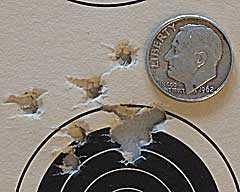 Now this is more like it! Ten JSB Exact Jumbo pellets in 0.958 inches at 50 yards. This kind of performance is very credible, though not as good as the Conquest can shoot.
JSB Exact 15.9-grain
The next pellet I tested was the JSB Exact 15.9-grain dome. JSB calls this one a Jumbo, but I find that confusing with the Jumbo Heavy, so I make an exception by referring to this one by its weight. Over time, I've found this pellet to be the most consistently accurate .22-caliber airgun pellet.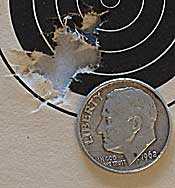 Now, that's a group! Ten JSB Exact 15.9-grain domes made this 0.547-inch group at 50 yards. This is fantastic performance. It is accuracy rivaling some of the finest semiautomatic rimfire rifles — after they've been accurized.
The 15.9-grain JSB Exact shot many groups between 0.50 and 0.75 inches, time after time. It was so dead-reliable on this perfect day that I would have picked it over all other PCPs for a benchrest match. But there's one dynamic you do need to watch.
Other pellets tested
I also shot the .22-caliber Crosman Premier and the heavy 28.4-grain Eun Jin dome. Both groups were about the same as the Kodiaks, and I did not pursue them beyond a single group.
Shot count
The Conquest holds a lot of air, so the tendency is to keep right on shooting for magazine after magazine. If you are shooting spinners at 35 yards you'll get away with it, but out at 50 yards things start to look different. That's why I test at that distance with super-accurate PCPs like the Conquest.
I noticed that the first three 10-shot groups were all very tight. The group of JSBs going into 0.547 inches, shown above, was the first group fired on a fresh fill of air and also the best group of the test, but let's take a look at the fourth group fired on the same fill with the same pellet.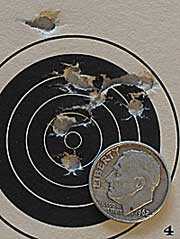 This group of JSB Exact 15.9-grain domes was the fourth group on the same fill. It measures 1.267 inches between centers. Three 10-shot groups are the limit at 50 yards when the best accuracy is required.
That fourth group is approximately the same size as the group of Beeman Kodiaks I showed you first. While it's a good group, it's not representative of this rifle's true capability at 50 yards. What this means is the total shot count you'll get on a fill with this rifle depends on what you're shooting and how far it is. If you want the absolute best the rifle can do, refill the gun after 30 shots. But if you're hunting squirrels at 35 yards you can go to at least 40 shots, if not more.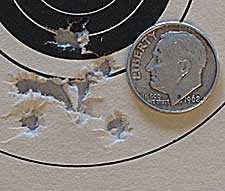 This 10-shot group of JSB Exact 15.9-grain domes measures 0.760 inches between centers. There were many groups like this, and I would say this is representative of what the rifle will do all the time under good conditions with this pellet.
Full-auto
Of course, semiautomatic is only half of the game with the Conquest. I had to fire the rifle on full-auto, even though I was scoffing at the thought. Why would anybody even do that, I wondered. Well, the first group I shot answered my question.
The big surprise!
When I looked through the scope after the burst was finished I couldn't tell if all the pellets were in the group or not, so I checked it with my new super-sharp spotting scope. What I saw caused me to jump up and down and pretty much stop the shooting on that range.
I am fortunate that my shooting buddy, Otho Henderson, was there to witness what happened. I had told him the Conquest was a full-auto gun; but until you hear it rattle the shots off, it doesn't sink in. Seeing me this hyper after looking through the spotting scope, he knew something was up because I don't even crack a smile unless a group is really astounding.
We both walked down to the target to examine what was a single ragged hole at my exact point of aim. I had used a 12-inch by 12-inch paper target, stapled to a 24-inch by 48-inch cardboard backer that had no other holes in it close to this target. The other target on which I'd been shooting semiautomatic groups was 12 inches above this one, so it was clear that all 10 shots went into the same tight group.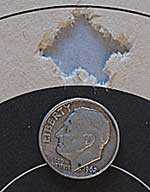 The first full-auto group from the Conquest measures 0.568 inches between centers! Never in my wildest imagination did I think this rifle could ever do something like this on full-auto!
Now I know what many of you are thinking. This was a fluke. You'll never do it again. I thought the same thing, so I shot a second full-auto group for you.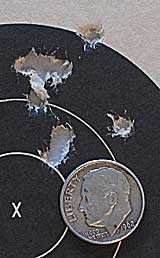 Ten JSB Exact 15.9-grain domes went into this group measuring 1.001 inches between centers. I would expect this to be more representative of a full-auto group at 50 yards. Even so, it's fantastic!
I'm guessing that this second group is closer to what the Conquest will do on full-auto at 50 yards most of the time on a perfect day. But since 90 percent of all the air rifles in the world can't do as well shooting their pellets one at a time, it's still pretty amazing.
In fairness to Mac, he did predict exactly such a thing when we were still in Las Vegas. He once owned a .22 rimfire semiauto that would occasionally dump its whole magazine; and he noted that when that happened, the group was always smaller than what he could shoot pulling the trigger each time. Apparently the gun takes care of business before the shooter can screw it up. I didn't believe him until this happened.
All the good was used up!
Following the Conquest test, I went over to the 100-yard range and proceeded to shoot my old Ballard with the new bullets and loading techniques. Nothing worked, and the best I could do was shoot 4-inch groups! Then, I tried a 30-30 that had shot a half-inch at 50 yards the time before and it, too, shot four-inch groups. So, all the accuracy for the day was used up by the Conquest.
One last thing
Perhaps I should have mentioned this earlier, but I thought it would be a nice surprise here at the end of the report. I had mounted a 4-12x Bushnell scope on the Conquest for this test, but in doing so I failed to notice exactly which Bushnell it was. When I got to the range and tried to adjust the power ring, it wouldn't budge. I had mounted a broken scope on the rifle, so the entire test had to be shot at 4x!
I doubt that mounting a 32-power scope would improve the groups all that much, simply because these groups can't be improved much more than they are right now. But please feel free to imagine what might have happened if the scope had been better.
We look at velocity and power potential next, but at this point in the test my mind is already made up. The Evanix Conquest is a most worthy precharged pneumatic air rifle. It has a number of interesting deviations, some of which, like the battery, will turn off some shooters. But other features, like the full-auto capability, are surprisingly more effective than you might imagine.
As I look at these results, I'm reminded of two weeks ago at Las Vegas, when I pounded a 200-yard metal silhouette with the 9mm Conquest that's still in development. Who knew these guns could be this accurate?
by B.B. Pelletier
Photos by Earl "Mac" McDonald
This is the second of my reports on the 2012 SHOT Show. There will certainly be at least one more after this, and perhaps even more, as there's simply too much new information to pack into a single report.
The state of the airgun industry in 2012
Before I get to some specifics, I want to make a general observation. This year's SHOT Show was different for me in a major way, because I saw for the first time that firearms shooters are beginning to understand airguns as never before. In the past, I always had to start my explanations with the cooling of the earth's crust and then progress through the age of the dinosaurs because each firearms person I talked to thought of airguns as either toys or BB guns. This year, a lot of them were clued-in on what's happening. They weren't surprised by the accuracy we get, and they knew about big bores. A lot of them had some airgun experience and more than a few asked me the same kind of questions that I get from long-time readers of this blog.
That tells me the day of the airgun has finally dawned in the U.S. Instead of 25,000 to 50,000 active shooters (at best!), we will now see an influx from over 5 million active firearm shooters who are ready to augment their shooting experience with airguns. I'm already getting calls and emails from state departments of wildlife resources, asking about the issues of incorporating airguns into their hunting seasons.
It has been a long haul to get to this point, but we're now seeing the start of the harvest of all the work that's been done over the past 40 years — starting with Robert Beeman in the early 1970s. The job is now to manage this growth and provide useful information to the tens of thousands of new airgunners who are flooding in the doors.
Let me reflect on how the industry seems to be reacting to this trend. Some companies have been on board for many years and are poised to ride the new tidal wave of business as far as they can. Other companies are aware that airguns are very hot, but they're foundering, trying to understand them. Let me say right now that it's not as easy as you think!
The readers of this blog are among the most clued-in airgunners in the world. But they're unique, and they do not represent the true market. The demographic of a new airgunner is a man (usually) in his late 20s to late 40s who is most likely a fan of AR-type rifles and Glock-type pistols. He wants repeaters, semiautos and he thinks that a five-shot group is the gold standard of any gun. Velocity impresses him, and he isn't comfortable with the term kinetic energy.
Things like good triggers and good sights are not an issue with this customer until he experiences bad ones. His ARs have decent triggers off the rack, and he can choose from many drop-in triggers that are much better. When he encounters a spring-piston gun with a horrible trigger that cannot be easily modified, he's surprised.
He does not use the artillery hold, and he equates all airguns to be alike in terms of performance. When he learns about precharged guns, he's put off by the additional equipment he must buy. Spring-piston guns seem the best to him for their simple operation, and he doesn't appreciate the fact that they're also the most difficult airguns to shoot well.
That's the customer who's coming to airguns today, so that's the person airgun manufacturers have to deal with. If you have wondered why many of the new airguns are what they are — this new-customer profile is the reason.
Okay, I've talked about those companies that get it and those that are struggling to understand. There's one more type of company out there. I like to call them the "gloom and doom company" or the "zero sum company." They're firmly entrenched in the 1970s and cannot take advantage of this new windfall of business. They either fired their engineers years ago or they let them all retire, and now they couldn't build a new airgun to save their lives. As far as they're concerned, there are only 25,000 airgunners in the United States and it's the NRA's responsibility to identify and train them so these companies can sell them some guns.
They think of marketing in 1950′s terms, when a simple paint job and some sheet metal was enough to create a new product. Their "secret" business plan is to buy guns made by other manufacturers and have their name put on. If you're a collector, better buy up the guns these guys sell because in 10 years their name will be a memory.
That's enough of the big picture. Let's see some more products.
More from Crosman
Many of you saw the list of new Crosman products Kevin posted last week, so the few that I show here are by no means all there is, but they're the highlights. Crosman had about half the new airgun products at the entire SHOT Show.
New tan M4-177 and carry handle
The M4-177 multi-pump that I recently tested for you is going to be very popular this year. Crosman is also offering it as an M4-177 Tactical air rifle with a new carry handle that replaces the rear sight for improved sighting options. I think this gun will be in their lineup for many years to come.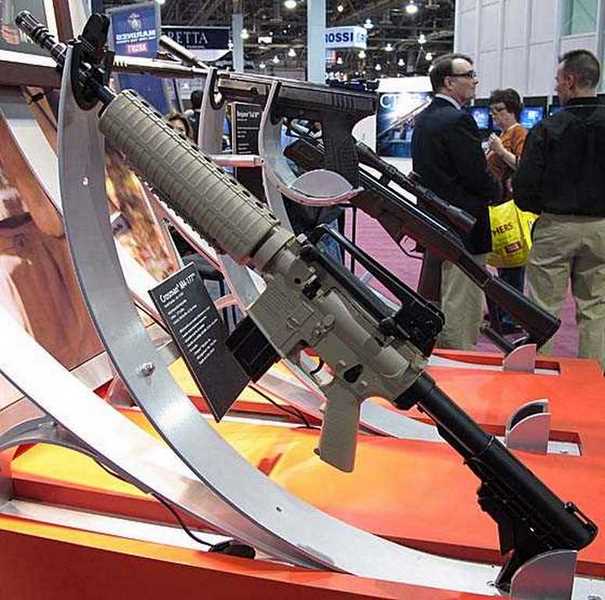 The M4-177 now comes as this tactical model in tan with a carry handle.
I mentioned to Crosman's Ed Schultz that this rifle looks like the A.I.R.-17 of the 1990s, but done better. He said he always wanted to update that design, and that is exactly what this is. So, what he said next came as no great surprise.
I shared my thoughts on a 2260 made as a multi-pump in .25 caliber, and Ed told me that was how the rifle was originally created (not in .25, however). The CO2 version was an afterthought that got put into production, while the multi-pump version languished in the Crosman morgue. I told him that I thought the time was ripe to bring it back as an upscale hunting rifle, and he seemed to agree. We can only hope.
Carbon fiber tank
As Crosman extends their capability into PCP guns, they know shooters are always looking for better options for their air supply. Besides the new butterfly hand pump I showed you last time, they'll also be adding a long summer-sausage black carbon fiber tank with increased capacity over their current tanks. This is a 300-bar tank that has 342 cubic-inch capacity. It comes in a black nylon carrying case with sling for field transport.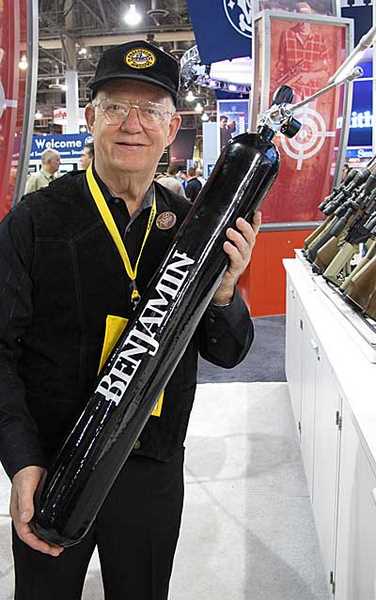 More air for you! New Benjamin carbon fiber tank will help you take your PCPs further afield.
Benjamin Nitro Piston breakbarrel pistol
The Benjamin NP breakbarrel pistol certainly has people talking on the internet. This is the first commercial gas spring application in a pistol, I believe. The most distinctive feature is a cocking aid that can either be detached or left in place while shooting. That reminds us that this pistol is going to be hard to cock, but I'll test one for you so we'll all know just how hard.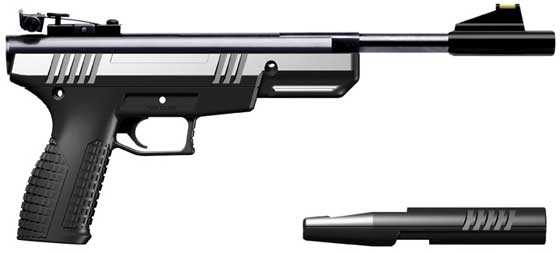 New Benjamin Trail NP pistol is a breakbarrel with a gas spring. The cocking aid can be detached or left in place while shooting.
Crosman 1720T PCP pistol
Everybody was ready to jump down Crosman's throat for creating the 1720T PCP pistol. They wondered with the .22-caliber Marauder pistol and the .177-caliber Silhouette PCP pistol already selling, why was this one needed? As Ed Schultz explained it to me — this one is for field target. It's a .177 (naturally) that produces just under 12 foot-pounds through a shrouded Lother Walther barrel. It can be used for hunting, but field target was its primary purpose. They worried about the shot count with the Silhouette; but with this one, power was the criterion. Look for about 800 f.p.s. with a 7.9-grain Premier. And the trigger is the same as the Marauder, so excellent operation there.


The new Crosman 1720T PCP pistol is meant for field target competition. It will also work well for hunting.
Crosman MAR 177 PCP conversion
The Crosman MAR-177 PCP conversion is another new product that has a lot of people talking. This AR-15 upper converts your .223 semiauto into a .177 PCP repeating target rifle. Because it's on an AR platform, almost everybody expects it to be semiautomatic — including those who should know better. This rifle is a bolt action that cocks and loads via a short pull on the charging handle.
This conversion is an Olympic-grade target rifle for a new official sport that Scott Pilkington and others have been promoting for several years. It will take the U.S. battle rifle back into the ranks of target shooting. However, the look of the gun has many shooters totally confused. I was even asked at the show if I thought Crosman should have come out with an "everyman's" version of the gun first. That would be like asking whether Feinwerkbau missed the boat by not first making their 700 target rifle in a $300 version for casual plinkers.


The MAR-177 PCP conversion is an upper for your target-grade lower. Plan on investing about another $1,000 in a good lower if you hope to compete.
Crosman TT BB pistol
It's all-metal and a good copy of the Tokarev pistol. The weight is good and the gun feels just right. This will be one to test as soon as possible.

Crosman's TT Tokarev BB pistol is realistic and looks like fun.
Benjamin MAV 77 Underlever
The Benjamin MAV 77 underlever rifle is going to force Crosman to recognize spring-piston air rifles instead of just calling them all breakbarrels. This is the TX-200 copy from BAM that was once sold by Pyramyd Air. When the quality dropped off, it was discontinued. Hopefully, Crosman will watch the quality on this one.
They didn't have a firm retail price yet, but hopefully it'll be significantly under the TX. Otherwise, why buy it? I may test one for you, but I already know that BAM can make a great rifle when they want to. I think it all comes down to price.


Benjamin MAV-77 is an underlever spring-piston rifle that looks and, hopefully, performs like an Air Arms TX-200.
TR-77
The Crosman TR-77 is a conventional breakbarrel spring-piston rifle in an unconventional stock. It's different enough that I want to test one for you. It appears to be a lower-powered rifle that probably sells at a bargain price because it's branded under the Crosman banner rather than Benjamin. Mac photographed one in a sand-colored stock for you.


Crosman TR-77 breakbarrel in a sand-colored stock also comes in black.
There was a lot more at Crosman that I could have mentioned, but now let's go over to the Leapers booth.
Leapers
I've watched Leapers grow from a relatively small company back in 1998 to a major player — blasting past older, entrenched companies as they grew. This year, they were playing a video about the company on a continuous loop in their booth. I was impressed to see their plant in Livonia, Michigan, where they build airsoft guns, tactical mounts, accessories and scopes right here in the U.S. The plant is filled with many CNC machining centers and testing facilities to keep close watch over their products during development.
American-made
Leapers owner David Ding told me he wants to get control over the production process so he can assure the quality of all of his products. In keeping with that goal, I was shown the new scope line for 2012 that now offers locking target knobs on all of the upscale models. Many of them feature etched glass reticles that are amazingly crisp and sharp.
Scopes
Mac was impressed by the reticle on the new 3-9x Bug Buster scope. He urged me to look through it; and when I did, I saw that the reticle is now fine and sharp — not the heavy black lines of the past.

David Ding shows me the new 3-9x Bug Buster scope (not out yet), with target knobs and a finer reticle.
But scopes were just the beginning at Leapers. Next, I was shown the whole line of tactical flashlights and lasers, including some mini lasers I will test on my M1911A1 for you. These are all made in the U.S. now and have more rugged internals, adjustments and optics than similar products from the Orient.
UTG 555 Long Range Light
One item I hope Pyramyd Air will consider stocking is a fantastic 500-lumen tactical light for law enforcement. It can be mounted on a rifle, handheld or even mounted on a bike! It comes with rechargeable lithium batteries and a smart charger…and believe me when I tell you it turns night into day!

The UTG Long Range light can go on your rifle, held in the hand or even mounted to your bike! The rechargeable lithium-ion battery pack will keep it shining at 500 lumens for 1.5 hours.
Fast Action Gun bag
Not all Leapers products are for airguns. They also make tactical and law enforcvement gear that rivals spec-built equipment but sells at a fraction the cost. As a result, many of their customers are ordering straight from the front lines of combat and from law enforcement agencies all over the country to get the products that their own supply lines cannot or will not furnish.
One of their latest developments is a Fast Action Gun bag that lets the wearer walk in public with a substantial firearm hidden from view. A quick pull of a strap, and the bag opens to reveal the weapon inside.

Leapers owner Tina Ding models their new Fast Action Gun bag. Here, it's concealed; but she's just pulled it over her shoulder from her back, where it looks like a tennis bag.

And in less than a second, the bag is open, giving instant access to the tactical shotgun or submachine gun inside.
11mm-dovetail-to-Picatinny adapter
Leapers has an entirely new range of quick-disconnect scope mounts coming this year, but there's another innovation that I think you'll find even more impressive. It's an adapter that snaps into a Picatinny scope mount base, turning it into an 11mm dovetail. So, your conventional air rifle will now also accept Leapers Picatinny scope mounts with this adapter.
11mm-dovetail-to-Picatinny adapter is small and doesn't raise the mount at all! This will be one to test!
Leapers is still the company to watch because the owners want to build a lasting corporation here in the U.S. They're poised to move to the next level of quality in their optics, which gives me a lot of hope for the future — they've always been receptive to the needs of airgunners.
Whew! That's a lot of products, and there are still many more to show. As I said in the beginning, there will be at least another report.
by B.B. Pelletier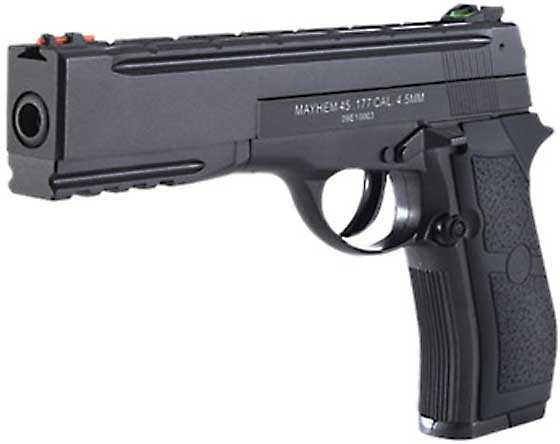 The Mayhem .45 Sport Tactical air pistol is a big, heavy airgun.
Well, it all came down to accuracy, and the Mayhem .45 Sport Tactical air pistol has it in buckets. However — and it's a big one — the trigger is so hard to pull and it's also double-action only that it creates a problem shooting the gun accurately. If this had a single-action trigger, I bet I could shoot half-inch groups with it — especially at 15 feet. But I'm getting ahead of the story.
The first BBs I used were the RWS BBs that I've mentioned in the past. They seem to group just as tightly as Daisy's zinc-plated BBs, and I wanted to give them a chance in this pistol.
I started the test at 15 feet, and the nature of my range dictates a one-hand hold at that distance. I didn't expect very much until seeing the BBs all go to the point of aim. However, I wasn't able to hold the gun still enough to pull the trigger, which requires over 12 lbs. of effort, and still keep the pistol steady.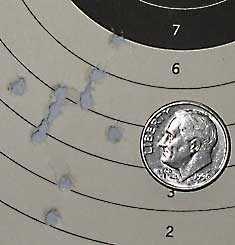 At 15 feet, the pistol shoots to the point of aim, but the heavy trigger-pull caused it to move around more than a little. This 10-shot group measures 1.468 inches between centers.
Since it shot so straight at the close distance, I decided to back up to 25 feet and try it. Normally, I don't shoot BB pistols that far back, but at that distance I could use a barricade rest and this pistol might surprise me.
Barricade rest
A barricade rest is a very steady hold for a handgun — especially an air pistol that doesn't recoil. I grab onto the barricade, in this case a door jamb on my right side, with my left hand and rest my right (shooting) hand on top. Then, I lean into my hands to further steady myself. This eliminates the shakes and allows for a good arm's-length sight picture.
The Mayhem trigger-pull is so heavy that, after the first group at 15 feet, I had to pull the trigger with my middle finger because my index finger was out of strength. The BBs also went slightly higher at 25 feet.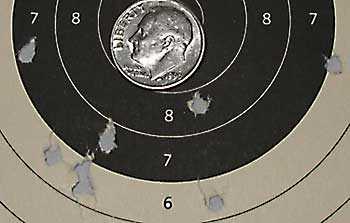 A fair group from 25 feet with a BB pistol. There are 9 shots in 2.192 inches.
After this group, I reloaded the magazine with Daisy zinc-plated BBs for another try. My trigger finger was giving out at this point, so this was the last group I would be able to shoot with any accuracy.
This time, I gave it my best for 10n shots. From where I stood, every shot looked like a perfect release; but when I walked to the target, I saw that the group was more spread out. Ten shots went into 1.873 inches.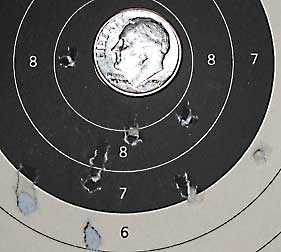 The final group of Daisy BBs did best at 25 feet.
Summary
The Mayhem BB pistol has several things going for it. It gets an incredible number of shots per CO2 cartridge, yet the velocity remains high. The BB magazine is very easy to load and manage. Accuracy is also well ahead of many BB pistols.
On the down side, the sights aren't adjustable. As we see from this test, it would have been nice if they were.
But the trigger is the biggest sticking point I had with this pistol. It's double-action only, so there's no possibility of relief from the excessive pull. I'm usually pretty neutral when it comes to triggers. I shoot so many airguns that I can adapt to just about anything. But this one is too much even for me. I know I could have shot better with a trigger-pull half as heavy or with a single-action pull.