by B.B. Pelletier
Photos and testing by Earl "Mac" McDonald
Today, we'll look at the accuracy of the Diana 75, and I'm going to tell you right now that it's something to behold! Mac is a dedicated mini-sniper — the sport in which you use 10-meter rifles to shoot at small reactive targets like empty cartridge cases from long distances. Mac has done it from 50 yards, shooting offhand with his favorite FWB 300 target rifle. But he'd forgotten how very nice this Diana 75 is until this test forced him to rediscover it.
The test was conducted outdoors in calm weather. First, I asked Mac to shoot groups at 10 meters, because this is a 10-meter rifle, after all. But then he moved out to 25 yards and shot the same pellets.
He shot off a rest and rested the forearm on the palm of his off hand, which was rested on a sandbag for support. Because there are so many groups, I relaxed the 10-shot requirement, so what you will see is the result of 5 shots.
Oh, and Mac asked me to stress the following. All shooting was done using the target sights. No scopes were used.
Testing at 10 meters
RWS Meisterkugeln pellets used to be the best target pellets RWS offered. But, today, they're one step down from the R10 Match pellets. Nevertheless, they'll often be extremely accurate in your airguns. Mac shot the lighter version of this pellet that's recommended for pistols. Mac got a 5-shot group measuring 0.25″ between centers, but he didn't forward the photo.
Next, he shot H&N Finale Match rifle pellets. The 75 seemed to like these and grouped 5 of them in 0.19″.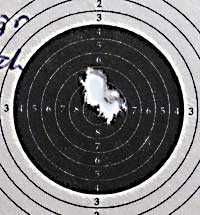 H&N Finale Match. Five in 0.19″ at 10 meters.
RWS Hobbys were next, and Mac surprised himself. After correcting a canting problem, he grouped 5 into a 0.12″ group!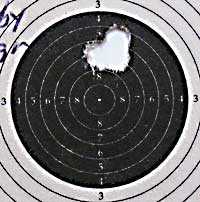 Look what five Hobbys can do at 10 meters. Twelve hundredths of an inch is pretty impressive!
Next, Mac departed from the world of target pellets and tried some JSB Exact 8.4-grain domes. While you can't use them in a match, they are perfectly fine for sports like mini-sniping or just general plinking.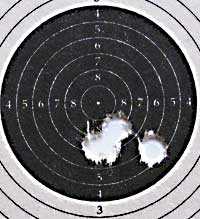 Not quite up to target ammo standards, this is still a good group of JSB Exact 8.4-grain domes. Five went into 0.34″.
Mac ended the ten-meter session with his favorite RWS Superdomes. And they performed very well, grouping five into 0.16″.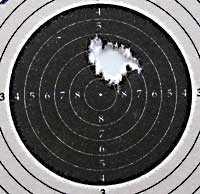 RWS Superdomes were right in there with target pellets. No wonder Mac likes them. Five in 0.16″.
Move back to 25 yards
Once the 10-meter targets were finished, Mac moved back to 25 yards and tested the same pellets, again. As before, the groups are 5 shots.
The first pellet tested was the RWS Meisterkugeln. This time, Mac sent the photo. And, the Meister seemed to perform the same at 25 yards as it did at 10 meters — sort of near the bottom of the pack.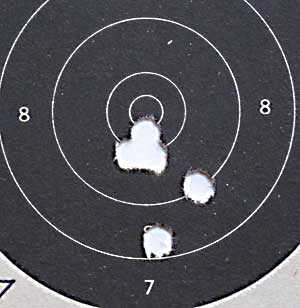 RWS Meisterkugeln gave a group of 0.67″ for 5 at 25 yards. While it's an okay group for some rifles, it's below par for the 75.
H&N Finale Match target pellets were next. At 25 yards, they gave a pleasing group of just over a half-inch for 5.

Five H&N Finale Match went into this 0.53″ group at 25 yards.
The RWS Hobbys came next, and they were still screaming at 25 yards. Apparently, the tight group at 10 meters wasn't just a fluke. At 25 yards, 5 went into a tight group measuring just over a quarter-inch.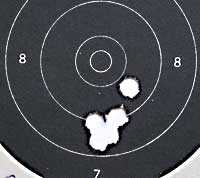 Mac says he called the lone flier of RWS Hobbys in this group that measures 0.26″ for the 4 tight ones.
JSB Exact domes followed the Hobbys and they gave a group of exactly a half-inch.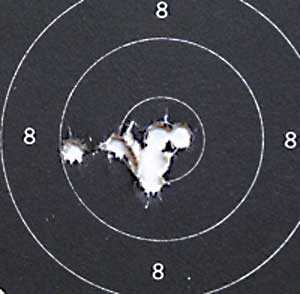 A half-inch group of JSB Exact domes.
The final pellet tested at 25 yards was the RWS Superdome. They performed well, though Mac claims another called flier. But 4 of them went into 0.30″.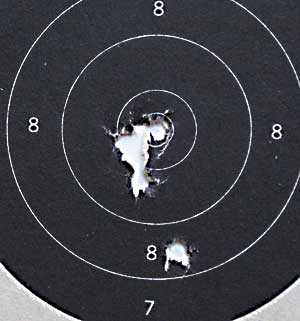 Five Superdomes. Four went into 0.30″ and Mac called one flier.
Well, that completes the report on the 75. It's quite the plinker, as hundreds of proud owners can attest. Mac, who has always been partial to the FWB 300, was surprised that he didn't remember what a great shooter he had in this rifle.Just a month ago, it was being offered for sale at Roanoke. He may have to rethink that one!