by B.B. Pelletier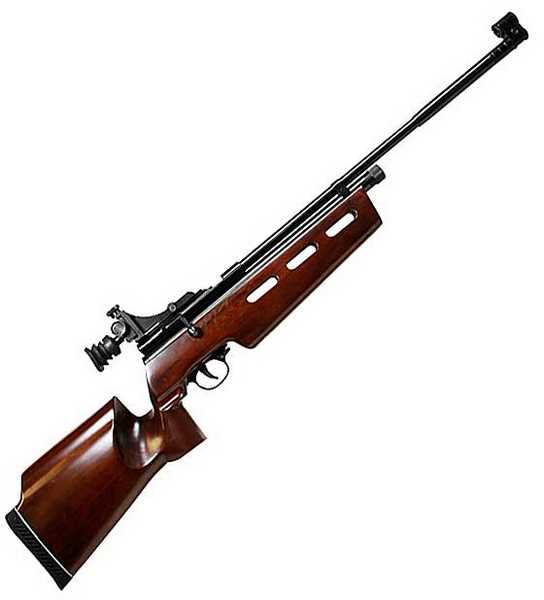 The Tech Force 79 Competition rifle is a lot of value for a very low price.
Well, the best laid plans of mice and men….I was supposed to be at the SHOT Show today, but the night before my flight left I went to the emergency room with what I thought might be appendicitis. It turned out to be a small but painful hernia, which cancelled all travel plans and heavy lifting for a while. So, no SHOT Show this year! Apparently, my extended hospital stays and being fed intravenously for so many months last year resulted in too much muscle loss. The doctors believe it will heal up shortly without any surgery.
That's sad, because Crosman is unveiling a brand new kind of big bore air rifle. Named the Rogue, we called it the electronic PCP during development, because it uses computer control of the valve to get far greater efficiency than has ever been possible.
The idea of an electronically controlled valve isn't new. Daystate has been doing it for several years and getting great results. But, no other airgun will get the performance this new gun offers. The computer senses the remaining air pressure in the reservoir and holds the firing valve open long enough to extract highly consistent velocities. Instead of 2 shots or 6 good shots from a big bore, what would you say to the possibility of 10 high-powered shots? Or, change the programming and get 20 lower-powered shots at a level that's still impressive.
This new system was invented by one of our own blog readers, Lloyd Sikes. He signs in here as Lloyd. He first showed me his design at the Roanoke airgun show several years ago, and I was so blown away with the possibilities that I set up a meeting with Crosman. Of all the airgun companies in the world, Crosman is the only one open to new and radical ideas, as well as having the engineering and production capability to act on it. Lloyd initially demonstrated his invention by video, followed by several live demonstrations at the Crosman plant. They made the decision to take his idea and make it into a producible airgun system, and I use the word system advisedly. Although the initial offering is a rifle in .357 caliber (imagine the hundreds of lead bullets now made in this caliber!), a barrel change allows conversion to .30 caliber and even .410 gauge! For the first time in history, we may have an air shotgun with power identical to a firearm! I'm talking about sending a half-ounce of shot out the muzzle at over 1,100 f.p.s.!
Imagine filling to 3,000 psi and still firing shots at the same velocity when the pressure has dropped below 1,500 psi. This will be the most flexible, most adaptable big bore airgun ever conceived.
Crosman has poured their corporate heart and soul into this project, knowing that they have a technology unlike any that's gone before. The future may hold .50 caliber buffalo rifles, real usable shotguns, smallbore rifles that have incredible velocity uniformity…and the list goes right on out to the horizon. And, you, my dear readers, are the absolute first set of airgunners outside the development team to learn about it. This is the big bore that many people guessed would be some kind of Marauder on steroids. It's nothing of the kind. It's a brand-new technology that has never been seen before.
I'll be getting a rifle to test for you this year, so the future bodes well for more great new toys.
Today, we'll look at the velocity of our .177 caliber Tech Force Competition Rifle, as well as the endurance of two 12-gram CO2 cartridges. Don't be confused because this is Part 3. I did a special report on the trigger in Part 2.
Pyramyd Air rates this target rifle at 550 f.p.s., which is right where a 10-meter target rifle ought to be. But, the test rifle proved to be more powerful than that. Before I get into the velocity numbers, though, I'd like to share some more info on the trigger.
Sweet trigger
At the end of the trigger report in part 2, I told you that the trigger was almost creep-free. Just a hint of creep remained in stage two because I insisted on more sear contact area for safety. I also lubed the sear and the trigger contact with moly grease. Within just a handful of shots, the moly had erased all hint of creep, and I now have a target trigger worthy of the name. I cannot emphasize too strongly what an incredible value this trigger is in such a low-priced airgun.
Velocity
The first pellet I tested was the RWS R10 7.7-grain target wadcutter. It seems RWS has dropped this pellet in favor of an even lighter 7.0-grain R10. But, it was the heavier pellet that I tested. They averaged 613 f.p.s. and the range stretched from 608 to 617 f.p.s. for a span of 9 f.p.s. They average 6.43 foot-pounds of muzzle energy.
Next, I tried the H&N Finale Match Pistol pellets. They weigh 7.56 grains and they averaged 617 f.p.s. in the test rifle. The range went from 614 to 619 f.p.s., so a tight spread of only 5 f.p.s. The average muzzle energy was 6.39 foot-pounds.
I cannot emphasize too strongly what an incredible value this trigger is in such a low-priced airgun.
Gamo Match pellets were next. They weigh 7.71 grains and averaged 613 f.p.s. in the test rifle. The velocity spread went from 610 to 617 f.p.s., so only a 7 f.p.s. spread. Average muzzle energy was 6.43 foot-pounds.
The last pellet I tested was the RWS Hobby. They were the fastest pellets, at an average of 632 f.p.s., and the range went from 629 to 636 f.p.s. The spread was 7 f.p.s. The average muzzle energy was 6.21 foot-pounds.
After this testing, a total of 40 shots had been fired with the two CO2 cartridges. I continued shooting Hobbys to see what the total number of shots would be. The velocity fell off immediately. By shot 48, it dipped below 600 f.p.s for the first time. This particular rifle has a total of 40 good shots on a set of two CO2 cartridges. That might be extended a few rounds in the hot summertime, and in cold weather it might be a few less. I shot in my office with the temperature at 70 degrees F.
A plinker could go on for several additional shots, but a target shooter wouldn't want to. That's where the degasser comes into play. When CO2 is in the reservoir, the o-rings press against the walls of the reservoir so hard that no amount of effort short of vice grips can turn the end cap off the gun. The degasser lets you dump the remaining pressure and start all over again.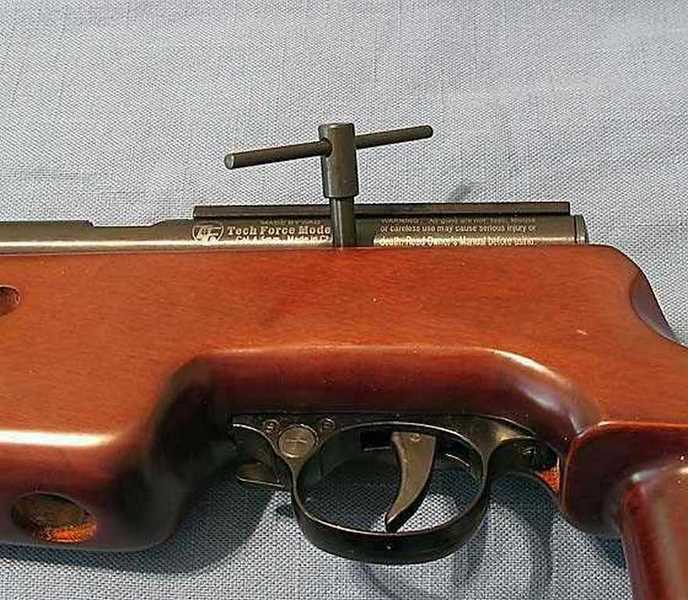 The degasser slips into a hole on the left side of the gun and works just as the name says.
I'm going to get a setup for bulk-filling in a future report. For now, know that the TF79 is even more efficient than the classic Crosman 167 (the .177 caliber version of the 160). Coupled with better overall design and a finer trigger, that's saying a lot. Accuracy will be the next thing we look at.