by B.B. Pelletier
Vince is an airgun fixit guru. He's been on a roll lately and has sent me a number of great guest blogs about fixing airguns, taking junker guns and making them whole again, and making airgun parts.
If you'd like to write a guest post for this blog, please email us.
Bloggers must be proficient in the simple html that Blogger software uses, know how to take clear photos and size them for the internet (if their post requires them), and they must use proper English. We'll edit each submission, but we won't work on any submission that contains gross misspellings and/or grammatical errors.
by Vince
To B3 or not to B3…that, as they say, was the dilemma of the day.
You know, there's a dark side to being a collector (sort of). I'm up to about 70 air rifles and have room for about 20 or so more, so I'm just sniffing around for stuff I don't have. I came across a gentleman selling a box of guns, four in all–well, three-and-a-half, actually–for pretty cheap, and I had examples of NONE of them! Two were Shanghai-built Industry Brand B3 airguns, one was an unidentified Chinese sidelever and the last was the action part of a QB51.
I'll cover the sidelever in another blog, but the B3 guns…What can be said about them that hasn't already been said? Love 'em or hate 'em (and there's no shortage of shooters that go both ways), it doesn't change the fact that I DON'T HAVE ONE. Imagine a rich Mustang collector; he NEEDS to have a 1974 Mustang II Ghia with a 2.3L 4-cylinder and an automatic in his collection. It's a horrid little car, but that doesn't matter. There's a spot for it.
But not two. So, I test-fired the B3s; one's a .177, the other's a .22. I ditched the .177. It was actually smoother and more accurate, it wasn't missing its rear sight, and although velocity was low (no better than the .22, really), it was obviously the best one. I figured I could get $15 for it as opposed to $5 for the .22. I WAS RIGHT! Sold it in no time!

The .22 B3. At least I found a home for my $5 scope!
I'd recently been testing .22 pellets to find out what worked best in some of my lower-powered guns. When I was done, I figured "What the heck? I'll see what the B3 likes — if anything!" I got exactly 2 shots off before the bad cocking cycle got to the point of "You try to cock me one more time, and you'll regret the day you were born!"
Hence, my pickle.
I hate to let anything good go to waste. Since I seldom buy ANYTHING good, I rarely get the chance. But, that attitude sorta spills over into the not-so-good, the pretty bad and (not infrequently) the trash. And, so, I started wondering (for some strange reason), if I ought to even put five minutes into this thing. I mean, "time is money, money's scarce and that ain't funny!" I never made a habit of taking personal advice from The Kinks, so the B3 goes to the workbench.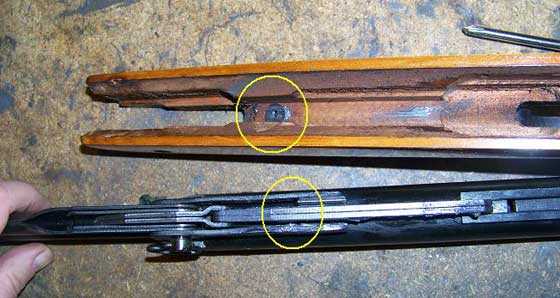 The B3 action comes apart in the usual fashion, and the wonders of bottom-feeder Chinese engineering become immediately apparent.
The circles show the half-baked way in which the articulated cocking link is kept in place. No fancy rollers or bearings for the B3! We'll make do with a plastic button and some perpendicular serrations on the link JUST TO MAKE SURE the button wears out fast! Ah, but they didn't count on MOLY! I'll foil their plans for premature wear!
Next, I took apart the trigger. Fortunately, it waited for me. Shanghai uses non-peened pins for the trigger blade pivot and stop, and sometimes everything falls out on its own accord when the action is taken out of the stock. When the gun is assembled, the close fit of the stock keeps them in place. Or, at least, in the same neighborhood.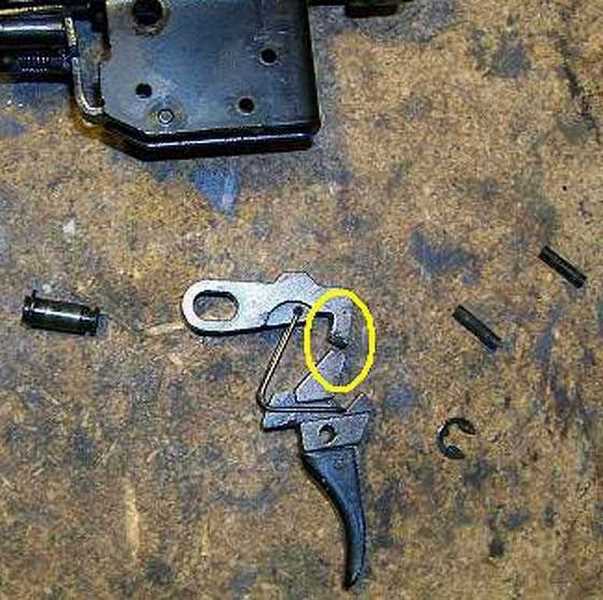 The trigger.
For longtime readers of this blog, these parts might look just a tad familiar. Go waaaaayyyyyy back to B.B.'s review of the TS45. No, not the one he did in September 2009. You have to reach back to January 2007.
You'll see the neat X-rays of the trigger. Very similar. If you want to try to smooth the trigger action, all you have to do is smooth the areas circled above. I hope that the hardening treatment at the factory went deeper than .0000001 inches. You could even play with the angles! Given that this is a sliding-cylinder gun that can de-tip your digits, I'm going to leave it be.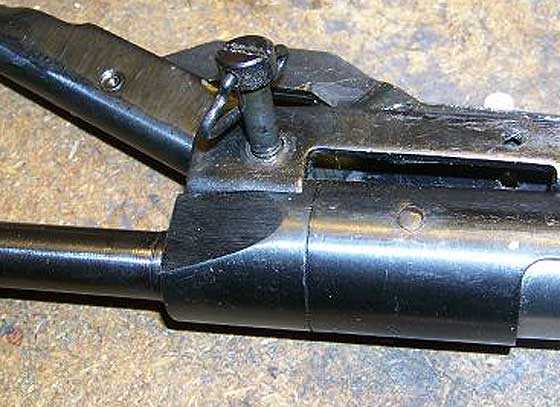 Next, out comes the pivot for the cocking lever: a simple screw that also contains the front sling swivel.
The whole cocking linkage assembly just lifts out. That leaves the trigger interlock exposed, which can be yanked after removing the one screw that holds it in.
Tune in tomorrow to see the rest of Vince's disassembly and the reassembly!