by B.B. Pelletier
Before we start, I have a couple new things for you. First, February podcast is up. Yes, I said February! March's podcast will go up shortly. Sorry February's late, but we had technical glitches and some time issues.
Next, there's a new article on Pyramyd Air's website from one of my Airgun Revue magazines. It's about Zimmerstutzens, which are in a class somewhere between airguns and firearms.
Blog reader Fred decided to see how his guns shot. So he took 'em all out and…well, that's really the blog. I'll let him tell it.
If you'd like to write a guest post for this blog, please email us.
Bloggers must be proficient in the simple html that Blogger software uses, know how to take clear photos and size them for the internet (if their post requires them), and they must use proper English. We'll edit each submission, but we won't work on any submission that contains gross misspellings and/or grammatical errors.
by Fred Nemiroff, aka Fred PRoNJ
My collection of air rifles is growing. This sport truly is addictive; and while I don't have nearly as many rifles as some others, I shoot the ones I have on a regular basis. My philosophy with motorcycles is to ride 'em and not hide 'em. I feel the same way with my air rifles –- use them and don't let them gather dust. While I know which of my rifles are supposed to be the most accurate, it wasn't clear in my mind how they stacked up to each other. With snow on the ground and my local range closed, I was reduced to shooting in the basement, a 28-ft range. That is, with the target at the extreme opposite diagonal and me squeezed into a corner between a bookshelf and the electric panel access, shooting carefully past the lolly column and the treadmill. Not the best way to analyze accuracy, but it's what I have to work with.
One of the first things I do when I purchase a rifle is to determine which pellet provides the greatest accuracy. Armed with that knowledge and the pellet supply on one of the bookshelves, my contest started. I relegated the competition to 7 scoped rifles. My shooting technique involved standing with my left arm resting on a makeshift stand and the rifle resting on my left arm. I found that this was superior using my left hand to support the rifle while the elbow rests on the solid stand. Plus, this seems to be the method most used in field target competition. The competitors are sitting on the ground, their left arm is resting on their knees and their rifle is resting on their arm.


RWS 46 air rifle
First up was the first spring-piston rifle I purchased, an RWS 46 in .22 cal. For those that may not be familiar with it, the 46 is an underlever rifle with a unique pop-up loading port.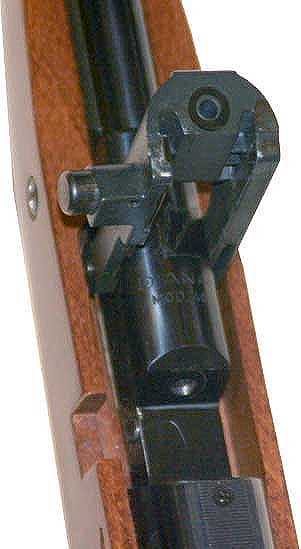 Here's the loading port, but the transfer port is extremely long. Shown open.
My 46 prefers RWS Super-H-Point pellets weighing 14.2 grains. Average muzzle velocity was a surprising 682 fps which translates to 15 ft-lbs. With that very long transfer port, this is supposed to be a moderately powered rifle producing around 10 ft-lbs. When I tested it several years ago, that's what I was getting. I was so surprised by the velocity and power, I shot another series of 5 pellets past my Chrony Alpha and recalculated the results. Why this rifle is shooting at this level, I can't explain — but I'm not complaining! The rifle produced a group of .452 inches. Subtracting the width of the pellet head (.22 cal) produced a center-to-center group of .232 inches.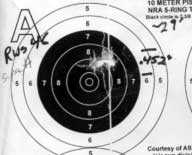 RWS Super-H-Point pellets from my RWS 46.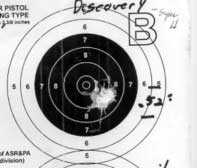 RWS Super-H-Point pellets shot from by Discovery rifle.
The next rifle I tried was the .22 cal Benjamin Discovery. I've modified the Discovery with the TKO trigger and Mike's muzzle brake. It's made the rifle into a great shooter -– superb trigger now and no hearing protection required when shot in the basement. This rifle shoots RWS Super-H-Points, Crosman Premier domes and JSB Exact (Jumbo's) all equally well. Muzzle velocity is 791 fps and with the JSB Exact Jumbo pellets, produces 22 ft-lbs at the muzzle. However, in my test, the Discovery using Super-H-Points gave me a group of .52 inches. Center-to-center spec is .30 inches. Not what I expected, but perhaps the TKO muzzlebrake has something to do with it. I'd take it off to retry, but it's so darned loud that I decided to leave it alone. I'll retry when I have more time without the brake and with other pellets. On to the next rifle.
My re-calibrated Benjamin Marauder in .177, shooting Crosman Premiers Ultra Magnum pellets (10.5 grains ) at around 810 fps, produces approximately 14 ft-lbs of energy. It's the winner. I detuned the rifle to obtain up to 50 shots at this velocity +/-25 fps. The group was .348 inches or .171 inches center-to-center.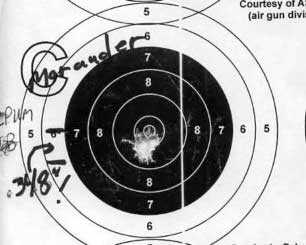 That's 5 .177 pellets from my Benjy Marauder.
One of my newest acquisitions, the Benjamin Nitro Piston XL Trail Hardwood, gave me a lot of grief trying to find a pellet that it would like. I finally discovered the .22 cal. H&N Baracuda pellets. The pellet weighs 21.14 grains and exits the muzzle at 620 fps (average) and produces 18 ft-lbs of energy. Great — if I could hit what I was shooting at.
At the distance of 28 feet, it produced a very poor group of .833 inches. Center-to-center is .613 inches and would prove to be the worst of the collection.
OK, time for the next German rifle, my RWS 52 in .177. This is a magnum-powered sidelever with a moving compression chamber.


RWS 52 air rifle
It was the most accurate spring-piston rifle, but I hadn't tested it against the HW's. Using JSB Exacts weighing 10.35 grains showed 887 fps on the Chrony Alpha, which translated to 18 ft-lbs of muzzle energy. The 52 gave me a group of .412 inches. Center-to-center measurements were .235 inches. A big, heavy rifle, and it can shoot.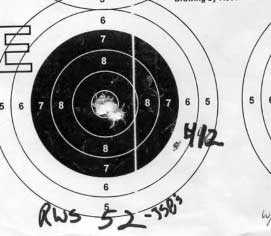 JSB Exacts from my RWS 52 sidelever.
Next came the Beeman R9. This is the Goldfinger model in .20 cal that I bought at the Roanoke Show last year. The R-9 likes JSB Exacts, which weigh 13.8 grains. Pushed out the barrel at 716 fps, they produce just under 16 ft-lbs — but couldn't catch the RWS 52. The group I got was .442 inches (.242 inches center-to-center). Well, we're talking .01 inches difference here, which can easily be attributed to my measuring technique or the way the paper target tore. Plus, the R9 doesn't have near the pellets down it's barrel that the RWS 52 has. I figure it's a toss up with the R9 only going to get better as more pellets travel down it's barrel.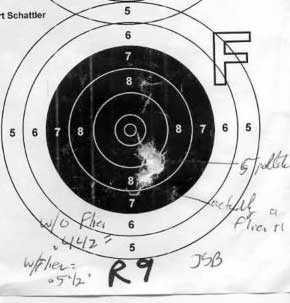 The bottom most hole just to the right of the number 8 –- within the 8 ring — I'm calling a flier.

Last up was the HW50S, the newest spring-piston rifle in my treasure trove. With a Leapers 5th Gen Bug Buster scope and exhibiting the most "twang" of all my springers, it put 5 .177 cal H&N Baracuda pellets into a .424-inch group (.247 inches center-to-center). Velocity for this pellet is 704 fps, and energy was just under 12 ft-lbs.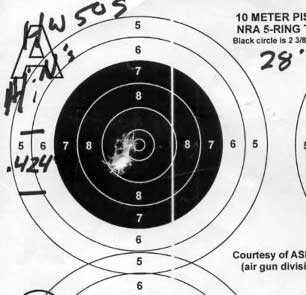 I think I can do better, but still — I'm happy with this group
To me, the Marauder is the most accurate PCP I have with the RWS 52 and HW50S vying for top honors in the spring-piston class…being pushed by the R9. Why did the Benjamin Nitro Piston produce such a horrible group at 28 feet? This started me on the path to research accuracy and what, if anything, I could do for it.