by B.B. Pelletier
Part 14
Part 13
Part 12
Part 11
Part 10
Part 9
Part 8
Part 7
Part 6
Part 5
Part 4
Part 3
Part 2
Part 1
Welcome to the longest blog segment I've ever written. This is part 15, and I'm not going to guess whether there will ever be another. This blog began as my report on a 124 I got years ago that had been preserved for the ages. After going through several tunes on that rifle, I explored the foundations of the Beeman company and the three addresses of Robert Beeman's store. That ties into my mummified FWB 124 because it has a very rare and very early San Anselmo address.
Then, I went to Roanoke and returned with journalist Mark Taylor's 124 that I promised to tune for him. That became Part 13 of the report. While registering a Sheridan Knocabout pistol at my local gun dealer's. I stumbled across another FWB 124 that I showed you and tuned for you in part 14. You got to see what an original 124 piston seal looks like when it disintegrates and I tuned the rifle with a Maccari kit for you. Well, today I'll show you the accuracy of that rifle. But first, just to remind you of what it looks like, how about a picture?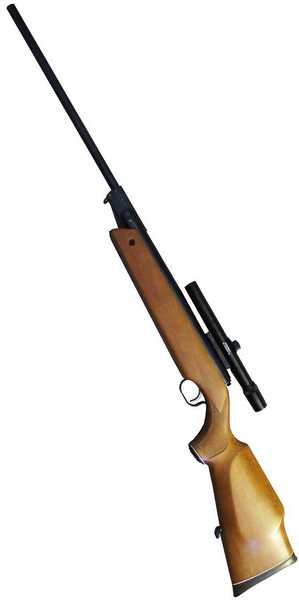 This is the FWB 124 Sport I acquired at the gun store while registering another firearm. I've tuned it for you, and today we'll see how accurate it is.
Look at the scope
The first thing I want you to do is take a look at the scope that came on the rifle. That's not an airgun scope. It's a 4x .22 rimfire scope that holds onto the rifle's dovetail grooves by clamping pressure alone. Usually, that won't work unless you have BKL scope mounts that are made for it, but this little scope is so lightweight that it holds tight. The scope also slides on the top side of the clamp, so it's double-adjustable for eye relief.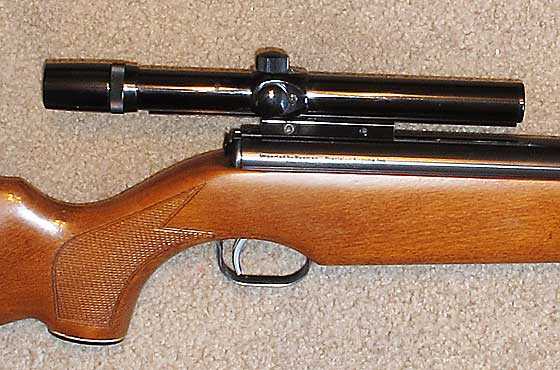 This is not an air rifle scope. It's a cheap .22 rimfire scope, and the parallax is way off. The scope slides along the rail that clamps it to the rifle. Even with this scope, however, the 124 was accurate.
But it's not a quality optic! It has no parallax adjustment. The way the scope is designed, I didn't see an easy way of adjusting it with the objective lens. So, at the 25-yard range I shot, the bulls were fuzzy — to say the least.
All shooting was done on an indoor range at 25 yards off a rest. Because this is a 124, you need quite a bit of technique to shoot accurately. By that, I mean the artillery hold. I slid the rifle forward on the palm of my off-hand until the heel of my hand touched the triggerguard. That way, the rifle is muzzle-heavy, which produces the best groups.
I also broke with my tradition of 10-shot groups because I wanted to test many pellets. This time, I shot the 5-shot groups we're all familiar with. Obviously, 10-shot groups would be larger than the ones you'll see.
Air Arms Falcon pellets
The Air Arms Falcon pellet weighs just 7.33 grains and is a preferred (for longer-range accuracy) domed pellet. They're tricky in wind. If the air is still, they perform well at the power level of this 124. They have good potential in this rifle, but perhaps not the best, as we shall soon see.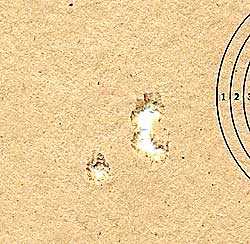 The lightweight Air Arms Falcon pellet grouped 5-shots okay at 25 yards. Group measures 0.626 inches across.
JSB Exact 8.4-grain pellets
Next, I tried the JSB Exact 8.4-grain domed pellets. Being heavier, I thought they might group tighter than the Falcons, and they did. Barely.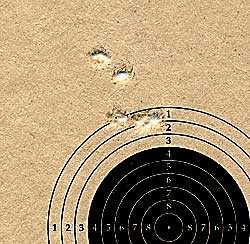 Five JSB Exact domes were also good at 25 yards with the 124. They measured 0.612 inches across.
Beeman Kodiak pellets
The Beeman Kodiaks proved downright disappointing. Usually Kodiaks do well in a 124, but this rifle wasn't having any of it.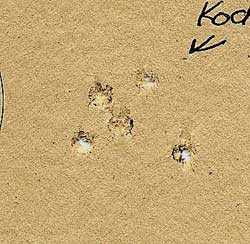 Five Beeman Kodiaks made this disappointing pattern at 25 yards. It measures 0.781 inches across.
Crosman Premier 7.9-grain domes
Following the Kodiak disaster, I tried Crosman Premier 7.9-grain "lites." I figured they'd perform better in this rifle, but please remember that I was fighting the poor optics of the scope. The vertical string, though tight, tells me Premier lites are not right for this rifle.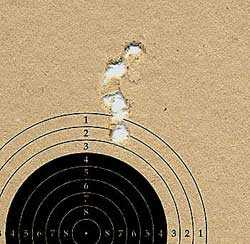 A vertical string tells me the Premier lite isn't the best in this 124. Although it measures 0.594 inches, the vertical stringing is cause for concern. The stock screws were all tight.
JSB RS domes
While they have performed well in other rifles, in this 124, JSB RS domes were only mediocre in this rifle. You may think they're the same as the Falcons, but the groups prove different.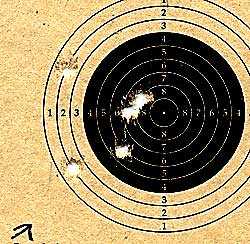 Five JSB RS domes went into this 0.763-inch group at 25 yards.
Air Arms 8.4-grain Field pellet
And then I hit it. The best pellet! The Air Arms 8.4-grain Field pellet shot amazingly tight, even with the optical problems.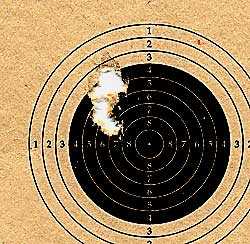 Five Air Arms 8.4-grain domes went into this tight group that measures 0.385 inches.
So, this FWB 124 is accurate, just like all of the others. Now, it has a long-life tune that'll keep it that way for many years and thousands of shots. If the scope is replaced, we might expect to see these groups shrink even smaller.
I no longer own the rifle. I traded it for another FWB target rifle that needed an overhaul. While I can do a 124 with ease, I do not trust myself to do the same thing on a recoilless target rifle, so I sent off my vintage 150 for someone competent to do the job. When it returns, I'll test it for you some day in the future.
One of our blog readers got the 124, and it was ready to start shooting the minute it came out of the box. If he cares to, I would welcome his report as the new owner of this classic sporter.