by B.B. Pelletier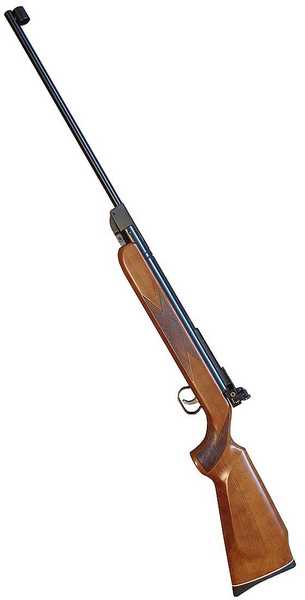 The BSF S70 was the deluxe version of the BSF 55-series of spring-piston air rifles. It's the grandfather of the Beeman R9.
First, I want to wish all my U.S. readers a Happy Memorial Day. Please take a moment to remember the friends and family members who gave their lives for our sake.
Today's report will have some of you talking and thinking for weeks! Kevin will find that he is in a love-hate relationship with my BSF S70 rifle, and Herb will postulate three alternative universes from the data I've collected. Rikib will attempt to occupy one of them!
In other words, folks, today is not your ordinary velocity test day.
You will recall that I went into a lot of detail in Part 1, explaining that this could either be a powerful 800+ f.p.s. breakbarrel from the olden days, when 800 f.p.s. was the magnum threshold, or it could be a weak 7.5-joule German version of the same gun. Since this one has the Freimark that indicates the German power level, I thought it was probably the latter. Read Part 1 to find out what that means.
The first pellet I'll send through the chronograph is going to tell us which it is. For that, I selected the JSB Exact RS, a 7.3-grain lightweight dome that seemed to me to be perfectly suited to this rifle. Here, now, is the first shot string:
Shot…..Velocity
1…………561
Well, we can stop right there, can't we? I mean that shot tells all, doesn't it? However, in the interest of science and our morbid curiosity, I continued:
2…………818
Well, that was probably a diesel, right? You have to expect them with the leather seals in this rifle:
3…………605
4…………807
5…………546
6…………543
7…………577
8…………531
9…………523
10……….546
11……….812
12……….486
13……….474
14……….824
I shot 14 rounds simply because I was fascinated by what the gun was doing. I just couldn't stop.
The average velocity was 616 f.p.s., which, as you can see, was only close to one actual recorded velocity. It's pretty obvious that what we're seeing is a bimodal distribution.
Thank goodness I'm old
If I were a new airgunner I would not know what to make of this shot string. But years of playing with vintage springers has taught me that the ones with leather piston seals perform differently than those with modern synthetic seals. At this point, I oiled the piston seal with several drops of synthetic-based RWS Chamber Lube, administered through the air transfer port. I did not allow the seal to absorb the oil as I was on a tight schedule, so I expected the two loud detonations that came with the next two shots.
RWS Hobby
The old favorite RWS Hobby is the standard candle for velocity testing in spring airguns:
Shot…..Velocity
1……….1094 detonation
2…………858 detonation
3…………613
4…………879
5…………872
6…………873
7…………868
8…………871
9…………861
10……….853
11……….867
12……….868
13……….873
14……….871
The average for this string was 866 f.p.s., and that's a lot closer to the real average than the average of the first string. If you throw out the high and low shots, you get a 12-shot average of 868 f.p.s., so it's pretty close. By the way, that gives a muzzle energy of 11.71 foot-pounds. Interesting.
What's going on? The rifle is now behaving like a U.S.-powered magnum. Let's try another pellet.
H&N Match Rifle
The H&N Match Rifle pellet is a heavyweight wadcutter. It weighs 8.2 grains. Let's see what the shot string looks like:
Shot…..Velocity
1…………819
2…………820
3…………821
4…………807
5…………799
6…………793
7…………800
8…………804
9…………799
10……….801
11……….805
12……….801
13……….789
14……….789
The average for this string was 803 f.p.s., and this was the tightest string fired in the entire test. The total velocity spread is 30 f.p.s., which is what I'm used to seeing from a vintage springer in good condition. It works out to a muzzle energy of 11.74 foot-pounds.
What's happening? Before I tell you what I think, I ran a short second string of the JSB RS domes. They went like this:
Shot…..Velocity
1…………897
2…………538
3…………851
4…………499
5…………508
6…………828
The average for that string was 687 f.p.s., which as you can see isn't close to any actual velocity recorded. What's happening?
For starters, this rifle DEFINITELY does not like JSB Exact RS pellets. It could not be any clearer than what you see here. Both before and after oiling the piston seal, we get a bimodal velocity distribution. And, only with a chronograph would you even suspect what was happening, because all the shots felt similar.
With the other two pellets, the rifle is near the 12-foot-pound region where magnum air rifles were in the late 1970s. This is exactly what I would expect a BSF S70 from the old Air Rifle Headquarters to do right out of the box.
Trigger-pull and cocking effort
The trigger is single-stage, and the pull is very long. It's possible to adjust, as I showed back in Part 1, but as it is set now it breaks at 3 lbs., 14 ozs. As you pull through the long arc, the trigger hesitates at the end of the pull, telling you the rifle is ready to fire. It's not a bad feeling at all, and I know that BSF triggers wear in with use.
It takes 34 lbs. of effort to cock this rifle. That's in the same neighborhood as the Beeman R1, a spring-piston breakbarrel we all know to be far more powerful, but the BSF S70 is from a generation before the R1. True, they were both in production at the same time for a while, but the S70 is old-school and the R1 was the future back then.
Without question, my rifle is a full-power S70, which was a 12 foot-pound airgun in its day. I was completely mistaken when I guessed it would be a European-powered rifle. Kevin will both love and hate it because it represents the best of what Europe was making back in its day, and yet the power is the most upgraded version you could buy. I am glad that it's more powerful, because a 34-lb. cocking effort ought to be rewarded with something!
The thing for you newer airgunners to carry away from this test is that air rifles and air pistols with leather seals behave differently than those with synthetic seals. Lubrication is so important for them.
A second lesson is that sometimes you encounter an anomaly like the performance of the JSB RS pellet. You have to find the ammunition your airgun likes, which is why discount-store pellets are no good unless you've also tested the finest premium pellets and actually proven that the ones from Wal-Mart are best in your airgun. Don't shoot with your wallet. It just wastes money.
How to upload an avatar for this blog
This section is from Edith. We now allow avatars on the Pyramyd Air blog. If you have a favorite image or graphic you'd like to use, follow the directions below. In order to use the avatar, you must have an account on this blog. If you're listed as anonymous or type in your name every time so you don't have to register, then an avatar association can't be made for you.
If you don't have an account on this blog and want to use an avatar, create your account on this blog before creating your avatar.
Once you have your Pyramyd Air blog account, go to Gravatar.com.
Click on the "Sign up" link in the blue bar at the top of the page. Follow the prompts and wait for the confirmation email (it could take a few minutes to receive).
To create your account, your email address must match the email address you used for your Pyramyd Air blog account. Your Gravatar name and password can be different than it is for this blog. In fact, my name (Edith Gaylord) was already taken by someone else on Gravatar, so I had to choose a different name.
After you're done uploading your image, click through to the end and select a rating for your avatar. Only G-rated avatars are allowed on this blog.
When you're done following all the prompts on Gravatar, sign in to your Pyramyd Air blog account if you're not signed in already, and your avatar should start showing up for all comments from then on and should fill in the avatars for all blog comments made previously if they were made when you were signed in with that account.
At this time, we don't have anything set up for me to preview avatars before they're uploaded to our site. While I don't expect anything bad from the regulars, we have had spammers.
If you find an offensive or questionable avatar, please let me know. Pyramyd Air's tech support is looking into ways that I can preview avatars and either allow or not allow them.
I've also asked tech support if they can find a way to include the avatars in the comments RSS feed as well as the comments that are emailed to me.
You may email me if the above directions don't work for you.