by B.B. Pelletier
Photos and test by Earl "Mac" McDonald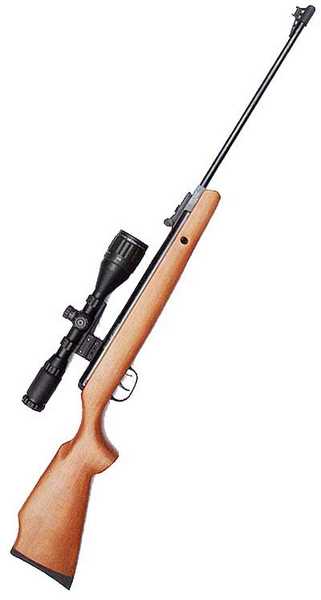 Crosman's Optimus offers a lot of power for a low price.
Today is accuracy day for the Crosman Optimus, and I know that a lot of readers are watching this rifle for all that it offers. We were pleasantly surprised in the velocity test to learn that the Optimus is a stable and smooth-shooting breakbarrel rifle. Now, we find out if it matters.
Choked barrels
The first thing Mac noted was the Optimus barrel has no choke. I've seen comments like this on customer reviews as well. Here's the scoop on choked barrels. When a spring-piston gun fires, the sudden air blast forces the pellet's skirt out into the rifling. If it didn't fit the bore well when it was loaded, it usually does after firing.
But PCP guns don't have a sudden air blast. Their air flow lasts a longer time, and as a result they don't flare pellets. So, barrelmakers put a small constriction — called a choke — at the muzzle end of the barrel for PCP guns. That way all the pellets are sized uniformly when they exit the muzzle. With springers, that isn't needed because they're sizing the pellets when they fire.
Often, when the front sight dovetails get swaged into the barrel, it upsets some metal to the inside of the bore. The result feels like a choke when you push a pellet through the bore. But the Lothar Walther people and Hans Weihrauch, Jr., both told me they intentionally do not choke barrels meant for spring rifles.
Today, however, very few manufacturers put dovetails in the barrels for the front sight. The front sight on the Optimus is glued in place, so it doesn't have any swaging near the muzzle. Hence, the lack of a choke. Edith checked on this for us and determined that this is correct.
For this test, Mac mounted a 3-9x50AO Leapers scope with illumination in a one-piece BKL cantilevered mount. From the photo, you might think that this mount would have some problems with the Optimus' recoil, which is not insignificant, but that wasn't the case. This mount also comes with 0.007 inches of droop compensation to get your breakbarrel back into the aim point.


Does the scope look unbalanced? Mac says it remained stable and solid throughout the test. Because it's a BKL mount, you don't have to worry about movement when the gun recoils.
Mac was concerned that with such a large scope and only two screws per scope cap there would be some movement, but he monitored it closely and the scope never moved. To mount the BKL base to the rifle, you should first remove all the oil and grease from the dovetail grooves. Mac also advises putting a drop of oil on the threads of the mounting screws, because when they get tight they start to pop as they turn in their holes. Oiling will lessen that but apparently will not allow them to loosen in operation. At least that's what he reports. I think BKL advises leaving the screws dry.
The accuracy test
Okay, here we go. First up is the pellet that grouped the worst off a rest at 30 yards — RWS Superdomes. Yes, Mac's favorite .177 pellet did not do well in the Optimus, grouping 10 shots in 2.4 inches at 30 yards.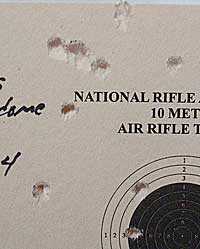 Too bad for Mac! His favorite RWS Superdome pellet grouped 10 in 2.4 inches at 30 yards.
Only slightly better was the 10.5-grain Crosman Premier. Six of them went into a group measuring 2 incheseven. He became frustrated by the seeming inaccuracy of the rifle at this point and didn't finish this group. I guess because there aren't ten shots, I can't even say this group is better than the other.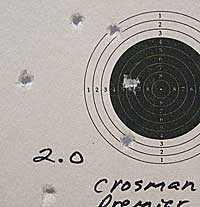 There are only six holes in this target because Mac got disgusted and quit. They measure 2 inches between the two farthest centers.
Lesson for newcomers to airguns
At times like this, we all become frustrated and our frustrations are often borne out in what happens next. Sometimes, things change unexpectedly, which is why it is so important to shoot every shot with the perfect artillery hold, so at the end of it all you can say that you did your best.
The next pellet Mac tried was the Crosman Premier 7.9-grain pellet — the so-called "lite" Premier. It did much better, by cutting the heavier Premier group in half. Yes, 10 Premier lites delivered a 1-inch group at 30 yards.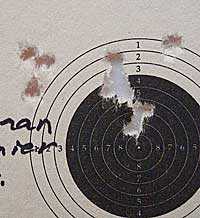 Premier lites made this ten-shot, one-inch group at 30 yards. This is much better, but we're still not shouting.
Then Mac tried the 8.4-grain JSB Exact dome pellet. Since Premier lites did so well, he had high hopes for this pellet, but the best he could do for 10 shots was a 1.16-inch group.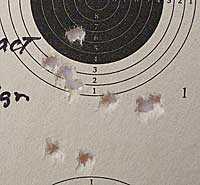 The JSB Exact 8.4-grain dome shot ten into a 1.16-inch group at 30 yards.
Finally, Mac tried the 10.2-grain JSB Exact dome. Now, because the 10.5-grain Premier did so much worse than the 7.9-grain Premier, you might expect this pellet to do poorly as well, but it didn't. In fact, it gave us the best 10-shot group of the day. Measuring just 0.74 inches at 30 yards, this is the pellet that proves the Optimus can shoot. This is why you have to keep on testing, even when you think you know the answer (I'm talking to myself).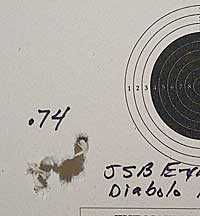 Sometimes you're surprised! The JSB Exact 10.2-grain dome was the most accurate in the test, grouping 10 shots into 0.74 inches at 30 yards.
The bottom line
The Optimus is a fine starter air rifle, as long as you understand that it takes a lot of skill to shoot well. The trigger is not good. Be prepared for that. So far, the best pellet isn't coming from a discount store. But if you want to get into the game at this power level and are willing to both learn and use the artillery hold, this is a great value.