by B.B. Pelletier
There's a new video on Airgun Academy: All about lasers. Click to watch it.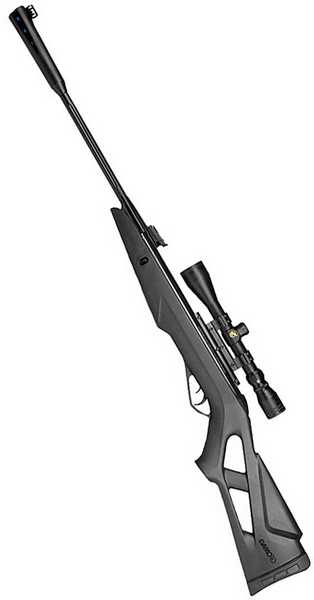 Gamo Silent Stalker Whisper IGT is lightweight and looks to be a fine hunting air rifle.
If I could subtitle today's report, it would be Making Lemonade. Because that's what was in the box with the rifle — a real lemon of a scope! And to compound the issue, the rifle is a super drooper and the scope rings Gamo provides have no droop compensation. So, they're unusable.
I actually tested the rifle last week and planned to report on it while I was at the Roanoke show, but the scope is so fuzzy that at 25 yards I could not see the bull clearly enough to aim. Had I been shooting at 10 yards, I wouldn't have any problem with a fuzzy scope, because I know Gamo had to keep down their costs on this package. But this is where it really helps to have some knowledge of the product before you put combo packages together. This airgun is perfect for shooting at 25 yards, yet the scope is unusable at that distance when the power is dialed up to nine. So — you don't put a variable scope on this gun! Package it with a 4x scope, save a little money and the shooter will never be able to see how out-of-focus it is. Maybe you could add a drooper mount from the savings, because this rifle really needs one.
Gamo also sends the scope installed in the rings, but with the scope stop pin not screwed down, where it will engage one of the scope stop holes. DUH! So I had to take the scope out of the rings to lower the stop pin. Otherwise, there ain't no way anything other than a BKL mount is going to hold onto the scope base with clamping pressure, alone.
I stopped testing it, but I vowed to get back on the gun when I returned from the show and make it work with the products they sent in the package. I couldn't quite do that, however, because of the terrible droop. It's more than a foot at 25 yards; and the scope ,using all of its vertical adjustment, is still too low. I mounted a BKL 1-piece droop compensating mount that has .007 inches of droop from the back ring to the front. That mount is expensive in relation to the economy of this combo package, but it makes everything work the way it should. If Gamo had done something similar, I would have made this rifle one of Tom's Picks; but I can't recommend a package that needs so much after-purchase work to get it running, even if it's a nice rifle, which this is, and even if the total price is still low.
It would be possible for owners to shim their scopes in the rear to compensate for this problem. But I took a different route with the BKL drooper mount.
My workaround
Today, I shot the rifle with the scope that came in the package. It was set at 4.5x, which was as high as it would go before the bulls started to blur. At that power, I can bisect the black bull with the reticle easily enough for precision, which is all I'm after.
RWS Hobbys
I started the sight-in with RWS Hobby pellets. The first shot at 12 feet told me it was safe to back up to 25 yards and start shooting. However, I had inadvertently selected a pellet that the Silent Stalker hates; try as I did, Hobbys were all over the place. The best they would do was on the order of three inches. I'm not going to show you a group, because the rifle did a lot better with other pellets.
JSB Exact Express
The next pellet I tried was the 14.3-grain JSB Exact Express. One of our blog readers named dg reports bad things about the quality control of the same pellet, but I didn't find that. They wanted to go to the same place repeatedly, which is what I want in a pellet — especially one in a hunting rifle.
Before I show you the group, I have to warn you that this setup is still far from optimum. The scope works after a fashion, but a clearer scope would be an improvement.
Ten JSB Exact Express pellets went into a group that measures 1.267 inches. Don't panic! I know that's a big group; but if you study it, you'll see two much smaller clusters inside. Either of them would be a stunning group of ten at 25 yards, and I think this rifle has the capability to do that.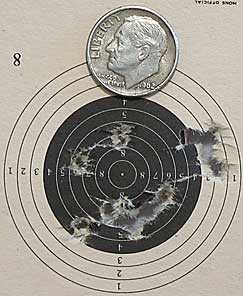 Yes, these ten JSB Exact Express pellets made a large group at 25 yards, but notice the two tight clusters within. I think we're on to something.
Trigger and firing behavior
At this point, I must comment that the trigger, which has a long second stage, is not very creepy. It's a usable trigger, if you don't have the money to upgrade right away. The firing behavior reminds me of the lower-velocity Crosman TitanGP with Nitro Piston. There's almost no recoil if you use the artillery hold, and the rifle is actually very forgiving about how it's held.
Crosman Premiers
The last pellet I tried was the Crosman Premier. In .22 caliber, the Premier is often among the most accurate of pellets. I thought this was going to be one of those times, but the last two shots opened a group of 1.042 inches to 1.752 inches. Those are larger numbers than I'd like for a hunting rifle, but hold your thoughts for a few minutes while I explain.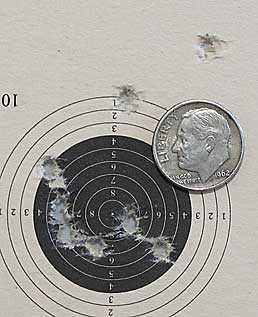 The last two shots opened this group up considerably. Ten Crosman Premiers at 25 yards.
Conclusions
The Gamo Silent Stalker shoots as well as I thought it would, but it hasn't shown us its best yet. The poor scope they sent in the package is holding the gun back. I now have the right scope mount for the gun, so I need to find an affordable scope to really wring out everything the rifle has to offer.
I said that the rifle didn't exhibit a lot of hold sensitivity. That's true, but it does change points of impact if the hold is inconsistent. I need to work on that next time. Also, I twice caught myself not relaxing in the artillery hold, which throws the pellet in the direction the rifle moves when you do relax. I need to work on that. This is a very light rifle, and they're always harder to hold steady than heavier ones.
As I said earlier, I would have no problem recommending this package as one of Tom's Picks if the scope and mount were better. Certainly, anybody who just intends using the open sights they provide would be getting a great deal for the money; but I sense some potential and want to see what the rifle has to offer.
So, there will be a Part 4 accuracy test. After that, it's up to you; but if you want my opinion now, I think this is a very capable spring-piston breakbarrel that has good power and stability and is perfect for hunters. The extreme light weight will be a plus on those long days in the woods.