by B.B. Pelletier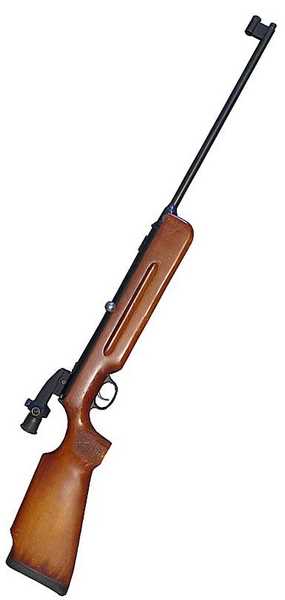 The Haenel 311 is the world's only bolt-action spring-piston 10-meter target rifle.
Today is accuracy day for the Haenel 311, and the day holds a couple surprises and should be a fun read. Because of the crude design of this rifle, I don't shoot it that often and I forget just how well it shoots.
The 311 is a recoiling spring-piston air rifle and, as such, has to be held with the artillery hold for best results. I needed to be reminded of that.
Also, I tend to shoot smaller groups with the Ballard .38-55 rifle at 100 yards when I wear my glasses. But when shooting a 10-meter rifle I tend to do best without them. Since I haven't shot at 10-meter targets in a while, that was another point that needed to be remembered.
Finally, the 311 rear sight adjusts for lighting conditions. But it only works if you remember to adjust it.
So the first few groups I shot were horrible because I held the rifle too tight, wore my prescription glasses and didn't adjust the peep size. Then, I figured out all three things at about the same time and the rifle caught fire — at least with one pellet. And that was the other thing that surprised me in this test. The cheap eastern-European target rifle scorns high-priced target ammo from the best pellet makers. Instead, it loves the cheapest wadcutters on the market. I know that will disappoint many of you, but that's how it is.
RWS Hobbys
I sighted-in with RWS Hobby pellets. Why a 10-meter rifle ever needs to be sighted-in is beyond me, because what other things would you do with them besides shoot them at 10-meter targets? Well, maybe not you. I guess I'm talking about me. Nevertheless, the rifle was hitting the edge of the bull when I started and required about 30 clicks of left adjustment to get the pellet close to the center. As I'm not really keeping score, I stopped when the first pellet was close enough.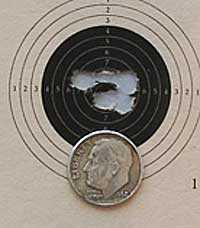 Five RWS Hobby pellets at 10 meters. Not very impressive for a target rifle. This was shot when I was doing everything wrong.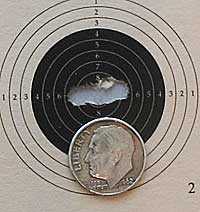 And this is the very next group of Hobbys after I took off my prescription glasses and made the rear sight aperture smaller for greater depth of vision. This is still not a good group, but it does look better than the first one. Hobbys are probably not a good pellet for the 311.
H&N Finale Match Pistol
The next pellet I tried was the H&N Finale Match Pistol pellet. This pellet has always been good in my 10-meter rifles. Maybe it's not the best in every rifle, but it's among the top three almost every time. Well, I used perfect technique to shoot the group you are about to see.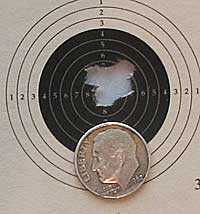 H&N Finale Match Pistol pellets did this at 10 meters. It looks like a group fired by an Avanti 853 to me. It would be acceptable for a junior target rifle, but not for a precision-class rifle. The technique was perfect, so this is not a good pellet in my 311.
Gamo Match
I said I would try the new Gamo Match wadcutter in the 311, even though I didn't hold out a lot of hope for it. As I shot the first group, I was holding the rifle in a good soft artillery hold and pulled the fourth shot. It was so obvious that I exclaimed, "Oh no!" aloud and Edith heard me in her office. You can see the results of pulling that shot on the target.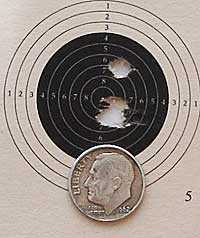 And that's what it looks like when you pull a shot and are able to call it. The four are in a very nice group, however, so I decided to shoot another group using (hopefully) perfect technique.
Since the four shots were in such a tight group, I decided to shoot another group, and this time watch both my technique and the sight picture very carefully. Before I show you the group, I want to answer the question that some readers are asking right now. Isn't this what I'm supposed to do every time I shoot? Yes, it is; and if I were a world-class shooter, I would be able to do it. However, that takes a state of concentration that I've never achieved. Shooters who compete will understand.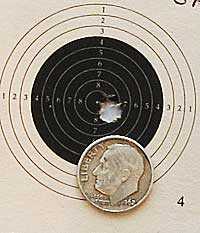 And there it is. This is the best 10-meter group I've ever shot with any target rifle. It's so close to zero that I won't even attempt to measure it. Five Gamo Match pellets went through that little hole.
I told you there were some surprises in today's report. Will I ever be able to repeat that group? Probably not. Is the group representative of what the 311 can do? No, I don't think that it is. Everything had to be perfect for a group like that to be shot — even from a rest at just 10 meters! But I was curious about the possibility of repeating it, so I shot another group of Gamo Match, just to see.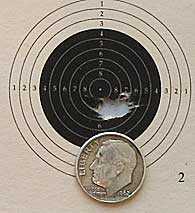 Here's the very next group. I held just as steady and sighted just as well. This is probably representative of what the 311 can do with these Gamo Match pellets. This 5-shot group measures 0.163 inches between centers.
Wrap-up
So what can I say about the Haenel 311 target rifle? Well, it's more accurate than its styling would seem to indicate, but it's a crude rifle from the standpoint of ergonomics and powerplant operation. Yes, it can shoot alongside the FWB 300S, but it takes a huge amount of technique to do so. The 300S is easy to shoot, in comparison.
The Haenel has a heavier trigger than I like in a target rifle. It's very positive, but I would like it to be a few ounces less and have a positive stop after the release.
All things considered, the Haenel 311 is a swell target rifle for just $59. That was all it cost when they were first available to American buyers. You'll now pay $250 and up for the same gun, and I think that's still a bargain.
For shooting while standing, this is a great and inexpensive way to go.