by B.B. Pelletier
Announcement: Isaiah Garrison is this week's winner of Pyramyd Air's Big Shot of the Week on their airgun facebook page. He'll receive a $50 Pyramyd Air gift card. Congratulations!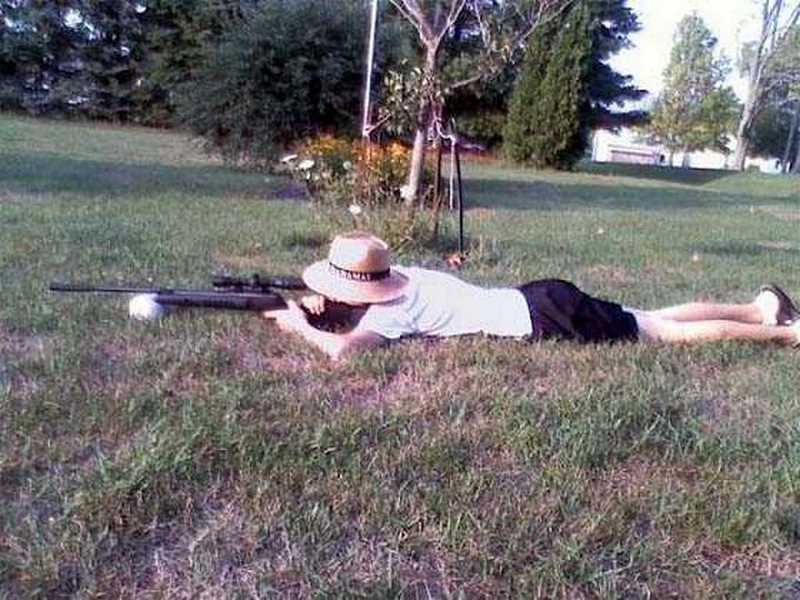 Isaiah Garrison is this week's BSOTW.
It's uncommon for a firearms manufacturer to make an airgun. Many of them put their names on airguns made by someone else, but not many bona fide firearms manufacturers actually produce them.
Even rarer is when an airgun manufacturer makes a firearm. It does happen, but it gives us cause to stop and wonder.
In 1952, Sheridan, the airgun maker from Racine, Wisconsin, began offering the Knocabout single-shot .22 long rifle pistol. When it was first produced, this unique pocket pistol retailed for $17.95 at the same time that the model A Sheridan air rifle was selling for $56.50! What a turnabout that was!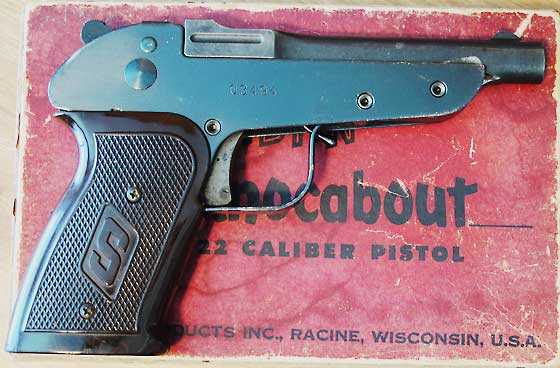 Sheridan Knocabout
Today's report was requested by blog reader Robert of Arcade, who has waited patiently for this for several years. As most long-term readers know, Robert is an old-school hunter and trapper from upstate New York. One thing about the Knocabout that must appeal to him is its utility on a trapline for administering the coup de grace to any trapped animal. Of course, that's not its sole purpose, but it's one of the big attractions because of the gun's budget price.
Knocabout is right
Before I continue, let's get something straight. Knocabout is the correct spelling for this model. I'm aware that it's not the right spelling of the actual English word. That would be knockabout. But Sheridan must have had their reasons for spelling it differently. And speaking for Pyramyd Air, we have no room to comment.
One of my little strategies for finding Sheridan Knocabouts on gun auction sites is to enter the word both ways. I often find that the seller spells it incorrectly in his caption of a photo of the box lid with the correct spelling!
Construction
The Knocabout is made in the most cost-effective way possible for the time, without stepping over the line into cheap. The barrel is a steel casting that also contains some of the features required for the breech. If it were made today, the barrel would be a thin liner pressed into an outer shell; but on the Knocabout, it's a single, solid piece of steel with several machined areas that serve different functions.
The pistol weighs 1 lb., 7.30 oz. The barrel is 4-3/4 inches long and the overall length is 7 inches.
Two steel side plates contain all the action parts, riveted together into a working assembly. It's not a very maintainable way to build a gun, but it sure avoids a lot of manufacturing steps. The best part is that it works very well! It's not a minimal design that barely functions. It's reliable, consistent and easy to operate.


You're looking inside the grip frame at the mainspring that drives the hammer.


The pistol is upside-down, and you're looking at the metal plates that hold everything together. The barrel release and triggerguard are at the right.
The floating firing pin sticks out of the breechblock when the hammer rests against it.. When the safety is applied, it cams the hammer slightly back, allowing the firing pin to be pushed back by its spring. For the sake of safety, you should always apply the safety before opening the gun.
The grip is comprised of two plastic shells that are screwed to the sides of the sheet steel grip frame by two sheetmetal screws in each grip. When they're removed, you gain somewhat better access into the action for cleaning with cotton swabs, though no other parts can be removed because they're all retained by the seven rivets that hold the sheetmetal frame halves together.
Functioning
The hammer is exposed and must be cocked manually. Then, open the breech by flipping the barrel up. Do this by pressing in on the lever sticking through the front of the triggerguard. The safety should be on when you do this. I found it best to load a cartridge, close the breech with the safety still on. Cock the gun and then release the safety when the muzzle is pointed toward the target. The instructions that are printed in the lid of the gun's box tell you to do it this way.
The trigger-pull is single-stage and releases with 2 lbs. of pressure. There's very little felt creep, and this trigger rates as a very good one!
The sights are cast and machined into the barrel casting. There's a crisp, wide rear notch and a thinner front post that stands out clearly against a target with bright light falling on it. They're non-adjustable, of course, but I admire how finished they appear to the shooter.
Shooting
I'm sure you want to know how the Knocabout shoots, so I took it to my local gun club and shot it on the 15-yard range. I used a rested two-hand hold and a 6 o'clock sight picture. The targets were 50-foot timed and rapid-fire pistol targets, and I was at 45 feet, so they were ideally sized.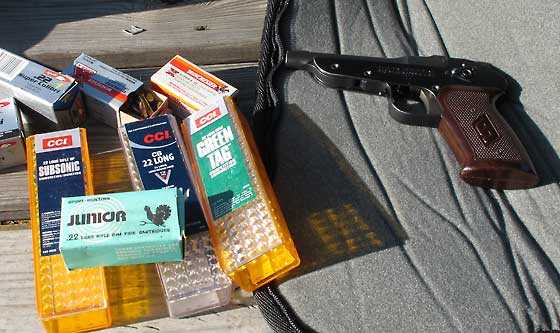 I tried the Sheridan with a lot of different ammo.
I shot the pistol with high-velocity .22 long rifles, standard-speed rounds that are listed as subsonic and two types of CB capsbecause they're made for guns like this. As an afterthought, I also included some inexpensive Russian standard-speed long rifle ammo that has proved mediocre in some of my other .22s. Who knows if they would somehow shine in this pistol?
This is a single-shot pistol that takes a lot of time to load, so I went with 5-shot groups for this test. I'm not going to show you every target I fired, but I'll give all the results. I'll show only the worst group and the best. The first target, however, I mis-counted and shot 6 rounds.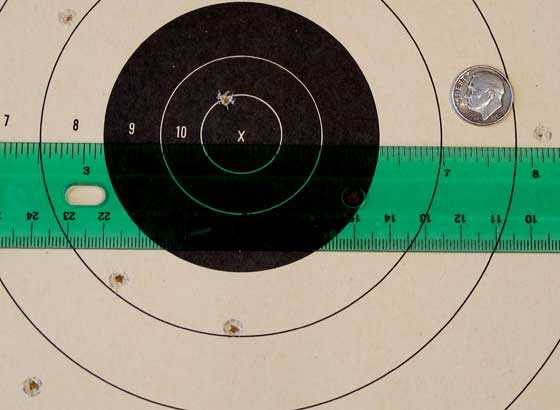 This 6-shot group measures 6.5 inches across — from the outside of the two holes farthest apart. It was shot with CCI CB Longs, a round that did well in my 6-part report on CB caps versus pellets. In the Knocabout, however, it was dead last.
Other rounds
Winchester Super-X high-velocity .22 long rifle rounds made a group that measured 5-3/8 inches across the two widest holes. Aguila Super Colibri made a 5-1/8 inch group. Then, CCI subsonics turned in a group that measured 2-3/8 inches across. That sounded very good in light of what had gone before. But, then, I tried the Russian Junior ammo. Amazingly, they struck the center of the bull and gave a group measuring just 1-7/8 inches across. The pistol really could shoot, after all! I only needed the right ammo.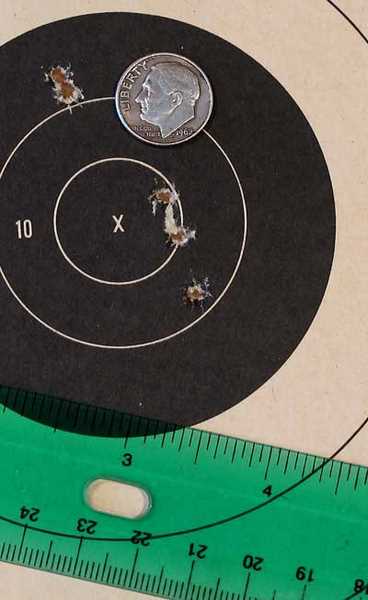 This group of 5 Russian Junior rounds was astounding after what had gone before. It measures 1-7/8 inches across!
Two other guns
Someone who doesn't know me might think that I don't know how to shoot, so I thought I would shoot two other .22 handguns to put these results in perspective. One is a very early Ruger Single-Six with the flat loading gate, and the other is a nondescript Ruger Mark II Target pistol. I didn't shoot as many different rounds in either of these guns as I did the Knocabout, but I shot enough to show that I can shoot.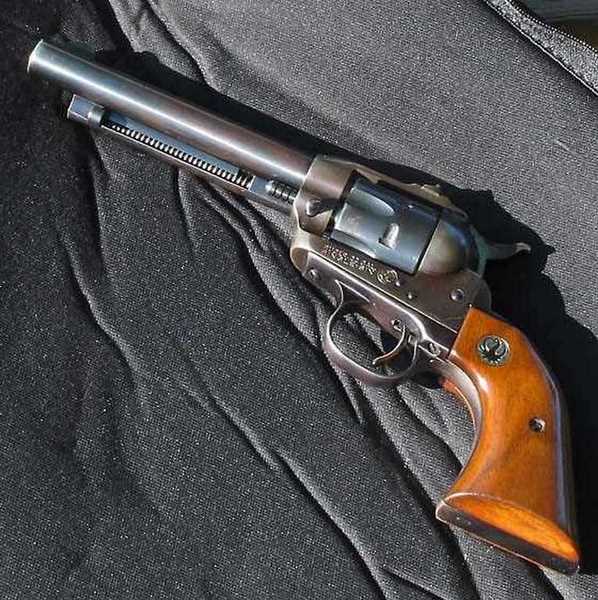 This Single-Six is an older one.

Five Winchester Super-X rounds from the Ruger Single-Six made this 2-3/8 inch group that's well-centered in the bull.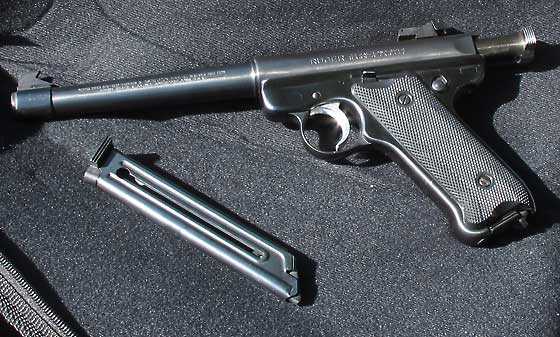 Ruger's Mark II Target pistol is mundane, but highly accurate.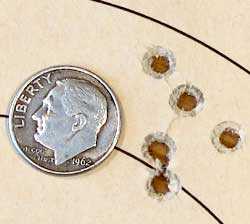 This target made by the Ruger Mark II with 5 CCI subsonic round measures 15/16 of an inch across the outside.
Compared to what?
I've said many nice things about the Knocabout. It probably sounds as though I think it's almost a free pistol. The truth is, it's a long way from that. But compared to the other inexpensive single-shot .22 pistols made at the same time, I think the Knocabout might just be the pick of the litter. It's certainly much better than a Wamo Powermaster; and from what I know from examination but without shooting one, a Savage 101. I know there were a double handful of other cheap single-shots in the '50s, and I'm going to guess that the Knocabout is probably better than all of them. Of course, what do I know? I haven't tested any of them. I'm saying that based on what I see in front of me and what I know about Sheridan's reputation at the time.

With the grips off, you can see what the pistol looks like underneath.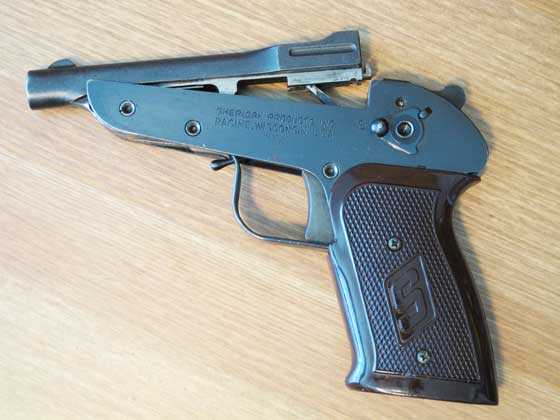 The barrel flips up for loading.