by B.B. Pelletier
A couple weeks back, we talked about straightening bent airgun barrels to improve accuracy. We want to do that so we can hit targets with the sights that were installed. There is, however, another reason for bending barrels. Some guns have sights that do not coincide with where their barrels are pointing, even when they're not bent. For this situation, we also need a fix.
Many guns have replacement rear sights. I own a BSF S70 breakbarrel rifle that has a Williams peep sight that was either installed by Air Rifle Headquarters (the original company in Grantsville, West Virginia) or was a sight they sold for owners to mount. ARH did inform the customers of the necessity for the rear sight to have a complimentary taller front sight installed, and on my rifle that didn't happen. I think this was an owner-installed sight that they probably hated ever since.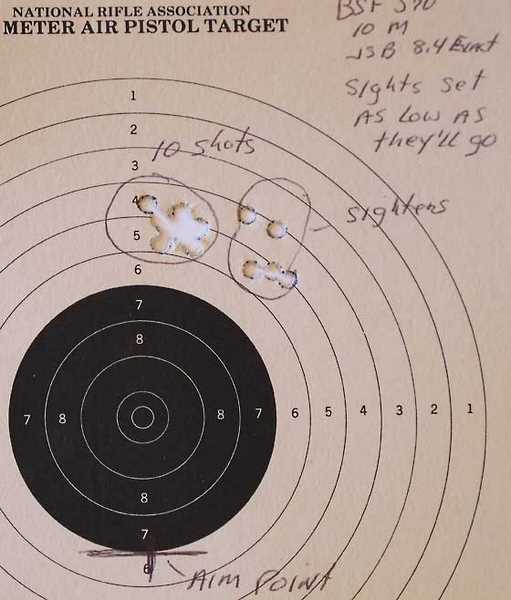 This is the problem I'm faced with.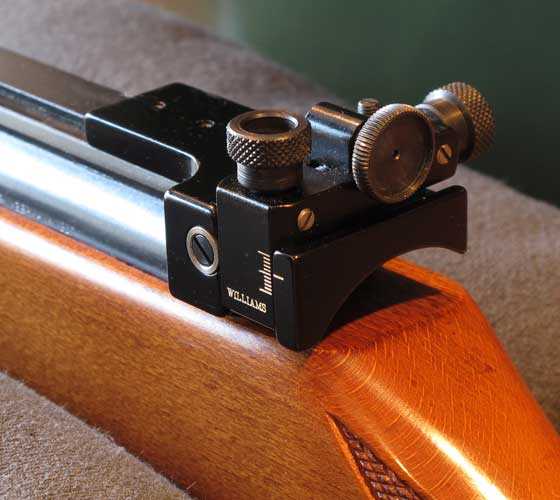 The special Williams peep sight is low and fits the rifle well. It looks good, and I want to keep it.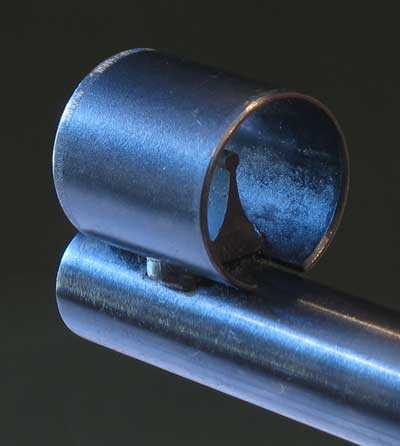 I like the vintage look of the original front sight. Bending the barrel is the only solution!
In either case, the rear sight cannot be adjusted low enough for the rifle to strike the target at 10 meters. Since 10 meters is such a common shooting distance for an air rifle, this is not handy. The other possibility would be to raise the front sight higher, but I don't want to do that. I happen to like the look of the front sight that's there and want to leave it as installed. My only option is to bend the barrel.
Several blog readers, including Kevin Lentz, commented on having bent many airgun barrels and how easy it is to do. My buddy Mac has also bent a number of airgun barrels to get them on target.
While a barrel may be bent in any direction, up is by far the most common direction you'll have to go since the majority of breakbarrel rifles shoot a little low. The second most common direction is down, which is what I need to do to fix the kind of problem I have.
I was in my reading room a few days after that; and from the pile of literature lying on the sink, I picked up the 2000 Edition of The Gun Digest and stumbled across an article by Todd G. Lofgren titled, Sighting In Single-Actions. The author describes, shows and tests the results of bending the barrels of numerous Colt Single Action Army revolvers to get them to shoot to the point of aim at 25 yards. He knew that the traditional way of doing this is to either file down or add to the front sight for height and to bend it (the front sight blade) in the direction opposite of where he wanted the bullet to go, but that didn't appeal to him. He built a jig and used a 12-1/2 ton hydraulic press to actually bend the barrel in the direction the bullet needed to go.
He fixed guns that were off in all ways, but by far the most common directions were to the left and low. And then he shot three groups at 25 yards to prove the guns now shot to their point of aim. Before bending each barrel, the extractor housing was removed; and in every case, it was installed after the bend without a problem, thus proving that the bend itself was only a very small distance.
Lofgren commented that the first-generation Colt barrels are easier to bend than the barrels of guns made today. That means their metal is softer and more ductile, and lends itself to slight deformation better than barrels made from harder steel. That bodes well for airguns, because they're also still being made of soft steel that should deform easily.
Lofgren also happened to favor the short 4-3/4 inch barrels, and all of the guns shown in his pictures have barrels of that length. Compared to that, bending a 12-inch or longer air rifle barrel made from thinner steel stock should be a piece of cake!
While he uses a hydraulic press to bend his barrels, I think that bending an air rifle barrel that's sitting between two blocks 12 inches apart will be easy enough to do with a common screw like the kind found on a C-clamp. If the jig is constructed correctly, it should be possible to control the amount of pressure very precisely, which is desirable for collectors who don't want to ruin their fine guns.
What about guns with fixed barrels?
It should be possible to bend guns that have fixed barrels, as well, provided the barrels are solid. This process will not work on barrels inside jackets or shrouds, which lets out many airguns of modern design.
Don't over-think this!
Some readers might think this operation through and wonder if bending the barrel in the direction you want the pellet to move is correct. If you bend the barrel, you also move the front sight — and we know that the front sight is supposed to be moved in the opposite direction that you want to pellet to move. But Lofgren cautions his readers not to over-think this and just bend the barrel as they want the strike of the round to move. It'll work out perfectly that way.
This fixes bent barrels, too
The initial reason for bending barrels was to straighten them after they're bent from an accident or from their manufacture — not because they weren't hitting where the sights are aiming. But one bend is the same as the other. It'll work for both problems — I guess. At any rate, seeing a man bending the barrels of collectible first-generation Colt revolvers and getting the results he was after has given me the courage to try the same thing on this air rifle.
The next step is to damage a spring-piston barrel and then try to bend it straight again. If I can do that, then bending the S70 barrel shouldn't prove too difficult. In the process, I hope to construct a simple low-cost barrel-bending fixture that will serve all my future needs. It should be a fun experiment!