by Tom Gaylord, a.k.a. B.B. Pelletier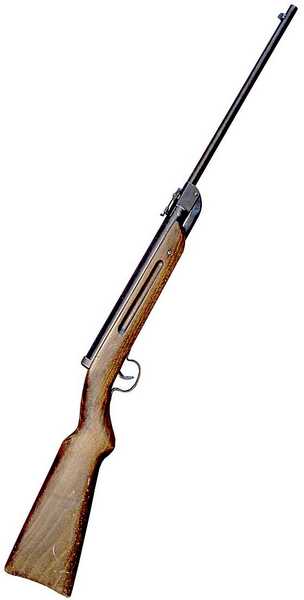 This Diana 25 smoothbore was made in World War II.
One thing that I really like about this blog is the fact that it affords me the opportunity to test certain things thoroughly. In fact, it somewhat forces me to test them thoroughly; because as I test and write, I think about you readers and all the questions you'll have for me. So, I test to be able to tell you as much as I can about our mutual interests.
This Diana 25 smoothbore airgun that I'm reporting on today is one such subject. I get to work with a vintage airgun that's very enjoyable, plus I get to test how well diabolo pellets stabilize and how accurate they are when they don't spin. In turn, that reflects on the test of how the rifling twist rate affects accuracy.
I tested this airgun at 25 yards — a serious distance at which any and all airguns will show their true colors. And I used 10-shot groups, another tool in our growing bag of diagnostic accuracy tricks. Just one group can reveal significant findings, instead of five 5-shot groups or, worse yet, I shoot a bunch of 5-shot groups and show only the best one.
I was on the rifle range last week with a young man who was shooting a .257 Weatherby Magnum and trying to get it to group. He obviously knew what accuracy is because he wanted groups that measured under .75 inches at 100 yards. But he was shooting only 3-shot groups! That isn't enough shots to make more than a good guess about a rifle's potential accuracy. When I called him on it, he pointed out that he was pasting his targets to a backer at the same place every time, so all his shots would overlap on the backer as he changed targets. That told me he's afraid of shooting large groups in case he makes a mistake. I've been there and done that, too!
Today's test frankly frightened me, as I wasn't sure the gun was accurate enough to hit the pellet trap all the time. I decided to use the JSB Exact RS pellets that performed so well at 10 meters. I seated each pellet deep in the bore with the Air Venturi Pellet Pen and Pellet Seater because the 10-meter test showed that was the way the gun likes it best. Let's look at the two targets from that test before I continue.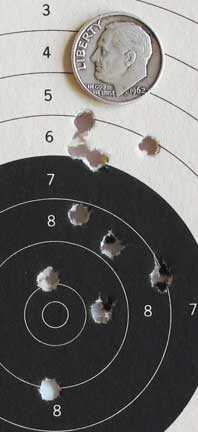 The flush-seated JSB Exact RS pellets made a 10-meter group that measures 1.158 inches between centers.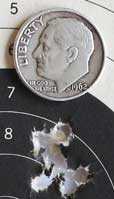 The same pellets seated deep made this 0.337-inch group at 10 meters. It looks significantly smaller!
The test
The first shot at 25 yards did hit the target paper, but it was high and outside the bull. I checked it with a spotting scope immediately after shooting it. I also checked after the second shot, just to make sure it was also on the paper. It was, so after that I settled down and put 8 more shots into the target. In the end, they were all high and formed a group that measures 3.879 inches between the centers of the two widest shots. So that's what the gun seems to be capable of, but I wanted another 10-shot group, just to confirm it.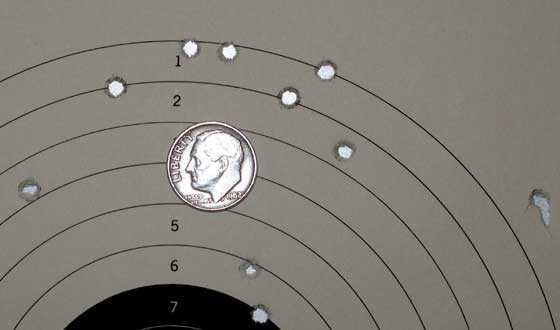 The first 25-yard group of deep-seated JSB Exact RS pellets measures 3.879 inches between centers.
I lowered the simple rear sight elevator for the second group and fired 10 more JSB Exact RS pellets. The first shot hit the target in the black, so I knew I was okay to complete the 10 shots without looking. At the end, I had 10 shots in a 3.168-inch group. As far as I was concerned, those two targets demonstrated the accuracy potential of this smooth bore air rifle at 25 yards with deep-seated JSB Exact RS pellets. But something nagged at me.

The second group of deep-seated JSB Exact RS pellets measures 3.168 inches between centers. It's better than the first group, but it's in the same general neighborhood.
How much worse would this gun shoot pellets that were only seated flush with the breech — in other words, loaded in the normal way? I had to test it. Once more, I shot 10 shots at 25 yards. This time, I was really scared because it looked from the 10-meter test that these pellets might not all hit the paper. Would this group be over twice as large as the other two — like the 10-meter group was? But the first shot went into the bull and the second one landed very close, so I calmed down and shot the other 8 shots without looking again. In the end, I had a 10-shot group that measures 2.421 inches between centers — the smallest group yet at 25 yards!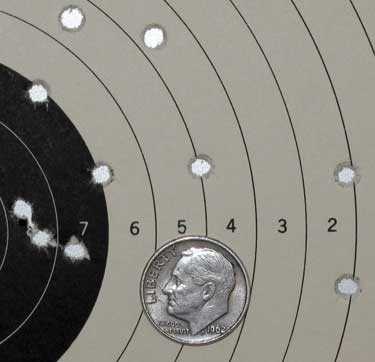 The first group of flush-seated pellets measures 2.421 inches between centers — the best group of the test!
What had happened? The gun was shooting more accurately at 25 yards with pellets seated flush, when it had clearly shot deep-seated pellets best at 10 meters? Not knowing what else to do, I shot a second group with the pellets seated flush. This time the group was larger, but at 2.957 inches it's still the second-best group of the test.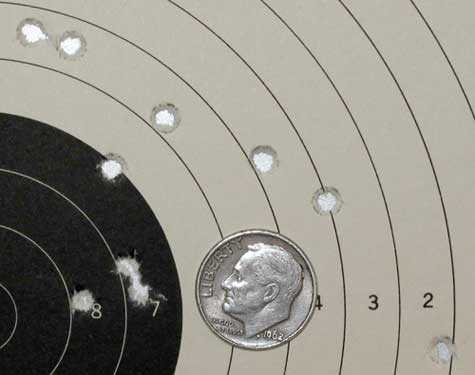 The second group of flush-seated pellets measures 2.957 inches.
What have we learned?
This test demonstrates that diabolo pellets do stabilize from their high drag, alone. They do not require a spin to stabilize them because they all hit the target nose-first. But they're not as accurate as they would be if shot from a rifled barrel. The spin introduced by rifling is important for accuracy, if not for stability.
A second lesson is this: Even though I shoot and record 10-shot groups, a single group may not be enough data. The difference in accuracy at 10 meters and 25 yards between deep-seated pellets and flush-seated pellets would seem to indicate that. Or it could just be that deep-seated pellets are more accurate at 10 meters, but flush-seated pellets are more accurate at 25 yards. If that's the case (and I don't know that it is), I have no idea of why it would be that way.
I think I need to test this gun once more and shoot 3 10-shot groups with each type of seating at each distance before we'll know anything for sure.