by Tom Gaylord, a.k.a. B.B. Pelletier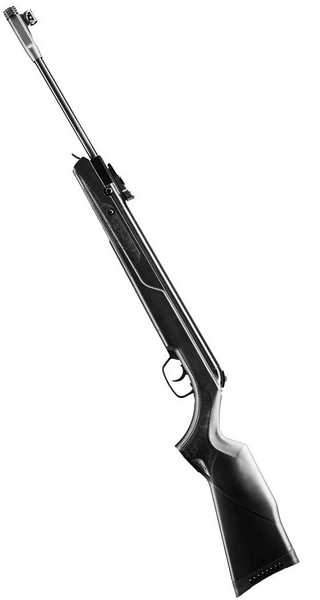 Walther's LGV Challenger is an exciting new sporting breakbarrel springer.
Summary
I'll cut right to the chase — this Walther LGV Challenger is everything I hoped for. This is a classic air rifle, and we're privileged to see its inception. We were there!
Open sights
Today, I tested the rifle's accuracy from a rest at 10 meters using the open sights. This rifle is equipped with fiberoptic sights, and we all know that they're not precision aiming devices; but if you light the target brightly and shoot from a relatively dark space, the dots won't appear. You'll see a crisp, square post and sharp rear notch that you can use to the extent of your shooting skill.
Start of the test
Each time I break open this rifle, I'm reminded of why it's so special. The barrel feels like a bank vault — both on opening and again on closing. Cocking is relatively easy and every one of the four pellets I tested loaded easily, yet were tight in the breech. I even like the size and configuration of the stock that seems to be made for me.
JSB Exact RS
The first pellet I tested was the one that I thought might be the most accurate — the 13.4-grain JSB Exact RS dome. Remember, the rifle I'm testing is .22-caliber, so all the pellets will be heavier.
Since I was using open sights, I looked at the target after the first shot to make certain the pellet had struck the paper. It had, and in the bull, too. It was at 6 o'clock, on center with the 10-ring so I didn't adjust the sights. As I continued to shoot, I could see pellets dropping just below the bull — and the hole didn't appear to grow much from where I sat.
When I went downrange to change targets, I saw the first group — 10 JSB Exact RS pellets in 0.464 inches between centers. It's a good group that told me the rifle could shoot, but the verticality told me I needed to do better on estimating the bottom of the bull with the tip of the front post.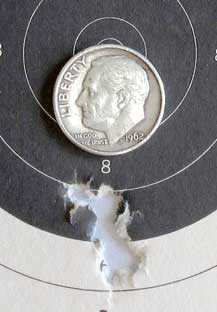 Ten JSB Exact RS went into this 0.464-inch group at 10 meters.
The rifle hangs perfectly dead in the hands when shooting. What that means is that I wasn't fighting it to find a good hold point or to control the balance. It just hung there, giving me confidence. My off hand was back under the forearm touching the triggerguard.
The trigger does have some creep in the second stage, and I would want to adjust as much of that out as I could; but for this test, I left it as it was. It was light and posed no difficulty to good shooting, as you'll see.
Crosman Premier
Next up was the 14.3-grain Crosman Premier domed pellet. They went to almost the same place as the JSB pellets on the target, which is a good sign that the rifle isn't picky about pellets. Of course, I could only see the shots that landed in the white below the bull; but when I went down to change targets, I saw they were all in the same place! I had a remarkable group that measures 0.285 inches between centers. Look how round it is! This is what you see when a rifle really likes a particular pellet.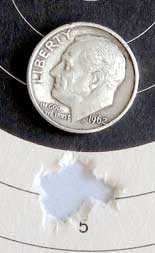 Ten Crosman Premier pellets made a 0.285-inch group at 10 meters. This is a great group — even for just 10 meters.
RWS Hobbys
The third pellet I tried was the RWS Hobby wadcutter. At just 11.9 grains, it goes the fastest of the lead pellets and is often among the most accurate pellets — at least at close range. Ten shots went into 0.408 inches.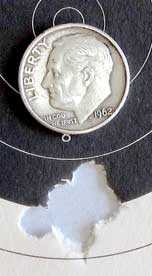 Ten RWS Hobbys made a 0.408-inch group at 10 meters. This group is rounded, which is a good sign.
RWS Superdomes
The last pellet I tried was the RWS Superdome, which weighs 14.5 grains. It made a 10-shot group that measures 0.378 inches between centers. The group is taller than it is wide; but this came at the end of the test, so I may have been tiring out. I know that each shot looked perfect to me when it went off, just as all shots in this test did.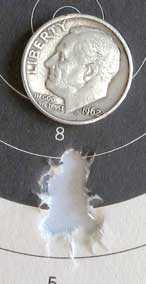 Ten RWS Superdomes made a 0.378-inch group at 10 meters. This group is vertical, which shows the possibility of a sighting error.
Opinion so far
I gave you my opinion at the start of this report. I think the new LGV Challenger is a wonderful new spring-piston airgun. I certainly did not expect to see quality like this from a new air rifle. I thought those days were past, but it's now clear that fine spring-piston airguns can still be made when the maker wants to.
This rifle reminds me a lot of my Beeman R8. The trigger could stand to be improved, but not much more needs to be done. I think you're going to like the LGV if they all work as well as the one I'm testing.
Future plans
Next, I plan to test this rifle at 25 yards with a scope. I expect the great shooting to continue. Then, I have to find more things to test it with, so I can hold onto it until Umarex receives their first shipment of rifles to sell so they can give me a price for this one.