by Tom Gaylord, a.k.a. B.B. Pelletier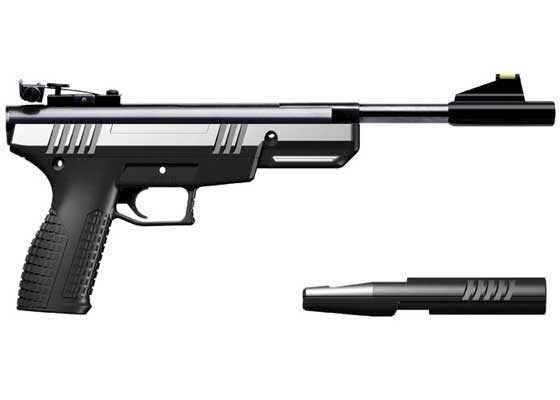 Benjamin's new Trail NP breakbarrel pellet pistol, with cocking aid removed.
Before I begin today's report, I have sad news. Our friend Earl "Mac" McDonald passed away on Sunday, May 5, at 4:30 a.m. He was surrounded by his family.
Mac was diagnosed with a prion disease in April of this year. I don't want to discuss it here, but if you want to know more, here is a link. This disease affects one person in a million. It is not only very rare, but the cause wasn't even discovered until the 1980s. Scientists are still unsure of all the details.
I was aware of the probable diagnosis when I went to visit Mac last month but was asked not to disclose the details. Fortunately, when I arrived, he was able to recognize me. I sat with him and talked about old times whenever he was awake. My wife, Edith, and our friend Otho Skyped with Mac. Via the computer, Edith showed Mac the SHOT Show report in Shotgun News, which was the last thing he photographed for me.
Like everyone who knew him, I'm saddened by his passing — but that is more than offset by the pleasure of knowing him as long as I did. The fact that he was able to attend this year's SHOT Show was especially rewarding.
As this blog moves forward, I will occasionally refer to Mac and some of the things he did. The best memorial I can give him is to never forget the time he was here.
Today's report
I left you with a cliffhanger last Friday — more than I imagined, as it turned out, because I thought I was writing Thursday's report and would publish the second part on Friday, rather than today. I know you all want to know what happened when I seated the H&N Finale Match Pistol pellets deep in the bore with the cocking aid attached and rested the pistol directly on the sandbag.
If you were expecting a Cinderella story, it didn't quite happen. The group got measurably better — in fact, it was the second-best group of the test to this point. Ten shots made a group measuring 1.105 inches between centers. Compared to the previous group, which was larger than 2 inches, it seemed clear that this was the best way to shoot this pellet — deep-seated, gun rested on the bag and the cocking adapter attached.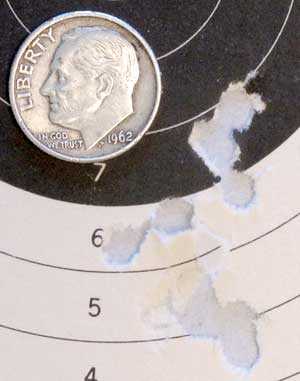 Ten shots with H&N Finale Match Pistol pellets seated deep with the cocking aid attached and the gun rested directly on the bag made this 1.105-inch group. So, deep-seating these pellets reduced the group size by half.
Did you possibly think that it put all 10 into the same dime-sized hole that the 5 good ones went into on the previous test? I hoped that would happen, too, but it didn't.
Not H.P.White Labs
Before you start looking back at all the testing done on this pistol to-date to recommend different things for me to test, let me say I am not H.P. White Laboratory, and the goal of this test is not to see how accurate the Benjamin Trail NP pistol can possibly be. My purpose is to evaluate the pistol as it comes from the box, so those thinking of making a purchase will have something to go on. I think I've done that already, and the gun is definitely worth the money. But the test is far from finished.
Air Venturi Pellet Seater
Blog reader Nomobux asked me how deep I seated the pellets with the Air Venturi Pellet Pen and Pellet Seater. Well, that varies, based on how thin the pellet skirts are. But I measured the seater with the pin protruding by 0.163 inches, which seated the pellets about 0.125 inches deep.

I set the pellet seater to this depth months ago and have been using it this way ever since.
Crosman Destroyers
A blog reader asked me to test Crosman Destroyers — a new hollowpoint that has a large open cavity in the nose. Since I was playing, I decided to shoot 5 shots and see if it was worth finishing the group. With the pellets seated deep, the cocking aid attached and the gun rested directly on the bag, 5 shots made a group measuring 2.546 inches, so I stopped there. Since that was already very large and 5 more shots would not make it any smaller I decided to save my time and effort.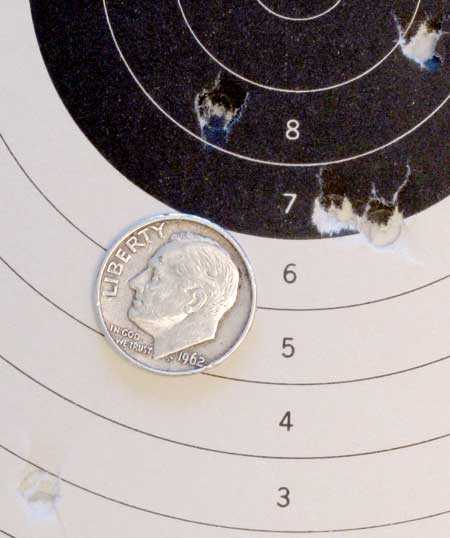 Five shots with Crosman Destroyer pellets seated deep with the cocking aid attached and the gun rested directly on the bag made this 2.546-inch group. I stopped after 5 shots because the group was already too large.
But I also figured some of you wouldn't let me rest if I didn't test at least one more variable with this pellet, so I shot it seated flush, as well. Surprise! It turned out better. Ten shots went into 2.086 inches. That's not a world-beater group, I know, but it is better than the 5 shots with deep-seated pellets. It points out that deep seating has to be evaluated on a case-by-case basis.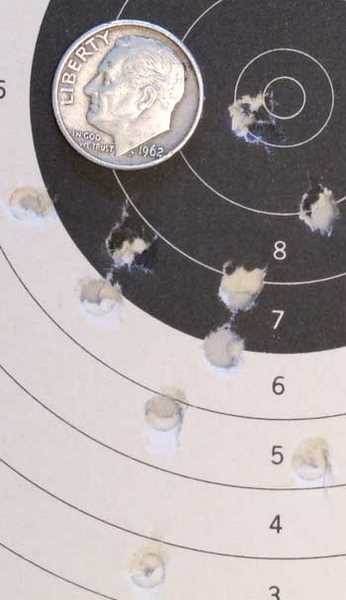 Ten shots with Crosman Destroyer pellets seated flush with the cocking aid attached and the gun rested directly on the bag made this 2.086-inch group. Though it's not a great group, it is better than the 5-shot group with deep-seated pellets.
Michael, Michael, Michael!
Blog reader Michael saw that I hadn't yet tested the best-shooting RWS Hobby pellets from the rested position with the cocking aid attached, but he was standing on my shoulder as I played with the pistol. I knew you would want me to go back and test it this way, so I did. This time, the magic didn't work, however, and the 10-shot group size was 1.536 inches, so no improvement.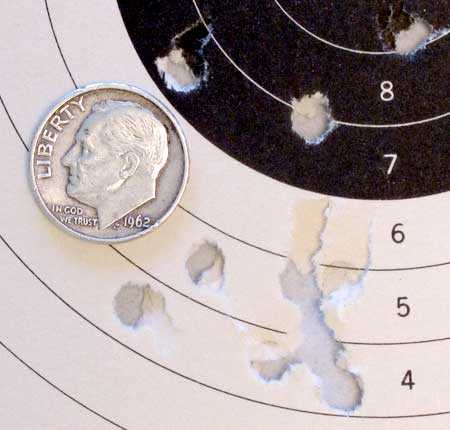 Ten RWS Hobbys seated deep with the gun rested on the bag and the cocking aid attached measured 1.536 inches at 10 meters. It's not bad, but no cigar. The gun shot better when not rested on the bag.
Isn't it interesting how changing one variable will change the entire performance of the gun? I think so.
The bottom line is that the Benjamin Trail NP is still a whole lot of value for the price tag. And I'm not finished, yet. There's still another accuracy test to go with those lead-free pellets; and then I want to recheck the velocity of the gun, now that several hundred shots have been fired. There's more to come, so sit back and enjoy.