by Tom Gaylord, a.k.a. B.B. Pelletier
AirForce Escape: Part 1
AirForce Escape: Part 2
AirForce Escape: Part 3
AirForce EscapeUL: Part 1
AirForce EscapeUL: Part 2
AirForce EscapeUL: Part 3
AirForce EscapeSS: Part 1
AirForce EscapeSS: Part 2
This report covers:
• 50-yard accuracy of Predator Polymags on high power.
• JSB Exact Kings accuracy.
• Kings on high-fill pressure.
• Benjamin domes.
• Kings on max power.
• Observations so far.
If you're seriously interested in one of the AirForce Escape survival rifles, this blog series should be very beneficial. I've tested each rifle and attempted to get the best accuracy possible, using the best pellet. Last time, we looked at the rifle at 50 yards with the Predator Polymag pellet. Today, we'll look at the EscapeSS accuracy at 50 yards using different pellets with the gun set to higher powers and greater fill pressures. Today's test was an eye-opener for me.
The day at the range was windy, with a 5 m.p.h. breeze blowing all the time and gusting to 20 m.p.h. I waited for the wind to get as calm as possible, but all shots were in the wind. Sometimes, I took shots with the wind blowing up to 10 m.p.h. I think you can get away with that when shooting a .25-caliber pellet gun, though it's not ideal.
Predator Polymags at higher power
In Part 2 of the EscapeSS, I shot the rifle at power settings 6 and 7 and with the reservoir filled to 2000 psi and 2200 psi. That was done because testing with both the Escape and the EscapeUL rifles demonstrated that the Predator Polymag pellet was the most accurate. Those rifles also seemed to be most accurate with their reservoirs filled to 2000 psi.
I said at the end of the last test that the Predator Polymag pellet still had to be tested at higher power and with a 3000 psi fill, so that was the first test on this day. I filled the gun's reservoir to 3000 psi and dialed the power to 8. Then, I shot 5 Predator Polymags.

The power was set to 8, but as you can tell from the dial on the left, this is not a precision setting.
The results were not very promising. Instead of the 3/4-inch to 1-inch groups I got last time, this time 5 Polymags went into 1.526 inches. While that's acceptable for hunting at 50 yards, I'd hoped to get better accuracy from this rifle.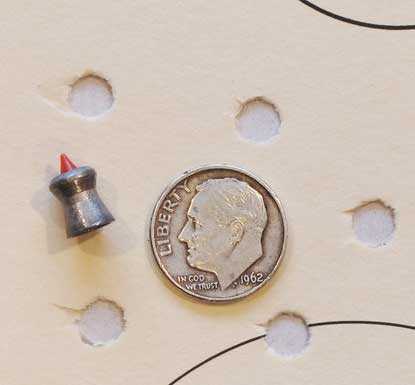 When the power and pressure were raised, the Predator Polymag pellets started to scatter at 50 yards. Five went into 1.526 inches.
JSB Exact King
For the next group, I wanted to try something that was way out of the box. I filled the reservoir to 3500 psi and left the power setting on 8. That's more pressure than the factory recommends, but I've read some reports from other shooters that say the gun does well with this kind of fill. I wanted to see. This was the first time I was trying JSB Exact Kings in this rifle.
The impact point shifted up about 4 inches, and 5 Kings landed in 1.387 inches. The rifle actually shot better with this pellet at this higher pressure; although, with a 12-inch barrel I doubt that there was much more velocity.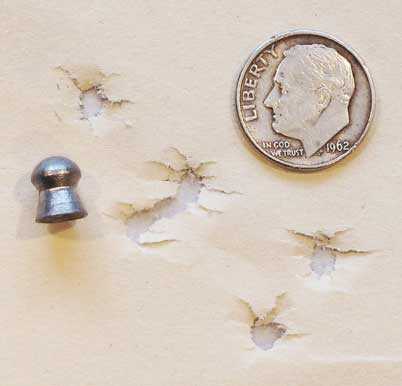 Five JSB Exact Kings went into 1.387 inches at 50 yards on power setting 8 and a fill of 3500 psi.
Having one good target, I decided to try it again with the same setting and fill pressure. This was to see if the first group was a fluke. This time, 5 Kings landed in 1.588 inches, which is close enough to the first group to say this is about what the rifle can and will do with these settings. This time, though, I adjusted the scope to get the pellets on target.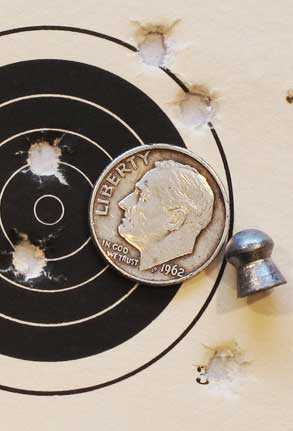 The second try with Kings at a fill of 3500 psi and power 8 gave me this 1.588-inch group.
Now, I decided to follow the manual and fill to just 3000 psi. I left the power setting on 8 — and 5 Kings went into 1.077 inches. Almost a one-inch group!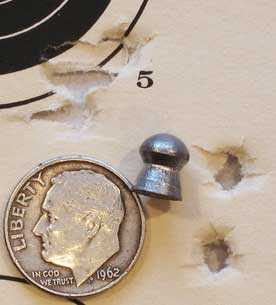 The fill pressure was lowered to 3000, and the power stayed on 8. Five Kings went into 1.077 inches at 50 yards!
That was so surprising that I filled the rifle to 3000 again and shot a second group, also on power setting 8.  I noted that the shots did drop a bit, so I adjusted the scope again. This time, 5 Kings went into 1.233 inches. So close to the first group that I think this is where the rifle wants to be.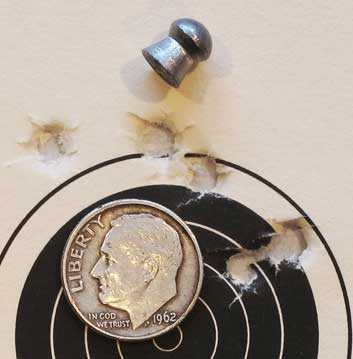 The second try with Kings and a 3000 psi fill on power setting 8 gave me this nice 1.233-inch group. This is a good setting for this pellet.
I also noticed something interesting that illustrates a point I've been making for years. The gauge on this particular rifle does not agree with the gauge on my carbon fiber tank. When the tank gauge reads 3000 psi, the rifle's gauge is off the scale! This illustrates how some small pressure gauges can be off by a lot, which is why you pick one gauge to follow — in this case, the one on my carbon fiber tank — and go by it all the time.

When the carbon fiber tank gauge reads 3000 psi, this is what the rifle's gauge says. This is only on this particular rifle. The other Escape gauges read pretty much the same as the carbon fiber gauge. The point is that small pressure gauges can differ a lot.
Benjamin dome
Now it was time to see what the rifle would do with the Benjamin domed pellet. I kept the power at 8 and the fill at 3000 psi, and 5 pellets went into 1.667 inches. That sort of turned me off after seeing what the Kings could do, so I didn't shoot a second group. Sometimes, you just know when one pellet is better than another.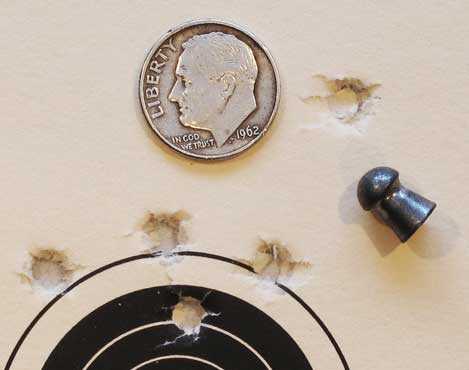 Benjamin domes seemed to open up at these power and fill settings. These 5 measure 1.667 inches between centers.
JSB Kings at max power
It was time to try the JSB Exact Kings at maximum power and a 3000 psi fill. I shot 5 of them into a 1.831-inch group. As I was finishing this group, the wind was picking up to the point that I had to shoot in 10 m.p.h. wind and higher. I finished the day with these results: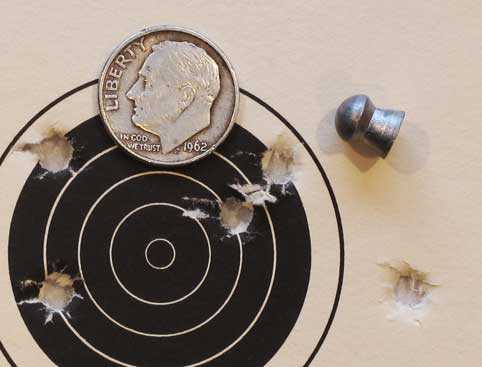 The last target was shot with Kings on a 3000 psi fill and poower set at max. It measures 1.831 inches between centers, but the wind was really picking up when it was shot.
Observations so far
I was surprised that the EscapeSS liked a higher power setting and fill pressure than either the Escape or the EscapeUL. Perhaps, that's because of the shorter barrel, whose muzzle is so close to the front barrel bushing. I don't know, but it underlines the need to test these adjustable rifles in many ways and with many pellets.
All 3 Escape rifles are for survival, though they can be used for hunting by anyone. Hunters typically use very few actual shots. The only exception would be when eliminating pests like rats or pigeons. The Escape rifles have small reservoirs that allow easy filling from a hand pump. I've found all 3 rifles to be well-suited to their role, but each has different qualities that the shooter may enjoy. With the EscapeSS the big difference is how quiet the rifle is. It's not as quiet as some PCPs, but it's also a good deal more powerful than most of them.
I'm still planning to report on the velocities of the 3 Escape rifles at their optimum power settings, so there's more to come.