by Tom Gaylord, a.k.a. B.B. Pelletier
This report covers:
• Lots of interest
• Crosman's quality inspection
• Velocity testing
• Cocking effort
• Trigger pull. and adjustment
• Firing behavior
• Quiet
• Evaluation so far
There has been a lot of talk about the new Benjamin Trail Nitro Piston 2 since it showed up three weeks ago. Some of that talk has been critical of certain faults. And some of it has been the pile-on of people who just wait to say bad things about a company.
After the first part of this report went live, I received the following email from Jennifer Lambert — Crosman's vice-president of marketing.
"Tom, I have been reading and appreciating your reviews, the comments, and debate on NP2.  I just wanted to write and clarify some of your comments around the origin of NP2. In your review you imply that the NP2 guns are not made here and that is not accurate.
While it is true that we use a mix of domestically made and imported components in the gun, I can assure you that every gun is built and quality tested right here in the U.S. in our Bloomfield factory. I will snap and send you some photos of the line and would be happy to take you on a tour and personally introduce you to some of the workers on it. And as sales of the Trail ramp up and we bring out more new guns in the NP2 platform, the number of jobs based here will continue to grow
If you have any questions or would like to discuss further please let me know, and keep the analysis coming."


This is the wording that lead me to make my comment in Part 1.
I told Jennifer I would restate my initial report. You can see the wording on the side of the gun. When something is worded like that rather than saying Made in the U.S.A., it draws attention to itself. We know that the parts can be manufactured outside the U.S., then brought in and assembled here. Many airguns are made that way, and I was pointing out that apparently this is one of them. However, after rereading what I said in Part 1, I see that I did go over the line.
I stand by my statement that the phrasing on the rifle means that some of the parts are sourced from outside the U.S. I did not mean to imply that the NP2 was assembled in another country. If I gave that impression, then I want to set the record straight. I do believe that the NP2 rifle is being assembled in the U.S. from parts and assemblies that are sourced from a variety of places — some of which are in this country and others that are not.
Crosman's quality inspection
What Jennifer told me that I did not know was that Crosman does a quality inspection after assembly on each gun in their plant. I remember when they were launching the very successful Benjamin Discovery in 2007, Ed Schultz set up an assembly line in their New York plant that included a 24-hour pressure test for every gun they built. He said he did that until he was certain they were sealing the guns perfectly.
No company can afford to spend that much time on every airgun they make — it would break them. But when you're launching a brand new product that has the potential for huge sales and represents an important step forward for the company, you take such measures.
We did the same thing at AirForce Airguns when we launched the new Condor in 2004. I personally tested and recorded the velocity of the first 100 rifles until we were certain that what we produced would always exceed the performance parameters we advertised for the gun. When you're betting the farm on something, you take extraordinary steps to ensure your bet is a safe one!
Velocity testing
The first pellet I tested in the NP2 was the .22-caliber Crosman Premier, a medium-weight pellet. Ten shots averaged 793 f.p.s. with a spread from 767 to 807 f.p.s. So, a spread of 40 f.p.s. At the average velocity, this pellet produces 19.97 foot-pounds of energy at the muzzle.
The second pellet I tested was the JSB Exact RS dome. Since it weighs 13.43 grains, you'd expect it to go faster than the 14.3-grain Premiers; but these pellets averaged 752 f.p.s. in the NP2. The spread went from 741 to 764 f.p.s., so 23 f.p.s. At the average velocity, these pellets generate 16.87 foot-pounds of muzzle energy.
The third pellet I tested was Crosman's own SSP lead-free alloy pellet. At 9.5 grains weight, these are the pellets you'd expect to go the fastest. Crosman advertises 1100 to 1200 f.p.s. with alloy pellets for this rifle, depending on where you look. [Note: The box states 950 f.p.s. with lead, 1100 f.p.s. with alloy pellets. The Crosman website states 900 f.p.s. with lead, 1200 f.p.s. with alloy pellets.] In the test rifle, they averaged 949 f.p.s. and spread from 939 to 964 f.p.s. A 25 f.p.s. spread. At the average velocity, this pellet produces 19 foot-pounds of energy at the muzzle.
I know there will be a cry of "foul" on these numbers because of the advertised velocity, but in my opinion, this is exactly where I want this rifle to be. If it shoots this fast and is also accurate, the NP2 is definitely worth consideration. I'm on record as saying the same thing about the Walther LGV Challenger when I tested it back in 2013, so at least I'm consistent.
Cocking effort
I measured the cocking effort after publishing Part 1 and found it to be 38 lbs. But during this velocity test, it seemed like I was growing stronger. So I measured the effort again, and it still measures 38 lbs. What's different now is much of the cocking friction has gone from the stroke. It actually does feel lighter now than it did before.
How does that compare to other gas-spring rifles? The powerful ones cock with between 40 and 60 lbs. of force, so the NP2 is definitely on the lighter side. To put it into perspective, it cocks about like a Beeman R1 after break-in.
Trigger-pull
I said in Part 1 that the trigger-pull was creepy. So, I adjusted the single screw located behind the trigger. I unscrewed it about 2 full turns and the trigger became exactly like the one I tested at the SHOT Show. It now has a long first-stage pull that measures 3 lbs., 4 oz., then a crisp second stage that releases at 4 lbs., 4 oz. You can take up the first stage and just wait at stage 2 until you're ready to fire. Then, just one pound more fires the gun. I really like this trigger!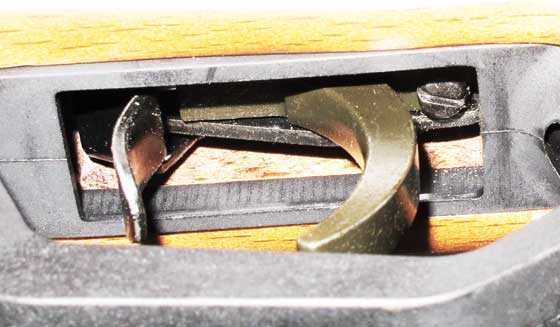 Turn the screw behind the trigger blade counterclockwise, and the first stage gets longer, while stage two becomes crisper.
Firing behavior
Experienced airgunners won't believe how smooth this rifle is. The pulse of the shot is strong (a strong two-way push), but there's no vibration. It's dead smooth! You would pay hundreds of dollars to get a coiled spring gun this smooth.
Quiet!
The test NP2 is very quiet! The shooter hears the noise through the stock against his face, but a bystander hears a much lower discharge sound. During velocity testing, I was also assaulted by the instant hit of the pellet in the trap in front of me. I suspect that when I shoot for accuracy, I'll get a better feeling for the sound.
Evaluation so far
I'm no longer at the SHOT Show. I'm in my office where I can control the testing and the evaluation. People are not telling me things — I'm finding them out on my own. And the Nitro Piston 2 I have is testing very well.
Sure you can make a big deal out of the velocity being lower than advertised. But I never wanted that advertised velocity to begin with. I wanted what this gun has — solid numbers in the 750-800s with practical .22-caliber lead pellets that I'll probably use.
The firing behavior and trigger are exactly as they were at SHOT, which is to say stunning for a gas-spring rifle of this power. Although the cocking effort measures higher than expected, it isn't bad for a spring rifle that shoots this fast.
Yes, there have been some quality problems in the first batch of guns that went out. There were cracks in some plastic parts and some scope bases fell off the guns. If that happened to you, you have every right to be angry; but the rest of the public should know that Crosman is doing something about it. Everyone who experienced a problem with their rifle will be taken care of by Crosman, and you can be sure that they're refining their in-house quality assurance program to correct future shipments. They want the NP2 to succeed because of how important it is to their business.
I want it to succeed for my own reasons. This is a $250 air rifle, and there aren't many of them around that have what this rifle has. We need a good gun in this price range, and I'm hoping the NP2 is it.
What remains to be seen is the accuracy. If this rifle is accurate, I will buy the one I'm testing because this is too important an airgun for me not to own.