by Tom Gaylord, a.k.a. B.B. Pelletier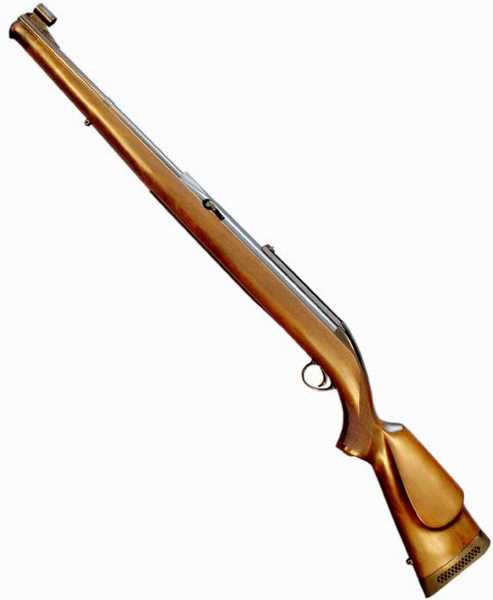 BSA Airsporter Stutzen was the final version of the Airsporter with a tap.
This report covers:
• Your interests
• Gamo: Yes or no?
• Get over it!
• Firing cycle
• Velocity with RWS Hobby pellets
• RWS Superpoint pellets
• Webley Flying Scott High Velocity Twin Ring pellets
• Cocking effort
• Trigger-pull
• Evaluation so far
We all learned about the BSA Airsporter in the last report, and I got some important feedback from readers. Apparently, these rifles have been sold at airgun shows right under my nose without my knowledge. The one thing that's certain is that I'm not the only one who knows how nice this rifle is. Several of you know it and are smart enough to stay under the radar as you pick up these air rifles at airgun shows. I hope to see some of these at the Ft. Worth Airgun Show in September.
Your interests
There were several things the blog readers commented on in the first report. Several of you said you liked the stutzen styling, which is why I mentioned that stutzens are not specific to any one manufacturer. A couple folks noticed how this rifle resembles the Diana 430 Stutzen, and I agree they do look similar. But they aren't alike at all. The Diana rifle has an entirely different powerplant design and cocking linkage; and even though it resembles this one, it isn't the same or even that close.
The Diana 430 Stutzen has a sliding compression chamber, like the TX200 Mark III. You load the pellet directly into the breech of the barrel of that rifle. This BSA Airsporter Stutzen has a loading tap that accepts the pellet. When the gun fires, the air blast blows the pellet from the tap into the breech, and that results in some power loss when compared to a rifle that takes the pellet directly into the breech.
Power output was another topic you discussed a lot. Some of you hoped this rifle would make 12 foot-pounds, but a few readers guessed that it's more of an 8 to 9 foot-pound airgun. Today is velocity day so we will see exactly what this particular rifle will do.
Gamo: Yes or no?
Then there was some discussion on whether or not this rifle was made by BSA in England or by Gamo in Spain after Gamo bought BSA. Here's the answer: This rifle was made by the BSA company in Birmingham, England, before the company was sold to Gamo.
I related that I had tested a Gamo Stutzen with a rotary breech many years ago and didn't care for it, and that kicked off a round of discussions. Fred_BR, our Brazilian reader, said he has a .22-caliber Gamo Stutzen with rotary breech that he loves. He found it difficult to understand what my objections were.
Some of you were angry that Gamo owns BSA and continues to build and sell spring rifles under that name, which I guess is similar to the Chinese owning Beeman and making and selling air rifles under that name. I understand that sentiment. When Umarex purchased Hämmerli and started to sell airguns made in China under that name, it really set me off. I'd always been a fan of the hand-built Hämmerli free pistols that cost thousands of dollars, and it just didn't seem right to use that prestigious name to sell something inexpensive and mass-produced. When Crosman came out with a spring rifle they called the Benjamin Super Steak a few years ago, I went nuts! As far as I was concerned, the name Streak belonged to a Sheridan airgun.
Get over it!
But we just have to let it go. Brand changes are a fact of life and will always be with us. If they weren't, there would be no such thing as Redline Levis jeans and Cleveland 335 Ford engines. The most we enthusiasts can do is identify those models that have the features we want and pursue them over the rest of the items bearing similar names but different specifications.
Shot cycle
That being said, I was prepared not to like this rifle when I got it. I remembered the harsh firing cycle of the Gamo Stutzen .177 rifle I tested for The Airgun Letter and expected this one to be the same. But it isn't. Where the Gamo was harsh, this BSA is smooth. The first shot told me this is a completely different air rifle from what I'd expected.
Velocity with RWS Hobby pellets
The first pellet I tested was the lightweight RWS Hobby. Since this rifle is a taploader, you need pellets with wide skirts that are also thin so they can spread out and fill the tap chamber when the air blast hits them. A number of popular pellets I tested were 100 f.p.s. slower than expected because they were either too small for the tap or their skirts would not distort with the shot. But Hobbys are both larger in diameter and also have thin skirts. As far as pellet seating is concerned, it isn't possible with a taploader. You just drop it in nose-first and you're done. The pellet takes it from there.
Hobbys averaged 800 f.p.s. on the nose. The low was 795 f.p.s., and the high was 804 f.p.s., so the maximum spread was only 9 f.p.s. That's an indication that the Hobby is a good pellet for this rifle. At the average velocity, Hobbys generate 9.95 foot-pounds at the muzzle, which is certainly on the high side of many of the guesstimates.
RWS Superpoint pellets
As I mentioned, I did try pellets from other makers, but they were all too slow –which indicates they aren't sealing well in the tap. But I knew RWS Superpoints also have a thin skirt from my work with the Hakim, which is also a taploader, so I decided to give them a try. Superpoints weigh 8.2 grains in .177 caliber, so they aren't the lightweights Hobbys are, but their thin skirts may compensate for that.
Superpoints averaged 766 f.p.s. in the Stutzen, with a low of 759 f.p.s. and a high of 770 f.p.s. The spread is only 11 f.p.s., which indicates this is also a good pellet for this rifle. The pellets that dropped 100 f.p.s. from what was expected also had large velocity spreads between individual shots, which shows how inconsistent they are in this rifle. At the average velocity, Superpoints generated 10.69 foot-pounds of muzzle energy — putting to rest the rumor that this is a weak spring-piston rifle. I believe the rifle I have is up to snuff and performing as well as can be expected.
Webley Flying Scot High Velocity Twin Ring pellets
Here's a pellet most U.S. shooters don't know. I know these are no longer being made in the UK; but since the usual pellets weren't working, I decided to give them a try. The Flying Scot is a domed pure lead pellet that has a very thin skirt. They also stop about halfway down in the BSA loading tap, which makes them the largest of the 3 pellets I tested. The weight varies from 7.3 grains to 7.5 grains, but most of the pellets weighed 7.3 grains.

Webley Flying Scot pellets are pure lead domes. They're lightweight with thin skirts.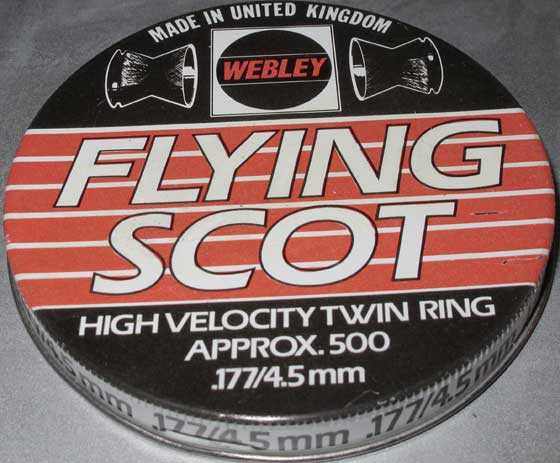 Flying Scot tin
Flying Scots averaged 775 f.p.s. in the BSA, with a low of 758 f.p.s. and a high of 791 f.p.s., with a spread of 33 f.p.s. — much greater than either of the other two pellets. This is an indication that this pellet is probably not a premium pellet and may not have good accuracy. But I'll test it. At the average velocity, the Flying Scot produced 9.74 foot-pounds of muzzle energy.
Cocking effort
This rifle cocks with a maximum of 29 lbs. of effort. Most of the time the scale needle stays around 26 lbs., but it always does spike up to 29 lbs. early in every cocking stroke. It feels more like 40 lbs., though, because of where the cocking linkage pivot point is located.
Trigger-pull
The non-adjustable 2-stage trigger takes up with about 1 lb., 3 oz. for the first stage, then stage 2 releases at 4 lbs., 14 oz. The trigger shape and linkage is so perfectly placed that it feels like half that.
Evaluation so far
This BSA Stutzen rifle has surprised me at every turn. I expected not to like it, yet found it to be smooth-shooting with a light, crisp trigger. I expected lower power than I'm seeing in this test, so obviously this rifle can perform. I know BSA has a reputation for making great barrels, so I can't wait to see how it does on targets. That's next.