by Tom Gaylord, a.k.a. B.B. Pelletier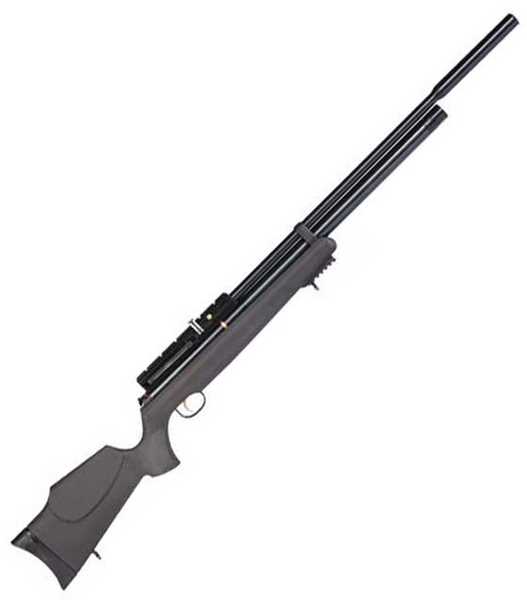 Hatsan's AT44S-10 Long QE is packed with features for airgun hunters.
This report covers:
• Fast becoming a favorite
• Accuracy test
• Stunning first group!
• Tried RWS Superdomes
• Finish with JSB pellets
• Overall evaluation
• 100-yard test
Fast becoming a favorite
Today, we're back at the 50-yard outdoor range with the Hatsan AT44S-10 Long QE rifle — an air rifle that's fast becoming a favorite of mine. I think you'll see why in this report.
Last time, I showed you some excellent 10-shot groups from this rifle at 50 yards. That day was perfectly calm, and by chance the second pellet I tried turned out to be the one to shoot. The 16-grain Air Arms Diabolo Field pellet delivered some great groups, including one 10-shot screamer that was just 0.624 inches between centers. I resolved to return to the range another day to see if this was just a one-time thing or if the rifle could deliver such stunning accuracy all the time.
Accuracy test
This day was not perfect. There was a little breeze sometimes, but in the beginning it could be waited out. It was only 1-3 m.p.h. when I began shooting. Last time, I learned that the first 10 shots on a fresh fill weren't as accurate as the second 10, so I filled the rifle to 200 bar and loaded ten 18.13-grain JSB Exact Jumbo Heavy pellets, thinking that I would save the sure-thing Air Arms pellets for the second 10.
Stunning first group!
But my first group was stunning! Nine of the 10 pellets went into 0.552 inches and only shot 8 strayed from the main group. It enlarged the group to 0.916 inches, which is still commendable for 10 shots.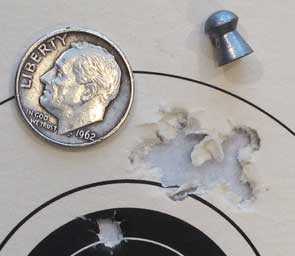 Nine JSBs in 0.552 inches! Shot 8 opened the group to 0.916 inches, which is still excellent.
Now that the first 10 were shot, I thought the rifle was going to give me a wonderful second group with the Air Arms pellets — but for some reason, it didn't. Ten went into 1.434 inches, with 5 of them clustered in 0.212 inches. How do I make sense out of that?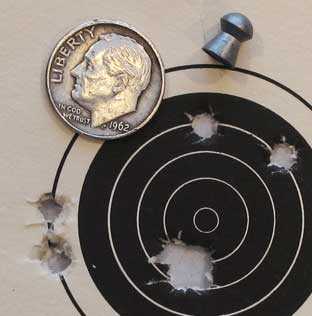 Five shots in that tiny (0.212 inches) hole, but the other 5 went everywhere else (1.434 inches)!
The Hatsan is short of breath, and there are only 20 good shots per fill if you're shooting groups at 50 yards. I filled the rifle, again, and once more I shot the first group of 10 with the JSB Exact Jumbo Heavys. This time, they were a little more open than the first time, but they still managed to all be within 0.676 inches. That's actually smaller than the first group was, and it's close to the size of the best group from the previous session (0.624 inches).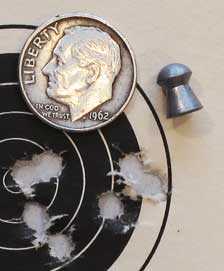 The best group of this session! Ten pellets went into this 0.676-inch group.
The second group I shot was 10 Air Arms pellets, and this time they really opened up. Ten went into 1.334 inches, with 8 of them in 0.824 inches. Apparently, Air Arms pellets were not going to do as well on this day as they had during the previous session!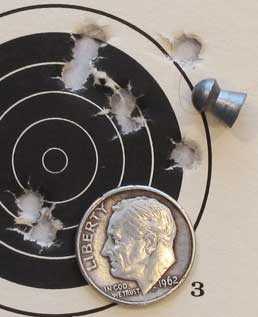 For some reason, the Air Arms pellets didn't want to group together on this day. Ten in 1.334 inches with 8 in 0.824 inches.
Tried RWS Superdomes
I brought some RWS Superdomes along — just to try one more pellet. But the first shot was 14 inches from the aim point (!!!) and the next shot was 6 inches from that! I ejected the clip and removed all the pellets. That's just wasting air.
Finish with JSB pellets
I filled the rifle once more and this time decided to just shoot the JSB pellets since they seemed to want to do better. The first group of 10 went into a whopping 1.71 inches, which was surprising. The second group of 10 was 1.351 inches apart, and I was now having to fight a growing breeze. I can't say how much the wind affected the last 2 groups, but it probably had some impact.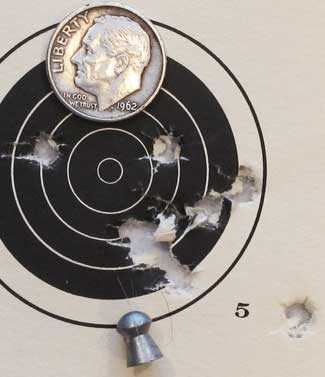 This time the JSBs didn't stay together too well. Ten went into 1.71 inches. This just shows that sometimes the bear eats you!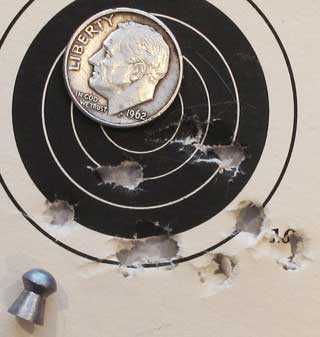 The second group on this charge is a little better — at 1.351 inches. It isn't always sweetness and light!
Overall evaluation
Based on the results of these two days at the range, I have to say the Hatsan AT44-10 Long QE is one of the most accurate precharged pellet rifles I've ever shot. It may not be the most accurate, but it has to be in the top 5!
It's amazing that an air rifle this powerful is also quiet. It sounds about as loud as my vintage Diana model 27 spring rifle, yet I know it's producing 35-47 foot-pounds of muzzle energy. And the trigger, while not the absolute finest I've ever tested, it still right up there in the top 10.
Hatsan has hit the ball out of the park with this rifle! They're pricing it to compete with the Benjamin Marauder, and it absolutely kills the more expensive European PCPs in all categories except appearance. But I'm the kind of shooter who wants to hit the target. I don't care that much what my rifle looks like — as long as it can deliver the mail.
100-yard test
The last time I had a PCP that was this accurate was when I tested the AirForce Airguns Condor SS, and that rifle put 10 pellets into one inch (1.003 inches) at 100 yards. This Hatsan isn't quite as powerful as the Condor SS, but I'm willing to give it a try at that distance. So, there will be a Part 5 to this series!