by Tom Gaylord
Writing as B.B. Pelletier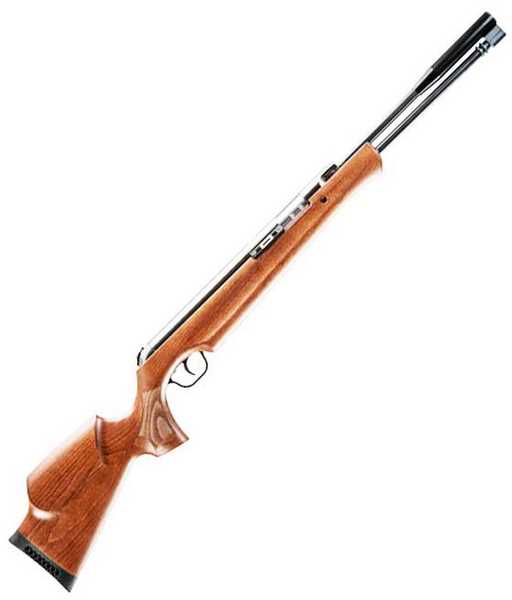 Walther's LGU underlever is a beautiful new spring rifle.
This report covers:
• Scope
• Target 1 — Crosman Premier lite pellets
• Target 2 — Baracuda Match 5.53mm pellets
• Target 3 — Air Arms Falcon pellets
• Target 4 — H&N Baracuda Match 4.50mm pellets
• Shooting behavior
• Other observations
Let's see how accurate the new Walther LGU underlever rifle is. This is a report that's as serious as they get; because if this rifle proves to be accurate, the LGU will be a clear choice for those thinking about a TX200 Mark III. And, although I personally do not have good experience with them, there are just as many shooters who like the HW 97 just as much. Today we'l; see if the LGU fits into this top niche of spring guns.
Scope
The LGU has 11mm dovetails cut directly into the spring tube and 3 holes for a vertical scope stop pin. So, I selected a 2-piece mount for that type of mounting system.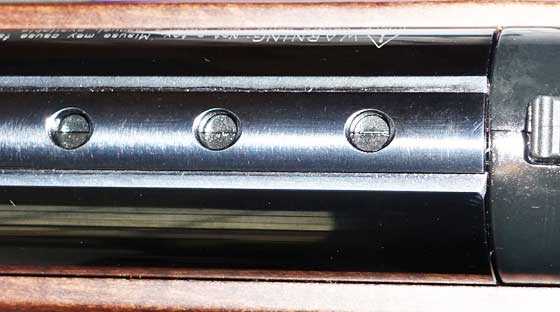 Rifle has 11mm dovetail grooves and 3 vertical scope stop holes.
I held several scopes up to the rifle and noticed that the scope has to be somewhat short to not cover the loading port. I scoped the rifle with an obsolete CenterPoint scope that was made by Leapers several years ago. It's a 3-9X40 AO that's exactly 13 inches long. After positioning it for my eye, this scope stops 1-3/4 inches behind the loading port, so there's plenty of room to load. If higher mounts were used, the scope could even extend over the port a little.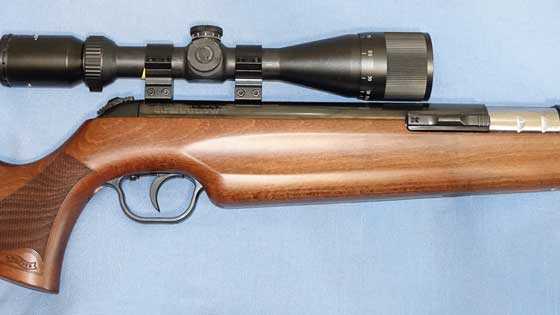 A 13-inch scope leaves plenty of room for the loading port.
I shimmed the rear of the scope, thinking that most spring guns have some barrel droop, but in this case, it wasn't necessary. I had to adjust the scope down during sight-in — instead of the usual up. So, no shim was required, though the one I used doesn't present a problem.
All shooting today was from 25 yards. I decided to rest the rifle directly on the sandbag, as I would a TX200, and it worked perfectly. What you're about to see is the best I can do with these pellets in the Walther LGU.
Target 1 — Crosman Premier lite pelletss
The first target I shot was with 7.9-grain Crosman Premier lites. This premium pellet is sometimes the best in a spring gun. This time it was very good. Each pellet went into the hole made by the pellet before it. At the end of 10 shots I had a group that measured 0.259 inches between centers. This target is a screamer!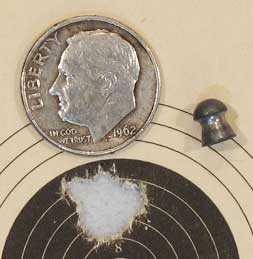 The Walther LGU put 10 Premier lites into 0.259 inches at 25 yards. A good start.
Target 2 — Baracuda Match 5.53mm pellets
Next up were H&N Baracuda Match pellets. I'd tested the rifle with 4.50mm head pellets in the velocity test, but I decided to shoot the 4.53mm head for accuracy. Ten pellets went into a group that measured 0.55 inches between centers. With most spring rifles, I would be quite pleased with a group like that; but for the LGU, this is the largest group of the day! What does that tell you about its accuracy?
Notice, too, that the Baracudas dropped about one inch on the paper from where the Premier lites were hitting. I did not adjust the scope during the entire test. This is just where this pellets wanted to go.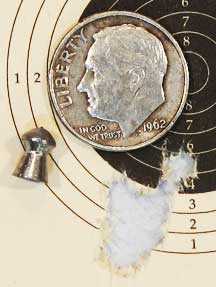 Ten 4.53mm Baracuda Match pellets went into into 0.55 inches at 25 yards. For any other spring rifle, this would be great! But for the LGU, it was the biggest of the day.
Target 3 — Air Arms Falcons pellets
Next up were the Falcon from Air Arms. This is a pellet with a 4.52mm head that has done extremely well recently in a lot of airgun tests. Ten Falcons went into 0.371 inches at 25 yards. On any other test, this would be a stunning group, but it didn't stand up in the LGU.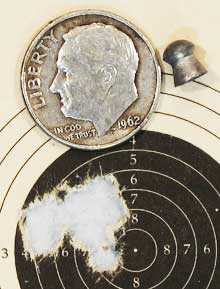 Ten 4.52mm Air Arms Falcon pellets went into into 0.371 inches at 25 yards. This is a great group — except not for the LGU that still has more to give!
I normally would have ended the test at this point, but a nagging thought provoked me into trying one more pellet. There will always be another pellet I haven't tested, so this is open-ended. I'm not trying to find out the limits of this air rifle — I'm just trying to show how well it does in general. But, when a solid winner like this underlever comes along, I have to push the limits a bit.
Target 4 — H&N Baracuda Match 4.50mm pellets
So, I grabbed the tin of H&N Baracuda Match with 4.50mm heads and gave them a try. And I'm glad I did, for they turned in the best 10-shot group of the day. Ten went into 0.217 inches at 25 yards! Now, that's really a screamer!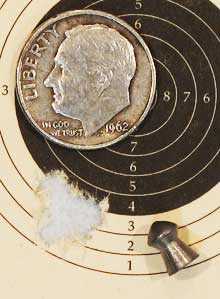 Ten 4.50mm Baraduda Match pellets went into into 0.217 inches at 25 yards. This is a phenomenal group — the best of the day!
Shooting behavior
Shooting with the rifle resting directly on a sandbag gives me lots of opportunity to experience the feel of each shot. For example, I could feel one tiny bit of creep in stage 2 of the trigger each time, and then I knew the rifle was set to fire. And when it did fire, I noted that the rifle does buzz a bit. In most rifles this would be distracting; but when a rifle is as incredibly accurate as this LGU, it really doesn't matter. I could compete in field target with this rifle, right out of the box!
Other observations
I didn't notice until I mounted the scope, but the air transfer port is located in the center of the compression chamber. This is a big deal if you want maximum efficiency. It probably means that a tuner could install a lighter mainspring and reduce the cocking effort by 10 lbs. and still deliver 12+ foot-pounds of muzzle energy.
I also noted the cocking stroke is very smooth — just like the TX200. There's no hesitation or increase in effort at any point in the stroke. If you are new to airguns this might not make any sense, but an experienced shooter will feel a sense of quality. After awhile, you forget everything — except that you'll hit whatever you shoot at.
I'm definitely taking the LGU to the outdoor 50-yard range. I'll even try some pellets I didn't try today. Stay tuned!