by Tom Gaylord
Writing as B.B. Pelletier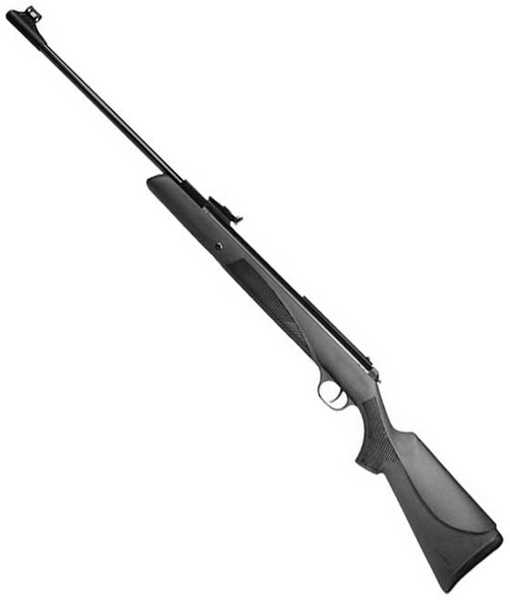 Diana RWS 34P breakbarrel air rifle.
This report covers:
• First up — Crosman Premier lite pellets
• H&N Baracuda Match pellets — 4.53mm head
• The hold
• Air Arms Falcon pellets
• Back to Premier lite pellets
• What now?
• Final observation
Today, we'll look at the accuracy of the Diana 34P air rifle I'm testing. While this has been a conventional test for those interested in the Diana 34, it's also a precursor to the next part of The great pellet comparison test. I needed a baselined powerful pellet rifle to test the accuracy of premium pellets against bargain pellets. When I finish that test, I'll write a summary of what's been learned about the differences between premium and bargain pellets.
But, right now, we're concentrating on this Diana 34P. We just want to see how well it can do at 25 yards with the best pellets. I went back and read the previous tests of this rifle and started the test by mounting a scope.
This rifle is a drooper, and I don't have a UTG Drooper scope base on hand, so I used a prototype UTG drooper scope base that was left over from the work I did with Leapers when they developed the base. It has some droop, but I forgot that this rifle is the champion of all droopers. At 20 yards, it shoots 21 inches low! So, even with the drooper mount base, the rifle still shot 7 inches low at 25 yards. I do have other prototype bases with even greater droop, but they looked so severe that I thought I could get away with this one. Nope!
Anyway, I just proceeded with the test and shot at one bull while the pellets hit the bull below. In one instance I missed the bull altogether, but the group was still recorded.
First up — Crosman Premier lite pellets
The first pellet I tested was the Crosman 7.9-grain Premier lite. In past tests, this was the best pellet in this rifle, so I figured it was a good place to start.
The first group of 10 pellets at 25 yards measures 0.848 inches. But look at the group, and you'll see that 8 of those pellets landed in a much smaller 0.442-inch group. You'll have to trust me when I tell you that I called both stray shots. I didn't know they were going to be fliers; but before each shot, I felt some tension in my off hand. I know that sounds like a cop-out — and perhaps it is — but when you see the other groups, I think you'll see a pattern.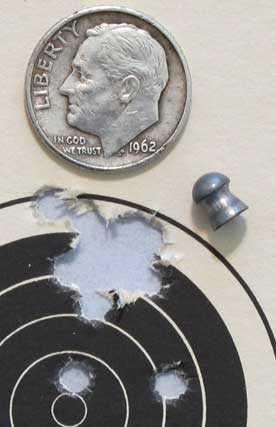 Ten Premier lite pellets went into 0.848 inches at 25 yards, but 8 of them are in 0.442 inches.
H&N Baracuda Match pellets — 4.53mm head
I'll come back to Premier lites in a bit, but the next pellet I tried was the H&N Baracuda Match with a 4.53mm head. No particular reason for choosing this one over the other head sizes that are available. It's just the biggest, so I gave it a try.
The first 10 pellets didn't seem to want to group, and I was just about to write off this pellet when I tried a different hold. I'll describe that now, because I want to record it.
The hold
I'd been holding the rifle with a classic artillery hold — with my off hand back near the triggerguard. While that's a good hold for this rifle, look at what happened to the Premier group — how I threw 2 shots just by not relaxing all the way. Or, at least that's what I thought. So, after I fired 8 shots with the Baracudas, I slid my off hand forward until it was about 2 inches up the cocking slot. That stabilized the rifle greatly! It was no longer muzzle-heavy, and the muzzle wasn't moving around. I didn't have to fight to keep the crosshairs high enough on the target.
Those 2 shots went into the same hole, so I switched to a fresh bull and shot a second group. This one turned out to be the best group of the session. It measured 0.572 inches between centers for all 10 shots at 25 yards. I'm writing this detail of the hold more for myself for future reference, since I plan to come back to this rifle in the pellet comparison test.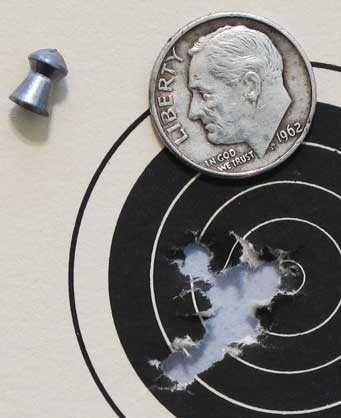 Ten H&N Baracuda Match pellets with 4.53mm heads made this 0.572-inch group at 25 yards. No fliers here!
The secret of this alternate way of holding the rifle is how it really steadies the gun. Couple that with the 24-oz. trigger, and I get a perfect shot every time.
Air Arms Falcon pellets
I tried Air Arms Falcon pellets with 4.52mm heads next. Ten of them went into 0.727 inches. While that's not bad, the group looks rather open to me. Five of the pellets are in one hole, and the other 5 are scattered up and to the left. A group like this tells me I almost have the hold right, but not quite. If this was the only pellet that gave good results I would spend more time with it; but with those Baracuda Match pellets already in the bag, I didn't have to.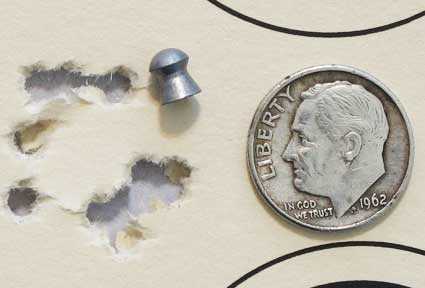 Ten Air Arms Falcon pellets with 4.52mm heads went into 0.727 inches at 25 yards. While this is a small group and there are 5 pellets in the lower hole, this entire group is too open for me. I could spend more time trying to find the right hold to tighten up this pellet, but I already have the H&N Baracuda Match pellets in the bag.
Back to Premier lite pellets
This new hold was so successful that I wanted to see if it would work for Premier lites, as well. Was this the magic hold that would eliminate those 2 fliers? Well, after 6 shots I had an open group that measures 0.796 inches, and no 2 pellets were in the same hole! It seems that Premier lites want the classic artillery hold, and Baracuda Match pellets want the off hand slid forward. That seems odd, but I'm never completely surprised by anything a spring-piston rifle wants to do. They have minds of their own, and each one is unique unto itself.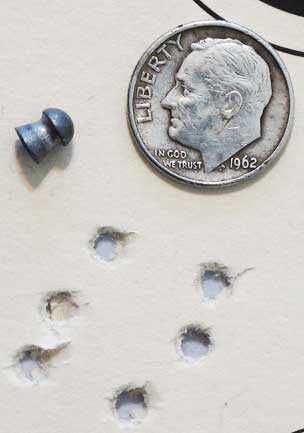 When I slid my off hand forward, these 6 Premier lites scattered everywhere! This "group" measures 0.796 inches between centers. It's clear the rifle does not want to be held this way with this pellet.
What now?
Now, I have the Diana 34P baselined and ready for the pellet comparison test. In fact, I already have the results with premium pellets, as I'm going with the group made by the H&N Baracuda Match with the 4.53mm heads. The next thing I'll do is shoot this rifle with all of the bargain pellets and compare how it does against today's results.
Because I've used 2 different holds for today's test, I guess I have to also test each pellet that way; but I will find a way to do it that doesn't take a lot of time. I have an idea formulating. I'll shoot 5 shots with one hold and if it isn't extremely small, I'll switch to the other hold and try that for another 10 shots. I promise I'll do my best to get the smallest groups this rifle can produce with all the bargain pellets.
Final observation
This is my last formal look at the RWS Diana 34P rifle, and I think I should say a few things. First — I have watched this rifle evolve over the past 30 years from a bargain basement breakbarrel into what I believe to be the best value on the market today. Yes, that statement means for the money, because a TX200 Mark III and a Walther LGV can outshoot a 34 out of the box. But I remember when the 34 was just an entry-level air rifle. It has certainly changed over the years.
The rifle I'm testing has an obsolete Air Venturi tuning kit in it. While you can't buy that kit anymore, there are others on the internet for this popular rifle. It shoots like a finely tuned air rifle that costs at least double what you pay to buy the gun new. If you're thinking about which spring rifle to buy next, you won't make a mistake buying one of these!