by Tom Gaylord
Writing as B.B. Pelletier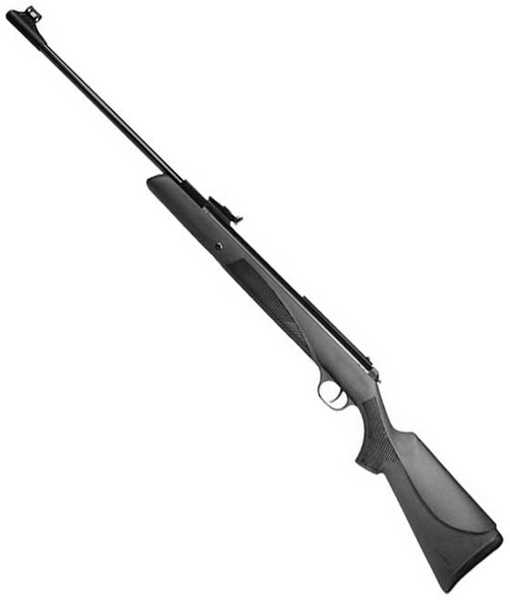 Diana's 34P breakbarrel is a tremendous value in a spring-piston air rifle.
This report covers:
• Meet my little friend
• Is it Diana or RWS?
• The rifle
• Trigger
• Air Venturi Pro Guide
• 34P with Air Venturi Pro Guide installed
Meet my little friend
Meet my little friend, the Diana RWS 34P breakbarrel air rifle. I own lots of airguns, but this one has been on loan from Pyramyd AIR for several years for multiple purposes. For starters, this is the very rifle that was used to develop the UTG Droop-Compensating scope base. I don't mean one like it — this is the actual rifle I used! So, when I tell people that a new Diana 34P can hit the target as much as 21 inches below the aim point at 20 yards when the scope is level, this rifle was used to determine that.
This is also one of the rifles that was used to test the now-obsolete Air Venturi Pro-Guide spring kit. And this rifle is the one that was used to compare the Diana T05 trigger to the T06 trigger. So, it's been used for a lot of behind-the-scenes testing for this blog.
Today, I want to re-introduce the rifle to you because I'm about to start using it as a test instrument. I have a lot of reasons for doing this. First, how many times have I said that something was just as good as a Diana 34, or that the Diana 34 is the standard in its price range? Lots of times, I'm sure. But how many of our newer readers know how good that is? It's time we looked at the standard once again.
Next, there are rifles like Ruger's Air Hawk that people say are copies of the Diana RWS 34. Are they really that close? In all respects? We shall see. I still owe you a 25-yard test of the Air Hawk.
And also, there are other tests I want to do. Like testing new pellets. I can use my Beeman R8 to test pellets, and you veteran readers know it to be a real tackdriver, or I can use my TX200 Mark III. But I've done that a lot. Bring out a new pellet and I might say, "Let's see how it does in a TX200!" Well, most pellets do well in a TX200. That's just the way it is. But the Diana 34 is a more democratic air rifle — first because it's a breakbarrel springer, but also because it's still priced under $300. Heck, I can remember a time in the 1990s when they sold for $90 — and people complained they were too expensive even then!
Is it Diana or RWS?
Diana of Germany is the manufacturer of this rifle. RWS USA imports it into this country. So, it's really a Diana rifle; but because so many people are used to calling it an RWS, we also include that name in the title. Outside the U.S., it's probably better known as just a Diana, though RWS in Germany does export them to a number of other countries around the world.
The rifle is a breakbarrel springer in .177 caliber, and this one has the Air Venturi Pro Guide spring kit installed. I'll tell you more about that a little later in this report.
The rifle
The rifle weighs 7.75 lbs. and is 46 inches long. It's a big air rifle, but it doesn't feel too large when you hold it. The "P" model comes with a black synthetic stock. While I usually prefer wood over synthetic, on this rifle I'll take the synthetic. The wood they put on rifles in this price range is usually pretty plain, plus the synthetic is both stronger and more resistant to water. Also, this stock has sharp checkering diamonds that really help you hold the gun.
The cocking effort measures 32 lbs. on my bathroom scale. The stroke is smooth with no sudden build-up of effort. The breech has a ball-bearing detent that makes the barrel easy to break open but holds the breech tight during firing. Diana has used this type of breech for at least the past 75 years, and it's a proven technology.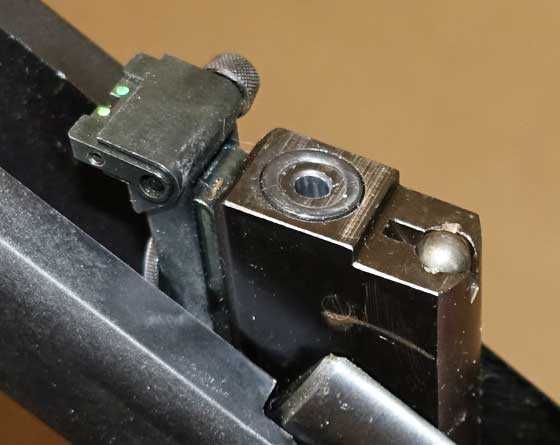 The detent is Diana's famous ball bearing. The barrel opens and closes smoothly, yet remains closed when the rifle's shot.
Unfortunately, when I tested the cocking effort years ago, I broke the front fiberoptic element that has only the protection of a sheet metal hood. That doesn't matter to me, because whenever I shoot the rifle it's scoped. Diana ships the rifle with the hood over the front sight, and I recommend you leave it on to protect the front element.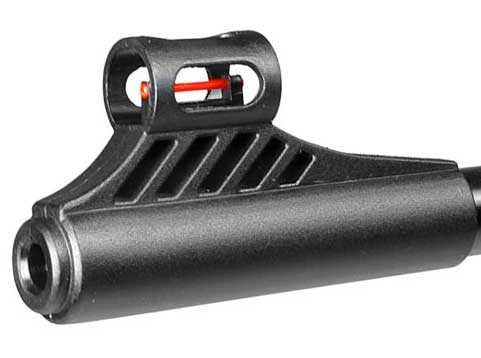 Leave the hood on the front sight to protect the fiberoptic tube.
Trigger
The T06 trigger that's in the rifle is 2-stages with a long first stage (my preference) and a let-off of 1 lb., 5 oz. Stage 2 is a little indistinct on my test rifle, but it's positive enough that the rifle remains under my control at all times. I don't find the T06 trigger to be better or worse than the T05 trigger; because it has a metal blade, most shooters seem to prefer it.
When the rifle is cocked, the safety comes on automatically. The switch is located in the center of the end cap, making the 34 a 100 percent ambidextrous air rifle.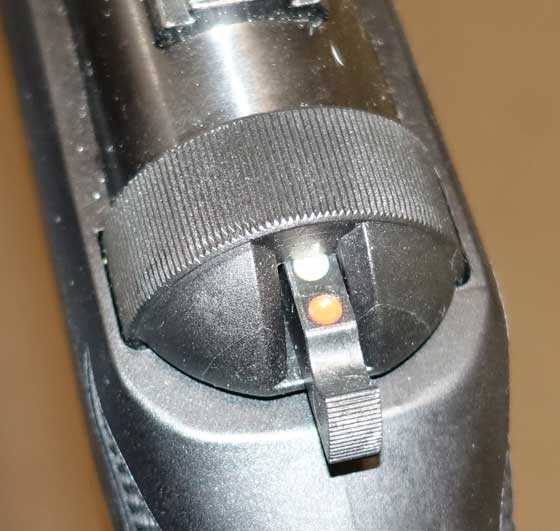 The safety comes on automatically when the rifle's cocked.
Air Venturi Pro Guide
Okay, now I'll tell you about the Air Venturi Pro Guide that's installed in the rifle. I know you can no longer buy this kit, but it does show what a lightly tuned Diana 34 is capable of. You could get to the same point with other tunes, so you don't have to feel that you can't have the same thing. And the factory rifle is pretty close to this in power, though it does buzz a little.
The Air Venturi Pro Guide is not currently available, but it was a special mainspring and guides that smoothed the gun's powerplant with a slight velocity increase. I installed a Pro Guide in the 34P in Part 5 of the Pro Guide report. The first 4 parts of that report were done on a Diana 48 sidelever, so only Part 5 refers to the 34P.


The Air Venturi Pro Guide kit consisted of a new mainspring, a rear spring guide that fit outside the mainspring (bottom in this picture) a new piston seal and top hat (front spring guide).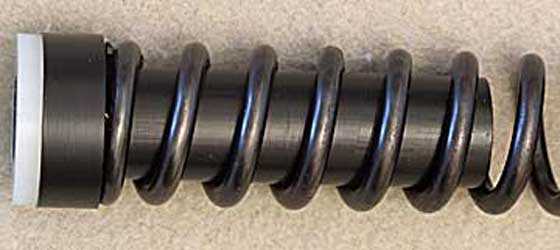 The front spring guide slips inside the stock piston. It fits inside the mainspring so tight that it can't be easily removed. This takes all vibration from the gun but leaves the power.
With the Pro Guide in the gun, the firing behavior is solid and free from vibration. There's just a solid "thunk" that connotes a tuned spring rifle.
34P with Air Venturi Pro Guide installed
The rifle last averaged 825 f.p.s. with H&N Baracudas, 936 f.p.s. with Crosman Premier lites and 1021 f.p.s. with RWS Hobbys. That was right after the Pro Guide was installed, and the rifle hasn't been shot a lot since then. So I thought I'd test it with those pellets, again, just to see where it is today.
Today, the rifle averages 781 f.p.s. with H&N Baracudas, 943f.p.s. with Premier lites and 1023 f.p.s. with RWS Hobbys. There was a big velocity drop with the Baracudas, but an increase with the Premier lites. Baracuda pellets have changed many times in the past several years, so that result is suspect. I may have used the same pellet by name, but the size and weight might have changed. The Hobbys are within 1 f.p.s. of each other. I would say the rifle is shooting about where it was before, but it's calmed down and settled into its long-term power band.
Now you've been introduced to my Diana 34P. When you see it in tests in the future, this is the rifle I'll be shooting. We'll look at accuracy next, and then I want to use this rifle to test several pellets for you.