Black Ops Junior Sniper air rifle combo: Part 4
by Tom Gaylord
Writing as B.B. Pelletier
This report covers:
• Monopod
• Daisy Premium Grade BBs
• Hornady Black Diamond BBs
• Crosman Copperhead BBs
• Avanti Precision Ground Shot
• Summary
This is the report you've been waiting for. How accurate is the Black Ops Junior Sniper air rifle combo with steel BBs? Today, we'll find out.
I went back to Part 2 and discovered that the rifle gets almost 500 f.p.s. on 3 pumps when shooting BBs. Since I was shooting at 16 and a fraction feet (5 meters), this was more than enough velocity for the test. It also sped up the test a bit.
Monopod
I try to take my personal weaknesses out of any test I do, and resting the gun is a good way to do that. I used to use a bench and sandbag for all of this, but shooting a BB gun at 5 meters is a lot to set up for. Thankfully, I discovered the UTG Monopod. It's light, quick and convenient. And, it produces results that are very close to a bagged rest. Certainly, they're good enough for a test like this.
Daisy Premium Grade BBs
The first BB tested was the Daisy Premium Grade BB. I loaded just 10 into the gun's reservoir, then started shooting. At first, I thought the gun was doing very well; but as the shots increased, I could see that it wasn't. In the end, I'd put 10 shots into 1.787 inches. That's at just over 16 feet! Most BB pistols will do better than that.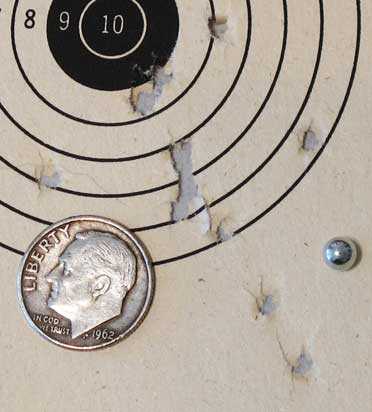 Ten Daisy Premium Grade BBs made this 1.787-inch group at 5 meters. This isn't very good.
As things turned out, this was the second-worst group of the test. Daisy BBs aren't on the bottom very often, but this proves that it can happen.
Hornady Black Diamond BBs
The next BB to be tested was the Hornady Black Diamond. In other tests, I've found these BBs to be equal to the best, though not all guns seem to like them. But the Black Ops Junior Sniper seems to. Ten of these black steel BBs went into a group that measured 0.991 inches between centers — or just about an inch. While that certainly isn't target gun accuracy, it sure is going in the right direction! It turned out to be the best group of the test!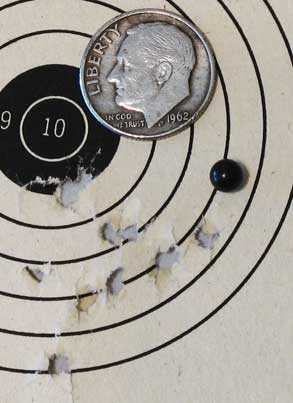 Now, that's a group! Hornady Black Diamond BBs did well in the Black Ops Junior Sniper. Ten went into 0.991 inches at 5 meters.
Crosman Copperhead BBs
Next, I tried Crosman Copperhead BBs. While these are premium BBs, they're slightly smaller than the others and vary in size just a little more than the rest. But this time they were just about even with the Daisy BBs, putting 10 into 1.79 inches at 5 meters. This was the largest group of the session, but it's so close to the Daisy group that I have to rank them as equal.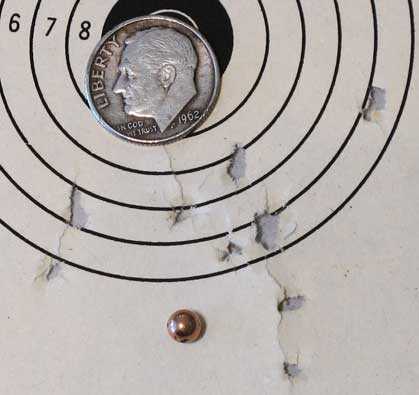 Crosman Copperhead BBs did about the same as Daisy BBs in this test. Ten went into 1.79 inches at 5 meters.
Avanti Precision Ground Shot
The last BB I tried was the Avanti Precision Ground Shot. Since these are so demonstrably better than other premium BBs in the Avanti Champion 499 BB gun, we tend to think of them as more accurate in all guns, but that isn't the case. They're slightly larger, and their surface is very uniform, but not all BB guns can make good use of those qualities.
In the Black Ops Junior Sniper, 10 Avanti shots printed a group that measured 1.625 inches. That's not much better than the 2 worst groups, and way off the pace of the Black Diamond BBs.

Avanti Precision Ground Shot offerend no advantage in the Black Ops Junior Sniper. Ten went into 1.625 inches at 5 meters.
Summary
In short, I think the Black Ops Junior Sniper is a much better pellet rifle than a BB gun. I would just shoot it with lead pellets. But you can do both if you want to. Don't look for more than soda-can accuracy at 25 feet with BBs, though.
Next, I'll mount the scope that comes with the combo and back up to 25 yards. Pellets will be back on the menu, and this time I know which ones work. Remember the accuracy we saw at 10 meters with this rifle? I'm hoping it holds out to 25 yards. If it does, this rifle becomes a best buy!
Tom Gaylord is known as The Godfather of Airguns™ and has been an airgunner for over a half-century, but it was the 
Beeman
 company in the 1970s that awoke a serious interest in airguns. Until then, all he knew were the inexpensive American airguns. Through the pages of the Beeman catalog, he learned about adult airguns for the first time. In 1994, Tom started
The Airgun Letter
 with his wife, Edith. This monthly newsletter was designed to bring serious reports about airguns to the American public. The newsletter and
Airgun Revue
, a sister magazine about collectible airguns, was published from 1994 until 2002, when Tom started
Airgun Illustrated
-- the first American newsstand magazine about airguns. Tom worked for three years as technical director at
AirForce Airguns
, the makers of the 
Talon, Condor, and Escape
 precharged air rifles. Today, he writes about airguns and firearms for various publications and websites. He also makes videos, and you'll find short clips embedded in some of his artices on Pyramyd Air's website. Tom is a consultant to Pyramyd Air and writes under the name of B.B. Pelletier.