Daisy 1894 Western Carbine: Part 3
by Tom Gaylord
Writing as B.B. Pelletier


Daisy's 1894 Western Carbine is a classic BB gun. This one is an NRA Centennial model.
This report covers:
• Daisy Premium BBs
• Hornady Black Diamond BBs
• Avanti Precision Ground Shot
• Crosman Copperhead BBs
• Conclusions
Today, we'll see if the Daisy 1894 can shoot. I know that a lot of you have been waiting for this report for a long time. I haven't been waiting nearly as long as some of you, but I am just as excited. As I've said more than once while testing this BB gun, I like the way this 1894 feels when I hold it!
I shot the gun at 5 meters (16 feet, 4 inches) from a UTG Monopod rest. I loaded only one type of BB at a time, so the BBs didn't mix. I shot at larger bulls this time, because the Daisy has open sights that aren't too fine.
None of the targets below seem to have the correct number of holes. That's because BBs tear ragged holes and sometimes they land together. Don't make anything of it.
Daisy Premium BBs
First to be tested were Daisy Premium Grade BBs. Ten of them went into 1.334 inches at 5 meters. That's not great, but at least they're all in the same general area.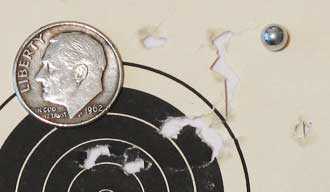 The Daisy 1894 put 10 Daisy BBs into a 1.334-inch group at 5 meters.
Hornady Black Diamond BBs
Next up were 10 Hornady Black Diamond BBs. Nine of ten went into 1.394 inches at 5 meters, which was just a little bigger than the Daisy group. Shot 10 missed the BB trap altogether and hit the backer board I had up to protect the wall behind. This one came straight back at me! So this group isn't officially 10 shots. It's just as close as we're going to get with this BB, because I'm not shooting any more of them.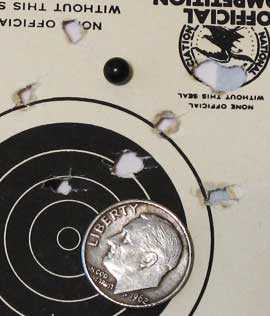 Nine Hornady Black Diamond BBs made this 1.3940-inch group at 5 meters. Shot 10 missed the trap and hit the backer board.
Avanti Precision Ground Shot
The next BB I loaded was the Avanti Precision Ground Shot, which is made specifically for the Avanti Champion 499 BB gun. Like everyone, I'd hoped this would be the BB that turns an 1894 into a 499. But it didn't happen.
What did happen is the gun became stunningly inaccurate! The first 2 shots hit the target about five-eighths of an inch apart, then shots 3 and 4 missed the trap altogether and hit the backer board. They rebounded straight back at me! And that was it. I think the slightly larger size of the Precision Ground Shot is too much for the 1894's barrel to contend with. And that's also the reason I wear safety glasses whenever I test guns!
Crosman Copperhead BBs
The last round I tried was the Crosman Copperhead BB. After having 3 BBs rebound at me with force, I admit to being quite nervous, but I needn't have worried. All 10 Copperheads hit the target where they were supposed to. In fact, they printed a group that measured 1.124 inches between centers. Not spectacular, perhaps, but a far cry from shooting back at me! In fact, this was the smallest group of the session!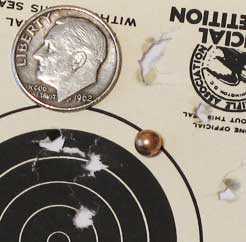 Crosman Copperhead BBs turned in the best group of the day, with 10 going into 1.124 inches at 5 meters.
Conclusions
The 1894 turns out not to be a 499 in western clothing, like we'd hoped. In fact, the one I am testing is probably not as accurate as any new Daisy BB gun you can buy today.
Are there 1894s that are more accurate? I'm sure there are. But I wouldn't set out on a quest to find one. Get an 1894 because you like how it looks and operates. Then the rest will be fun.
I've enjoyed looking at this classic for the first time. Testing it completes a small part of my airgunning experience. From now on when the subject comes up, I can join the discussion.
Tom Gaylord is known as The Godfather of Airguns™ and has been an airgunner for over a half-century, but it was the 
Beeman
 company in the 1970s that awoke a serious interest in airguns. Until then, all he knew were the inexpensive American airguns. Through the pages of the Beeman catalog, he learned about adult airguns for the first time. In 1994, Tom started
The Airgun Letter
 with his wife, Edith. This monthly newsletter was designed to bring serious reports about airguns to the American public. The newsletter and
Airgun Revue
, a sister magazine about collectible airguns, was published from 1994 until 2002, when Tom started
Airgun Illustrated
-- the first American newsstand magazine about airguns. Tom worked for three years as technical director at
AirForce Airguns
, the makers of the 
Talon, Condor, and Escape
 precharged air rifles. Today, he writes about airguns and firearms for various publications and websites. He also makes videos, and you'll find short clips embedded in some of his artices on Pyramyd Air's website. Tom is a consultant to Pyramyd Air and writes under the name of B.B. Pelletier.