by Tom Gaylord
Writing as B.B. Pelletier
This report covers:
Layers of intrigue
Seth's bullets
Rocket Shot
AirForce Airguns Texan big bore air rifle
Dennis Quackenbush
Mike Melick
Pellet Head Gauge
RAI
WOW!
Malvern is a show that has evolved over the years. Originally, it was the Little Rock, Arkansas, show and was held in Benton, Arkansas, inside an empty mall building for many years. Then, it moved a few miles to the west to the county fairgrounds for several more years before the promoter decided to give up the show.
Layers of intrigue
Seth Rowland, who makes bullets for big bore hunters, took over promoting the show and moved it to the old country fairgrounds in Malvern, Arkansas, about 20 miles further west on Interstate 30. Of all the airgun shows being held, Malvern is the smallest and the quietest, but it's also one that has many surprises every year. This year, I'll say that I saw layers of intrigue to the show. That's what I'll discuss today.
Seth's bullets
Seth Rowland, the Malvern show promoter, makes big bore bullets. Below are 3 of his .458 bullets, which include a ballistic tip, a flat nose and a hollowpoint with a shallow cupped point. Seth and other hunters have taken many deer and bear with these bullets!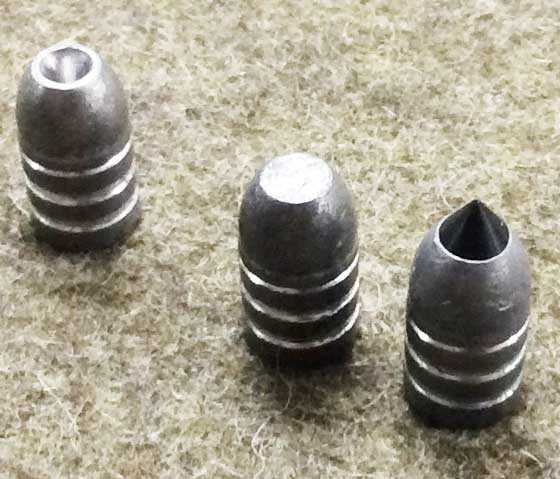 Seth Rowland is well-known among big bore shooters for the hunting bullets he makes. Here are 3 of his .458s.
Having a big bore bullet maker at a show allows the public to talk about what they need for their rifles. As always, there were many interesting discussions about what works on game. There are many different big bores on the market today, which is why Seth makes so many different kinds of bullets.
Rocket Shot
In the corner of the show hall was a booth set up with a video of someone shooting action targets. It turned out to be videos of the Rocket Shot target, which you can watch on their website. You shoot the yellow paddle, which launches an empty aluminum soda can about 10 feet straight up. A good shot can hit the paddle and then the can while it's in the air.
Watch the video and tell me what you think. Isn't this the most ideal Cowboy Action target you've ever seen? It's perfect for lower-powered BB and pellet guns, though you must remember to always wear eye protection when shooting it, because the paddle that triggers the shot is thick steel. According to the inventor, the paddle can take hits up to around 10-11 foot-pounds, so your 800 f.p.s. pellet rifles can be used. But, I think you'll want to shoot it with something more exciting.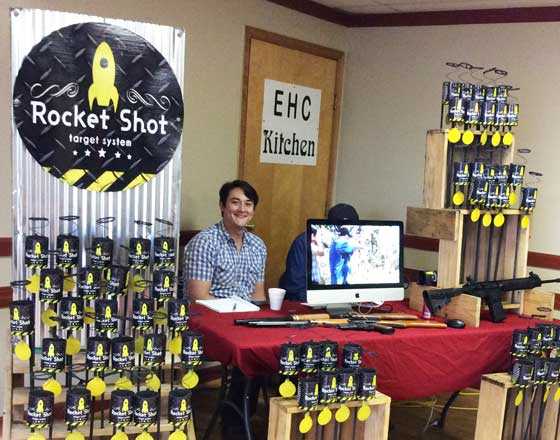 The Rocket Shot action target made a big splash at Malvern.
This target was MADE for a gun like the Colt Single Action Army! Add the Walther Lever Action rifle to it, and the Rocket Shot target has given us 2 parts of a 3-part Cowboy Action contest! Of course, all your action pistols and long gun repeaters can also be used. Just remember to always wear eye protection!
I bought a target and plan to thoroughly test it for you. This is one of the best airgun inventions I've seen in the past decade! They're going to sell thousands of these target at just $35 each.
AirForce Airguns Texan big bore air rifle
AirForce Airguns had a booth at this show. It was manned by Eric Henderson, the host of Adventures Afield, a YouTube television show about airgun hunting. AirForce owner John McCaslin was at the show all day Saturday. And, of course, the main attraction was the new Texan big bore rifle.


The AirForce Texan created quite a stir. People could actually see and touch it.
I watched the reaction from people as they cocked the big rifle. They were as stunned as I was when I tested it for you earlier this year. We couldn't shoot big bores at this show; but if you come to our Texas Airgun Show on August 29, you'll get a chance to see it being shot in a big bore contest we're holding. Yes, the Long-range Airgun Silhouette Shooting Organization (LASSO) big bore contest will be held in Poolville on Saturday, August 29, during the show. And, if you come to the show, you're invited to watch the filming of a roundtable segment for the American Airgunner TV show being filmed at a public reception the evening before! (More info to come.)
Dennis Quackenbush
Speaking of big bore airguns, Dennis Quackenbush was there with a couple non-standard guns (read that as guns that were not made for an order) on his table. I know his single .458 sold, and I think one or both the .308s went, as well. Malvern may be small, but the good stuff is always there! All 3 of these rifles had longer barrels for greater velocity. This time, I have no pictures because they went too fast!
He also had a couple big bore air pistols on his table. He told me his .50 caliber gets up to 100 foot-pounds! How's that for an air pistol?
Dennis is always introducing me to people at these shows, but he's the rock star. He makes air rifles! He always gets humble whenever I introduce him to someone, but there are darned few people who can do what he does. And no one has done as much of it as Dennis.
Mike Melick
Mike Melick is an airgun dealer in Iowa. He's a competitor to Pyramyd AIR, so I can't give a link to his Flying Dragon website, but I want to talk about him in a different light.
Mike brings airguns to the shows that other dealers do not carry. Most are Chinese spring guns from Xisico; but at this show, he had a used B40 (copy of a TX200) in the rack. Cooler still, he had an Air Arms TX200 Hunter Carbine next to it! The B40 sold on the second day. If you know what a B40 is, you know why it sold so quickly.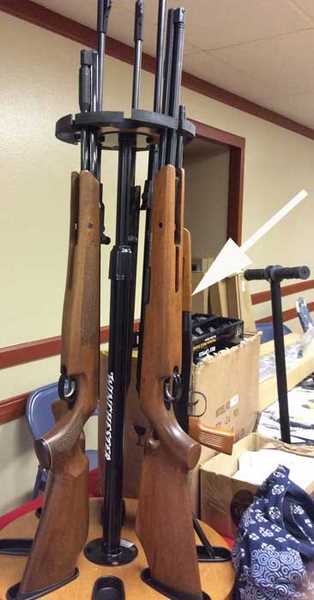 Mike Melick had a BAM B40 underlever in the rack (arrow). It sold. The Air Arms TX200 HC is on the left.
Mike also loaned me an XS-B25S that he told me he lightly tuned. He said he knew how much I like the Diana 34P, which I do, and he wanted me to see something that's really close. He said I could play with it and test it if I liked. I won't blog it here, but if the test goes well, I may write about it on my website. I have to say that I actually thought it was a 34P when he handed it to me!
Pellet Head Gauge
Another new product at Malvern was the Pellet Head Gauge. It's a precision gauge used for sorting pellets by their head sizes. You think all precision pellets have the head size that's marked on the tin? Well, a quick test with this gauge revealed a 0.04mm span of head sizes IN THE SAME TIN! So, that 4.53mm pellet you're shooting may actually have a 4.49mm head.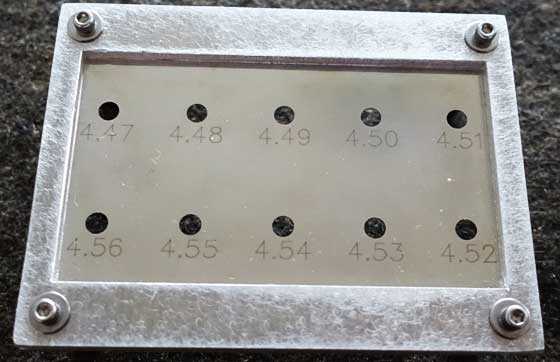 Jerry Cupples' Pellet Head Gauge is a precision gauge that really works! I'll test it for you.
This is far too important to overlook! If head sizes matter for accuracy, and we know without question that they do, then will sorting the pellets in a tin and discarding those of the wrong head size make a difference? That's what we're going to find out. It's too simple to just think they will and not test for it. Early indications from testing by the maker of this gauge — Jerry Cupples — are that it makes a difference.
I intend to test it for you several ways. As soon as there's contact information to purchase the gauge, I'll provide it.
RAI
I've tested several R. Arms Innovations adapters for turning Crosman pistols into carbines. That was where I last saw this company, when they displayed at the 2014 Texas Airgun Show. Well, folks, they have many new airgun products of which I was unaware.
Dave Rensing, owner of RAI, told me his business is now booming all around the world. He's selling his adapters overseas through small U.S. dealers who will export them, because he doesn't want to get into that part of the business. Here in the U.S., the name RAI on a product means something, and that keeps him hopping.
RAI recently purchased the stockmaker TERYX and has a Gen 2 Benjamin Marauder tactical stock. It's received rave reviews from airgun hunters already.


RAI now offers this TERYX aluminum tactical stock for the Gen 2 Marauder.
Dave also showed me a neat butt adapter that allows the stock to fold sideways for transport. It's on the TERYX stock shown above, but look at it when its collapsed to see how it works: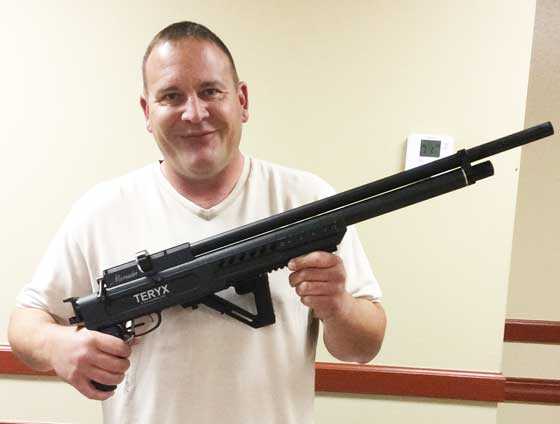 The stock collapsed. This is a full-length Marauder!
They've also produced an advanced aluminum stock for the Gen 2 Marauder, and I plan to test it for you. You know how the Marauder wood stock is so fat that it turns away buyers? RAI has made it thin and tactical. They've also innovated it to accept ANY AR-15 pistol grip and standard triggerguard!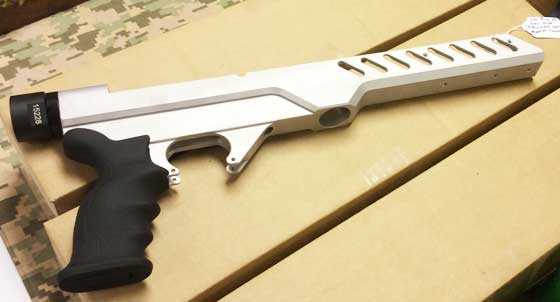 The next generation RAI modular stock for the Marauder is so revolutionary that I'll test it thoroughly for you. This one changes things in the PCP world! The stock is so new that it hasn't even been anodized or marked.
I was so impressed with the feel of the new stock that Edith and I will be buying a .25-caliber Gen 2 Marauder to adapt for you. In my opinion, this rifle will now be a world-beater, given that it already has a wonderfully tunable trigger, a super shroud and the only tunable valve on the market with all the possibilities (fill pressure AND velocity). All it needs is a deadly accurate barrel that Dave assures me is in the current .25-caliber factory Marauder and this slim, modular stock. Watch out, world!
WOW!
I thought I was tired when I returned home after the show. I'm more tired after writing this report, which is just a fraction of all that happened. I have so much more to share with you that there will be a second part this week.