by Tom Gaylord
Writing as B.B. Pelletier


Air Venturi's Wing Shot air shotgun is a serious new player in a very small field.
This report covers:
Description
Shooting impressions
Trigger
Sights
First and second test
Test with bullets
Ammo
Third test
A good 25-30-yard wing gun
Summary
Today I begin a report on the Air Venturi Wing Shot air shotgun. This is not only a new product, it may be the first air shotgun I have tested that is really worthy of that title. We shall see as this test unfolds.
This isn't the first report on the Wing Shot. You were treated to an early look by guest blogger and Pyramyd Air employee, Derek Goins. Today we start a detailed examination.
Description
The Wing Shot is a .50 caliber gun. It is smoothbore, and has a screw-in choke tube at the muzzle that reduces the bore size by 0.07 mm. We will see today what that does to the shot pattern.
It is 43 inches long and is shaped like a fine shotgun. My shooting buddy, Otho, is a shotgunner and the first word out of his mouth when he saw the gun was, "Wow!" He likes the Turkish walnut buttstock and the general feel of the gun. He felt it was perfect for him when he shouldered it.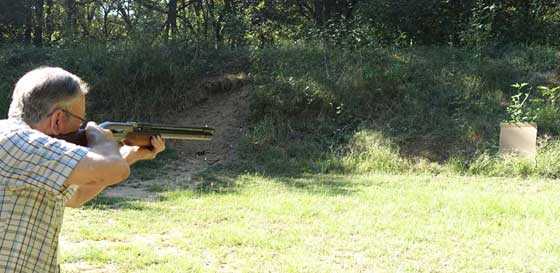 Otho patterns the gun at 15 yards.
The Wing Shot is 43 inches overall and weighs 7.25 lbs. That's on the heavy side for a smallbore shotgun (28 and 32 gauge and .410 caliber), but it doesn't seem to slow it down. The balance seems about right — very neutral, front and back. The barrel is 22 inches long. The gun loads via a sliding breech cover that slides forward to load a shotshell and back to seal the breech. When you slide it back you must hear the breech cover click into place over the o-ring or the breech isn't sealed. I failed to do that once and the breech blew open with the shot. No damage was done, but it alerted me to the need to close the breech tightly.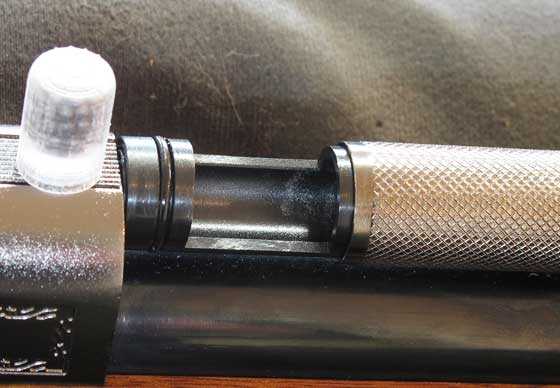 The breech cover slides forward to load. Place the shotshell into the trough and push it forward as far as you can. Be sure to close the breech cover all the way. That o-ring at the back seals the breech.
The gun cocks with a lever on the right side. Pull it straight back to one of two possible stops. The first stop is low power and all the way back is high. I am only interested in high power in this report, so that's all I'm going to test.
It isn't easy to cock this gun. Most adult men can cock the lever to the low power setting, but when the gun is new about half the men I sampled could not cock it to high power.
That changed after the gun had about 30 shots on the action. Then the cocking effort became smoother and everyone could cock it all the way. It now has around 60 shots on it and it is much smoother than when it was brand new. I expect it will continue to smooth out as it is used, because that's the way these things usually work. But it is still a hard-cocking airgun.
These are the things new buyers need to know. This gun particularly is going to break in before your eyes in just a few shots. Don't condemn it before that happens!
Shooting impressions
The gun is loud. It is a .50-caliber big-bore airgun, after all. It is much louder than any smallbore pneumatic you have heard, but not so loud that you need hearing protection when shooting outside.
There is some recoil when it fires. That recoil varies with what projectile you are shooting. The heavier the projectile, the harder the kick. At its hardest, it has perhaps half the recoil of a medium-weight .410 shotgun.
Trigger
The trigger is hard to evaluate, because you don't notice it when shooting in the shotgun mode. Fortunately I also shot it with .50 caliber bullets off a bench and can tell you that it's 2-stage and breaks crisply at 5 lbs. 11 oz. It feels like a lot less than that because of the crispness. It is non-adjustable.
Sights
This is a shotgun and real shotguns that are meant for wing shooting don't have sights. They have a bead up front that you use to cover the game in flight and that's it. The bead on the Wing Shot sits atop a low ramp. It is large and obvious. I acquired it very quickly after bringing the gun to my shoulder.
First and second test
My first 2 tests didn't go so well, but in retrospect that was good for all of us. I had been given early experimental shotshells that performed variably. Although the gun is rated to shoot faster than 1100 f.p.s., all my early shots were in the 700 f.p.s., region. Of course it is very difficult to chronograph a shot column in flight and I managed to hit the chronograph skyscreens a couple times, but those early shots weren't good. However, toward the end of that testing, after about shot number 30, things changed dramatically.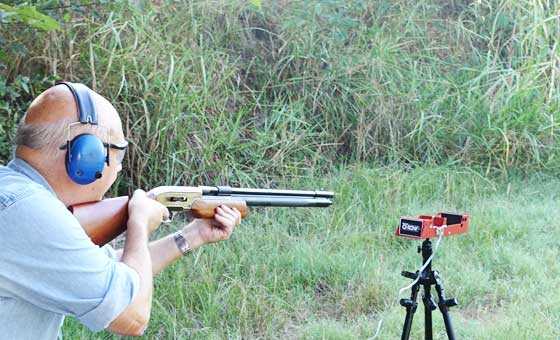 I chronographed the gun several times. After it broke in, the velocity was over 1100 f.p.s on the first shot. It remains over 1000 f.p.s for 3 shots.
Now that the Wing Shot is broken in, I fill it to 3000 psi. Then I start shooting. On one string I got 1156 f.p.s on the first shot and 1106 f.p.s. on shot number 2. Shot 3 went out at 1049 f.p.s. and shot 4 dropped to 783 f.p.s. And that is the way the gun has performed ever since this time. I tested it again several times and the result was always the same. The first 3 shots are powerful, then there is a quick dropoff in velocity on shot 4.
The low initial velocity I told you about was the gun breaking in. It was probably also the fault of the prototype ammo I was using. I shot about 40 of those prototype shells, and their performance was variable so I'm not reporting it.
Test with bullets
I also shot the gun with .50 caliber 210-grain Air Venturi Balle Blondeau bullets at 50 yards. Yes I did remove the choke before doing this.
I used the front bead and the top of the receiver as my aiming reference. The bullets landed 3 feet low, but I put 10 of them into 7-inches at that distance, which isn't bad. I think out to 35 yards I could keep a bullet in the kill zone of an animal like a Javalina or even a small wild pig. Forget scoping the gun — it wasn't designed as a big bore rifle. Only the high-drag design of the bullets I used kept them flying straight and grouping together.
Ammo
The Wing Shot uses shotshells that are consumed when fired. They cannot be reloaded. They are made to break up as they pass through the choke, which is where you get the excellent short-range patterns you are about to see.
The shells are currently offered with either number 6 or number 8 shot. Each shell holds about 120+ grains of shot inside the 130+-grain shotshell. There are 50 shells in a box. That makes the ammo expensive, but for what this shotgun can do, it may be worth the cost. I will explain that at the end of the report.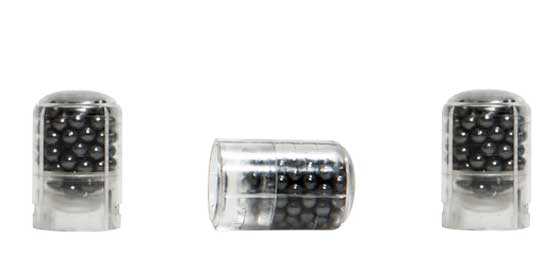 The shotshells are designed to break apart in the gun's choke.
To make a comparison, a .410 low velocity shell launches 1/2 ounce of shot at around 1200 f.p.s. One-half ounce is about 219 grains, so the Wing Shot shotshells have about half as much shot at the .410 shell. Half the shot going just as fast means the Wing Shot is the most successful air shotgun to ever come to market.
Third test
The third test I conducted was the one that really told me what I needed to know. I had production shotshells to test and things went much better! Now I could really pattern this gun, and when I did, the results were amazing!
I couldn't believe it, but I got a decent 9-10-inch pattern at just 10 yards! Try doing that with your .410. Even with a cylinder-bored gun you aren't going to get a pattern that open at that distance, I don't believe. I did this several times and always got the same results.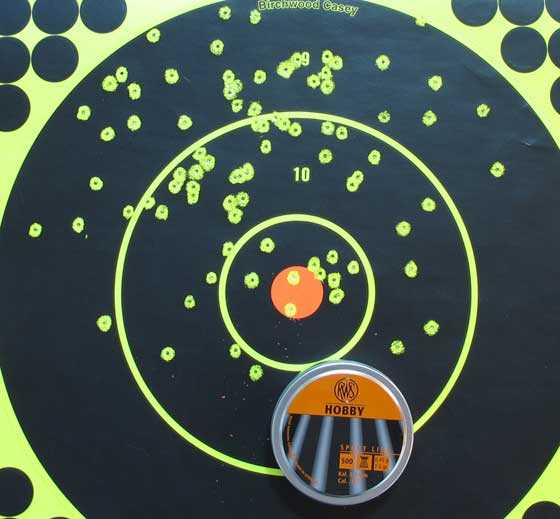 At 10 yards the pattern spread out to between 9 and 10 inches. The Hobby pellet tin is for scale.
Otho and I discovered that the test gun shoots low and a little to the left. We were able to adjust our hold to compensate.
At 15 yards the pattern opened up to a full 12 inches. That is phenomenal. And the pattern is even, with no open spots for a pigeon or dove to slip through.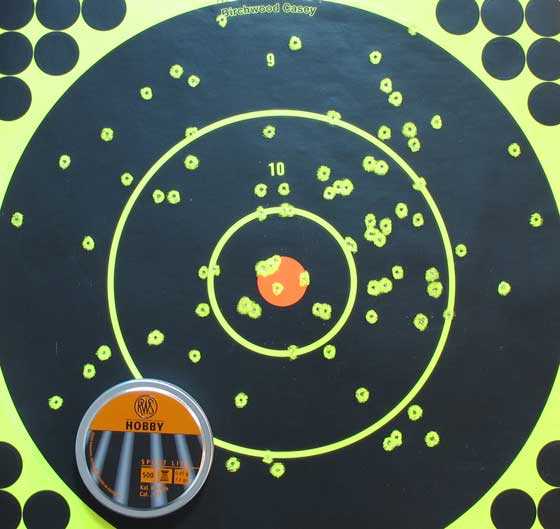 At 15 yards the pattern spread out to a full 12 inches. This is a hunting pattern! Again, the Hobby tin is there for scale.
I thought the pattern would continue to open fast, but it didn't seem to. Because at 20 yards it was only about 16 inches wide and still very even. No birds lost there, either.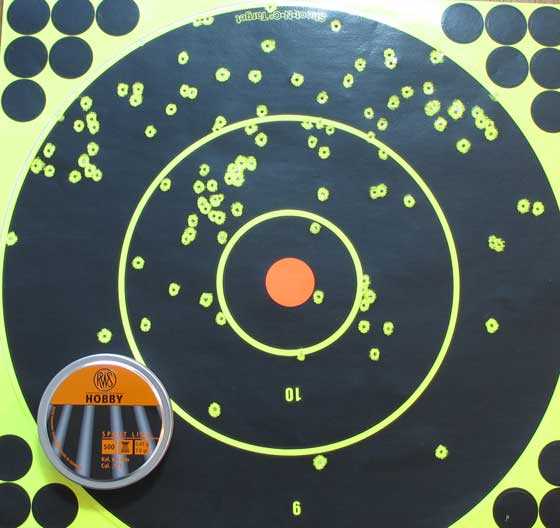 At 20 yards the pattern opened to about 16 inches. Some shots were off the bull when it was stuck to the cardboard box. They don't show here. This is still a good hunting pattern! I'm showing this target upside-down, as the gun patterned a little low.
A good 25-30-yard wing gun
What we have in the Wing Shot is a good 25-30-yard wing gun. That's something we have needed, because the .410 is too much gun for closer distances like 10-15 yards. The firearm shotgun pattern is so dense at that distance that it will tear birds apart. But each individual shot (I mean just one piece of the shot) from the Wing Shot hits just as hard as one shot from a .410. There is just less of it in the shot column, and it spreads into a good pattern at that range.
The naturalist John James Audubon was a hunter and wingshooter par excellence. Though there is a conservation group that uses his name today, Audubon actually shot thousands of birds for his art studies. What would he have given for a shotgun that could be used effectively at such close range? Those of you who are wingshooters know what I'm saying.
Summary
This was just our first look at the Wing Shot air shotgun. I showed you the velocity, measured the trigger-pull, talked about the need for a break-in period, gave you the accuracy with a bullet at 50 yards and showed you several shot patterns. That's a good start. I think the world has its first useful air shotgun.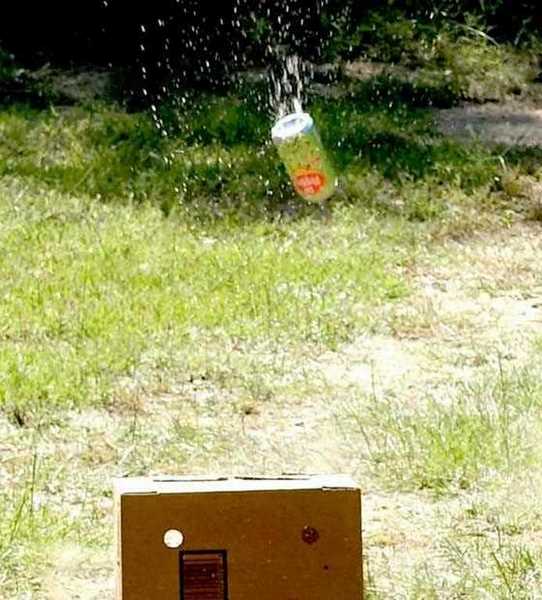 With apologies to Dr. Pepper, Otho sent this can into orbit at 10 yards.