by Tom Gaylord
Writing as B.B. Pelletier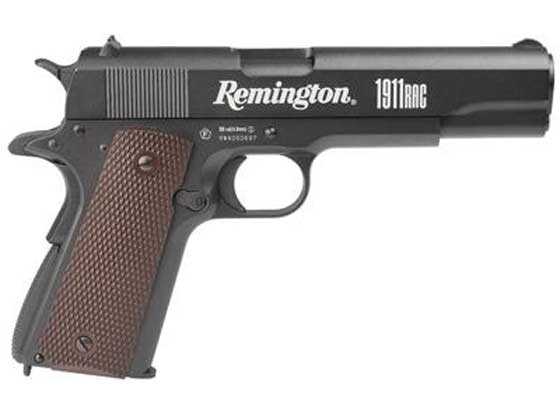 Remington's 1911RAC is very realistic to look at and hold.
This report covers:
Gas loss?
Today's test
First up — Air Venturi zinc-plated BBs
H&N Smart Shot lead BBs
Avanti Precision Ground Shot
Trigger pull
Overall evaluation
Today we look at the accuracy of the Remington 1911RAC BB pistol,
and I'm going to tell you up front — ladies and gentlemen, we have a winner! This one really shoots.
Gas loss?
In Part 2 I encountered a loss of gas that made it impossible to get a shot count. Also, the gun was empty when I started that test, despite having a fresh CO2 cartridge installed 2 weeks earlier. I told you I was going to install another fresh cartridge after testing the gun last time, and the first thing I would do in this test was see if there was still gas remaining. Well, there was.
When I started this test the first thing I did was cock the hammer and squeeze off a blank shot. The gun fired perfectly and the slide blew back to the locked position because the magazine was installed. I then ran this entire test with that same cartridge that had been in the gun for a week. That's what I expect from a CO2 pistol.
Maybe the second drop of Crosman Pellgunoil (on the tip of every fresh cartridge) finally did its job, or maybe I just tightened the CO2 cartridge tensioning screw a little more this time. I don't know why it worked, but it did.
There is still a problem getting the magazine out of the gun when the slide if forward, but once it is retracted the mag comes right out. That is bothersome, but not a deal-killer in my opinion.
Today's test
I shot the gun from 5 meters (16 feet 3 inches) with my shooting hand rested on the UTG Monopod. I rested my shooting hand instead of the gun itself because of the blowback feature. I didn't want that slide hitting the Monopod when it came back. This was a very steady shooting position, and I knew if the pistol was accurate I was going to get good groups.
First up — Air Venturi zinc-plated BBs
The first BB I tried was the Air Venturi zinc-plated BB. In past testing I have found these BBs to be equal to Daisy's Premium Grade BBs, Umarex Precision BBs and Hornady Black Diamond BBs, so it isn't necessary to try them all. One will suffice for all of them.
I was very pleased with the first group, which turned out to be the best group of the test. Ten BBs went into 0.881-inches at 5 meters. And not just that — they went to the exact point of aim, which was the 6 o'cock position on the bull! This pleased me very much. It means the gun has what it takes for action pistol shooting.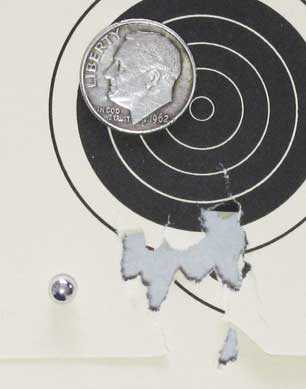 Ten Air Venturi zinc-plated BBs went into this tight 0.881-inch group at 5 meters. The point of impact is the exact point of aim.
H&N Smart Shot lead BBs
For a change of pace I tried H&N Smart Shot lead BBs next. They fed perfectly through the spring-loaded magazine. I mention that because some readers were concerned that the lead BBs would deform under spring pressure from the magazine follower. But they acted just like steel BBs in all respects.
These BBs shot to the aim point as well. Nine of them went into 0.958, which is very close to the Avanti BBs. The tenth BB unfortunately dropped down and opened the group to 1.839-inches. I have no idea why that happened because all the shots were fired with the sights in exactly the same position.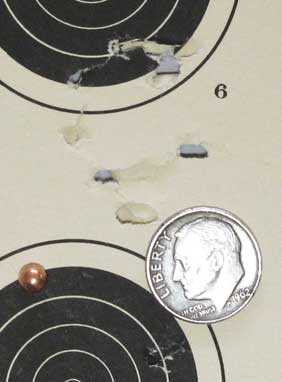 Ten H&N Smart Shot lead BBs went into 1.839-inches at 5 meters, but 9 of them are in a very round 0.958-inch group. That shot below the dime opened the group to almost double.
Avanti Precision Ground Shot
The final BB I tested was the Avanti Precision Ground Shot. I always think these are going to shoot better than anything else, but unless the gun is a Daisy 499, they usually don't. This time they were second-best, or second-worst, depending on your outlook. Ten went into 1.304-inches at 5 meters. They were still pretty much hitting at the aim point.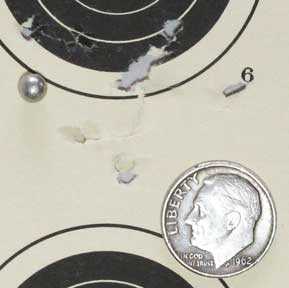 Ten Avanti Precision Ground Shot went into 1.304-inches at 5 meters.
Trigger pull
I commented in part 2 that the trigger was a bit creepy and not that precise. That's still true in the accuracy test, but as light as this trigger is, the creepy pull doesn't present a problem. I just got surprised each time the gun fired. But shooting the gun off the monopod was so stable that it didn't matter.
Overall evaluation
This test hasn't been without some problems. I had the gas loss problem in Part 2 and the magazine still hangs up when the slide is forward. And finally the lettering on the slide and frame does detract from the gun's appearance.
On the other hand, this BB pistol is so accurate that I can forgive a lot. The trigger is a bit creepy, but it doesn't interfere with my hold.
Bottom line is the Remington 1911 RAC I'm testing finished the test well. I can recommend it, but I will tell you to test the one you get for gas loss, and always use Crosman Pellgunoil.