by Tom Gaylord
Writing as B.B. Pelletier
2016 SHOT Show: Day 1
2016 SHOT Show: Day 2
2016 SHOT Show: Day 3
This report covers:
Umarex USA
Action Sport Games
Beeman
Gamo
Something fun
Xisico
Megaboom
Meopta
Good-bye
Today I will present the last report on the 2016 SHOT Show.
Umarex USA
There is one more new gun in the Umarex USA booth. It was a show special model of their Beretta M9 pistol. This one was weathered to look like it had seen service. It was their Desert Storm commemorative. They had it in a glass case, rotating throughout the entire show for buyers to see, and they limited the number of guns each dealer could purchase. They increased the total number of guns made from 500 to 750, and as always, they sold out quickly.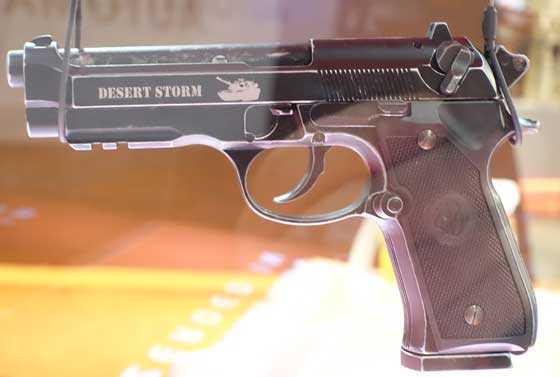 Beretta Desert Storm commemorative pistol was featured in the Umarex USA booth.
Action Sport Games
Action Sport Games (ASG) is riding high on their new Dan Wesson 715 revolvers — both BB and pellet. They are a leader in airsoft guns, and are looking for the best BB and pellet air pistols to bring them solidly into the airgun arena.
In their booth I saw two new action BB pistols for 2016. Both are patterned after popular CZ semi-autos, and both feature full blowback. Full blowback is where the metal slide comes all the way back — not part way. It gives the pistol more of a kick and comes closer to simulating the recoil of a firearm.
Another feature these new pistols offer is realistic disassembly. ASG knows what features the market wants, and intends providing them.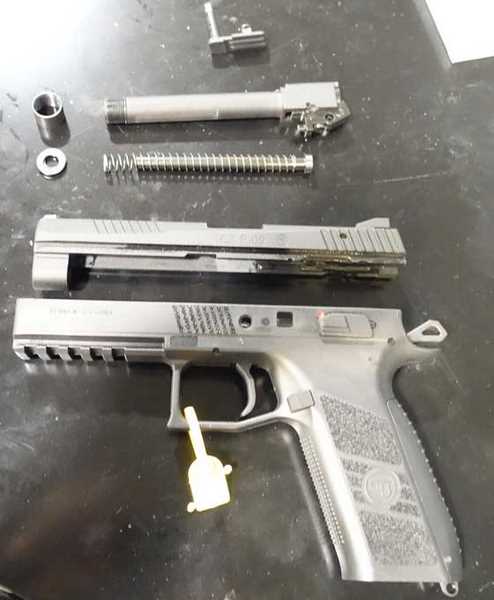 The new ASG action BB pistols disassemble like the firearms they copy.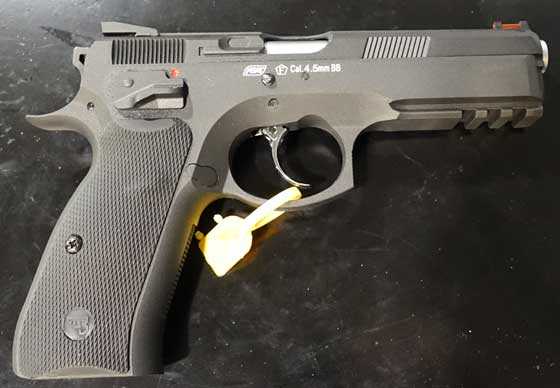 CZ Shadow offers full blowback for realistic recoil.
Beeman
Visiting the Beeman booth at the SHOT Show is bittersweet for me. I remember the old days when the company lead the pack with top offerings that were the dreams of every American airgunner. I was fortunate enough to have lived through that period and to have shared in many of those dreams.
Today the Beeman company is entirely different. Their Chinese owners have turned over importation and support of their premium airguns to Air Venturi and they now concentrate on Chinese airguns that are Beeman in name only. However, they are in the market and I did look through their booth, although, like Gamo, their no representatives did not help me.
I saw racks of Beeman and Marksman rifles that are carried by Pyramyd AIR. Nothing new or exciting. But that strange double barreled (both .177 and .22 caliber pellets shoot at the same time) spring rifle was still there, along with a wood-stocked companion! They must be selling them somewhere. I vowed to test one last year, but I never found where to get one.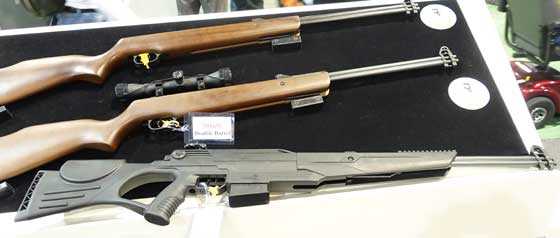 The tactical Beeman Double Barreled rifle has a mate. It's a sporting style in a wood stock. I still don't know where they are sold in the U.S.!
Gamo
The Gamo booth was nearby, so I wandered over there. Last year when Edith was with me we got a very thorough explanation of all Gamo's new products for 2015. This year it was back to the cold shoulder. Plenty of Gamo reps in the booth — they just didn't talk to me.
What I saw was nothing dramatically different. A lot of reskinning and one confusing poster that announced the new Raptor Whister. I don't know what a Whister is, but it may have just been a typo for Whisper, a title Gamo uses on a lot of their airguns.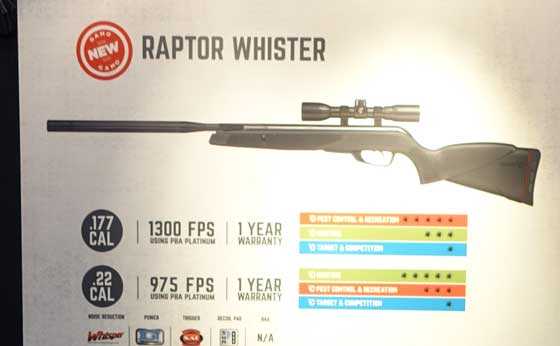 Gamo calls it a Whister, but I have to believe that's a typo.
The other thing at Gamo is they are back touting their spring guns as shooting 1,650 f.p.s. This despite proof that it's impossible to achieve that velocity from a spring gun without resorting to trickery. Some things never change.
Something fun
You never know when something out of the ordinary will pop up at SHOT, and I saw something I had to share with you readers. Someone made a throne from artillery shells! This is like the antler chairs you sometimes see in western decor, only the materials are more appropriate to shooters. Anyway — it's worth a smile!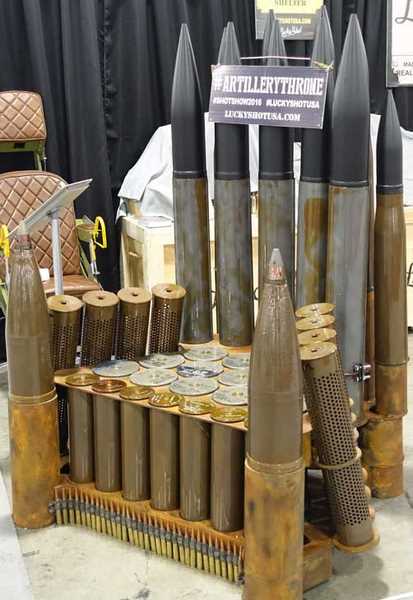 Tube artillery shells, linked .50 BMG shells and recoilless rifle shells make up the artillery throne. I want one!
Xisico
I stopped by the Xisico booth to examine what looked like an air compressor and discovered what must be the most unique airgun product this year. At least it is if I understood correctly what I was looking at! This is a booster compressor, similar to the Shoebox we all know, but designed to accept a fill from a hand pump!!!?? And I have to believe I was told it accepts air from a bicycle pump — not a 3-stage pump.
It's larger than a Shoebox, and what I saw has the appearance of a brassboard prototype (a more advanced prototype that possibly works but definitely not as advanced as pre-production), so I imagine we won't see one for sale anytime soon. But this shows us what people are working on. I don't know enough to fully comprehend how it will work, but I will keep watching this curiosity.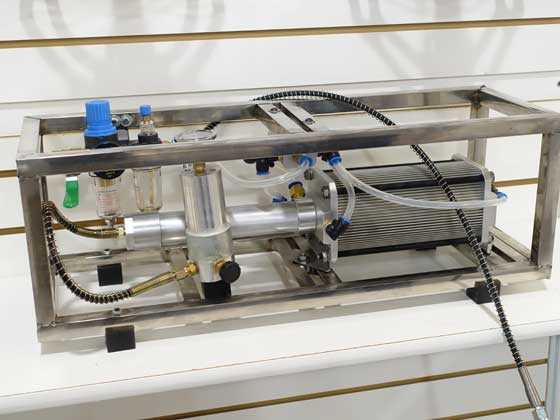 This booster compressor from Xisico will bear watching.
The serious new air rifle in the Xisico booh is the new Sentry. It's a repeating PCP they hope to offer at an affordable price. I held it and everything seemed good for a basic repeater. It's fully ambidextrous.  This will also be one to watch.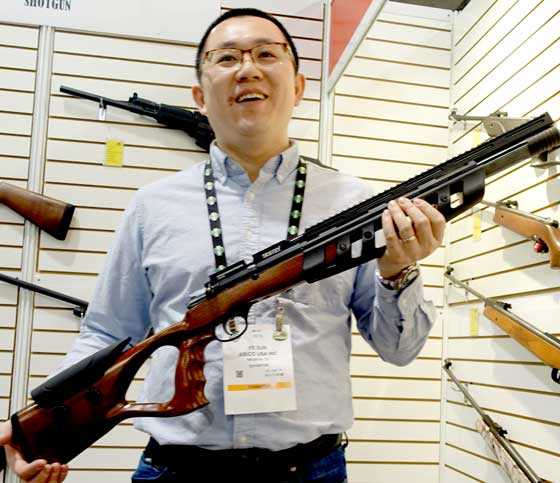 Xisico's new Sentry is a repeating PCP that will be priced for a budget.
Megaboom
Of course I couldn't walk past the Megaboom booth. Not with inventor, Ralph Hoetger, standing there wearing his exploding hat! Megaboom was just purchased by ShotStop targets, and Ralph will be retained to promote them at shows and events. I hope to see them at the 2016 Texas Airgun Show!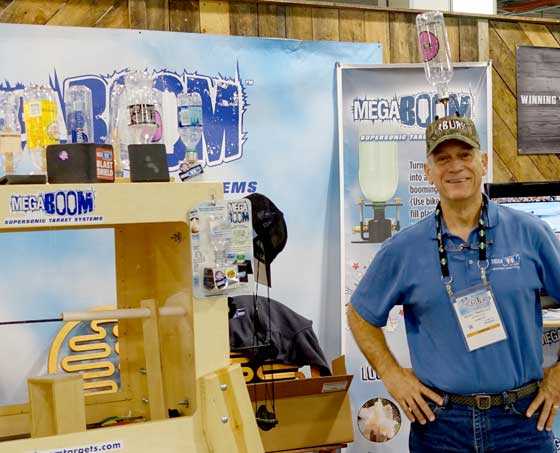 Megaboom targets are now part of ShotStop.
Meopta
I stopped by the Meopta booth to meet someone on a different project and was both surprised and blown away! While I was in the booth, Meopta representative, Matt, showed me several of their products. One, I liked a lot. Their MeoPro 8X42 binos are small, yet clear with a wide field of view. The view was stunning! I had not expected to see something so beautiful in that booth!
Meopta is a world-class maker of optics with a one-million square foot plant in the Czech Republic and a plant in the U.S. They grind the lenses over there and assemble the scopes and binoculars in both places, I believe.
I own Zeiss NVA border guard 7X40 binos that are nearly world-class. I have looked through Steiner binos that are world-class and unsurpassed. These Meopta MeoStar and MeoPro binos are in that same class for several hundred dollars less, though they are still expensive.
Meopta also makes riflescopes of unsurpassed clarity, but most do not correct for parallax to 10 meters. If they would make a riflescope for air rifles I think they would find a small market among advanced field target competitors and serious airgun hunters.
Someone asked me last week what other things I did while I was at SHOT. Well, I went to the Meopta booth and saw exactly what I want. Unfortunately it's beyond my reach. Oh, well. It's nice to have dreams!
Good-bye
I left the SHOT Show and the Venetian Hotel with a lump in my throat. Edith had made the reservations and this was to be the first year we would stay at the hotel adjoining the SHOT Show convention center. I so much wanted her to see their Italian marble hall that's arranged like an M.C. Escher print. But this year I walked out alone.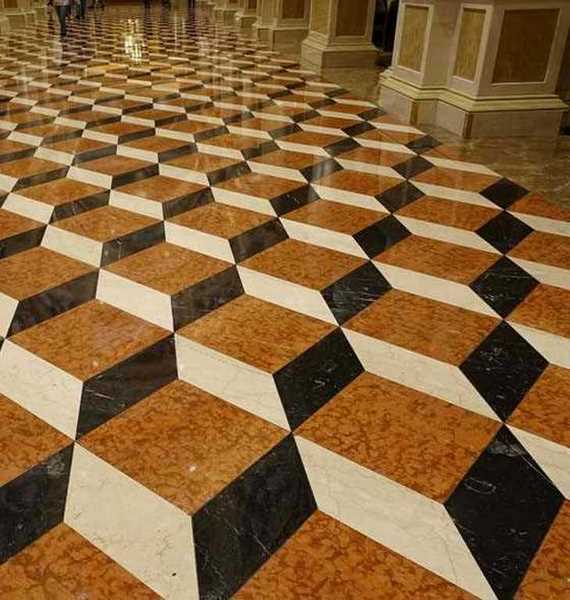 Time to leave the Venetian. SHOT Show 2016 is over.