by Tom Gaylord
Writing as B.B. Pelletier
This report covers:
Before the 853
Daisy and the NRA
The 853
Specs
Lothar Walther barrel
Peep sight
Front sight
Single-stroke pneumatic
Trigger
Overall evaluation
Wait a minute, B.B.! This is supposed to be an historical article. How can you write about the Daisy 853? It's still being made and sold today. Yes, it is, but this is still an historical report. Why? Because the Daisy 853 is more than just one 10-meter youth target rifle. It's the rifle that started it all for American youth shooters!
Before the 853
Before the Daisy 853 the youth shooting programs in the U.S. were fractionalized. They did exist, but mainly they shot .22 rimfire target rifles at 50 feet. The arrival of the 853 unified the American youth shooting programs under the auspices of the National Rifle Association. The 853 was (and still is) an affordable target rifle that was/is sized for youth shooters.
Daisy and the NRA
What Daisy and the NRA did together was form a cohesive national youth shooting program that clubs could affiliate with. Competition was arranged in local, regional and national levels. At the SHOT Show in 2009 I was briefed by the NRA at their Airgun Breakfast that there were over 74,000 individual clubs with over one million youth shooters participating that year. Certainly the number has grown since then!
Daisy was instrumental by making a youth rifle (the 853) that suited this competition. The NRA calls this youth rifle class the Sporter class. They differentiate that class from what they call the Precision class, in which the rifle's price and limitations are relaxed. The rest of the word just knows this class as the traditional 10-meter target rifle.
Together, the NRA and Daisy make a great team that had a profound impact on young boys and girls learning to shoot. The pyramyd they compete in goes all the way to the Olympics today, and many young champions have enjoyed scholarships from colleges as a result of their national standings.
The 853
The Daisy 853 is a single stroke pneumatic 10-meter target rifle that comes from the box ready to compete. Ahh — but there is the rub. You get a fine rifle right from the box, but there are modifications that can make it even better. I plan to do some of those modifications in this series, after we get the rifle baselined.
One of my readers asked me several months ago if I ever reviewed the 853 for you and I was surprised to find I hadn't.
The rifle has been around since 1984 and I have tested several versions of it over the years, but for some reason I never wrote about it for this blog! That ends now. I bought a used 853 on a Gun Broker auction and will now do a standard 3-part test for you. After that I will probably tune the trigger and perhaps do some other things, if we see the need. When I finish, you will know a lot more about the 853 than you do today.
Specs
The rifle's specs say it weighs 5.5 lbs. I checked that on a balance beam scale and found it spot on. The trigger pull is given as 6 lbs., but my rifle is well-used and I think it's lower. I'll measure it in Part 2. Pump effort is supposed to be 25 lbs., but on my used rifle I believe it's lower. Part 2 will tell. The overall length is 38.5 inches, which makes the 853 a compact air rifle.
Lothar Walther barrel
The 853 and its larger cousin with an adult-sized stock, the 753 (identical action), come with precision barrels from Lothar Walther. That shocked the market in the '80s and '90s, but has become the requirement for accuracy in the 21st century. There are a lot of plastic, cast aluminum and painted parts on the rifle, and it seems strange that it also has a pedigreed barrel, but it does.
Peep sight
The rifle comes standard with the plastic 5899 peep sight. You can easily upgrade to Daisy's Match Grade Avanti Precision Diopter Sight, but don't throw the baby out with the bathwater. Before you buy the better sight, try the standard one. Many club guns have them, including the one I bought. You will get a report on how well this mostly plastic sight works.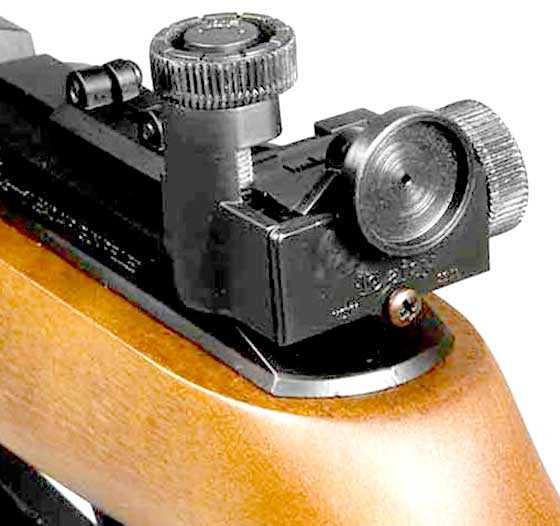 The 853 comes standard with the 5899 peep sight, which my 853 has.
Front sight
The front sight is a globe with replaceable inserts. These days almost everyone uses an aperture insert in which they can center the bullseye, and that's the one that's installed in my rifle. But I received a complete set of the inserts. Perhaps, when my eye is back to normal, I will experiment with both the aperture and a post front sight insert, to see if there is any difference in accuracy.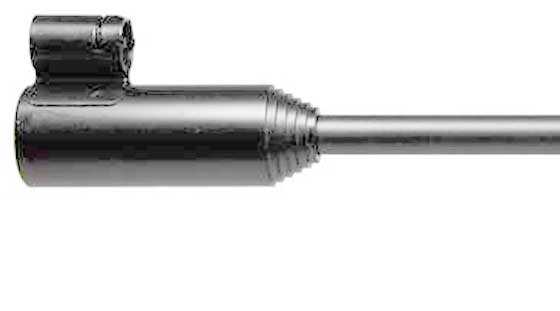 The front sight globe takes inserts.
Single-stroke pneumatic
The powerplant is a single-stroke pneumatic. One pump of the aluminum lever is all it takes to power the gun, and it is not possible to put in more than one pump. This pump takes some effort. It's not bad for an adult, but younger children can find it daunting. Daisy recommends the 853 for children 16 years and up, but that goes out the window in real life. A club may set a bottom age limit of 12 years, then cave when a parent shows up with an 11-year-old boy who is already man-sized.Once they accept him, though, his "big" sister who is 13 and half his size also wants to shoot. People don't come in standard sizes!
I have seen younger kids squirming around on their bellies (prone position) like salted slugs as they pumped their rifles for the next shot. Believe me, the bottom age for kids in these leagues is way less than 16! Because of that, the NRA welcomed the Crosman Challenger CO2 rifle when it was first launched because everyone could cock it. There was just one problem. It wasn't universally accurate.
Crosman chose to make their own barrels for that rifle and they varied in accuracy from one rifle to the next. When they finally relented and went to Lothar Walther barrels (at nearly double the retail price for the gun) the Challenger PCP was born, and it is extremely competitive. But that's a different story.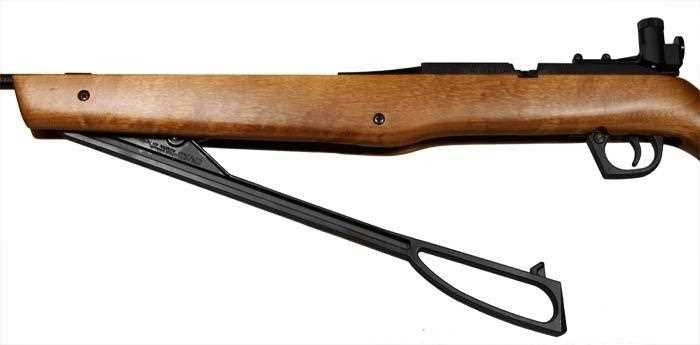 The 853 takes one pump of air for each shot.
Trigger
If the 853 has a weakness it is the trigger. Instead of a crisp 2-stage pull the rifle comes with what I must describe as a textbook example of a single-stage trigger with creep. And it is not adjustable. It can be tuned up, and of course I'm going to do that for you in this series, so you'll get to see what that involves. But out of the box, the trigger is disappointing. I'll measure the pull for you in Part 2.
Overall evaluation
I began this report by saying the Daisy 853 is more than just a target rifle. It's the beginning of serious junior airgun competition in the United States. Others may argue that point but I believe I have stated my case. Love it or not, you cannot deny the 853 is a pivotal air rifle.