by Tom Gaylord Writing as B.B. Pelletier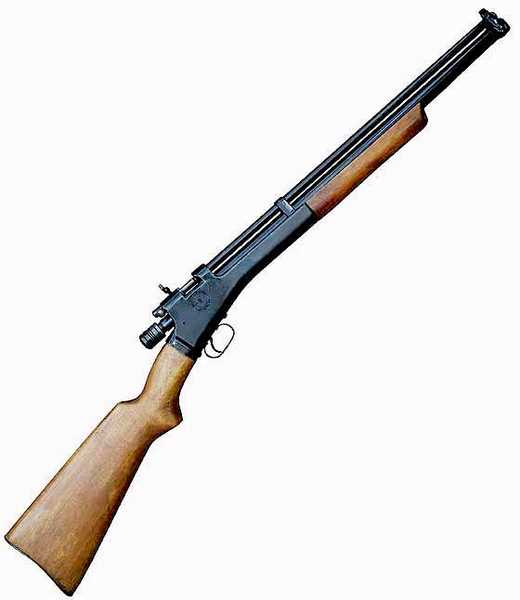 Crosman 101 multi-pump pneumatic.
This report covers:
Different test
Crosman Premiers
Peep sight adjustment
Back to Premiers
JSB Exact RS
H&N Baracuda Match — 5.53mm head
Eley Wasps
RWS Superpoints
Overall evaluation
Today we look at the accuracy of the .22-caliber Crosman 101 multi-pump pneumatic. Although I have owned it for many years, it isn't an airgun I shoot a lot, so this will be as interesting to me as it is to you.
Different test
Because the rifle is so difficult to both cock and load, I shot 5-shot groups today instead of the usual 10. All shooting was done off a sandbag rest at 10 meters. I did find the tiny peep hole a bit challenging to use with my recovering eye, but it was possible. I had the target attached to the backstiop on its side, so all the bulls appear sideways. Let's see how the rifle did.
Crosman Premiers
Because this is a Crosman rifle, I started the test shooting 14.3-grain Crosman Premier pellets. The first shot went very high and to the left, so it was time to adjust the peep sight.
Peep sight adjustment
The way this peep sight works, if it is adjusted below a certain point it interferes with the bolt, which will not open far enough to load the rifle. Cocking is via a separate knob, and is unaffected, but loading is a problem.
The bolt has a pin (arrow) that sticks up above the receiver when it is opened. The pin contacts the peep sight crossbar and will not allow the bolt to open far enough to load the rifle.
I adjusted the peep as low as It would go and also as far to the right. Then I started the test.
Back to Premiers
The Premiers were now hitting the bottom of the bull, but were still too far to the left. If I want to do better, I'll either have to modify the existing peep sight for more adjustability or I will have to make a new crossbar with greater range. I think if I do that I will also open the peep hole a little, because it is really hard to see! Five Premiers went into a group at 10 meters than measures 0.499-inches between centers. That's a half-inch in my book. Not great, but as it turned out, it was the best group of this test.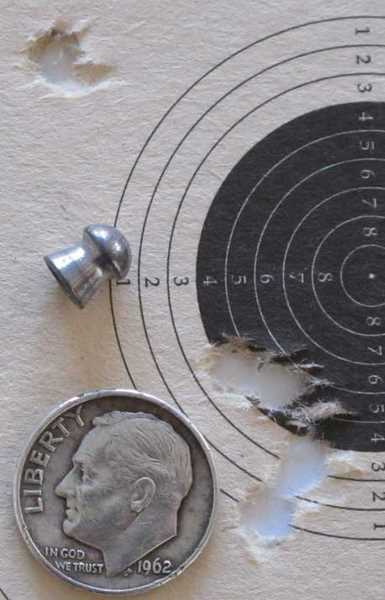 Five pellets went into 0.499-inches at 10 meters, once the sights were adjusted. That high shot is where the rifle was originally sighted.
JSB Exact RS
For the second test I tried some JSB Exact RS pellets. Because they are soft with thin skirts, I had thought they might be more accurate in the 101. Alas, that was not the case. Five RS pellets went into 0.653-inches at 10 meters. Even though the sights were not adjusted from the last group, the RS pellets went higher.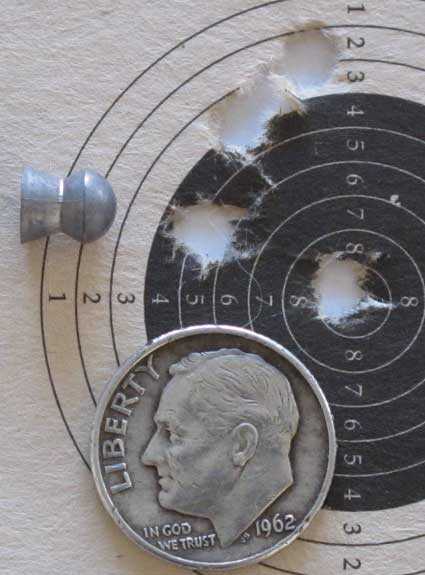 Five JSB Exact RS pellets made this 0.653-inch group at 10 meters.
H&N Baracuda Match 5.53mm head
Do you remember what I said about why I chose the H&N Baracuda Match with 5.53mm head for this test? I thought the barrel was too big and perhaps the rifling wasn't that prominent, and I thought the 5.53mm head might help that. Well, it did load much harder than the first two pellets had. I could definitely feel that large head entering the rifling. Unfortunately my theory was incorrect. Five Baracudas went into 0.974-inches at 10 meters. That was the second-worst group of the test by a tiny margin. And notice how horizontal that group is, compared to the first two groups. Baracuda Match pellets are definitely not the right pellets for this rifle.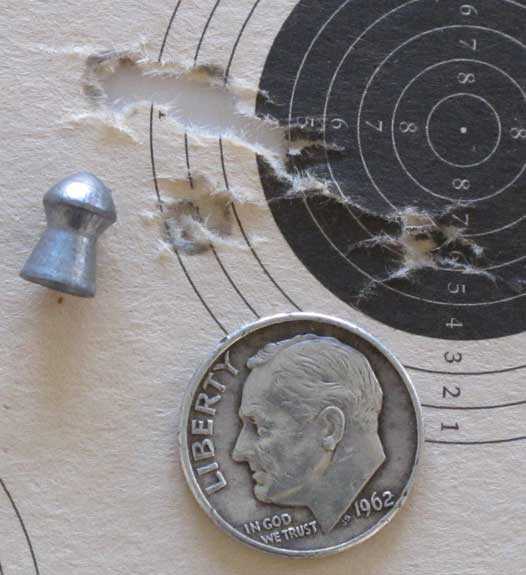 Five H&N Baracuda Match pellets with 5.53mm heads went into 0.974-inches at 10 meters.
Eley Wasps
I tried Eley Wasps next. These are 5.56mm pellets and they also went into the breech hard. Being larger than the Baracudas. I had some hope for them. But no dice. They gave me the worst group of the test by a tiny margin. — 0.986-inches between centers.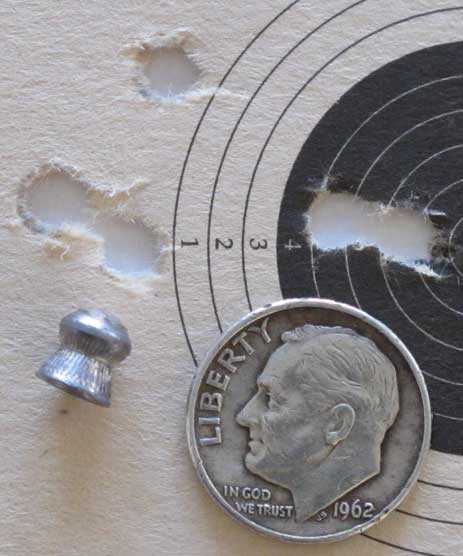 Eley Wasps gave the worst group of the test. Five went onto 0.986-inches between centers at 10 meters.
RWS Superpoints
The Crosman 101 is a vintage airgun, and I sometimes select RWS Superpoint pellets for vintage guns. They work well in Hakims. And apparently they also work well in Crosman 101s. Five Superpoints went into a 0.597-inch group at 10 meters. The group is nice and round, too. That's what I like to see.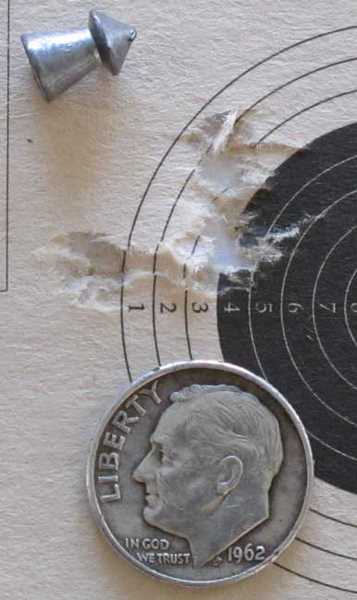 Five RWS Superpoint pellets made this 0.597-inch group at 10 meters.
Overall evaluation
That was a good look at a classic. My Crosman 101 is a funky old airgun. It looks funky and it shoots funky. It's not much on performance, but there's something about the look that keeps me coming back for more. I don't shoot it as lot, but I do want it in my collection.