by Tom Gaylord
Writing as B.B. Pelletier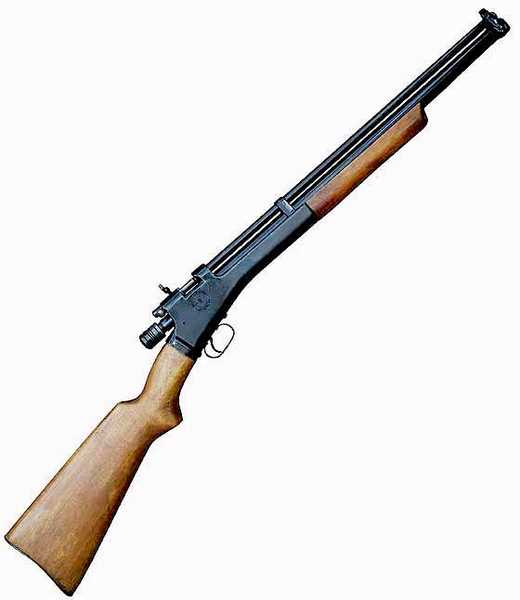 Crosman 101 multi-pump pneumatic.
This report covers:
Baseline test
Hard to cock!
Consistency
RWS Hobbys
JSB Exact RS
H&N Baracuda Match — 5.53mm heads
Trigger pull
Barrel problems?
Perspective
Today we look at the power my old Crosman 101 multi-pump produces. I haven't tested it in years, so this will be as fresh to me as it is to all of you. Let's get to it.
Baseline test
First I want to establish the velocity with differing numbers of pump strokes. Here goes. I will use the 14.3-grain Crosman Premier pellet for this.
Strokes………………..Velocity (f.p.s.)……………..Increase
2…………………………….350………………………………–
3…………………………….437………………………………87
4…………………………….496………………………………59
5…………………………….542………………………………46
6…………………………….578………………………………36
7…………………………….612………………………………34
8…………………………….635 no air remaining………….23
9…………………………….667 no air remaining………….32
10…………………………..687 no air remaining…………..20
In this test you see the rapid climb in velocity from the first pump strokes. After stroke 5 the increase becomes smaller.
After shot number 8 I cocked the gun and fired it again to see if there was any air remaining in the reservoir. There was no air remaining through 10 pump strokes.
I didn't go higher than 10 strokes because after stroke number 5 the effort increased rapidly. This is a vintage airgun, and I did not want to stress it unnecessarily.
Hard to cock!
I had forgotten how hard this rifle is to cock. That's because of the tuneup it had. The stock rifle cocks much more easily. The grooved cocking knob on this rifle is probably the style that has the least purchase for the fingers, but that doesn't come into play until the gun becomes difficult to cock.
I also want to point out that what I told you about the velocity in Part 1 is incorrect. I said it gets 71o f.p.s. with Premiers on 8 pumps. That's obviously not right. Maybe I tested it with a different pellet and just thought it was a Premier? We shall see.
Consistency
The next test was to see how consistent the rifle is. As difficult as it is to cock, I only shot it 5 times with Premiers on 6 pump strokes. The average was 578 f.p.s. — how about that? Here are all the shots.
Shot………………..Velocity (f.p.s.)
1…………………………….579
2…………………………….577
3…………………………….581
4…………………………….576
5…………………………….576
Multi-pumps are usually pretty consistent, and this one certainly is! That makes my next set of tests easier, because I don't have to shoot long strings to get averages. I can just take the number from a single shot through the chronograph.
RWS Hobbys
I decided to test each pellet with 2 pumps, 6 pumps and 10 pumps. That should give us a good picture of the performance. First up were RWS Hobbys.
Strokes………………..Velocity (f.p.s.)
2…………………………….385
6…………………………….619
10…………………………..728
JSB Exact RS
Next I tried some 13.43-grain JSB Exact RS pellets. They weren't as fast as the Hobbys, but they were still better than the Premiers. The RS pellet is accurate in a lot of airguns, so I'll be interested to see how it does in this one.
Strokes………………..Velocity (f.p.s.)
2…………………………….378
6…………………………….599
10…………………………..703
H&N Baracuda Match — 5.53mm heads
The Baracuda Match with 5.53mm head will be the heaviest pellet I test. I may shoot these for accuracy because the rifle seems powerful enough to shoot them, but I will give you a second good reason for trying them in a moment. First the velocity.
Strokes………………..Velocity (f.p.s.)
2…………………………….286
6…………………………….491
10…………………………..586
Trigger pull
Next I tested the single-stage trigger. I told you in Part 1 that the trigger in a 101 is about as simple as triggers ever get. The trigger blade itself is also the sear that holds the hammer. That usually results in a crude trigger-pull, but not on this rifle. The pull is crisp and the release comes at 1 lb. 14 oz. I imagine a rifle with a stock tune would have an even lighter trigger.
Barrel problems?
In Part 1 I was going to tell you how many lands the barrel has, but none of the pellets I pushed through the bore showed me a clear impression of the rifling. So, I'm thinking maybe this barrel isn't rifled very well. That does happen with vintage Crosman barrels from time to time, though this will be the first one I have ever owned. I guess the accuracy test will tell us.
Perspective
From the standpoint of power, this 70 year-old air rifle is just as powerful as a modern Benjamin 392. It's even on the high side of where the new ones are. But we still have the accuracy test to get through. That should be telling.
The possibility of very shallow rifling in the barrel is why I think the 5.53mm Baracuda Match pellet might work well. They should fill out the bore more closely. We shall see.