by Tom Gaylord
Writing as B.B. Pelletier
This report covers:
It was a great show!
Some of the guns I saw at the show
Seriously though
Not for sale
Demonstrations
Air Bolt
Robin Hood
An interesting find
Will there be another show?
It was a great show!
I sold more airguns at this show than at any other I have attended. Besides that I met a lot of readers who came up and shook my hand. That is so nice, because it tells me who I'm reaching.
I had my latest book for sale on the table and it looks like I sold about 20 of them. I wanted to have coffee cups, hats and tee-shirts, but I'm updating my Godfather logo so it will be right when I sell them. Next year for sure.
The bottom line was — I had a great show! So did every dealer I talked to. Larry Hannusch told me he sold more guns than he normally does and Sun Optics actually sold out of several items. I know AirForce Airguns was doing a brisk business on the tables behind me, and Dennis Quackenbush, who usually only brings guns for people who have ordered them actually had guns for sale this time! He told me after the show he sold several of them.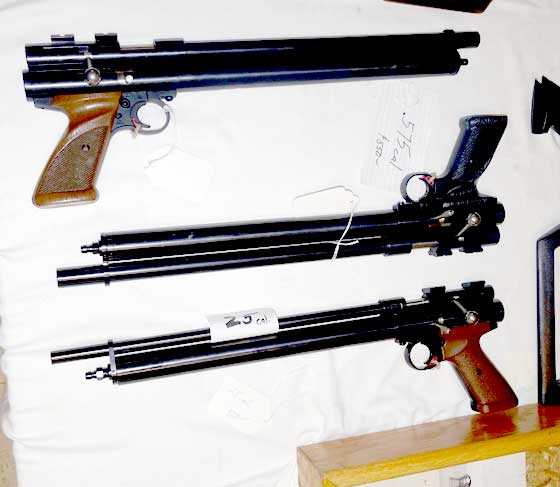 The two Quackenbush pistols on top are .58 caliber big bores. They generate 170 foot-pounds at the muzzle! On the bottom is a .25 caliber pistol. Some of these might have left the show with Dennis!
The thing is — there was a lot of money at this show. People weren't as tight-fisted as they usually are. I had two guys who didn't do a deal with me at the show, but were still in touch for days afterward. One of them I steered to Pyramyd Air, because what he really wants is a new pellet rifle. We both thought the Walther Terrus in .22 caliber would be ideal for him. And I am still talking to the other gentleman who hopes to meet with me this weekend to seal the deal on one of my rifles. I still have two potential purchase deals going. So, the show's not over yet.
Some of the guns I saw at the show
I told you about some of the airguns I saw in Part 1. Today I'd like to look at some others. Dennis Quackenbush brought around a Gangsta pistol for everyone to gawk at. It has sights on the right side of the slide because that's how the hoods hold them in the movies.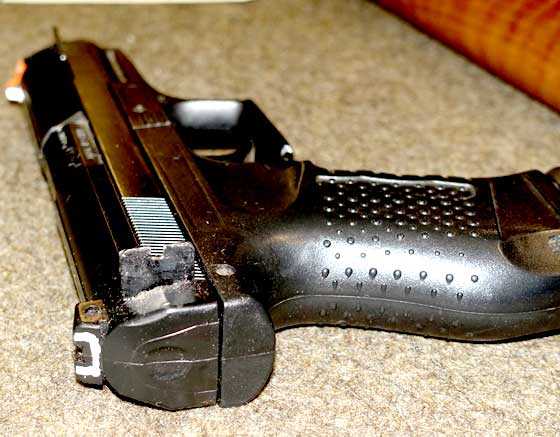 Dennis Quackenbush shared this gangsta gun with us.
Seriously, though
Okay, that gun was a joke. But the next ones were anything but. My brother-in-law, Bob, told me about an Anschütz rifle he had seen in another row. It was across the room and with the crowd it took me a while to get over there, but from his description I guessed it was a field target gun and it was.
Right next to it was a sharp-looking Walther LGR single stroke target rifle. I didn't ask if it was sealed because I didn't want to hear that it was. I was trying to hold out for that mega deal you hear about. I already told you I was in turmoil over two guns on Larry Hannusch's table and I was hoping beyond hope that a Sheridan Supergrade would walk in the door. There was one at the show, but apparently is was not for sale.
Sitting next to the LGR was an FWB 150 Tyrolean. Now, the 300 Tyroleans are scarce, but this was the first 150 Tyro I have seen. Next to it was a Park HR93 recoilless pellet rifle. Besides being collectible, the neat thing about a Park is the fact that it is cocked by a chain and not by a conventional cocking link.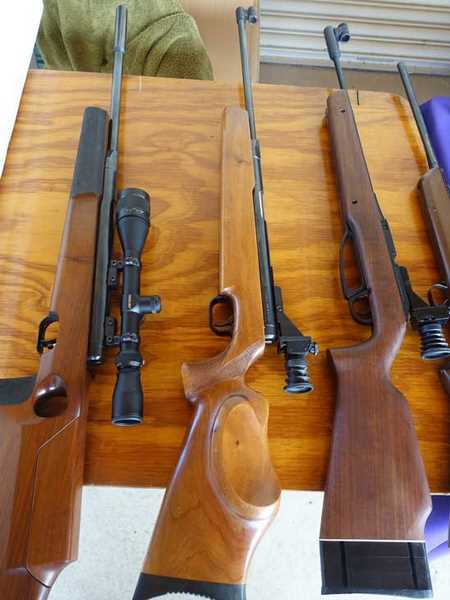 That's an FWB 150 Tyrolean in the center. Both rifles are rare. The rifle on the left looks like a Daisy 753. Don't know what the one on the left is. Is it the Park?
Not for sale
There were some guns on display that couldn't be bought. One gentleman had a rack of ancient BB guns with their original prices posted. I saw several people stop and look at it — probably because I was standing there for a long time, myself!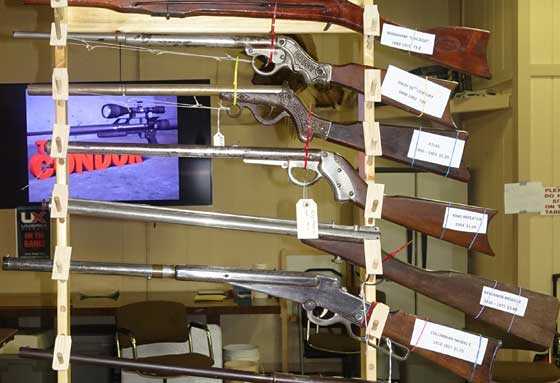 They are beautiful, but not for sale. This educational exhibit drew a lot of attention.
Demonstrations
One feature this show offered were public demonstrations of various airgun events and even the guns, themselves. John McCaslin of AirForce spent the entire show on the range demonstrating the Texan and Condor rifles, and letting anyone shoot. I heard some club members who hadn't known about big bore airguns before this day (thought they were talking about punkin' chunkin') quoting the specs of the Texan's bullet weight and velocity. Many sets of eyes were opened this day!
The club also put on demonstrations of field target, benchrest and airgun silhouette for the public. That was one prime reason they wanted to hold the show — to introduce these airgun sports to as many shooters as possible. Well, that goal was achieved! Once they started the demos they never left the range all day, as hundreds of interested shooters cycled through.
Air Bolt
I demonstrated the Air Venturi Air Bolt system to the public. As mentioned in yesterday's blog, I mistakenly placed the arrow stop at 35 yards instead of 25 yards, so my shots went low. Once I figured that out, though, all my arrows went straight to the kill zone. No less than 6 other shooters and I put 7 arrows into 3 inches in the kill zone from an offhand rested position with that new hunting revolution.
Robin Hood
Then Rossi Morreale and I filmed a segment for American Airgunner, in which he shot the Air Bolt. He told me that he had previously shot the arrow through a lightweight backstop and then through both sides of a commercial van! When I get back to my review of the Air Bolt I will stress the need for the strongest possible arrow stop you can buy. Mine is rated to 400 f.p.,s. and works with field points, but even it cannot stop the arrows when broadheads are attached!
After I left the ranges, I left the Air Bolts and my air tank with Rossi, who wanted to sight in his Dragon Claw for a pig hunt Jim Chapman was taking him on the next day. I have heard that he did get his pig, so that part was a success.
When he returned the arrows to me. one had been destroyed by a Robin Hood, in which one arrow hits the tail of another. So, that question has now been officially laid to rest!

A Robin Hood. Arrow on top hit the tail of the arrow on the bottom and scraped off its tailpiece and o-ring. Notice the o-ring has slid along the entire arrow and come to rest in the fletching! It doesn't get center-er than that!
An interesting find!
Before the show, Rick Ward emailed me with an interesting find. He bought an airgun collection that included a Parris BB gun in a Lucky McDaniel box. I blogged Lucky McDaniel and showed you the special Daisy set he had made for his training. This air rifle, though, was something different — something even earlier.
Before Lucky went to Daisy to make his trainer — the one the U.S. Army adopted for their Quick Kill training and Daisy later brought out as Quick Skill — he used Parris BB guns. I have heard of them and I have seen a Parris gun that sported a Lucky McDaniel sticker, but this was the first Lucky gun in a Parris box I had ever seen. Collector Larry Hannusch agreed that the box was the collectible, rather than the gun.
This gun has sights, which Lucky had removed from his Daisy trainer, but the box has a label showing Lucky holding the same Parris BB gun and it has sights! I learned something from this rare box!


An early Parris Lucky McDaniel instinct shooting trainer was found by Rick Ward.
The gun is a common Parris gun, but the box establishes it as a Lucky trainer! That's cool. Sometimes you learn important things at an airgun show, but you'll never know unless you attend.
Will there be another show?
At the end of the day I asked the Arlington Sportsman Club show management how they felt things went. To say they were impressed would be conservative. They now know how great an attraction a show like this can be, and they realize it's only going to grow from here.
If they hold another show next year they will need a large tent to house some of the dealers. I know some dealers did not rent tables because they wanted to wait and see if this show would be a success. Well, they missed a crowd with money who came to buy airguns! Those with tables know how good it was. Next year I expect the show to double in size — both in dealers and also in public attendance. Maybe we cvan remove the table imitation (two per dealer — max) and they will have even more room to spread out.
Justin Biddle of Umarex USA was out on the range all day, and he told me he plans to get a Texas sales tax permit to sell airguns at the show next time. Anyone who saw the business AirForce Airguns did probably wants to do the same. Making several thousand dollars in sales is no big deal when you sell to the box stores, but it doies pay your expenses. And seeing the enthusiasm of the crowd just makes you want to satisfy them.
If there is a show in 2017, I strongly recommend you try to attend. Besides simply buying airguns, this show is a detailed education in the hobby. The people you get to talk to and the things you get to see will stay with you for the rest of your life.