by Tom Gaylord
Writing as B.B. Pelletier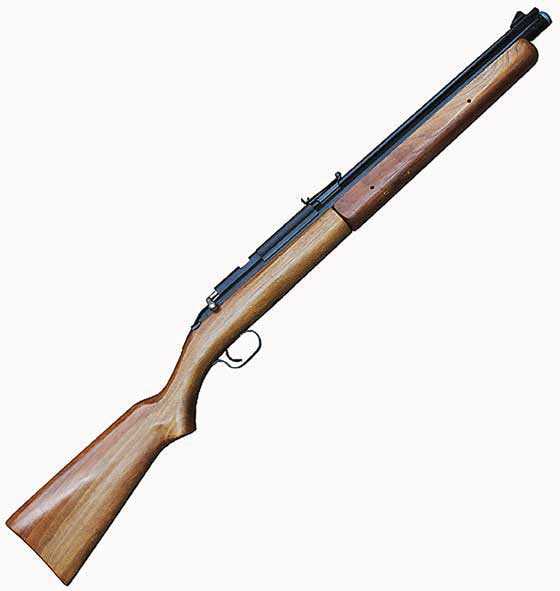 My Sheridan Blue Streak was purchased new in 1978.
This report covers:
The trigger
The test
Beeman Silver Jets
Crosman Premiers
Sheridan Cylindrical pellets
Final assessment
Time to test the accuracy of my 1978 rocker safety Sheridan Blue Streak. You may recall that in Part 3 we paused to get the rifle powerplant rebuilt and then retested the velocity. It is now performing like new. Today the question is, how accurate are these things?
The trigger
The trigger on a rocker safety Blue and Silver Streak is single stage, but can be pretty crisp. The one in my rifle certainly is. I guessed it was breaking at around 2 lbs., but was surprised to see the electronic scale go all the way up to 4 lbs. 6 oz. It sure feels lighter than that.
Keep your files and stones away from these trigger parts as they are just low carbon steel that's been casehardened for wear. The trick with one of these is to shim the parts to cancel any sideways wobble and lubricate the contact area with moly grease. My trigger benefits from 38 years of use, which means it's been broken-in.
The test
We looked at power last time. Let's now look at accuracy. I shot the rifle rested on a bag off a bench at 10 meters. I decided on 4 pumps per shot for all pellets. Wearing my new glasses, I was able to see the front sight blade sharply against the rear sight notch. The bull was a little fuzzy, but nothing too dramatic.
Beeman Silver Jets
I started the test with Beeman Silver Jets that were popular back in the 1970s and '80s, when this rifle was new. I assumed the sights were on and used a 6 o'clock hold on the 10-meter pistol target. Within three shots I could see a dark pellet hole appearing in the orange (?) paster in the center of the target. I never looked through the spotting scope. Just shot my 10 shots and walked down to change the target.
Ten Silver Jets went into a single hole at 10 meters. The group measures 0.519-inches between centers. I can't even do that well with some modern sporting rifles! I was more than satisfied.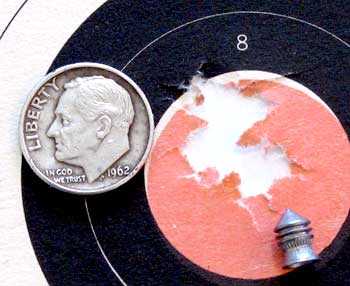 Ten Beeman Silver Ace pellets went into 0.519-inches at 10 mewters. Not bad for an obsolete air rifle shooting an obsolete pellet!
Crosman Premiers
Next up were Crosman Premiers. Until recently Crosman made this wonderful pellet in .20 caliber, but it is no longer around. I have a stash of them, though, and since I don't shoot .20 caliber that often, they should last a long time. That's good, too, because 10 Premiers from this Blue Streak went into 0.322-inches at 10 meters. This is almost getting to the level of accuracy seen by target air rifles. Remember that I'm shooting with the open sights that came on this 38-year-old multi-pump.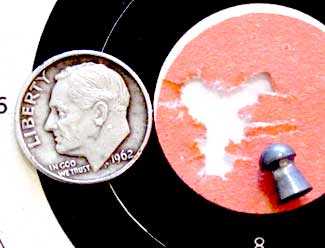 Ten Crosman Premiers went into 0.322-inches at 10 meters. This is fantastic. The next stop is 10-meter target rifle accuracy.
Sheridan Cylindrical pellets
I would like to be able to tell you that the vintage Sheridan Cylindrical pellets made the smallest group of all, but they didn't. In fact, it was the largest group, as I imagined it had to be. It is well-known that Sheridan Cylindrical pellets are just not as accurate as good diabolos. So let's see how they stack up.
Ten Sheridan Cylindrical pellets made a group that measures 0.872-inches between centers. That's over twice the size of the group made by the Premiers, but it's still not that bad.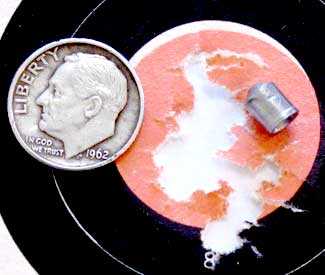 Ten Sheridan Cylindrical pellets made this 0.872-inch group at 10 meters. It's larger than the first two, but still not that bad for open sights.
Final assessment
This 1978 Sheridan Blue Streak is is pretty fair shape for its age. I know a lot of airgunners who would like to have a multi-pump gun this powerful and accurate today.
After its first overhaul by Jeff Cloud, my Blue Streak soldiers on. It will probably go strong for another 30 years, at which time it will be another airgunner's job to restore. Normally I test guns I acquire used for the history section, but this one I bought brand new.
Now that you know what a Blue Streak can do, you can make a direct comparison with the Sheridan Supergrade I am also reviewing. That should prove interesting.
In the future I plan to review the Benjamin 392 pump-assist air rifle for you. I won't tell you about it now, but rest assured, it's an interesting air rifle that's no longer available.