by Tom Gaylord
Writing as B.B. Pelletier
This report covers:
New old airguns
Tune in a Tube
Serendipity
More serendipity
More stuff
Parrus inletting is tight!
Summary
I needed to pause from testing airguns and related products today to tell you about some real neat things that are happening in my world — and by association — in this blog.
New old airguns
I guess it's no surprise that the blog's history section is very popular with a lot of readers. It is for me, too, because I get to see airguns I have only seen in the Blue Book of Airguns or in old references. I now watch Gun Broker and some of the online airgun sales sites, plus whenever I go to an airgun show I'm always looking to buy something we haven't yet seen. The Crosman 600 pistol and the BSA Meteor Mark I both came from the recent Texas Airgun Show, and you have seen what's been done with them.
A couple weeks ago one of my Gun Broker searches paid off when I was alerted that a BSA Airsporter was up for auction. The Airsporter is BSA's underlever that spawned other classic underlevers like the Hakim and the Falke 80/90, so it is a landmark rifle. I have actually tested an Airsporter for you when we looked at the fabulous Don Robinson BSA Airsporter, back in 2014. I just looked at that report and saw that I was supposed to do a Part 4 of that test with an upgraded scope, but that hasn't happened yet, so there's another one on the stove.
People ask me how I can think of all these things to write about, but it's actually backwards. I'm never going to catch up with all the wonderful things there are in the world of airguns. Edith started me on this journey in 1993, and it's still building steam!
Anyhow, The Robinson gun is a later Airsporter model and, as always, people were telling me that I really should try to find an Airsporter Mark I or Mark II. The seller didn't mention which Mark his rifle was, but I took a chance anyway, because the caliber was/is .22. The Robinson rifle is in .177.
The gun arrived last week and it turned out to be a Mark I — the most-prized of all the common Airsporters. That was nothing but good fortune for me, and also for you because I'm going to test this rifle for you. It also means if I decide to sell it after I'm done with it, a Mark I commands a nice premium, so I will make some money on the deal. I usually feel good if I don't lose much money, but when one of these bluebirds comes along I take it to cover the losses.
Tune in a Tube
But, guess what? The Airsporter had a small problem. When cocked, the piston pulled back very hard — like there is no lubrication in the compression chamber. The mainspring looked dry through the cocking slot. Well, we all know what to do about that, don't we?
Yes, I applied Tune in a Tube and, while it took a number of shots (20?), the rifle now cocks easier and doesn't twang. But it was pretty quiet before, so I can't really say Tune in a Tube did anything but loosen the piston.
Serendipity
While on the Gun Broker site I looked at the dealer's other airguns and saw he had a Mauser 300SL target rifle for auction. I actually saw one if those for sale in a gun store in Maryland back in the 1980s and was always curious about the performance. So I put in a bid on that one and won it, too.
To envision a Mauser 300SL, think of an FWB 300 that recoils and costs half as much (when new). Today they are scarce and desirable. And I will be testing one for you. Oh, and guess what? It buzzes when it fires! Whatever shall I do?
More serendipity
At the same time these two rifles were being auctioned, another dealer was selling a BSF S20 pistol for way less than market value. True, it is missing one grip screw, the rear sight notch and an escutcheon on one side of the grip, but those are all things I can fix. I tested an S20 Match pistol for you back in 2008. This gun is the sporter version of that one and is somewhat smaller, but no less powerful.
I won this one, as well, and I plan to give it a complete tune and test. By pure luck my Match pistol has a small bag of parts with it and one of them is a grip screw, so that problem is now solved.
More stuff
The future looks bright for our history articles. But that's not all I am doing. Remember the Walther Parrus rifle
I have scheduled for accuracy testing at 25 yards? Well, It kicks hard, though it doesn't vibrate very much. I pulled the stock off and saw that the piston and mainspring were pretty dry, so I gave them an application of Tune in a Tube.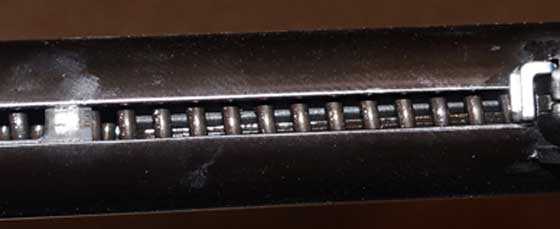 The mainspring in the Parrus is pretty dry.
I wish I could say the kick was reduced, but it wasn't. There was little vibration to begin with, and I can't detect any difference after the application. The only thing I can detect is slightly smoother cocking, which I think comes from the fact the piston is now lubricated. I'll continue to observe this rifle as I test it further, but for now I have to say Tune in a Tube didn't do much, if anything, to the shootability of the Parrus. Maybe reducing vibration is its best feature.
Parrus inletting is tight!
Last comment on the Parrus is that its stock inletting is the tightest I've ever seen. Removing the stock on the test rifle is similar to removing a stock that's been glass-bedded — it's that tight. While that doesn't guarantee that the rifle will be accurate, it sure doesn't hurt! We will find out soon enough!
Summary
That's what's been cooking on the back burner for the past several weeks. I have more modern airguns coming to test for you, too, and I have quite a few action targets — including the Rockin' Rat that I have to finish. I would say the future of this blog looks bright!