by Tom Gaylord
Writing as B.B. Pelletier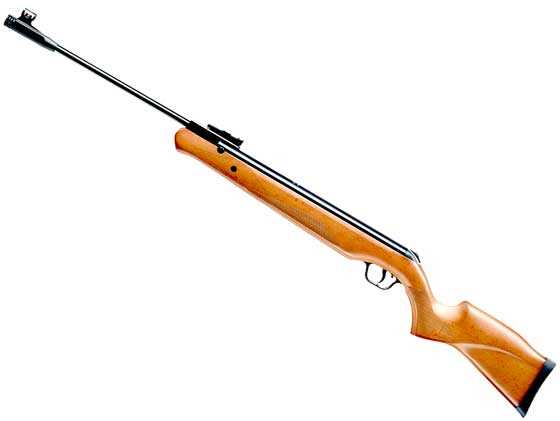 Walther Parrus with wood stock.
This report covers:
Sight-in
JSB Exact Jumbo 15.89 grains
What to do?
Changed my hold
H&N Baracuda Match 5.53mm
Evaluation
It's been a long time, but today is the 25-yard accuracy test for the Walther Parrus with wood stock I'm changing things today, so try to keep up.
I installed the Sun Optics Tactical Hunter First Focal Plane Scope in BKL 30mm Double Strap high rings. I looked at the Parrus barrel alignment before mounting the scope and noted that the test rifle has a major barrel droop. I therefore shimmed the rear ring, but I thought that would not be enough, and I was right. This Parrus I am testing droops as much as any Diana breakbarrel I ever tested, so consider that when you select a scope mount.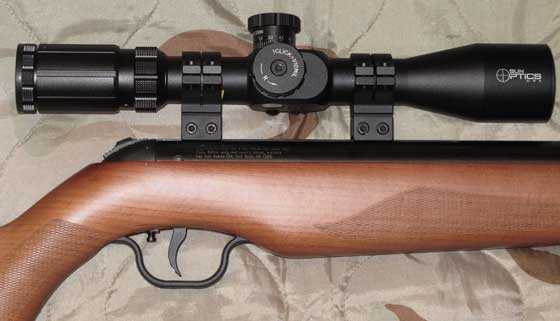 I mounted the first focal plane scope for this test.
Sight-in
I knew during sight-in that I was going to have a problem zeroing this scope because of the barrel droop. I shot at 12 feet, followed by 10 meters and finally at 25 yards/ I zeroed with RWS Superdome pellets that I thought would be accurate because of the 10-meter test results. That proved incorrect. I even missed the backstop once while trying to zero the rifle. When I did get this pellet zeroed, I put three shots into 5 inches. No wonder I was having a problem!
JSB Exact Jumbo 15.89 grains
Next I tried some JSB Exact 15.89 grain domes that were thankfully hitting close to where the Superdomes were. But when 3 shots landed in almost 3 inches, I abandoned this pellet, as well.
What to do?
That was what I feared about the powerful Parrus from the beginning. Powerful breakbarrel air rifles can be a challenge to shoot accurately. What I do when that happens is shoot a heavier pellet. That seems to slow things down. And this is where this test went in a different direction, because from this point on, all testing was done with a single brand and model of pellet.
Changed my hold
I also changed the way I held the rifle at this time. Naturally I'm using the artillery hold for this recoiling spring-piston air rifle. My off hand had been back by the trigger guard up to this point, but I now slid it forward to the back of the cocking slot. The Parrus is a large heavy rifle and this hold helps steady it noticeably.
H&N Baracuda Match 5.53mm
I selected the H&N Baracuda Match pellet with the 5.53mm head next. It was the last pellet I shot on this day.
The first group hit the bullseye right away. But not every pellet landed where I aimed. There were no pulled shots in the 1.565-inch group of 10 shots. The group is not very impressive until you notice that there are 3 outlying shots and 7 that are 0.593-inches apart. Something told me to stop chasing the best pellet and just stick with this one for the rest of the test.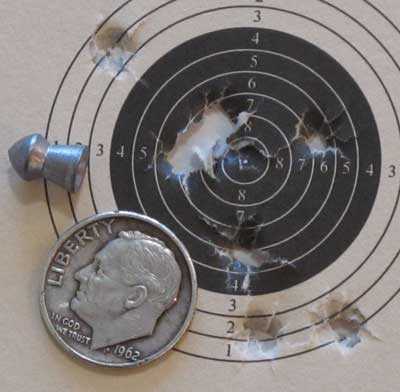 Ten Baracuda Match in 1.565-inches. Seven are in 0.593-inches.
The second group of Baracuda Match pellets landed in 1.757-inches, with 7 of them in 0.595-inches. I felt the rifle was trying to tell me that I hadn't yet found exactly what it wanted, but I was getting close.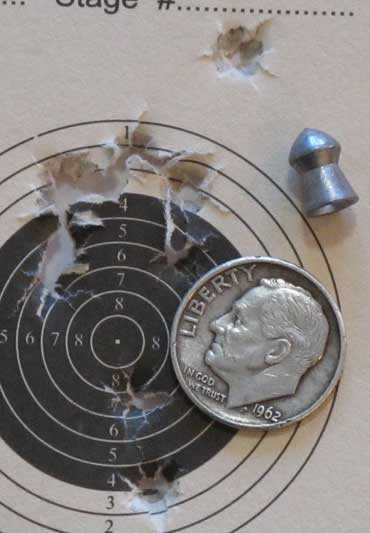 Ten Baracuda Match in 1.757-inches. Seven are in 0.595-inches.
I was about to quit but I thought I'd give it one more try. Same hold. This time 10 Baracuda Match pellets went into 1.892-inches, with 7 of them in 0.763-inches. Something is definitely happening, am I am not understanding it entirely.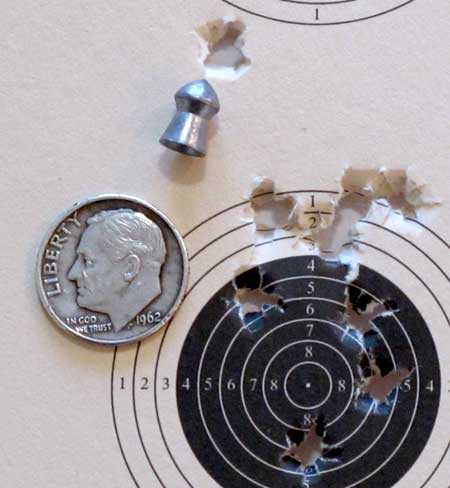 Ten Baracuda Match in 1.892-inches. Seven are in 0.763-inches.
Things I noticed during the test
The trigger became lighter and more positive as the test progressed. I could feel it moving through stage 2 to the release point, but the move was perfectly smooth.
The rifle became easier to cock as the test progressed. The total force may not have changed that much, but the cocking stroke was smoother. All my shots for this test were cocked one-hand, where I had been using two hands to this point. I think the Tune in a Tube is responsible for that.
The BKL scope mount slid back about one-eighth inch during the test. That's obver 40+ shots. I had the base clamp screws as tight as they would go without stripping, so I think the Parrus needs a scope base that has a positive mechanical stop. There's just too much recoil.
Using the first focal plane scope was no different than using any other scope. I never changed the magnification, so the primary benefit of this type of scope wasn't tested. I think it will be of use to hunters who change scope magnification a lot, but for shooters who always shoot at the same distance, I see no advantage. I will say these optics are clear and bright, though.
Evaluation
The bottom line, I think, is that this rifle needs to be broken in. It needs about a thousand shots for things to smooth out and settle down. And, given the way I test things, we're never going to see that.
I do want to remount the scope in a better droop-compensating mount that has a mechanical scope stop and give the Parrus another try. I have a gut feeling that this rifle might be capable of shooting 10 shots into sub 3/4-inch groups at 25 yards under the right conditions.