by Tom Gaylord
Writing as B.B. Pelletier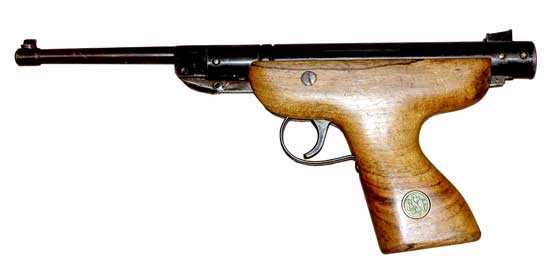 The BSF S20 pistol looks like a rifle that's been cut down to fit into a pistol grip.
This report covers:
Chinese copy?
An HW70 copy?
Velocity test Premier 7.9-grain
RWS Hobbys
Crosman Silver Eagle hollowpoints
Breech seal?
Trigger pull
Cocking effort
What's next?
Today we're going to see what condition my new/old BSF S20 pistol is in. I will compare it to my BSF S20 Custom Match pistol that I tested back in 2008. That pistol is shooting at the rated velocity of 440 f.p.s., for pellets that were never specified in the ARH catalog, so I guess they are Hobbys or something equally light. But before I get into that testing, I have a surprise for you.
Chinese copy?
Reader Richardwales mentioned that he had owned a couple Chinese copies of this pistol in the past. Then reader JimQwerty123 mentioned that he had also considered buying one. I answered that I had allowed $10 in trade on one (a Chinese copy of the S20) at the Findlay airgun show several years ago, and I had always intended testing it for you. Today I'm going to show you that gun and ask both readers if it is the one they were referring to in their comments.
An HW70 copy?
I always thought the Chinese pistol I have looks more like a copy of the HW70 pistol (see the HW 70A pistol) than the BSF S20. And maybe the two readers are talking about a different Chinese pistol than this one. At any rate, I'm using this opportunity to show it to you and to announce that I intend testing it for you one day soon.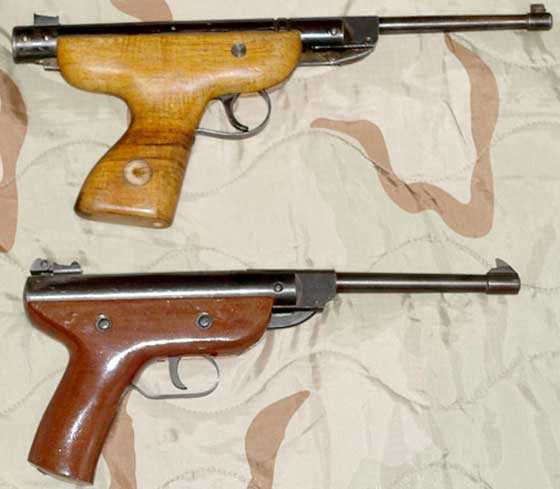 The Chinese pistol on the bottom looks something like the S20 pistol above. I thought it looked more like an HW 70 pistol, but I can see it either way.
Velocity test Premier 7.9-grain
Back in 2008 the Custom Match shot the Crosman Premier 7.9-grain pellets at an average 398 f.p.s. In this S20 they average 249 f.p.s., which is 149 f.p.s.slower. The velocity spread went from 218 f.p.s. to 275 f.p.s., which is 57 f.p.s. This pistol is clearly in need of some help! This is one big benefit that comes from owning a chronograph, because the pistol felt and sounded strong to me.
RWS Hobbys
The RWS Hobby pellet is often used as a standard for velocity tests because it is so light for a lead pellet. In the S20 Custom Match pistol Hobbys averaged 438 f.p.s. — almost spot-on the 440 f.p.s. the pistol was advertised to get. In the S20 pistol I'm testing today Hobbys average 287 f.p.s., or 149 f.p.s. slower — again! The spread went from a low of 281 f.p.s. to a high of 296 f.p.s., which is 15 f.p.s.
Crosman Silver Eagle hollowpoints
The final pellet I tested in today's pistol was the Crosman Silver Eagle hollowpoint alloy pellet that is no longer offered. In the Custom Match pistol they averaged 553 f.p.s. In this S20 they averaged 386 f.p.s., or 167 f.p.s. slower. The spread was huge, though! It ran from a low of 290 f.p.s. to a high of 454 f.p.s. That's 164 f.p.s.
Breech seal?
I noted that the leather breech seal is completely flat with one large divot out of it. It can't be doing its job very well. I "fluffed" it with a small pick and got Hobbys to shoot about 15 f.p.s. faster than their average. This was just a quick and dirty way to determine that some improvement could be made by replacing the breech seal. It's not a fix, but it does tell me a new seal is needed.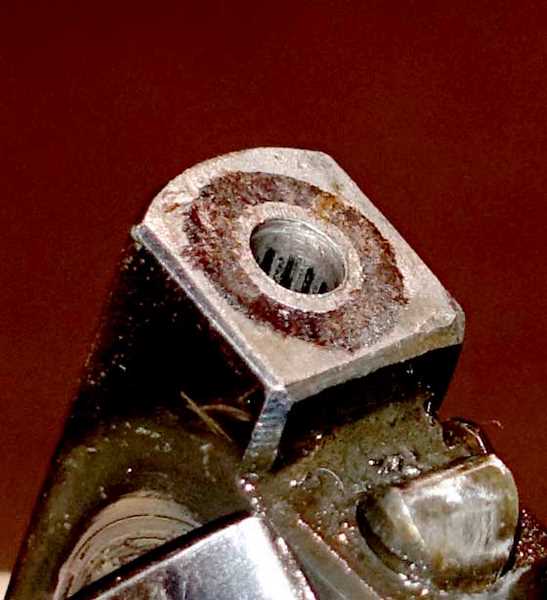 The old leather breech seal is completely flattened and has a divot out of it. Does it still work?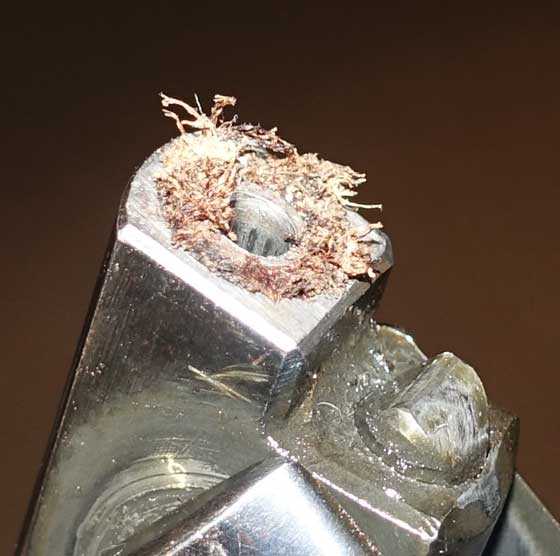 The seal is stuck in the groove pretty tight. So I picked the fiber out of the leather to "fluff" it up a bit, to see if that made it seal better.
I think the piston seal also needs to be examined. And the mainspring might even be a bit tired. Whatever it is, I will address it and see if I can get this pistol back to where it should be.
Trigger pull
The single-stage trigger has a long pull that releases when 4 lbs. 10 oz of effort are applied. Yes, there is a trigger adjustment, but I'm going to wait to see what the trigger mechanism looks like inside the gun before I start adjusting things.
Cocking effort
Most of the cocking stroke is light — at just 14 lbs. throughout the arc. Only at the end of the stroke does the effort spike to 21 lbs.
What's next?
I think the next step for this pistol is a complete teardown and evaluation of the powerplant. After I see what's inside I can make better decisions about what should be done next.