by Tom Gaylord
Writing as B.B. Pelletier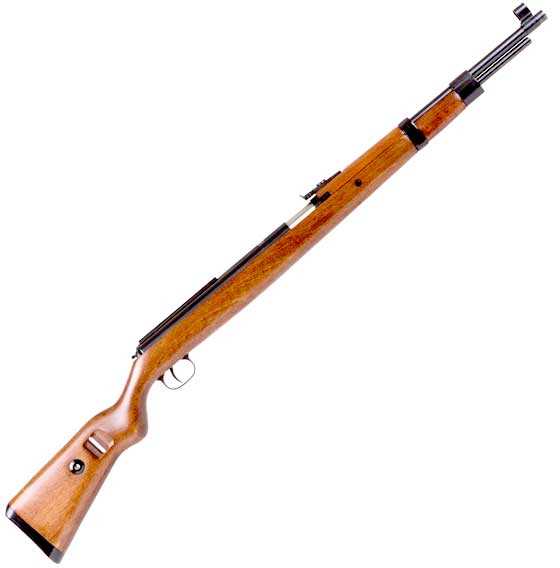 Diana's K98 Mauser pellet rifle is very realistic.
This report covers:
Shoot left-handed
RWS Superpoints
JSB Exact RS
RWS Superdomes
Now, for the mind-blower!
The underlever latch
Trigger adjustment
Evaluation
Keep him off his his computer, ladies, because today I'm the Great Enabler! Today I shoot the Diana K98 pellet rifle at 25 yards with open sights. And when he sees the results, he's going to want one!
Shoot left-handed
Today was accuracy day at 25 yards and I absolutely could not see the bull, when sighting with my right eye — even when wearing my glasses! So I had to switch hands and shoot from the left side.
RWS Superpoints
The first pellet I tried for no particular reason was the RWS Superpoint. One shot confirmed I was on target, then the next 9 went downrange without checking. I walked down to change targets and saw the group for the first time. Ten shots in 2.32-inches! The "group" was very horizontal. Not a good start.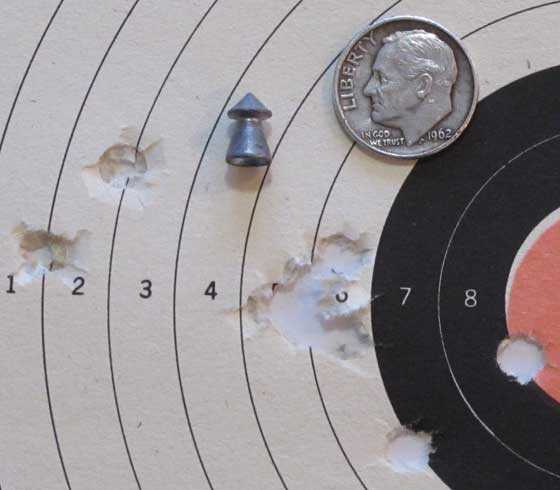 Yuck! Ten RWS Superpoint pellets went into 2.32-inches at 25 yards. Not a good start to the test.
JSB Exact RS
Next, I decided to try 10 JSB Exact RS domes. But I also decided to try resting the rifle on the palm of my off hand, placed just in front of the triggerguard instead of out by the cocking slot. It made the rifle extremely muzzle-heavy, but I was shooting off a sandbag, so that didn't really matter. This time was different. Ten RS pellets went into 1.402-inches, but 9 of them are in 0.916-inches. That is definitely better and more like what I had hoped for!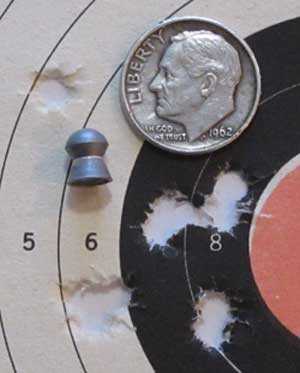 This is more like it. Ten JSB Exact RS pellets are in 1.402-inches at 25 yards, with 9 in just 0.916-inches.
Now I was happy. I could see that the K98 can really shoot at distance. Remember, I'm shooting left-handed with open sights today.
RWS Superdomes
The last pellet I tried was the RWS Superdome. I also rested the rifle on the palm of my off hand, just forward of the triggerguard for this pellet. This time 10 pellets went into 1.153-inches. The group is tighter than the RS group you just saw for all 10 shots. However, hold your horses. Something is coming.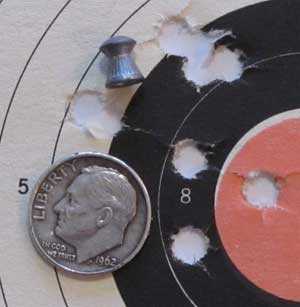 Ten RWS Superdomes went into 1.153-inches at 25 yards.
Now, for the mind-blower!
After the Superdome group I decided to try shooting the K98 DIRECTLY ON THE SANDBAG. At its power level it shouldn't do too well, but I wanted to see.
I intended shooting JSB Exact RS pellets, but the tin of Superdomes was still open, so I used them instead. And look at the results! Ten pellets landed 1.049-inches. That's considerably smaller than when the gun was hand-held. It means the Diana K98 is stable when rested directly on a bag, and that does not happen often. I think this is the most powerful spring air rifle I have tested that allows direct resting.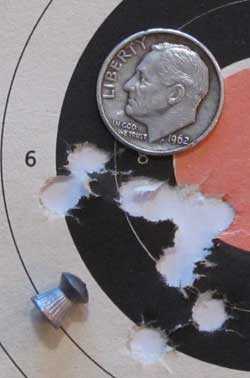 When the rifle was rested directly on the bag 10 RWS Superdomes went into 1.049-inches at 25 yards.
What this means is that when I scope the rifle, I can also rest it directly on the bag, and we should see some remarkable groups. But wait, because the report is not over.
The underlever latch
I looked at the latch that holds the underlever in position. It's a spring-loaded affair the presses on the underlever when it's returned home. It doesn't appear to be adjustable and it looks difficult to modify, but I will continue to look into it.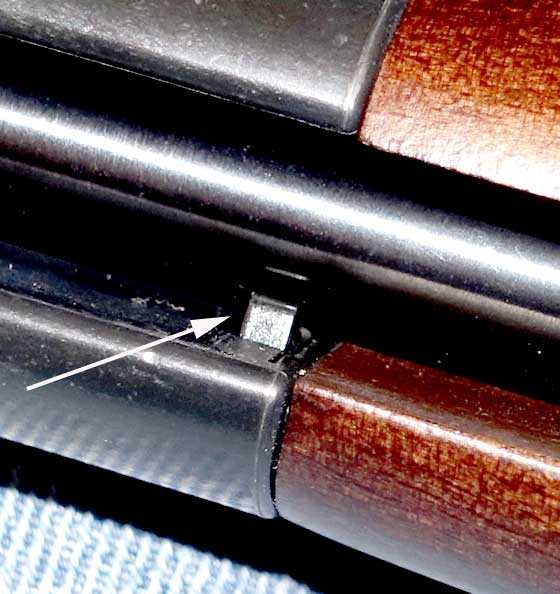 That little catch (arrow) is spring-loaded to pop up like this and hold the underlever in place when it's stored. When you pull down on the lever this catch is pressed down and out of the way.
Trigger adjustment
Remember I mentioned in the last report about having some creep in stage two of the trigger pull? The K98 trigger allows for adjustment of the length of stage one and the location of stage two. I adjusted both and got the long first stage travel I prefer, plus I made the stage two release much crisper. So, the trigger adjustments really do work as advertised.
Evaluation
The Diana K98 is one of the best new air rifles to come along in a long time. It has features like smooth power, a light and adjustable trigger, great looks and, as we discovered today, accuracy. There is still a lot more to test, so stay tuned, but I think we have tested it enough that you can safely buy one now.
I know the rifle is large and looks like a military Mauser. But at its heart it is one fine spring-piston air rifle.