Air Arms Galahad: Part 2
by Tom Gaylord
Writing as B.B. Pelletier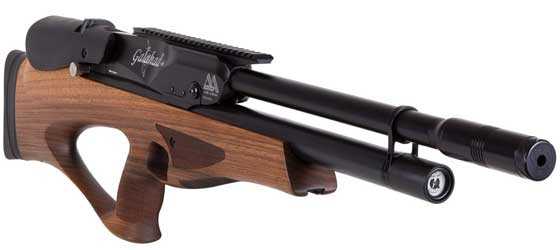 Air Arms Galahad PCP in walnut is a striking looking air rifle!
This report covers:
Power adjustable
Power setting 5 (high)
Power setting 4
Sound level
Power setting 3
Power setting 2
Power setting 1 (lowest)
Where are we now?
Extremely consistent
Fill probe
Trigger pull
Cocking and loading
More velocity to test
Today we begin looking at the velocity of the Galahad-rifle from Air Arms. This one has the longest barrel and should produce the maximum power available with this model in .22 caliber. Before we get to the mostest and the fastest, though, let's learn the basics.
Power adjustable
The Galahad has a power adjustment knob with 5 settings. I want to establish what each of them will do. Remember two things: first, this rifle is filled to 250 bar and second, it has a regulator. So the first thing I will do is look at 10 pellets at each of the power settings. I will use the same .22-caliber Crosman Premier pellet for all power ranges.
Power setting 5 (high)
On the highest power I sent 10 Crosman Premier domes downrange at an average 941 f.p.s. That's 28.12 foot-pounds of energy at the muzzle. Naturally because this is a PCP, heavier pellets will generate more power. The spread ranged from a low of 936 f.p.s. to a high of 947 f.p.s. That's 11 f.p.s. across all 10 shots. Here is the string.
Shot……..Velocity (f.p.s.)
1……………..947
2……………..944
3……………..942
4……………..939
5……………..945
6……………..940
7……………..940
8……………..937
9……………..936
10……………937
Power setting 4
I dialed the power down one notch and reloaded the magazine. The average on this setting was 880 f.p.s. That's 24.6 foot-pounds of muzzle energy. The low was 874 and the high was 888 f.p.s. That's a spread of 14 f.p.s. Here is that string.
Shot……..Velocity (f.p.s.)
1……………..888
2……………..885
3……………..879
4……………..880
5……………..877
6……………..882
7……………..874
8……………..876
9……………..880
10……………881
Sound level
I was surprised by the quiet muzzle report on high power. It was even less on power setting 4. The rifle is quiet enough for an urban backyard fon setting 4 and below.
Power setting 3
On power setting 3, which is the middle of the adjustment range, the average velocity with Premier domes was 749 f.p.s. That's an energy of 17.82 foot-pounds. The low was 739 f.p.s. and the high was 753 f.p.s., so a spread of 14 f.p.s. Here is that string.
Shot……..Velocity (f.p.s.)
1……………..739
2……………..743
3……………..747
4……………..751
5……………..753
6……………..752
7……………..753
8……………..749
9……………..750
10……………751
Power setting 2
By this time I thought I could guess where the power would be, and on power setting two I expected an average of 650 f.p.s. The actual average was 539 f.p.s. — over 100 f.p.s. slower than expected and over 200 f.p.s. slower than on power setting 3. That is a big difference. Setting 2 looks like the indoor setting and 3 looks like a quiet outdoor setting that delivers about the same power as a factory Beeman R1.
At the average velocity, power level 2 delivers 9.23 foot-pounds of energy at the muzzle. The low was 531 f.p.s. and the high was 546 f.p.s. That's a spread of 15 f.p.s. Here is the string.
Shot……..Velocity (f.p.s.)
1……………..531
2……………..539
3……………..533
4……………..536
5……………..540
6……………..542
7……………..538
8……………..541
9……………..546
10……………540
Power setting 1 (lowest)
I had no idea where setting number 1 would be, but I hoped it would be useable. The average was 289 f.p.s. and the spread ranged from a low of 277 f.p.s to a high of 306 f.p.s. That's a spread of 29 f.p.s. At the average velocity this setting produces 2.65 foot-pounds of muzzle energy. That means that setting 1 on the rifle I am testing is both too low to be practical and also a little less stable than the higher settings. Here is the string.
Shot……..Velocity (f.p.s.)
1……………..293
2……………..285
3……………..284
4……………..298
5……………..287
6……………..277
7……………..284
8……………..290
9……………..306
10……………291
Where are we now?
Now let's and shoot one shot at each power setting to see where the velocity is. Bear in mind, the rifle has now fired 51 shots since being filled. I had one extra shot that was a mistake, because I forgot to adjust the power setting when I started a string.
Setting……..Velocity (f.p.s.)
5……………..932
4……………..870
3……………..738
2……………..521
1……………..290
Interesting. In the highest power the rifle seems to be slightly off the power band, but on all the other settings it seems to be right on. I had 5 more pellets in the magazine, so I did it again.
Setting……..Velocity (f.p.s.)
5……………..924
4……………..876
3……………..739
2……………..525
1……………..281
Extremely consistent
I think I called it correctly. After 51 shots the Galahad still is on the power curve on all settings except number 5. That means the claim of a large number of shots is correct, and also this is the payoff for having that regulator. Yes, the rifle does vary more at each power setting than some other regulated rifles, but those rifles don't have 5 power settings. And, I have never seen an air rifle return to its power setting as immediately and accurately as this one. The Galahad really does operate like you expect it to!
Fill probe
In Part 1 I said Air Arms had changed from their proprietary fill adaptor that was so hard to use. I said they now use a common fill probe for the Galahad. Well, it isn't common! They made a proprietary smaller-size probe that does not interchange with any Korean or BSA probe. Once again, Air Arms is different. If you only own one PCP this is not a problem, but if you own several that use probes you will have to swap probes when you fill the Galahad. That's a misstep, in my opinion.
Trigger pull
Reader Matt61 responded to my observation that the Galahad is a bullpup that therefore has a long trigger bar to reach the action. It has to be that way if electronics aren't used. I had not tested the trigger when I said that, so now let's see how it does.
The trigger pull on the Galahad is fine for a sporter. It is two-stage and reasonably crisp. Stage one is adjusted to a 1 lb. 8 oz. pull. Stage two releases exactly one pound later — at 2 lbs. 8 oz. It feels great this way, so I plan to leave it right where it is.
Cocking and loading
The Galahad cocks via a lever on the left side of the forearm. It sits nearly parallel with the barrel until you push down on it with your thumb. Then it springs down to almost straight up and down. To cock the striker you push the lever forward when it is in the down position. Be prepared to push hard because you are cocking the gun. By returning the lever to parallel with the barrel, you load one pellet into the breech and are ready to shoot. You can feel the pellet entering the breech as the lever is moved up.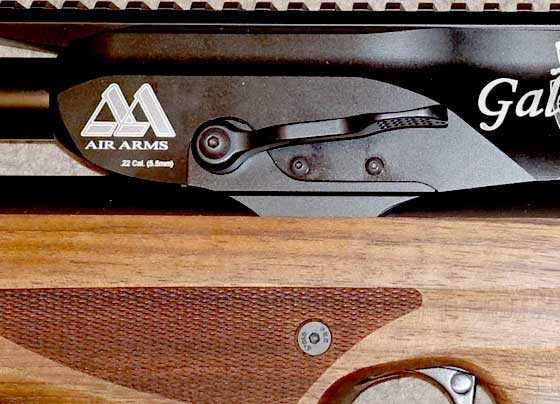 The cocking lever starts parallel to the barrel like this.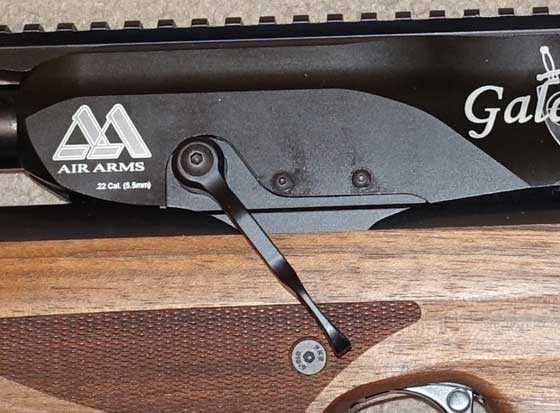 Push down and the lever springs down to this position.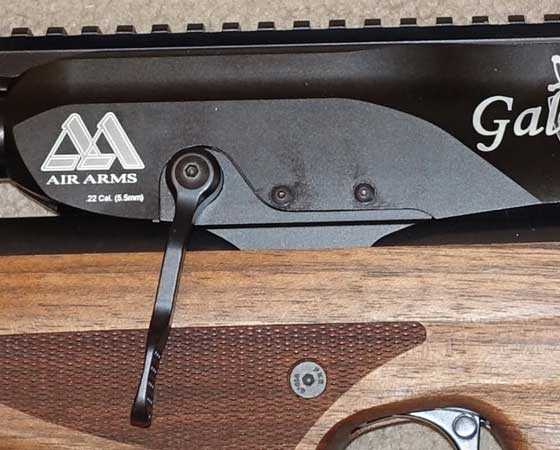 Push lever forward to cock the gun. Lever then springs back to this position. Return lever to the up position to ready the rifle to fire.
If you think about it, a sidelever-cocking bolt action pellet rifle is also not that easy to operate at some point in the lever's swing. This lever has to do the same thing to the rifle's bolt that a sidelever does, so expect it to take the same effort.
More velocity to test
I'm taking my time with the Galahad because there is so much to test. Next time we will look at pellet lengths that will fit in the magazine, maximum power and the shot count at power level 3. Stay tuned — there is a lot to see!
Tom Gaylord is known as The Godfather of Airguns™ and has been an airgunner for over a half-century, but it was the 
Beeman
 company in the 1970s that awoke a serious interest in airguns. Until then, all he knew were the inexpensive American airguns. Through the pages of the Beeman catalog, he learned about adult airguns for the first time. In 1994, Tom started
The Airgun Letter
 with his wife, Edith. This monthly newsletter was designed to bring serious reports about airguns to the American public. The newsletter and
Airgun Revue
, a sister magazine about collectible airguns, was published from 1994 until 2002, when Tom started
Airgun Illustrated
-- the first American newsstand magazine about airguns. Tom worked for three years as technical director at
AirForce Airguns
, the makers of the 
Talon, Condor, and Escape
 precharged air rifles. Today, he writes about airguns and firearms for various publications and websites. He also makes videos, and you'll find short clips embedded in some of his artices on Pyramyd Air's website. Tom is a consultant to Pyramyd Air and writes under the name of B.B. Pelletier.