by Tom Gaylord
Writing as B.B. Pelletier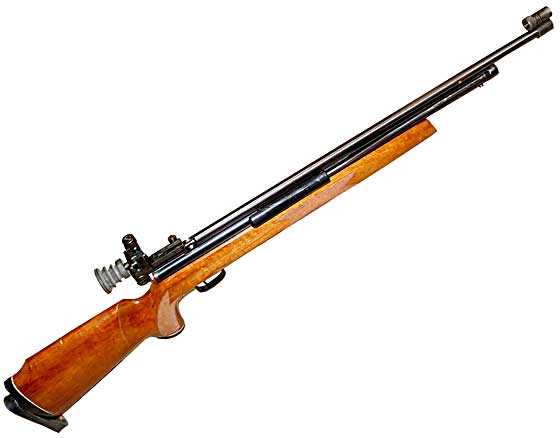 Sharp Ace Pan Target is a sidelever multi-pump 10 meter target rifle.
This report covers:
Sharp Ace
Beyond the Ace?
Two versions
Description
Trigger
How the Ace works
Power
Never a serious contender
How I found this airgun
I've been hyping this report on my Facebook page for awhile. What you are about to see is an airgun that is very uncommon in the United States. It is rarer (here) than the Sheridan Model A Supergrade that every airgunner wants to own. It's a Sharp Ace, but one that surpasses every Ace most people have hear of.
Sharp Ace
Most airgunners have never even heard of today's special model. They know about the Sharp Innova and Ace multi-pumps that were made in Japan and later in Indonesia, and, if they are like me, their knowledge of Sharps ends with the Ace.
I have owned two Sharp Aces and two of the cheaper Innovas over the years. One Ace was a beautiful UK-spec .177 that had a relief valve to limit the power output to less than 12 foot-pounds. When it was filled to that level, a blowoff valve would open suddenly as you pumped, releasing all the extra air. That rifle had a gorgeous stock and forearm made of curly walnut that would fetch a lot of money today. It's one of the airguns I never should have let go, but you're only young and dumb once — though it can last an entire lifetime! I never even took a good photograph of it!
The other Ace I owned was a .22-caliber U.S.-spec gun that could take up to 12 pumps. That is the maximum number of pumps Sharp recommended for their full-power guns. The triggers got harder to pull with each pump, though, and after about 5 strokes they weren't worth the effort. My rifle produced 25 foot-pounds of muzzle energy at the max with heavy pellets and was the gun people say they want Crosman to build — all steel and wood with stunning accuracy. I paid over $300 for it in the 1990s, so figure $500+ today. That price will stifle many buyers, but quality costs. If you want to read more about that rifle, look at this report.
Beyond the Ace?
But at the beginning  I said there is something that's beyond the Ace, and here it is. The Sharp Ace Pan Target is a multi-pump 10-meter target rifle that pumps with a sidelever. A sidelever! It's unlike any Ace that most American airgunners have ever seen or even heard of.
But it's not just the U.S. Let's go into the minds of airgunners living in other countries. Which are they going to buy — the Ace that looks like a sleek slim sporting air rifle, or the Ace Pan Target that's larger, heavier and about 20-25 percent more expensive? Even throughout the rest of the world the Pan Target isn't as common as the standard Ace. Remember, there is also an Innova that's just as powerful as the Ace but costs less, so someone already had to make the decision to spend the extra money to move up to the Ace. Made in Japan from 1981 to 1987, it was a high-watermark of Sharp production — or so many of us thought.
Two versions
The Ace Pan Target is quite uncommon. But, get this — there are two different versions of this rare air rifle. The standard model that I have has a slimmer wood stock. It does come with the Sharp rear peep sight and the Sharp globe front sight that accepts interchangeable inserts.
Then there is the Pan Target 3P (or 3 position). This one has a more pronounced cheekpiece, a deeper forearm that could hold a rail for a handguard and a sling. In three-position competition, handguards and slings are legal.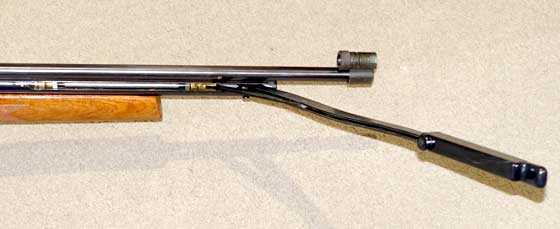 This picture doesn't show it very well, but the pump arm actually comes up and away from the rifle at a 45-degree angle.
Both rifles carry the model number 700. Both have a parallel set of dovetail slots cut into the top of the receiver, and Sharp intended them to be mounted with optional scopes. And both sidelevers extended out from the rifles on a 45-degree angle.The Blue Book is in error when  it says the standard Pan Target lever extends out at 90 degrees (straight out to the right). There may be some rifles like that, but my standard sidelever goes out at 45 degrees.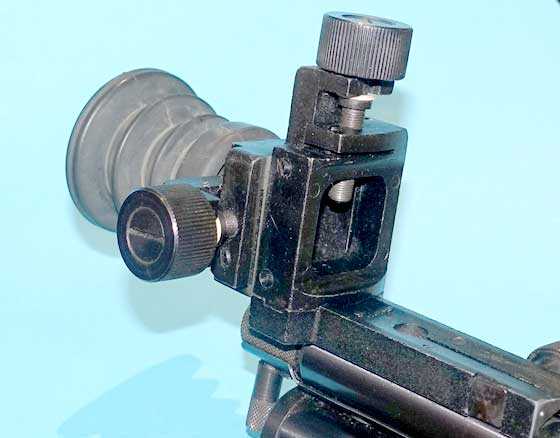 The rear peep sight is made by Sharp and is a good one!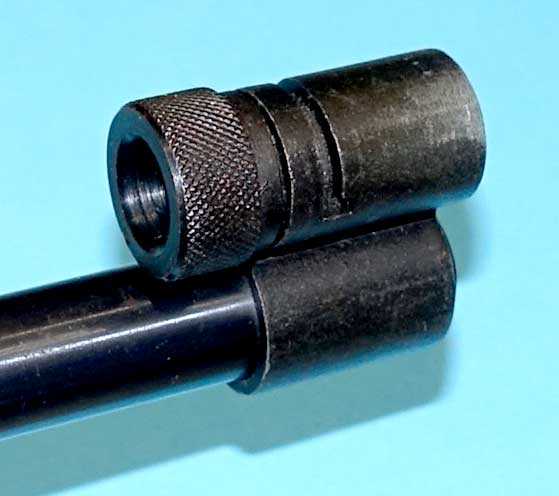 The front sight is a globe that accepts inserts.
Description
This rifle is small but heavy. Overall length is 38.25-inches and the barrel is 23.5-inches of that. My rifle weighs 7 lbs. 10 oz. and the pull is 13.25-inches. A target rifle doesn't need a long pull, so this one is full-sized for an adult.
The stock wood looks like beech to me, though it might be an Asian equivalent. If it is walnut, it's pallet-grade — not the stuff of rifle stocks. It's finished with a shiny finish that feels slick in the hand, but four panels of hand-checkering (two on the grip and two on the forearm) help you hold the rifle steady. My gun buddy, Otho, pointed out that the checkering was done with an electric checkering tool, but it was held and guided by hand, as evidenced by the overruns around the edges of each pattern.
The buttpad is made from hard rubber that is becoming plastic-y after all the years that followed manufacture. A screw in the center is loosened to allow the pad to slip up and down for establishing a better fit.
The rifle is mainly wood and metal. Both of my Ace sporters had plastic trigger blades, but the one on this Pan Target is steel. The sights have some non-ferrous cast metal in them, but they are metal. The only plastic parts seem to be the handgrip on the sidelever, the grip cap and the buttplate.
Trigger
Ah — the trigger! If you read the writeup on the Ace I used to own, you found the fly in the ointment. Sharp triggers get harder and stickier to work the more the guns are pumped. It's bothersome for a sporter but the kiss of death for a target rifle. Well, I don't know how they did it, and until I researched this one I didn't even know it was possible, but the trigger on the Pan Target is a full-fledged two-stage target trigger. It's even adjustable! Crosman finally did make the trigger on their 1400 multi-pump adjustable, too, but I have always been of the opinion that those adjustments are just placebos.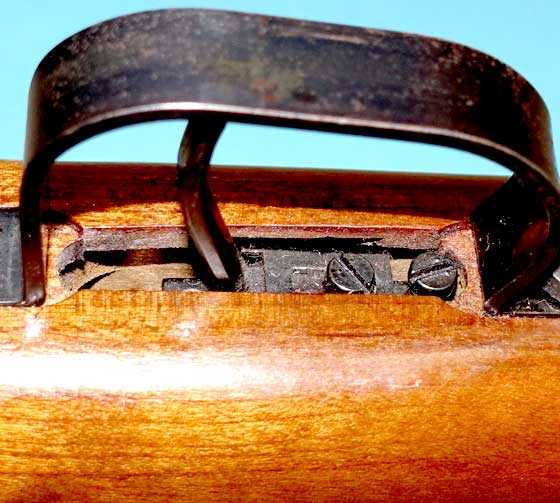 The trigger is adjustable, though it's good as it came!
How the Ace works
Here's the deal. The way the valve works on all Aces (and in the Crosman 1400 multi-pump), you don't cock the gun. The act of pumping cocks the trigger and readies the gun for shooting. The bolt is simply there to load the pellet and lock the breech.
The trigger blocks the outlet valve of the reservoir. When it is pulled it unblocks the outlet valve suddenly, and the gun fires. There is no striker (internal hammer). As a result, the more internal force that's against the exhaust valve, the harder the trigger has to bear down on it to keep it closed. It's just a natural part of the design.
If there was a striker to restrain, the sear would always be working on the same tension, which is the strength of the striker spring. But with a blowoff valve (that's what some people call this kind of valve), the tension on the sear varies with the internal air pressure — or at least I thought it did. Somehow, Sharp figured out how to make the trigger on the Pan Target break with super light effort, even when there was a reservoir full of compressed air waiting to escape. Like I said, I have owned two Sharp Aces, plus two Innovas prior to this and all their triggers got harder to pull as the guns were pumped. The trigger on the Pan Target model is special.
However, since I am a Doubting Thomas, I plan to measure the trigger pull at every number of pumps — from 1 to wherever I finally stop. The historical information gathered from catalogs says the trigger is always the same — but I have to see for myself. But from the casual shooting I have done so far, it looks to be that way.
Power
Will my new rifle have the smashing power I saw in my U.S.-spec Ace, or will it be lower? This one is a .177, so it won't be quite as powerful as my old .22, but will it be above 12 foot-pounds? That kind of power is wasted on a 10-meter target rifle, but this is a Sharp Ace. I won't know until I test it.
Never a serious contender
I never saw a Pan Target in a 10-meter match, though it is built for exactly that. Was it just wishful thinking on Sharp's behalf to build this rifle, or were these rifles actually used in competition? We may never know. I have attended many 10-meter matches and have a hard time envisioning a competitor pumping a rifle more then once for each shot. You only get 90 seconds per shot in a match and it seems like pumping would use up a lot of that time.
How I found this airgun
Last story for today is how I came by this find. I found this air rifle with the search software I have set up on the Gun Broker auction website. I received an email telling me the gun was up for auction. In 7 years this is the first Sharp that's come to my attention that way, so they don't come up often.
The seller had a starting price that was higher than I wanted to pay, and I wondered where he came up with it. I looked in the Blue Book of Airguns and found that they list a Sharp Ace Pan Target in 95 percent condition for $1000. This one isn't that good. It's between 80 and 85 percent.
Speaking of the Blue Book, at the top of page 608 where the Pan Target Standard is shown at the bottom, there is a rifle labeled the Sharp Ace Target. That is mislabeled and is the Pan Target 3P.
The auction was ending soon and I have seen other guns listed like this with no response — sometimes for many years of continual re-listing — so I wrote the seller and offered him what I would be comfortable giving. We negotiated for several days and agreed to a price that was higher than where I started. He then listed the gun with a Buy it Now price and told me what he was doing. I bought it within minutes of it going live.
I have no clear idea of what this airgun is worth, except the extreme rarity in the U.S. does drive the price up, as does the quality of the rifle. Is it worth more than a Sheridan Supergrade? Probably not, even though it's many times harder to find. But it's certainly in that price range.
This will be an interesting report — both to do and to watch. You will find very little information about the Sharp Ace Pan Target on the internet, and I assume this report will soon be at the top of the search engines.