by Tom Gaylord
Writing as B.B. Pelletier
Part 1
Part 2
Part 3
Part 4
Part 5
Part 6
ASG
X9
Ingram M11
Dan Wesson revolvers
Xisico
Turkish PCP?
Orion from AirForce International
Beeman
Hatsan Riptor
Summary
This will be my final report on the 2017 SHOT Show. When I began I said 2017 is the biggest year for airguns that I've ever seen, and with seven reports to cover it, I think you must agree. It just seems that this year airguns have exploded! Some product announcements were perhaps a bit premature, but many of the guns and products I saw will be available early in the year. Let's get to it.
ASG
I stopped at the ActionSportGames USA booth to see what new airguns they will bring out this year. The first one they showed me is a pistol they call the X9 that looks very much like our military M9 sidearm.
X9
The X9 BB pistol looks like a Beretta model 92F, on which our military's M9 is based. It has the blowback shooters want. It's more than just a basic air pistol that fires using a 12-gram CO2 cartridge.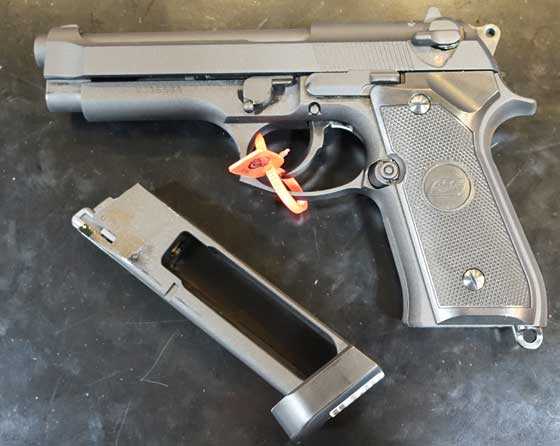 X9 from ASG is a great replica BB pistol.
One more nice feature about the X9 is it fully disassembles! If realism is what you're after, this may be one to consider. One is on its way to me now for testing.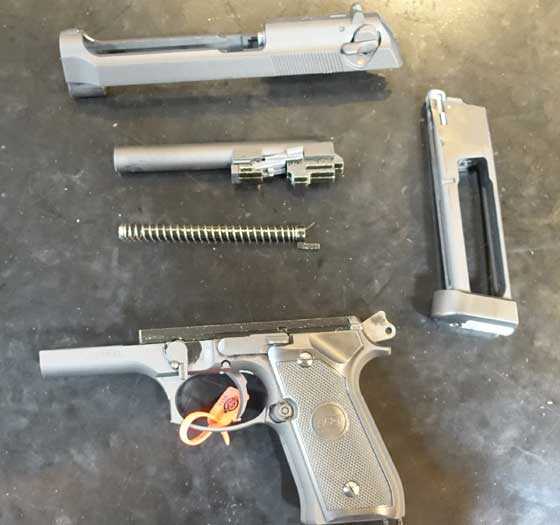 X9 disassembles like the firearm.
Ingram M11
Next up is the Ingram M11 BB SMG (submachine gun). This one is fully licensed from Ingram and is a close copy of the Ingram MAC M11 chambered for .380 ACP. It does not have blowback. The stock does fold and extend to give you a good shoulder stock.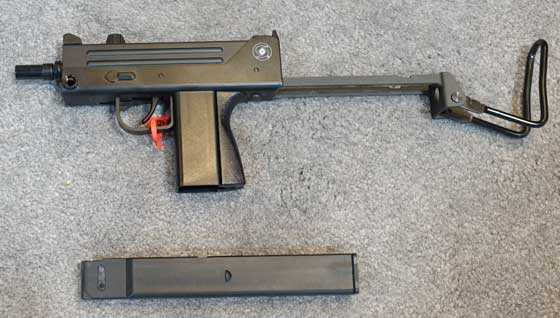 The Ingram M11 is a full-auto BB machine pistol with extending stock.
Dan Wesson revolvers
Finally we come to the new Dan Wesson revolvers. They exist in both 2.5 and 4-inch barreled versions and two different finishes — steel gray and silver. They are exactly like the 6-inch barelled Dan Wesson revolvers I already tested for you last year, except for the barrel lengths.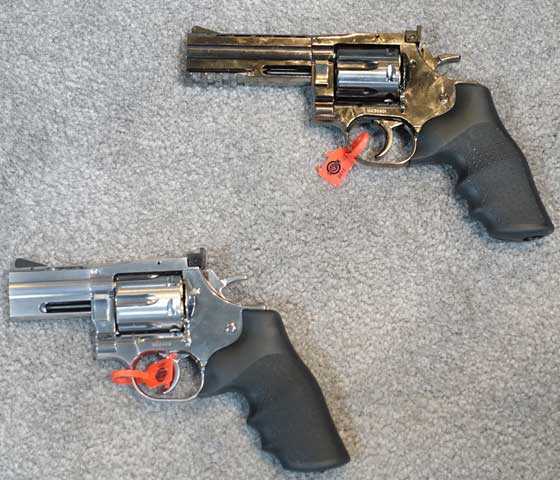 The new Dan Wesson revolvers come with 2.5 and 4-inch barrels. They will be BB (steel gray at top) and pellet (silver) .
I held both guns and they do feel remarkably realistic. I talked to Bob Li of ASG about creating a Pistol Pac for these, and he knows that would be a wonderful idea, but these airguns cannot be made with interchangeable barrels because they aren't made of steel. But I got him thinking about it! One of each type is on its way to me for testing now.
Xisico
My next stop was the Xisico USA booth, where I met John Mooney, their vice president of sales and marketing. He showed me their new wood-stocked Xisico XS Sentry — an 8-shot repeating PCP available in .177. Their catalog says it also comes in .22 and .25 calibers, so perhaps they are in the works as well. Aside from the semi black rifle look the Sentry has a pistol grip stock and adjustable cheekpiece. It's said to get 30 powerful shots per fill to 3,000 psi.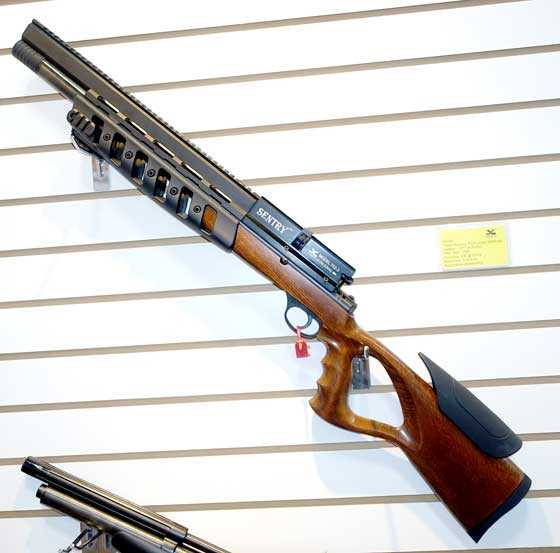 The XS Sentry from Xisico is an 8-shot repeater in .177 caliber.
Turkish PCP?
Sometimes I see things that may never be available in this country but are interesting all the same. Next to the ASG booth was a Turkish maker, Turqua, who was displaying a PCP that was gorgeous to look at. I show it to you now, but don't expect to see one soon in the US.


I thought this PCP from Turqua is beautiful. We may never see it in the U.S.
Orion from AirForce International
AirForce International sells airguns that are imported from offshore manufactures. The Orion is a PCP that I have followed for some time. I've watched AirForce work with the manufacturer to improve the trigger, accuracy and to lower the cost until this year they have a competitive PCP repeater.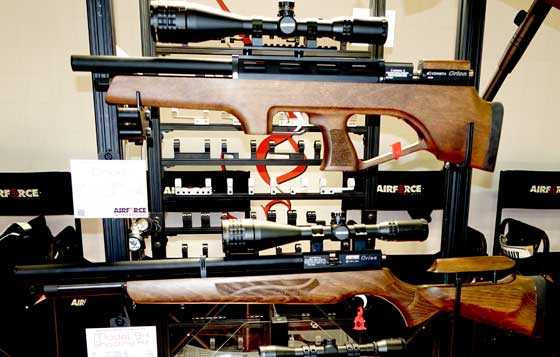 AirForce International brings out the Orion bullpup this year to augment the standard rifle (below).
The photo doesn't show it, but the wood on the bullpup is so highly figured that I had to ask whether it was wood or plastic. It's wood with a figure you won't find on firearms costing less than 4 figures!
I have an Orion to test for you soon. It's a .22 caliber standard rifle. If you look at the price you'll see why I am so excited!
Beeman
I always stop at the Beeman booth, but rarely do I find anything worth a look. A couple years ago I found that strange Double barreled rifle that I tested for you last year, but that was all. The Beeman booth sells the low-priced Beeman guns that are sold in discount stores, while Air Venturi continues to import the high-end Weihrauch brands airgunners identify with.
This year was different. On the display table this year was a precharged pneumatic! The lineage was obvious — it has a QB78 ancestor, but we know that airgunners have been converting that platform to high-pressure air for several years, and it does work. And the QB is itself a copy of Crosman's highly successful model 160 rifle that has a very adjustable crossbow-style trigger. Accuracy can be fine, though the barrel is the biggest risk you take with these rifles.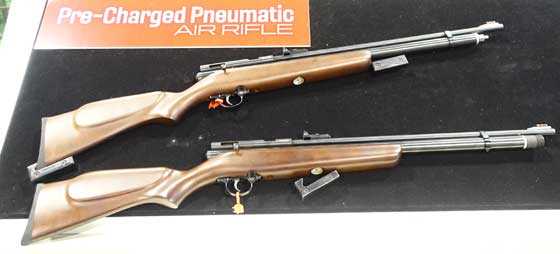 The Beeman PCP was a surprise this year.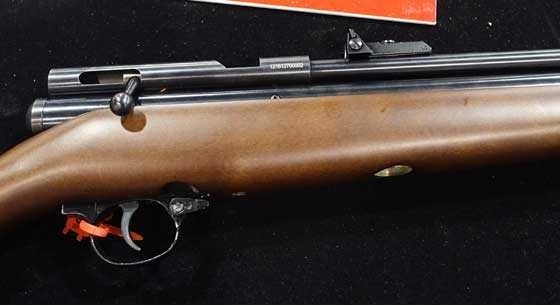 The QB 78 heritage is obvious when you see the receiver. Expect a good adjustable trigger, and we hope an accurate barrel to go with it.
But wait — there's more! This rifle was built to operate on a fill to 2,000 psi, rather than 3,000. So a hand pump is all that's needed to fill it! And the suggested MSRP will be just $200! That's a huge win for those wanting to enter the precharged world at the lowest possible risk.
Hatsan Riptor
One new Hatsan airgun I haven't shown yet is their new Riptor BB pistol. It's not a copy of anything and features a a light rail under the front of the frame. The gun has what I will call a carbon fiber look to it, which intrigues me. It offers blowback and I hope to test one for you as soon as I can.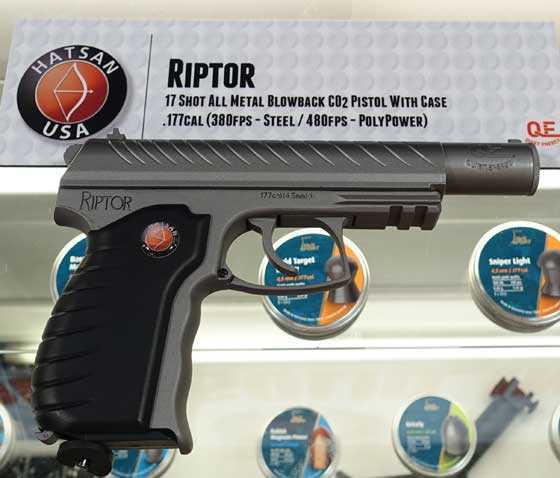 The Hatsan Riptor is a new look for a BB gun and sharp eyes will note a lighter plastic BB they plan to offer.
If you read the sign above the Riptor you'll see that Hatsan has a new plastic BB that must be lighter. Given the problems Daisy had with aluminum BBs in the 1940s, I will be very curious about the performance of this one!
Summary
I think you now understand why I said 2017 is the biggest airgun year ever. We have innovative designs, prices dropping, new air compressors and new ammo. There is so much to take in! Make no mistake, this year is a banner year for airguns.