by Tom Gaylord
Writing as B.B. Pelletier
Part 1
Part 2
Part 3
Part 4
Part 5
Umarex USA
The Hammer
.50 caliber
Repeater
4500 psi
Absolute zero
Second Zero
MP 40 BB gun
Umarex Forge
Trevox and Strike Point
Optical Dynamics flashlights
Still not finished
Before we begin I want to tell you about a blog series I will start this week. I have the new Air Venturi air compressor on hand and I used it for the first time yesterday. It works so well that I'm jumping the line to get the report started. You can expect to start reading about it this week.
The 2017 SHOT Show was the biggest show I have ever experienced for airguns. Some manufacturers like Crosman and Umarex brought out many new gun models and related products that are really different. Others brought out only one of two items, like the Gamo Swarm Maxim, but they are so significantly different that they deserve to be recognized. My work is cut out for me this year!
Now let's get into today's report. I'll begin with Umarex USA.
Umarex USA
I already showed you the Umarex Gauntlet that I shot on Media Day. At $300 for a regulated 10-shot repeating PCP, this rifle will be a killer in the market. Based on the Chinese QB CO2 rifle that is in turn a copy of Crosman's iconic 160, the Gauntlet is going to open up the market for precharged guns. But we have seen that — what else is new from Umarex USA?
The Hammer
What, indeed! The new Umarex Hammer .50 caliber big bore is reported to get 700 foot-pounds of energy at the muzzle that will make it the most powerful big bore when it does get into production. I got the full details on the Hammer from Umarex USA marketing manager, Justin Biddle, and, with thanks to him I'm now going to share them with you.


Umarex Hammer.
.50 caliber
I was told that the Hammer barrel is based on the .50 caliber Browning Machine Gun (BMG) barrel and that it is a true .50 caliber. That will present no problem, because a .50 BMG bullet is actually 0.511-inches in diameter. That's close to a standard size for cast rifle bullets. Fifty caliber cast rifle bullets run either 0.495-inches for round balls or 0.510 to 0.512-inches for lead conicals.
The reason I mention this is because I was told that the 700 foot-pound figure came from shooting a 500-grain cast lead bullet. If shooters want to get that kind of power they will have to use the same bullet Umarex used, or one of similar weight. I feel that Umarex will have to offer a bullet of that weight when the rifle comes out.
Biddle also told me they are looking at trimming a few inches off the barrel length, as the Hammer they displayed at SHOT is very long. When you cut down a PCP barrel you loose velocity, so they will have to be careful if they still want to make the power claim.
Repeater
The Hammer is a three-shot repeater that uses a true harmonica clip. Harmonica clips pass through the receiver from one side to the other or from the top to the bottom. When they get to the end of their travel, they either stop or they fall out. At the SHOT Show, the clip was falling out at the end of its travel, so I'm sure they will refine that to keep it on the receiver.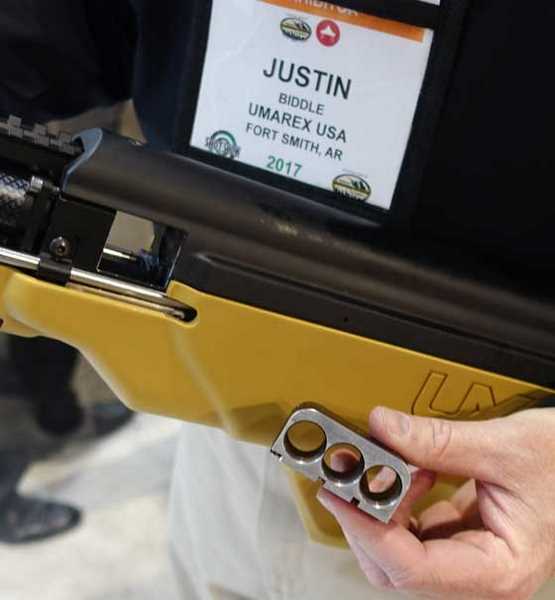 The Hammer has a 3-round harmonica clip that slides from left to right through the receiver.
The Hammer action is operated by a sliding forearm, and I am pleased to report that the effort needed to cycle the action and advance the clip is very small. This air rifle is quite slick already!
4500 psi
The Hammer operates on a fill to 4500 psi. That means that you get one fill to that level from an air tank. After the first fill, the pressure to which you can fill starts to decline. I'm told the rifle gets three powerful shots on a fill, and it has a regulator, so I'm told those three are all the same! I'll have to test one, but this will be the biggest news in big bore airguns in a long time — even bigger than the power!.
Based on what I saw and was told I believe the Hammer won't come out until later this year. There is still some development to be done before it is ready for the market, and Umarex USA won't release it until it is. But when it does come out the world will have a powerful new big bore!
Absolute zero
This is a device that clamps to your barrel and allows you to sight in at 25 yards in just two shots. When you are finished you are sighted-in at 100 yards. It's obviously for firearms, but there is no reason an airgunner shouldn't be able to use it, as well. I will keep tabs on it for you.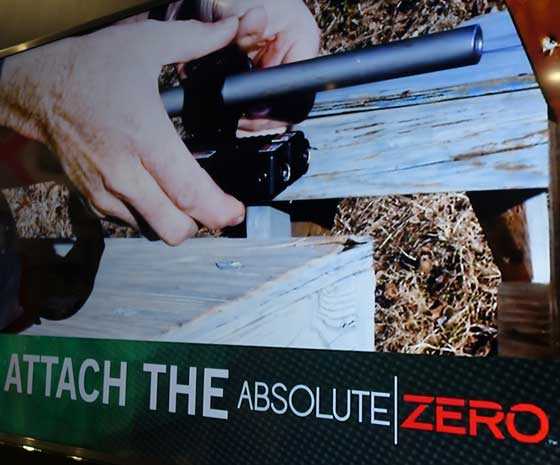 At 25 yards put the two laser dots on two targets provided with the device, then fire a shot. Afterward, leaving the two dots on the targets, adjust the scope's reticle to the bullet hole and you're done! This picture was taken from a video in the booth.
I imagine that using the Absolute Zero on an airgun will give you a zero at a different distance than 100 yards. Once that distance is determined, the tool will be just as useful to airguns as it is for firearms.
Second Zero
How many times have you been hunting when you see a target at a range that's different than your zero distance? If the difference is small, you can hold over or under to compensate, but what it's large? Second Zero can fix that. It is a flip-up lens that optically adjusts your zero to a second specified distance. The one at the show was a 300-yard zero for a scope that was zeroed to 100 yards.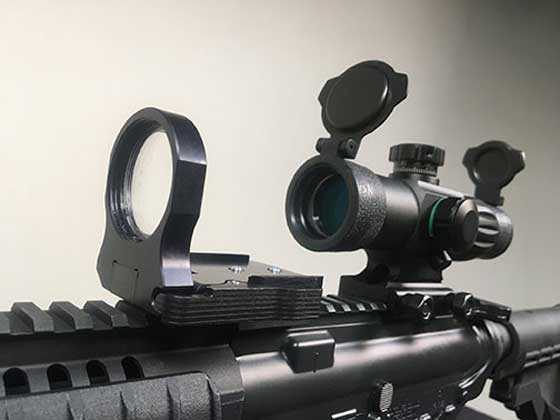 Second zero optically changes your zero distance.
The device attaches to either the scope's objective bell or to the scope base on the rifle.It flips up (or down) for use and is stored out of the way at all other times. Custom zero distances can be provided by the manufacturer, but each lens has one specific correction at which it works.
MP 40 BB gun
I mentioned the Umarex MP 40 BB gun in Part 1, but I had to use a photo of a firearm to show you. Today I have the actual airgun.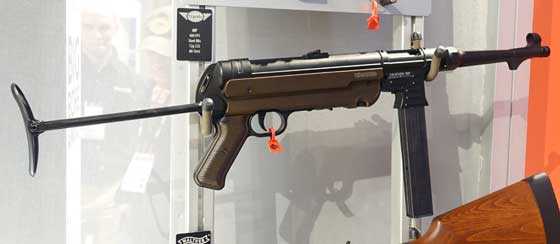 The Umarex MP 40 BB gun.
It's all-metal and seems very realistic. There is a selector switch for safe, semiautomatic and full-auto. And the stick mag holds 60 BB in line, just waiting for the trigger to be pulled. This will be a fun one to test.
Umarex Forge
You aren't going to believe this one! The Umarex Forge is a breakbarrel rifle in a checkered wood stock that gets 1250 f.p.s. in .177b, using alloy pellets. Comes with open sights, 4X32 scope, gas piston, adjustable trigger, SilencAir sound suppression and retails for just $159!!! I plan on testing this one as soon as possible.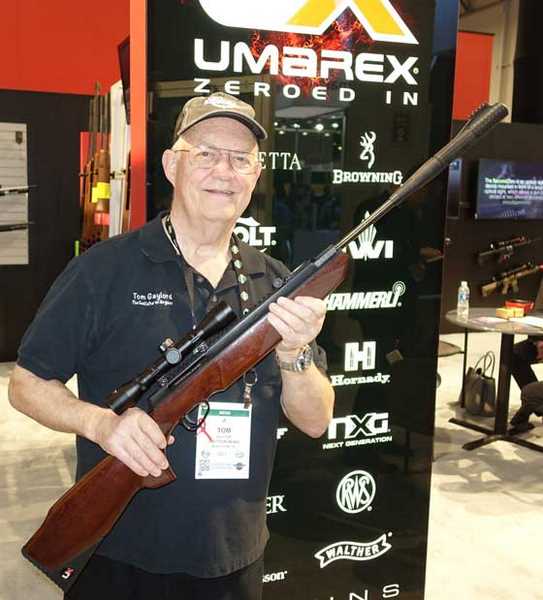 I was thrilled to see the Umarex Forge. If it's accurate, they have a winner!
Octane Elite
The Octane spring rifle has done well in the past few years so Umarex wanted to keep it going. This year they introduced the new Octane Elite that now has their StopShox vibration damper. The news this year is they are holding the line on the price — at $249 with the StopShox.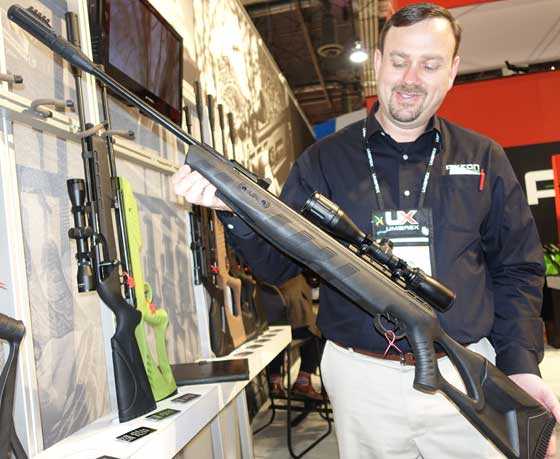 Justin Biddle holds the new Umarex Octane Elite.
Trevox and Strike Point
Umarex brings out two new air pistols this year — one springer and one multi-pump. The Trevox is the springer that's touted to get up to 800 f.p.s. with alloy pellets. The Strike Point is a multi-pump that looks like a 1377 (fightin'words, I know) and gets up to 650 f.p.s. in .177 with alloys. The Trevox comes in .177 and the Strike Point in both .177 and .22

Umarex Trevox promises rifle power in an air pistol.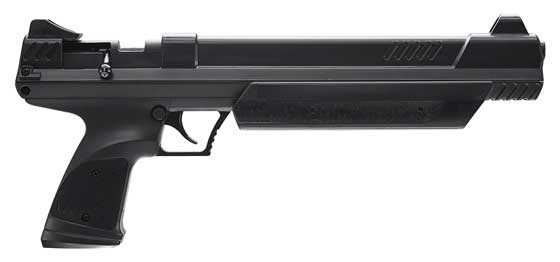 Umarex Strike Point brings all the flexibility of a multi-pump
Optical Dynamics flashlights
And then there were the Optical Dynamics hunting flashlights. These are LED lights that will positively identify game at up to 200 yards for the OD 40 and 400 yards. for the OD 50. Designed to fit on your gun for nighttime target identification, they are bright beyond belief.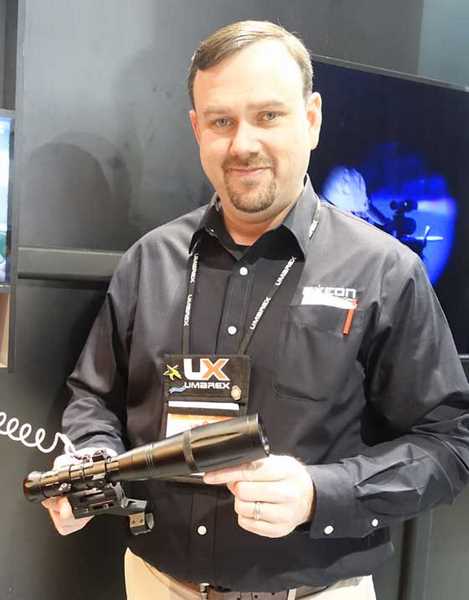 Justin Biddle holds the Optical Dynamics OD 50.
Still not finished
We have now seen a lot, but there is still more SHOT Show to come. Like I said in the beginning, 2017 is the year of the airgun. There will be at least oner more report.