by Tom Gaylord
Writing as B.B. Pelletier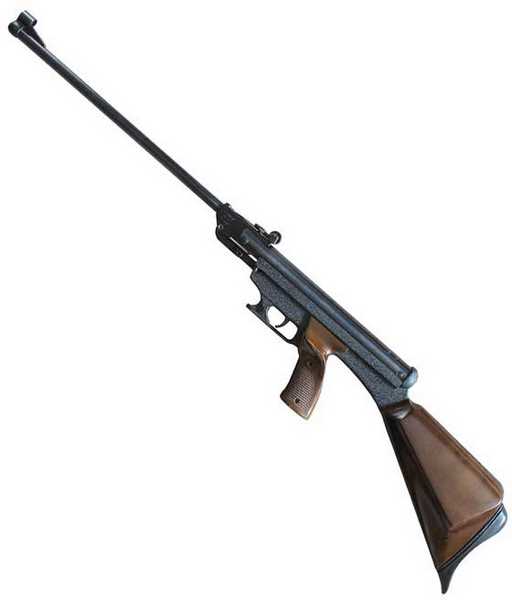 The El Gamo XP-68.
This report covers:
Sighting in
JSB Exact RS
RWS Superdome
RWS Hobbys
Evaluation so far
Today I will shoot the .22-caliber El Gamo 68-XP for accuracy at 10 meters. I have full use of my right eye that I normally use for sighting, so everything was very clear in today's test.
For some reason I only shot 5-shot groups instead of 10-shot groups today. The rifle is easy to load and shoot, so I don't understand why I did this, but I did. For the first group, though, I actually shot 6 shots. I will explain.
Sighting in
I shot off a sandbag rest, using the artillery hold. The first shot hit a couple inches below the target paper, so I cranked in a lot of elevation in the rear sight thumbwheel. That brought shot number 2 up to just under the bull at 6 o'clock. I was using a 6 o'clock hold, so the rifle was now hitting exactly where the sights were placed at 10 meters.
JSB Exact RS
I adjusted the sights several more clicks up, thinking I was moving the group to the center of the bull, but when the 5 shots were finished there was just a large hole where the sighting shot had been. So the first group, which was shot with the JSB Exact dome, includes that one sighter, for a total of 6 shots. It measures 0.648-inches between centers.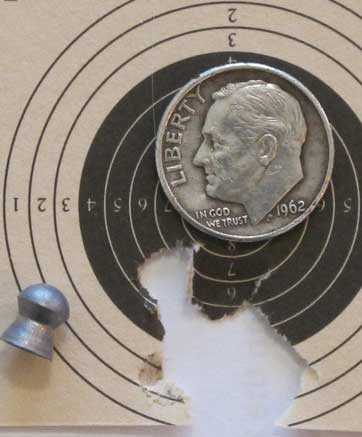 Six JSB Exact RS domes went into 0.648-inches at 10 meters from the El Gamo 68-XP.
That's pretty fair accuracy for an old air rifle like this one, but there was more to come. The rifle was shooting well, with no vibration. The trigger was heavy but crisp and positive. In general, it was a pleasure to shoot.
RWS Superdome
Next up were RWS Superdomes. I didn't know what to expect from these, but I did adjust the rear sight 6 more clicks up from where it was for the first group. This time my shots landed just beneath the center of the bull, in a group that measures 0.374-inches between centers. Now, that is a group!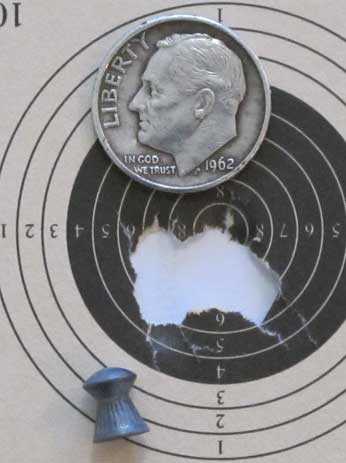 Five RWS Superdomes hit with their centers within 0.374 inches of one another at 10 meters. This is a group to be proud of!
RWS Hobbys
Well, I was happy with that last group, so I wondered what the rifle could do with .22-caliber RWS Hobbys. The Hobby is an accurate pellet in many air rifles and pistols, and I have noted that it does best in the lower-powered guns like the 68-XP. So I shot a 5-shot group of Hobbys next.
Five Hobbys went into a group at 10 meters that measures 0.41-inches between centers. It's only slightly larger than the Superdome group.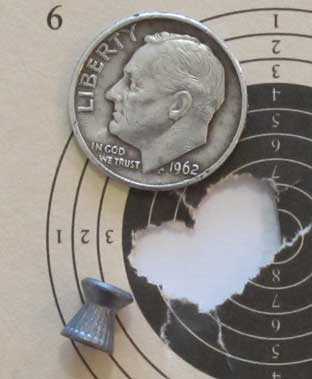 Five RWS Hobby pellets made this 0.41-inch group at 10 meters.
Evaluation so far
Now we know how accurate this .22-caliber El Gamo 68-XP air rifle is. I think it's pretty good. I would like to back up to 25 yards and try it again.
I think I will try to adjust the trigger to be lighter next time. However, after reading my 6-part report on the .177 68-XP I don't hold out a lot of hope that this will succeed.
The 68-XP does have a short 11mm dovetail cut into the top of the spring tube, but I don't want to mount a scope. At best I would mount a dot sight if I were to do anything, but I really don't want to do even that. This rifle has a good set of open sights and, as far as I'm concerned, they are all you need to hit your mark!