by Tom Gaylord
Writing as B.B. Pelletier
This report covers:
Here we go
Wire-stock Daisy
What is Findlay?
10-meter airguns
Sold some stuff
What about a big bore?
Were modern airguns there?
Toys, too
The Larc
There is more
Here we go
Yesterday's report was just a lead-in. Today I want to tell you about the show. First — it was large. It was held in two rooms, with hallways and out-of-the-way nooks also being used. And every table was filled! This was a show you could spend many happy hours seeing just one time. And the tables changed over time, so your second time through things were different. People bought stuff from the public that attended, plus they brought out some of the stuff they didn't unpack in the beginning. It was an all-day affair!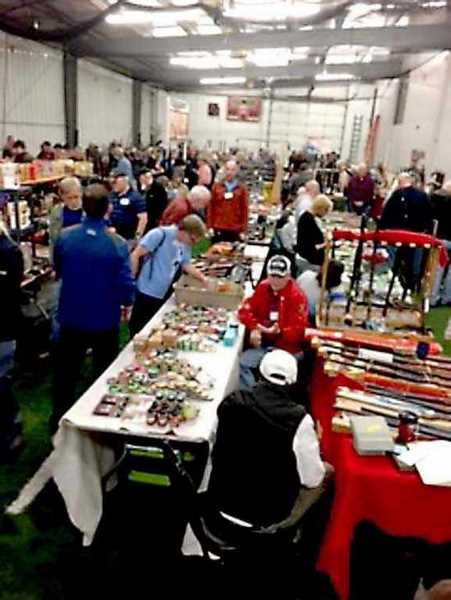 This is a long shot of the main show room. The floor of this room is an indoor soccer field, and it was filled!
Wire-stock Daisy
I see wire-stock Daisy BB guns at most of the larger shows, but they are always later variations. There were probably 5 of those at this show. I think this second variation you are about to see is the first one I've ever seen that was offered for sale. It's so old it doesn't say Daisy. It says Plymouth Iron Windmill — the name of the company at that time. I show it to show the price tag.


This is a real second variation wire stock Daisy BB gun for sale!

… and this is the price! Never saw one this old for sale before!
What is Findlay?
At this point, I stopped to reflect on the show. It has become the replacement for the old Winston-Salem show that Mike Ahuna started in 1993, and then transferred to Fred Liady in Roanoke. It attracts the top collectors and buyers. Many people who were well-known at those shows have now left the range, but their spirits live on in the guns and newer dealers that are filling in. Stop me now or I will start singing We'll meet again!
10-meter airguns
A reader (Yogi, I believe) asked which show might have the best vintage 10-meter rifles. Well, Findlay, for starters. I had a Mauser 300SL on my table, and across the aisle, show promoter, Dan Lerma, had a nice FWB 300. I saw several nice FWB 300s on tables, Including a gem in the box. And across the aisle from that was an FWB either 600 or 601.
But there were also 10-meter pistols galore. Some were common ones like the Daisy (FEG) pistols that came in a neat lockable case. And I already showed you one of the many IZH 46Ms that were in the hall. But the gem of this show (and one I missed seeing until it was too late) was the FWB 103 SSP 10-meter pistol, one of our readers with sharper eyes snagged. He brought it by my table to boast and I took a picture for you.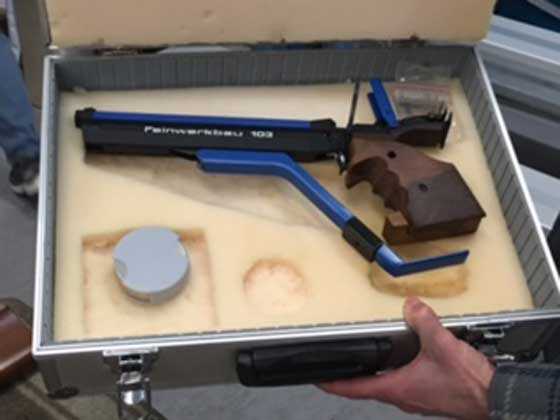 An FWB 103 single stroke pneumatic target pistol was a fantastic find for one of our readers.
He tried to complain about what he had to pay for this find, but his complaint lacked sincerity. I wanted to tell him that in 23 years of attending airgun shows this is the first time a current model FWB target pistol has ever been offered, to my knowledge. And you buy them when you see them!
Sold some stuff
I had some luck selling at my table, too, so I was able to make a few unplanned purchases. One was a Diana model 50 underlever. I have owned these in the past, but this one is real old and not like the ones I've had. It's somewhat slimmer, with better wood and deeper bluing. And it has the older Diana peep/sport rear sight that's so unique! It will be a pleasure to test it for you!
And I mentioned to Don Raitzer that I was in the market for a pre-war Diana model 5V pistol, and of course he had one on his table. When I saw the price — $75 — I didn't even bargain. Just stripped off the bills and bought it. Don said it was a .22, but it's actually a .177 that is better because these oldies are none too powerful.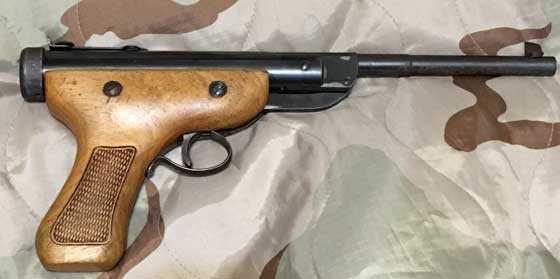 I bought this pre-WW II Diana model 5V pistol from Don Raitzer.
We had a guest blog about the Diana 5V pistol back in 2010, and I put it on my bucket list then. When I got the post-war Diana 5 (Winchester 353) a month ago, it awakened my desire to find the older gun. And Findlay was where it happened!
What about a big bore?
You all know about the modern big bore airguns, and if you are faithful readers of this blog you have also been exposed to the big bores of the past. At my very first airgun show in 1993 I saw an original Paul .410 air shotgun on a table, and in the 24 years that have passed, I haven't seen another. Until Findlay. There it was — laying on a table with no special signs or anything. Not a Paul, but its rival — the Vincent. It's a multi-pump air shotgun that looks like a Benjamin pump on steroids.


A .410 Vincent air shotgun from the 1920s was just laying on a table among the BB guns.
Were modern airguns there?
What about modern airguns? Many of you like looking at the older stuff (thank you, by the way) but your really wanting modern airguns. Well, they were there in force! I didn't take a lot of pictures, because you can see them anytime on the websites of their dealers, but there were Daystates, BSAs and other well-known big bores.
What I thought was more interesting than the current models, though, were the guns that have recently become obsolete. Theobens, for example, are wonderful gas spring rifles that were sold until recent years. Kevin Hull had a table full of them! This is also where your Beeman Crow Magnums live.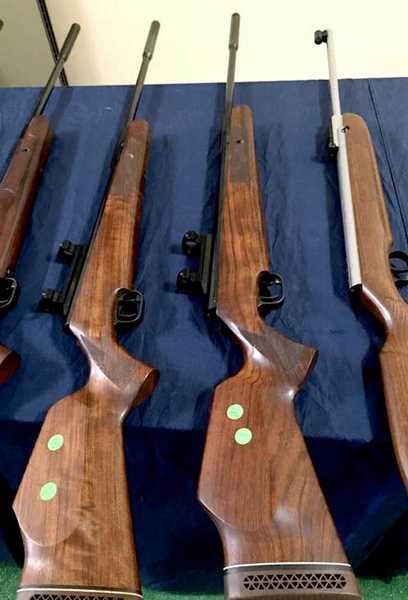 Whenever you are seeing beautiful wood stocks that look like highly figured walnut, but are African Heydua, and metal with deep gorgeous bluing, you know they are on Theobens. Kevin Hull's table.
Toys, too
Findlay calls their show Toys That Shoot — a not-so-subtle reminder of what the rest of the world thinks of airguns. But there is more than just airguns, and at Findlay a great many dealers specialized in actual toys. There are roughly three themes to their toys — cowboys, space and war. Of these, cowboys rank highest.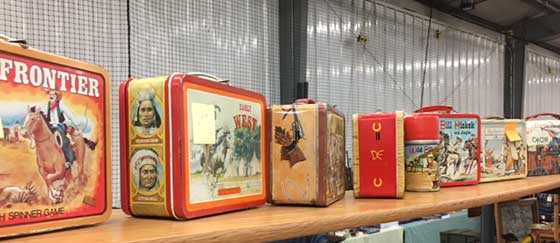 Lunchboxes for Gabby, Hoppy and all the gang!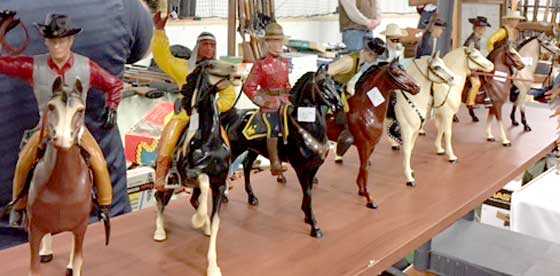 And there are the guys that go with them! They are action figures — never call them dolls!
The Larc
I'll finish today with a Larc — a BB machine gun you readers were talking about a few days ago while I was looking at the real thing. The Larc was powered by a can of Freon refrigerant gas, which is about as politically correct today as the California state legislature sponsoring a youth marksmanship program! It works by blowing gas under pressure across the opening of a metal "straw" that siphons BBs from a bulk reservoir. When they pop up into the gas stream, they are blown out the barrel. It works like a machine gun with no moving parts!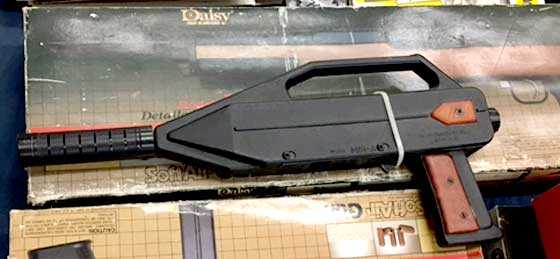 The Larc BB machine gun was powered by Freon.
Larcs are frequently seen at the larger airgun shows, but as time passes the price for one rises. At one time these sold for under $20, but you can expect to pay many times that today.
There is more
I will have one more installment to the 2017 Findlay airgun show, but I think I will give you a break for a couple days.