Diana 240 Classic:Part 4
by Tom Gaylord
Writing as B.B. Pelletier
This report covers:
The test
JSB Exact RS
Trigger
Tune in a Tube
Air Arms Falcon pellets
RWS Superdomes
Evaluation
Today I'll shoot the Diana 240 Classic at 25 yards. This is a delightful little air rifle that's perfect for those who want something lightweight, easy to cock and accurate.
The test
I'm shooting the rifle rested directly on a sandbag at 25 yards, using the open sights that came on it. You might want to read Part 3 again, as I shot 10 shots into a smaller group than 5 shots. That's a one-in-a-thousand occurrance, but it did happen. And that was how I selected the first pellet to try at 25 yards.
JSB Exact RS
First to be tested was the JSB Exact RS pellet. I got a stunning 0.428-inch ten-shot group at 10 meters last time, so I thought things would continue at 25 yards. Alas, they didn't. Ten RS pellets went into a very open 1.311-inch group. I was surprised, because I had expected a 0.90-inch group from this pellet.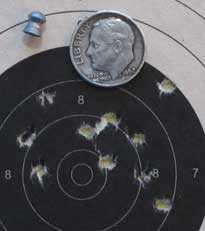 Ten JSB Exact RS pellets went into 1.311-inches at 25 yards from the Diana 240 Classic.
Trigger
I must comment on the trigger of this rifle. It's light and crisp. It may not be a Rekord, but it sure is nice!
Tune in a Tube
You may recall in Part 3 I squirted some Tune in a Tube into the mainspring. That calmed a slight buzz and now the 240 feels wonderful. I can't say enough good things about that product.
Air Arms Falcon pellets
Next I tried some Air Arms Falcon pellets. Falcons are often the best in lower-powered air rifles. This time, though, the results were both stunning and confusing. Ten pellets went into 1.85-inches at 25 yards. That's hardly encouraging. However, 6 of those pellets are in a tight group that measures 0.383-inches! What's happening?
This is why I shoot 10-shot groups, rather than 5-shot groups. I have no idea what's going on with this group, but it sure makes me want to scope this little rifle and try again!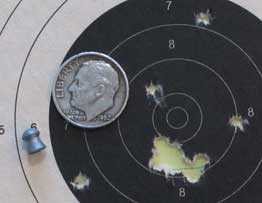 Ten Air Arms Falcon pellets made this 1.85-inch group at 25 yards. Six shots went into a tight 0.383-inches and I would like to know why.
RWS Superdomes
For the final pellet I tried some RWS Superdomes. Ten went into an open group measuring 1.612-inches between centers. I would normally say it isn't the pellet for the 240, but I think I'll wait to see how it does when it's scoped.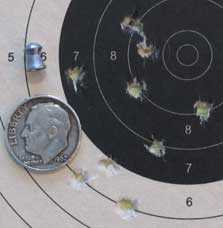 Ten RWS Superdome pellets went into this open 1.612-inch group at 25 yards.
Evaluation
The Diana 240 Classic is a fun little air rifle to shoot. And, if you were plinking at cans at 25 yards, you probably would have connected with every shot. I don't think these results are terrible — they just look bad because they are on paper.
I certainly want to scope this rifle and try again at 25 yards. That 6-shot group of Falcons has me intrigued.
Tom Gaylord is known as The Godfather of Airguns™ and has been an airgunner for over a half-century, but it was the 
Beeman
 company in the 1970s that awoke a serious interest in airguns. Until then, all he knew were the inexpensive American airguns. Through the pages of the Beeman catalog, he learned about adult airguns for the first time. In 1994, Tom started
The Airgun Letter
 with his wife, Edith. This monthly newsletter was designed to bring serious reports about airguns to the American public. The newsletter and
Airgun Revue
, a sister magazine about collectible airguns, was published from 1994 until 2002, when Tom started
Airgun Illustrated
-- the first American newsstand magazine about airguns. Tom worked for three years as technical director at
AirForce Airguns
, the makers of the 
Talon, Condor, and Escape
 precharged air rifles. Today, he writes about airguns and firearms for various publications and websites. He also makes videos, and you'll find short clips embedded in some of his artices on Pyramyd Air's website. Tom is a consultant to Pyramyd Air and writes under the name of B.B. Pelletier.