by Tom Gaylord
Writing as B.B. Pelletier
This report covers:
The first shot
My test methodology
SAR Journey pellets
Sig Ballistic Match Alloy pellets
Switch to lead pellets
Air Arms Falcons
Evaluation so far
Last target
Summary
Today is accuracy day and I'm looking forward to it. Not only do I get to test the Embark air rifle that Pyramyd Air now sells, by the way, I also get to test the lead-free Journey pellet that was developed especially for the Student Air Rifle program (SAR).
While talking to Jake Hindman, the president of SAR, I discovered that they developed their own official target, rather than using a 10-meter rifle or pistol target. He told me they made the scoring rings large, which made me think of the 10-meter pistol target, but when I looked at the targets in their instructor's guide, I saw the bulls are similar in size to 10-meter air rifle targets. The width of the scoring rings just needs to be enlarged for SAR.
The first shot
SAR uses Shoot-N-C targets with a 6-inch bull for the first 10 shots a student fires. They feel the student needs to gain confidence in what they have just been taught, plus the reactive target allows the instructor to see what is happening from the firing line, without making the range cold to walk forward. Once a student is confident shooting the rifle and is on paper, they switch to the official target.
My test methodology
I'm writing this part of the report for newer readers, plus anyone from SAR who might read it. I shoot 10 shots from a rest to determine the accuracy potential of most airguns. Five-shot groups are often seen in gun articles, but not in competition, where accuracy is concerned. Five shots just give an approximation of the accuracy of a gun. Ten shots are statistically valid with a high degree of confidence.
I don't care whether my shots hit the center of the bull at which I'm aiming. Of course a target shooter does care, for that is how the scores are determined. My focus is on the size of the group, because I can always adjust the sights to get the airgun hitting where I'm aiming.
I shoot off a rest, and with lower-powered air rifles like the Embark, I rest the rifle stock directly on the sandbag. Since SAR shoots at either 10 yards (30 feet) or 10 meters (33 feet), I tested at 10 meters. I believe by mixing yards and meters they are allowing for the variability of the spaces different schools may have. With higher-powered rifles I use the artillery hold that isolates the airgun from the sandbag, but I didn't think that would be necessary with the Embark. Let's get started.
SAR Journey pellets
The first pellet I tested was the official lead-free Journey pellet provided by SAR. I used a 6 o'clock hold on a 10-meter air rifle target. SAR also teaches this sight picture. When I saw that the first pellet hit the bull in the 8-ring, I was satisfied and fired the next 9 rounds without looking again.
Ten official SAR lead-free pellets landed in a group that measured 0.701-inches between centers at 10 meters. I think that is phenomenal — both for a lead-free pellet and also for an inexpensive spring-piston breakbarrel rifle. If you understand the SAR program you will agree this is all the accuracy that's needed.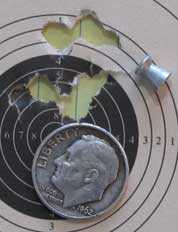 Ten SAR Journey lead-free pellets landed in a group measuring 0.701-inches between centers at 10 meters.
Sig Ballistic Match Alloy pellets
The second pellet I tested was the Sig Ballistic Alloy Match pellet. Because the SAR program requires the use of their own official lead-free pellet I wanted to put it up against a lead-free pellet that I believe leads the pack. Ten Sig pellets made a group that measures 0.848-inches between centers at 10 meters. That's correct, the SAR pellet beat the Sig pellet by a comfortable margin! I was surprised, but it tells me the SAR pellet is well-suited to the Embark rifle, despite being very loose in the breech. And, because I shot 10 shots, I don't have to keep shooting groups. SAR pellets win.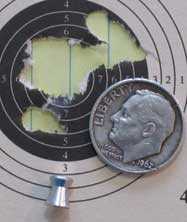 Ten Sig Match Ballistic Alloy pellets made a 0.848-inch group at 10 meters. Pay no attention to where they hit the target — the group is larger and, by adjusting the sights, the SAR pellet would score higher.
Switch to lead pellets
Most of you readers will never compete in a SAR match. You are interested in how accurate this rifle is with world-class pellets. I'm not going to test all of them for you because that's not the thrust of this report, but I did shoot a group with H&N Finale Match Light pellets with 4.50mm heads. If they go into a group that's half the size of what the SAR pellets shot, we know that the rifle prefers lead pellets.
Ten Finale Match pellets made a group measuring 0.775-inches between centers. That is very telling, because the SAR lead-free pellets did better. It doesn't mean there isn't a lead pellet that might outshoot them, but it does show that SAR pellets can hold their own!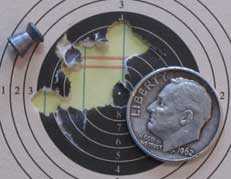 Ten H&N Finale Match pellets with 4.50mm heads made a 0.775-inch group at 10 meters.
Air Arms Falcons
I was asked by readers to test the Embark with a domed pellet, as well. Domed pellets cannot be used in target shooting because they are too difficult to score. Also, in the case of the Embark, only the official SAR Journey pellet can be used in competition.
The Falcon pellet from Air Arms is often very accurate in a lower-powered air rifle, so I thought I'd give it a try. Ten of them went into a group measuring 0.543-inches between centers at 10 meters. And 9 of them are in 0.337-inches. Yes — that is a screamer!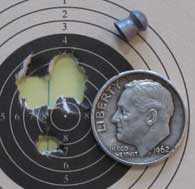 Ten Air Arms Falcon pellets with 4.52mm heads made a 0.543-inch group at 10 meters, with 9 going into just 0.337-inches.
Evaluation so far
The Embark is a great little shooter and the official SAR lead-free pellet is well-suited to it. I also felt that the Embark's trigger pull was no hinderance to accuracy. All things considered, this is a very nice package!
But I wanted to do one more thing. I had mentioned to Jake Hindman that he might look at 10-meter pistol targets for his program. They already exist and are being printed on quality target paper that's much easier to score. So I wanted to try a group on one of those targets, as well. For this test I selected the official SAR Journey pellet.
Last target
On the 10-meter pistol target, 10 Journey pellets landed in a group measuring 0.654-inches between centers.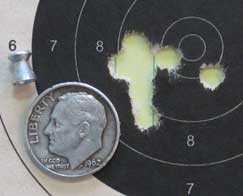 The last 10 SAR Journey pellets were fired at a 10-meter pistol target. Ten went into 0.654-inches. This was the best group of Journey pellets and the second-best target of the test!
Summary
Now we know a lot about the Embark air rifle and its lead-free target pellet. We know they are accurate because we have two ten-meter 10-shot groups measuring 0.701 and o.654-inches between centers. For those new to this blog that would make any 5-shot groups in the 0.4 to 0.5-inches range.
The Embark has sights that are well-suited to target shooting. Sure, a rear peep sight would make it easier to train new shooters, but it would also add a large amount to the cost of the rifle.
The weight of the rifle, plus the cocking effort are both suited to young shooters. And the trigger pull is as good as can be expected at this price.
All things considered, the Umarex Embark air rifle and the SAR Journey lead-free pellet are both well-suited to the SAR program.