by Tom Gaylord
Writing as B.B. Pelletier
Part Two: Getting started with a precharged air rifle
This report covers:
The PCP boom
A gamble
Buy in bulk?
The advantages of a PCP
How to get into PCPs
Entry-level PCPs
2000 psi fill rifles
Benjamin Wildfire
3000 psi rifles
What if you just want to dive in?
Advanced PCPs that are forgiving
If you ignore my advice
Summary
There has been a lot of discussion on the blog about getting into precharged pneumatic (PCP) airguns. I want to weigh in on this discussion.
The PCP boom
Ten years ago the world had one entry-level precharged pneumatic (PCP) air rifle — the Benjamin Discovery. It came to market in 2007 and revolutionized the airgun world. When it hit the market it established the parameters of what an entry-level PCP should be and cost.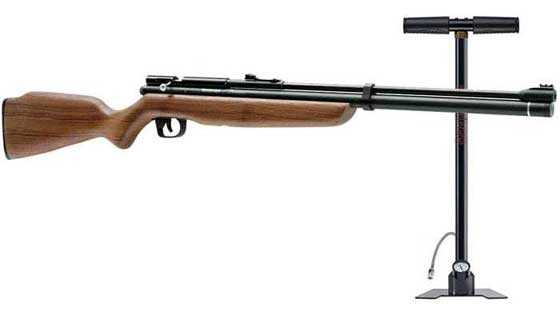 The Benjamin Discovery, packaged with a hand pump at an affordable price, broke the PCP market open in 2007.
A gamble
Before it was launched no one knew how the Discovery would be received. When I pitched the idea to Crosman in 2006, their CEO, Ken D'Arcy, asked me if I thought they could sell a thousand of them in a year. I told him I thought they could sell two thousand! Of course I didn't know for certain, because something like this had never been done before. But I did know airgunners. I knew they were very curious about PCPs, but also quite cautious. Companies like Crosman had tried putting their name on PCPs made by others before (Logan, in Crosman's case) and it didn't turn out very well. Once airgunners discovered who really made the guns, they reasoned why buy from Crosman who had to mark up the guns to make a profit? If you wanted a Logan, why not go directly to the source? With the internet it is impossible to conceal things like this today.
Buy in bulk?
Now, you may think that Crosman is large enough to buy a thousand Logans to get a better price, so they may not have to sell them for any more than Logan does. Well, that works for things like automobiles that sell in the tens or even hundreds of thousands of units. It does not work in a market as small as the American airgun market. In that market selling a thousand of anything other than a discount store springer is a real big deal. D'Arcy was asking the right question and I was guessing when I answered.
Fortunately it was a very good guess. Crosman had about 4,000 walnut stocks left over from a 2260 promotion that never happened, and, since the Discovery is based on the 2260, they fit. The first Discoverys all had walnut stocks. I don't know how many Discoverys Crosman sold that first year, but I do know they ran out of walnut stocks and switched to beech before the year was over.
Ever since that year, the airgun market has been scrambling to bring out more new and enticing entry-level PCPs. In 2007 PCPs were considered the dark side of airgunning. In 2017 they are fast becoming the mainstream.They solve a lot of problems that a new airgunner doesn't want to deal with — allowing them to enjoy their shooting experience all the more. This report will address what I think are the important things for a new airgunner to consider when making that first purchase.
The advantages of a PCP
I will start with power, by saying it is not an advantage in this discussion. Yes, the PCP powerplant is the most powerful of all airguns, but that should not enter into the new airgunner's thoughts when selecting a rifle. Of course it does, just like speed sells cars, but power is no guarantee of any other performance factor. You want a good airgun — not bragging rights to something with little practical value.
You want accuracy, and in that realm PCPs dominate. You want reliability, and PCPs can be anvil-dependable if you get the right one. You want simplicity and a PCP is the simplest powerplant on the airgun market — alongside CO2 guns. But CO2 has problems with temperature that pneumatics don't share, so again the PCP wins.
On this last point the spring-gun advocates will argue that a PCP needs a source of compressed air, and they're right. They say that makes it more complex than a spring gun that's just cocked and shot. If you look at it that way, the spring gun is simpler to operate, but remember this — a bicycle is simpler than a car, but which would most people use for daily transportation?
How to get into PCPs
When I got into PCPs in the mid 1990s, you had to dive in head-first. There was a lot to learn and very few people were willing to teach you. The user manuals were full of jargon that had to be decoded, and there was no codebook. PCP manufacturers all seemed to have chips on their shoulders and wanted only those customers who knew the technology. In truth the manufacturers of PCPs were making very few units per year, compared to the numbers being made today. They could afford to be haughty because the market wasn't that large. Today everything has changed, thanks to companies like AirForce Airguns, Crosman and Pyramyd AIR. PCPs are mainstream and will no longer tolerate an elitist atmosphere.
There are still some PCPs whose makers don't help the new shooter as much as you would expect, but I'm not going to recommend any of them to first-time buyers. Their airguns may be wonderful, but the lack of support, in the form of documentation, makes them a challenge to learn. If you stick to the airguns I will present, you will find things more straightforward. Let's get started.
Entry-level PCPs
This is a category of airguns that are inexpensive to purchase, and yet offer the safest way into PCPs. Before I list them, stop and consider where your compressed air will come from. PCPs that fill to 2,000 psi are much easier to fill from a hand pump than those that require a 3,000 psi fill. Several of the entry-level guns have 2,000 psi fills.
If you don't want to spend a ton of money starting up, I strongly recommend getting an entry-level rifle and a hand pump. That was the original concept for the Benjamin Discovery — that a rifle, pump and pellets would all come in one box, so the shooter would be set to go from the start. And I also recommend you get a gun that has a 2000 psi fill, so filling it won't be so difficult.
2000 psi fill rifles
These rifles are my top recommendations for the person who is new to PCPs. They get you into the game at a low cost, yet they are powerful enough and accurate enough to be useful. They may lack refinements like better triggers, but all have open sights, to keep the cost down for you. And they are easier to fill with a hand pump.
Benjamin Discovery
Benjamin Maximus
Beeman QB Chief (I have not tested this rifle yet)
Benjamin Wildfire
I am not recommending the Benjamin Wildfire as an entry-level PCP because the Wildfire has different features than the other airguns in this class. It is a repeater, but has what the maker calls a semiautomatic action, meaning the trigger is pulled for every shot with no additional cocking required. That makes the Wildfire more of an action air rifle, putting it into a category by itself. The Wildfire does fill to 2000 psi, though, and, if you want its other features (open sights and 12-shot semiautomatic repeatability), it is the only rifle that has them at an affordable price.
3000 psi rifles
These rifles don't shoot any faster than the rifles that fill to 2,000 psi, but they do get more shots per fill. So, why get one? Well, they have features you can't get in the other entry-level PCPs.
Umarex Gauntlet (I have not tested this rifle yet)
Diana Stormrider (I have not tested this rifle yet, and it uses a fill probe)
What if you just want to dive in?
Not everyone wants to proceed this slowly. What if you are ready to ride the whirlwind? I still recommend that your first PCP be one of a few reliable choices. I recommend rifles that are "forgiving." Those are rifles with good documentation, reliable manufacturers behind them and common features like Foster quick-disconnect fill couplings. An easy way to get off my recommended list is to have an oddball fill device.
Advanced PCPs that are forgiving
Benjamin Marauder (fill level adjusts from 2,500 psi to 3,000 psi.)
Umarex Gauntlet — I am putting the Gauntlet in two classes because it has features that rival the Benjamin Marauder. For example, the Gauntlet has a regulator, while the Marauder doesn't. Since I haven't tested it yet I can't comment on the trigger, shot count, accuracy or noise level. But with all its features I do feel the Gauntlet belongs in this higher class.


The Umarex Gauntlet offers many high-end features for a bargain.
The 09-12-17-03-Diana Stormrider is also a repeater. It doesn't have the regulator and until I test it I can't comment on the trigger or noise level. But it does have open sights and has a higher power than most of the other rifles, except the Marauder. The fill probe is the only drawback I see, and you may not think it matters, if this is your first PCP.


The Diana Stormrider is a repeater for less than $200.
If you ignore my advice
A lot of people think I say these things because I don't have any faith in their ability to learn new things. That's not it at all. I am trying to help them avoid the steep learning curve some of us had to endure. I do the same thing with spring-piston air rifles. When someone wants to buy the latest discount store supermagnum breakbarrel and they ask me to help them choose between two models, I try to steer them to something I know they will enjoy more. I know they won't enjoy the hard cocking, viscous recoil and mediocre accuracy those rifles all have. Sometimes it works, but not always.
I was once asked at an airgun show, "How many FPS?" The guy was pointing to a rifle on my table. So, I asked him, "Do you know what f.p.s. stands for?" He did not. He just knew that a big number was better and he wanted the biggest number he could get. Sometimes you just have to let people make their own mistakes.
Summary
I will end today's report here, but there is more to cover. We need to discuss accuracy expectations, triggers, and scopes at the least. And perhaps some of you who are looking to buy your first PCP right now might give us your concerns.